Cooking for one is hard. It really is.
It's not hard in the actual physical activity of it. I walk to my kitchen an average of 17 times a night to look in my cupboards or fridge to see if anything I want to eat miraculously, by divine intercession, showed up there. So far, zero food has been procured from thin air. 
Cooking for one is hard for me because it means I will not be sharing the fruits of my labor with anyone. I will not be breaking bread with another soul, and metaphorically saying, "here, take what I have made with love and labor, and enjoy it." 
Cooking for one means there isn't engagement and conversation with another about the comfortable doldrums of the day. "Tony was late for work today, he had to take his kids to daycare and the poor baby projectile vomited on him right as they walked into the sitter's. He smelled like baby formula all day. Can you pass the potatoes, babe?"
I wasn't aware of the presence of love in cooking for someone else—until I wasn't cooking for anyone else. 
I'm a tied and true Midwesterner that speaks the less-well-known love language of food. Someone has a baby? Bring them a casserole. Someone loses a loved one? Bring them a casserole. Crazy Aunt Suzy from Arizona is back in town for the weekend? Throw together a casserole. 
Food is so tightly tied to love in my life that I've created a metaphor to help me put love on people and situations that don't feel lovely. So if someone has done something that has hurt me, I picture them as cheeseballs (yes, I know, wtf, right?), and love is ranch dressing. I'm going to coat those cheeseballs in ranch dressing and love the shit out of them anyway. Someone sends me a mean text? Give them some ranch. Someone criticizes my life choices? They get two bottles of Hidden Valley.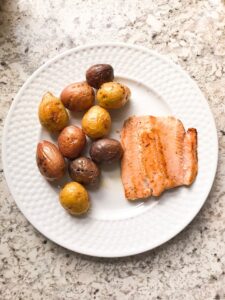 I've been taught to put love in food since I was a child. So it's no wonder eating alone feels daunting. I've had to shift my mindset from cooking for another means showing that person I love them, to, cooking for myself means I love me. 
So now, the kitchen has become a space of love and self-care. I cook foods I know I will enjoy and my body will process easily. I eat foods that I have discovered that make my body feel strong and confident and not bloated and anxious. 
I focus on giving myself grace in the loneliness. I look for the love in the quiet. I allow myself to be goofy and sing at the top of my lungs and add as much butter and salt to my food as I want (which is more than the recommended amounts, judge me). 
I know there are people who feel the way I do. I know there are people who are also sad when they eat alone. I know there are people longing for conversations about monotonous daily tasks like I am. I see you, I feel what you feel, and I want you to know it's okay to be lonely too. 
Now, I cherish those times when I get to cook for my loved ones, and I recognize that there will be a time when I will get to cook for someone (and maybe multiple someones) again. I know there might come a moment when I'm in the kitchen and cooking for others might not feel so romantic and mushy, and I hope I can remember how I feel in this season. I hope I never forget to smother those cheeseballs in ranch. 
So with that, I'll announce this is the start to my series, "Table for One," where I'll share ways I've smothered myself with loving ranch dressing, and recipes I've tried and adapted to feed a solo diner. Self-love looks different for everyone, but it looks beautiful any way we give it.
Here's my maiden voyage of cooking for one, single broad: a clean version of Fish and Chips. I love fish and I love potatoes, but I don't always love to eat fried food, especially when it's just me eating; too much effort to get out the air fryer and bread my fish. Many times, I won't have cod or haddock or pollock on hand to fry, but grocery stores in the Midwest are great for having frozen salmon.  AND, they will have the frozen salmon in individual portions which is perfect for a one-person meal.
When I'm just cooking for myself, a simple and quick clean-up is key. I love doing sheet pan meals; where my entire meal cooks at once on a foil-lined sheet pan or cookie sheet, and when I'm done, I throw the foil away and wash the pan. Seriously could not be easier. I really like this pan. I've had it for a few years, and it's been great. What I love is the thickness of the pan, and the nice hefty lip on the side. Sometimes sheet pans or cookie sheets can feel a little flimsy, but definitely not this one.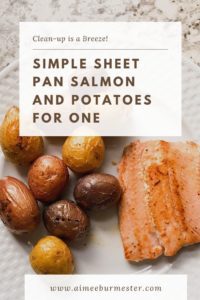 When I cook my salmon, I will thaw it quickly under running water in the sealed bag its packaged in, remove it from the package, and marinate it in salt, pepper, and lemon juice. Either on the counter in a dish or in the fridge. While that's marinating, I pre-heat my oven to 350 degrees. I will rinse my potatoes, then put them on the foil-lined cookie sheet. I drizzle olive oil on them then roll them around in the oil and pink sea salt on them. Himalayan sea salt is my salt of choice, and this is the brand I buy. I put the potatoes in the oven first for about ten minutes, just because they take a little longer to cook than the salmon. After ten minutes, I pull them out, roll them in the oil, then push them to one side of the pan to add the salmon. I cook the salmon about 15 minutes, or until it starts to flake. I eat with homemade tartar sauce of mayo, relish and lemon juice. Don't ask me exact measurements, I eyeball it. Start to finish, everything takes about half an hour to 45 minutes. Super easy and makes me feel healthy AF. 
Posted in
31
,
cooking for one
,
divorce
,
food
,
grateful
,
growth
,
happiness
,
love
,
meals for dinner one
,
self love
,
South Dakota
,
table for one