Hi! I'm Aimee, and I'm so glad you're here!
Eating healthy, building wealth, simplifying your life and traveling often are all within your reach--here's how to live the life you desire.
This website is a place where you can find delicious and easy recipes, strategies to help simplify your life and reduce decision fatigue, learn how to pay down debt and build wealth, and maybe find some travel and trip recommendations along the way!
I'm a busy elder millennial who has navigated multiple global crises, market and housing crashes, and the low-rise jean fashion trend. Today, I love yoga, eating well, and traveling with her football coach husband.
My Mission
My mission is to help you and others create the manageable, delicious, and abundant life you desire to live!
How?
Through teaching you how to meal plan and prep, creating delicious food and drink recipes, providing budget-friendly travel guides, and sharing ways to pay down debt and build your wealth!
What You'll Find on AimeeBurmester.com
I cover so many areas of my life on my website, and I hope you find the information valuable, relatable and empowering! Here's what you'll find on AimeeBurmester.com
Delicious Recipes Food is the love language that runs our house and I have a passion for sharing that love with you! Eating and feeding those you love can be a magical and beautiful experience, but you may not have a ton of time to spend in the kitchen. These delicious recipes are easy, and some come together quickly or with minimal effort!
Fun Cocktails Another thing my husband and I love? Creating fun and yummy cocktails! From traditional to unique, you'll find a variety of beverage options on aimeeburmester.com!
Budgeting & Saving Hacks & Knowledge I spent seven years as a financial advisor where I helped my clients develop a budget, save for their short-term and long-term goals, and protect their futures. I loved helping others increase their financial literacy, and I still love helping share my wealth-building knowledge!
Meal-Planning & Prepping Strategies Eating healthy and staying on-budget may seem challenging, but it's actually quite easy!
My Story
I started blogging in 2017, but this blog didn't begin to evolve into a glimpse of what it is today until 2020. As the pandemic began, I had more time on my hands and was able to metaphorically put pen to paper, and create posts and recipes and tell stories as a hobby.
I was instantly hooked on the process of creating recipes, writing posts and capturing photos for this little website, and it's become one of my favorite parts of my weekly routine. My goal is to grow this space into a place where others enjoy spending their time and take away valuable information.
Fun Facts About Aimee
My Husband and I were married in the summer of 2022! We live in Northeast South Dakota with our dog, Nova, and our two cats, Teena and Henry.
Fundraising is my full-time job! I work as a development director for our local university raising funds for scholarships and university initiatives, while my husband is an offensive line coach.
Our lives are very fast-paced and revolve around helping students grow and thrive. The fall season is extremely busy, and I love spending every Saturday cheering on my husband and his football team!
I'm a Certified 200 YT Yoga Teacher! My dream job is working on this blog and teaching yoga. I could happily do both for the rest of my life!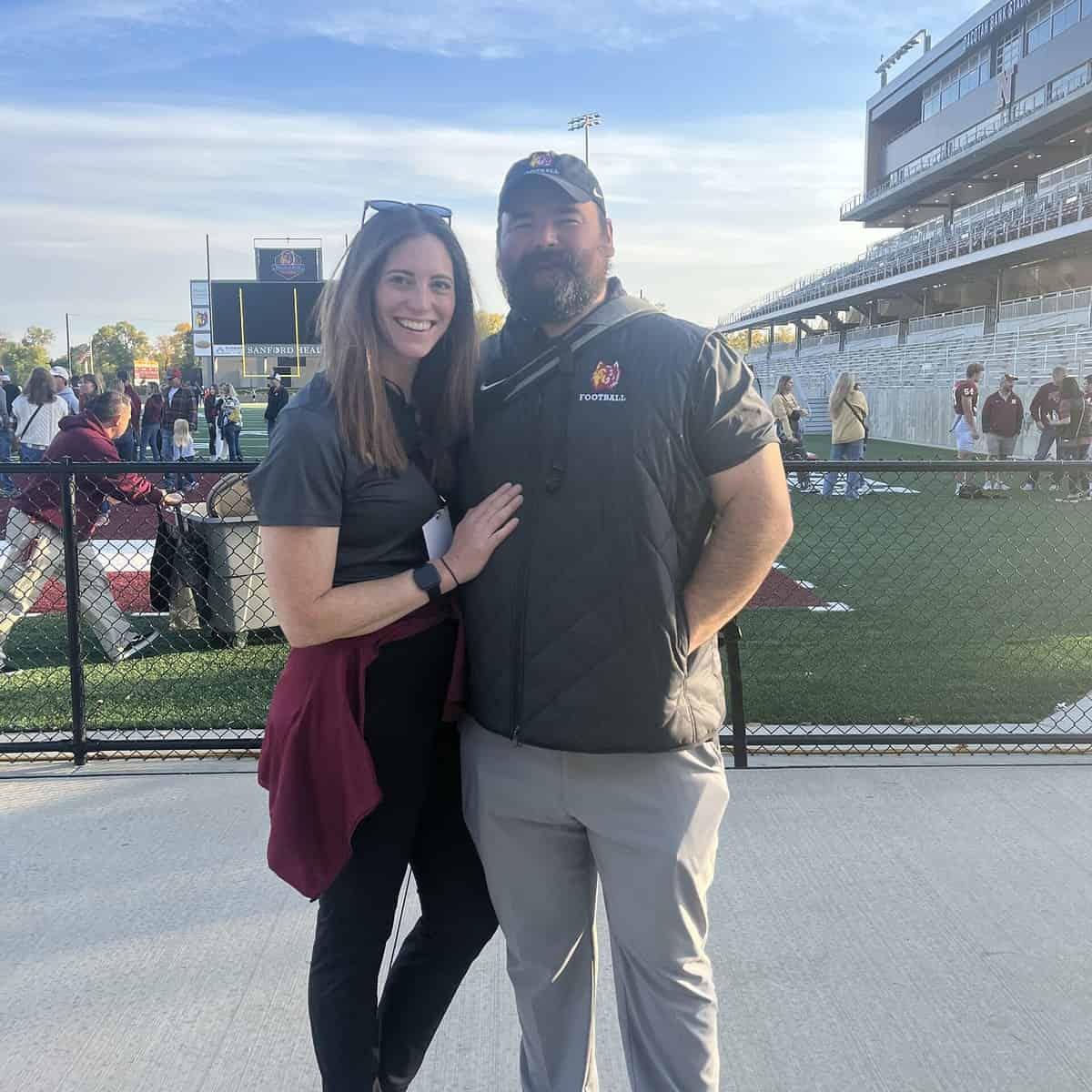 Aimee's Favorite Posts
The Easiest Way to Can Tomatoes
Old Fashioned with Simple Syrup
Quick Copycat Qdoba Cilantro Lime Rice