This cilantro lime rice recipe is a flavorful, and inexpensive copycat recipe to Qdoba's cilantro lime rice. You can easily make this restaurant dupe at home at nearly a third of the cost!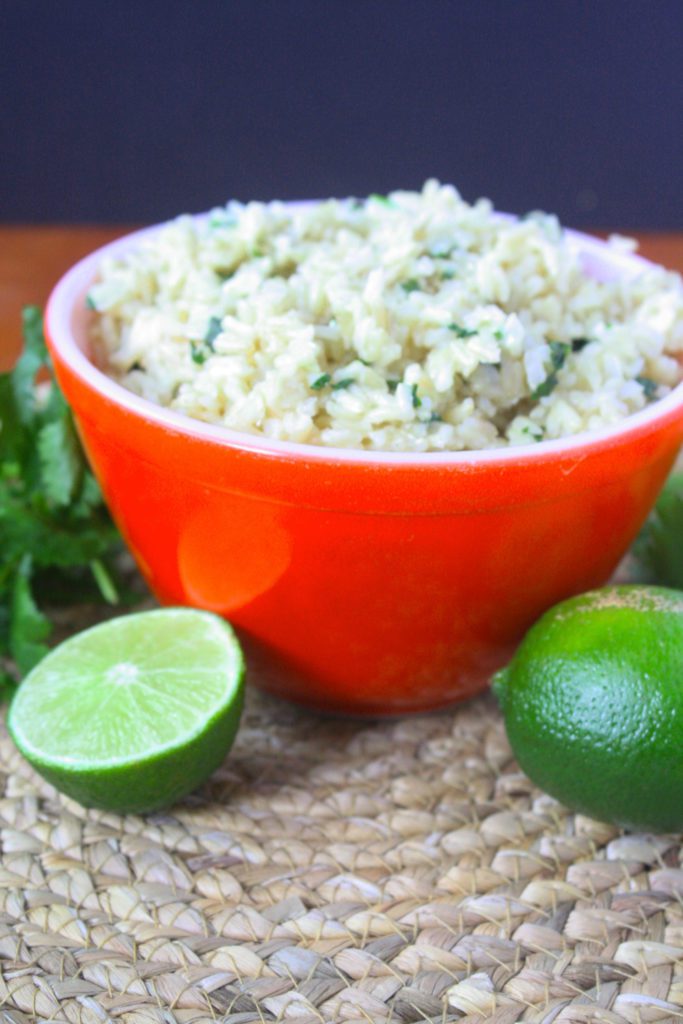 I love Qdoba. I specifically love Qdoba's Chicken Burrito Bowls. What I do not love, however, is paying nearly $10 for something I can make for less than $3 a serving at home.
What Ingredients Do I need for Copycat Qdoba Cilantro Lime Rice?
One of the most crucial parts to a burrito bowl is the rice, and for the longest time, I was just having plain white rice in my homemade copycat Qdoba bowls. This is great and all, but it didn't carry the same flavor as the burrito bowls at the restaurant, so I felt like I was missing something.
So I set out to figure out how to make my own cilantro lime rice recipe. Here are the ingredients you will need!
Chicken Stock
When I first started experimenting, I just added salt, and cilantro and lime after all the rice had cooked. Sure, it was close, but it didn't taste the same as Qdoba cilantro lime rice.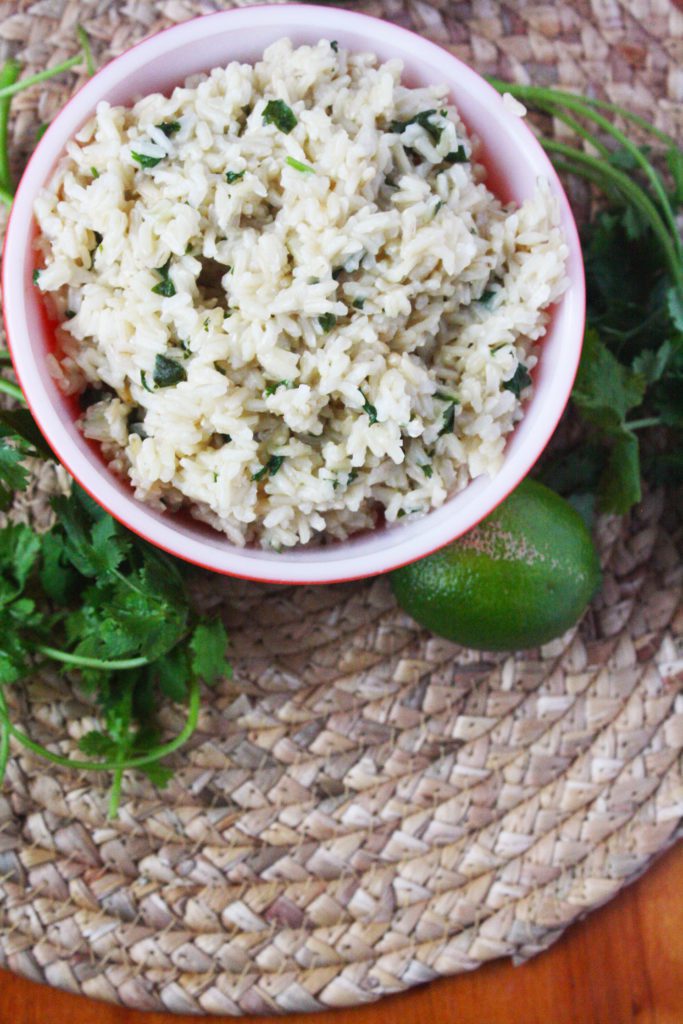 One day, I decided to try adding chicken broth to my rice as it boiled to see if that would help. Ding! Ding! Ding! We have a winner!
I don't know what it is about the chicken broth, but it added a nice level of savory flavor that made this a good copycat cilantro lime rice recipe.
Other Ingredients in Copycat Cilantro Lime Rice
Along with rice and chicken stock, there are a few other key ingredients that pack a punch for this cilantro lime rice recipe. Here's a list of those ingredients:
Cilantro
Lime
Salt
Butter
Note about the ingredients
You can use any rice with this recipe, but the most budget friendly rice is just white rice. It's cheap, and cooks quickly. I actually buy it in bulk and it stores easily.
Also I don't buy instant rice—white rice cooks pretty quickly, so I don't need instant. I buy this brand, and it costs me 65 cents a cup, dry, which makes two cups of cooked rice. That amount of rice can feed four people. So this bag actually gives me about forty servings. Buying rice in bulk is a great way to extend your budget.
When it comes to the other ingredients--cilantro and lime--I use fresh ingredients. I usually meal plan and prep on Sundays and buy my vegetables that day as well. (If you want to learn more about the strategies I use to meal prep and plan, read this post!)
I like to buy fresh and cook soon after purchase to try and have my rice taste as fresh as possible when I first eat it.
As well as using chicken stock when I cook my rice, I also add butter. Because butter makes everything better. After the rice has absorbed the water, I add two tablespoons butter and fluff with a fork.
Best Rice Recipe for Meal Prep
I will cook this rice early in the week and eat it as the week goes on. It's great in a lot of dishes and the cilantro and lime taste amazing making it the best rice for meal prep and planning.
Read ahead for other dishes this meal prep rice can be used for!
How Can I Serve this Copycat Cilantro Lime Rice Recipe?
You don't have to serve this rice recipe with just burrito bowls. I actually like to make this rice whenever I'm having any Mexican flavored dish. It offsets the spiciness often found in Mexican food and salsa.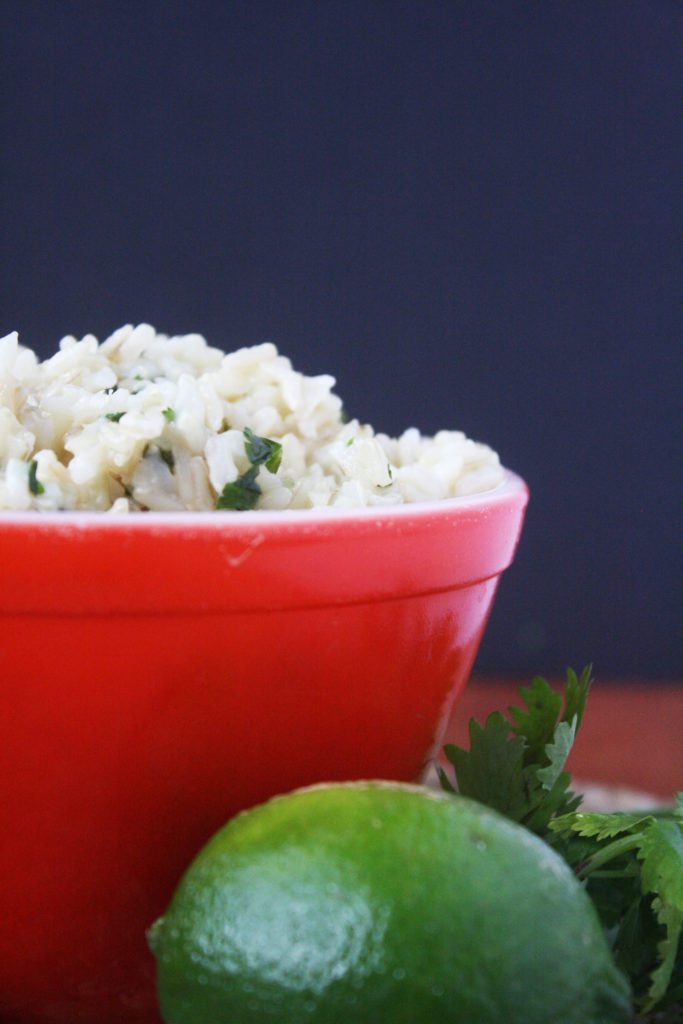 While this copycat of Qdoba's cilantro lime rice is great with chicken, it is also AMAZING with my Dutch Oven Pulled Pork!
Related: Strawberry-Jalepeno Margarita
📖 Recipe
Copycat Cilantro Lime Rice
This recipe is a great copycat recipe for cilantro lime rice from Qdoba or Chipotle
Ingredients
1

Cup

white rice

1

Cup

water

1

Cup

chicken stock or broth

2

Limes, juiced

2

T

cilantro, finely chopped

2

T

butter

salt to taste
Instructions
Add rice, water and stock to pot, bring to boil. Allow to boil five minutes, then turn to simmer and cover with lid. After five minutes, remove from heat, add butter, lime juice, cilantro and salt, and fluff.