If you're short on time, but looking for a tasty, healthy, and protein-packed dinner, try this easy and healthy shrimp taco bowl recipe. You'll have a delicious, customizable meal on your table in less than 30 minutes!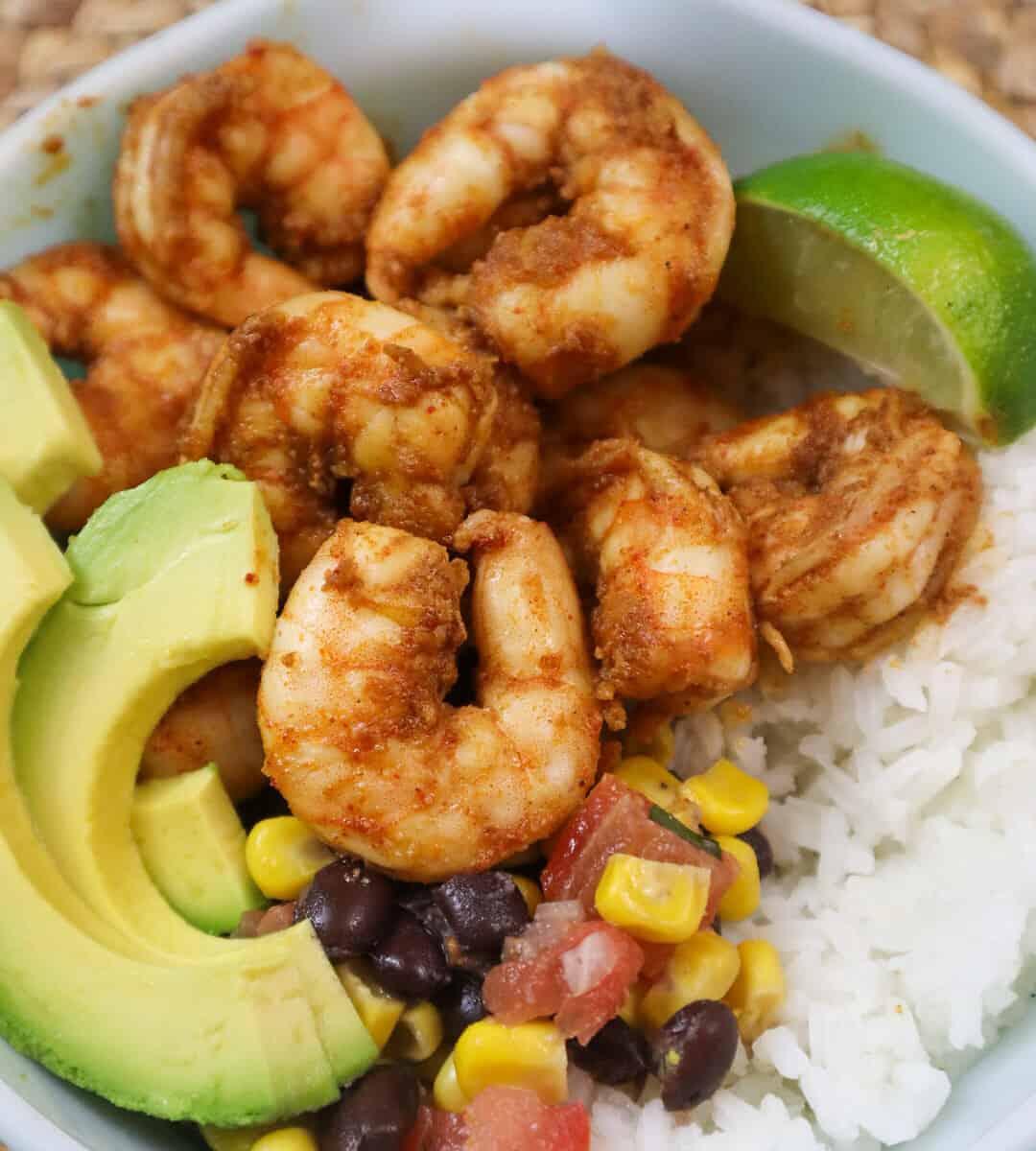 Why We Love Shrimp Taco Bowls
Shrimp taco bowls are one of our current favorite recipes because it is extremely quick to prepare, full of fresh, nutritious ingredients, and is packed with customizable flavor. Shrimp is a great high-protein, low-fat seafood that can be swapped for other higher-fat meats like beef or pork.
We combine the shrimp with a myriad of spices that bring a smokey heat profile that tastes great with more subdued flavors like black beans, white rice, lime, cilantro, avocado, and any other flavors you want to add. Depending on what you have on hand or what flavors you like, you can tweak this recipe to your liking!
Another thing we love about these easy and healthy shrimp taco bowls? They're gluten-free! If you're looking for a filling dinner option that doesn't include gluten, this shrimp and rice combination is perfect for you.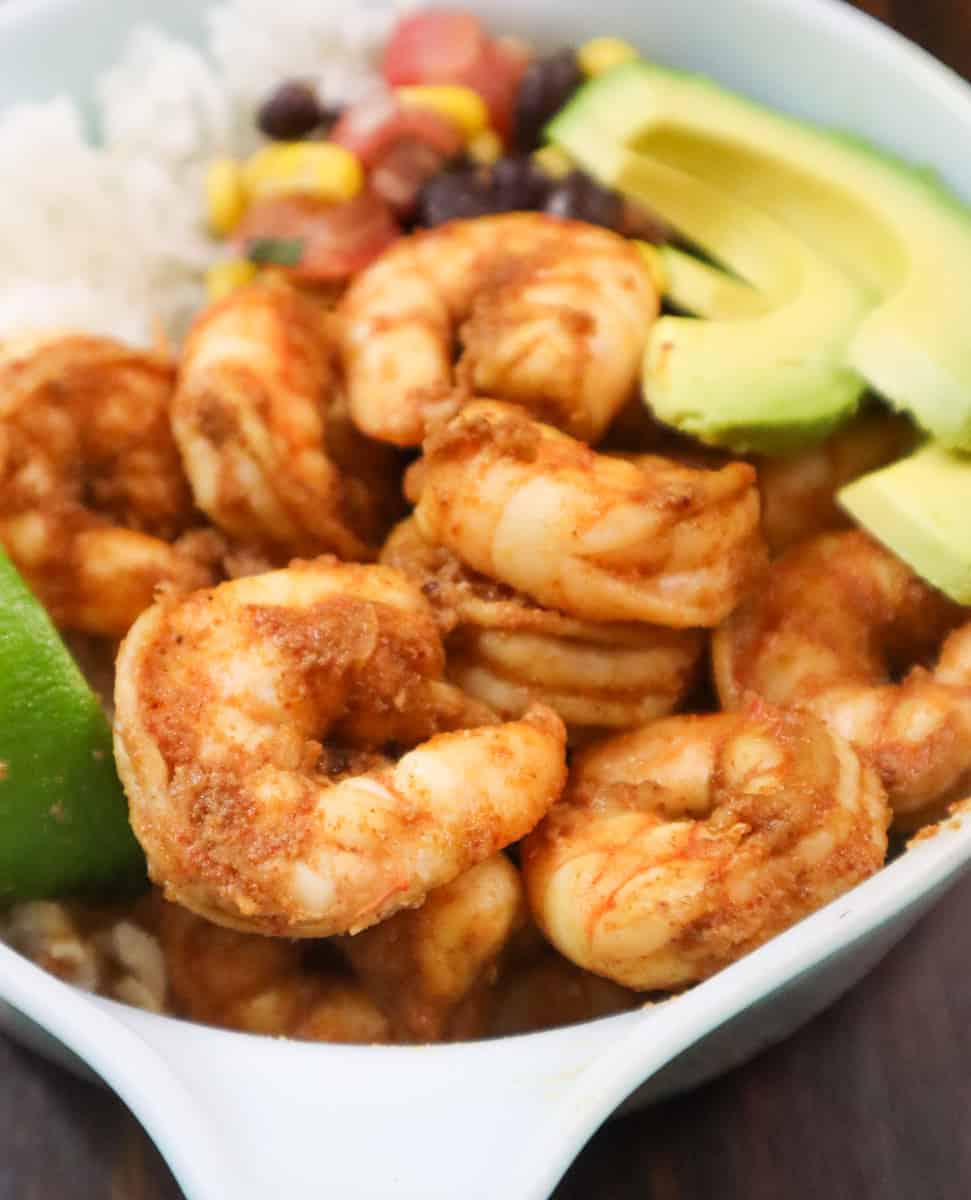 Ingredients in Shrimp Taco Bowls
There are a few key components to this spicy shrimp taco bowl, but the flavors come together to create a quick easy dinner recipe that you and your family will love! Here's what you'll need to make these healthy shrimp bowls.
Shrimp The star of this dinner, you'll need any type of shrimp to begin with. We live in the midwest, so we typically buy our shrimp frozen. For this recipe, we recommend one-pound of large, frozen, tail-on or off, shrimp. I typically try to find tail-off if possible, because I hate removing them, but that's just personal preference.
Seasonings for Shrimp We like to make these shrimp taco bowls spicy! Because of our love of heat, this recipe calls for salt, pepper, garlic powder, cumin, paprika, cayenne powder, and chili powder. With these spices, you can increase or lower the heat by using a hotter or milder cayenne or chili powder, or adjust the amount you use.
Rice Truly, any rice will work for this recipe. Depending on what we've meal prepped for the week, we may have Copycat Qdoba Cilantro Lime Rice on hand, or we'll just have white, brown or jasmine rice. Whatever you have, will work great!
Black Beans To get these shrimp taco bowls on the table quickly, we use canned black beans as opposed to preparing dry beans. For this recipe, we just drain, rinse, and quickly heat the beans on the stove (or in the microwave) over medium heat.
Avocado Avocado is a great addition to this shrimp bowl recipe as it adds a great texture, healthy fats, and plenty of fiber. We love the flavor of avocado and the way it contrasts the spiciness of the shrimp.
Lime Especially if we aren't using cilantro lime rice in our recipe, we will juice a quarter of a lime over each of our bowls to add a bit of tang and tart.
Salsa While this shrimp bowl recipe already packs a giant punch of flavor, sometimes, we just like to enjoy some salsa with it as well. There are so many salsas out there, just use your favorite!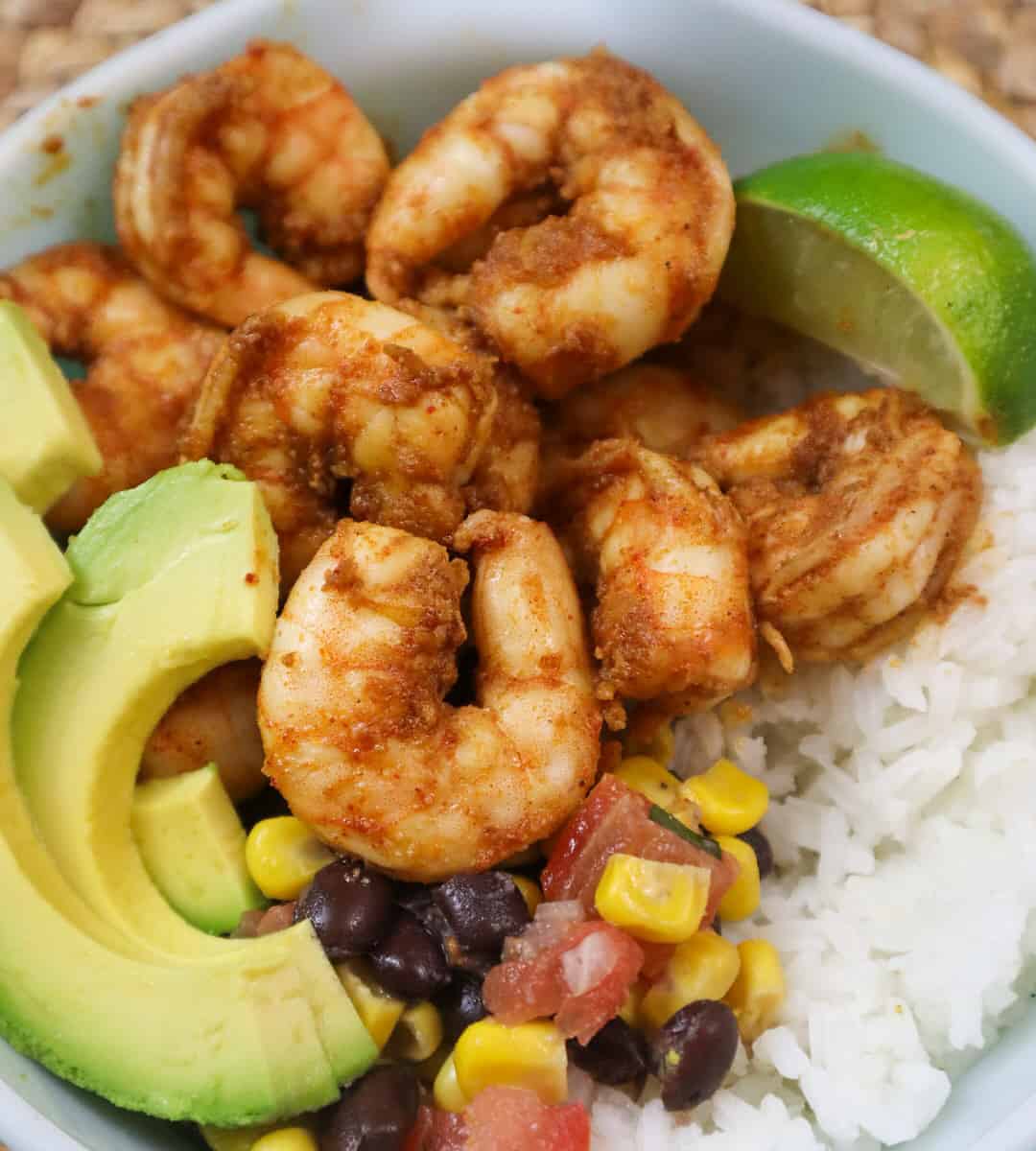 Step-by-Step Guide to Making Healthy Shrimp Taco Bowls
Here is your guide to making these quick and delicious shrimp taco bowls.
Thaw your shrimp. If you're using frozen shrimp for this recipe, fill a large bowl with cold water, and add your frozen shrimp. Using warm water will change the texture of the shrimp, so make sure to use cold. You may have to change the water to keep melting the ice, but using this method will help them thaw quickly. Once thawed, remove from water, remove shrimp tails, and pat dry with a paper towel.
Start cooking rice. I recommend meal prepping a large batch of rice at the beginning of the week so all you have to do is remove from the refrigerator and reheat in the microwave, but if you haven't done that, prepare your rice according to the package, or follow this Cilantro Lime Rice Recipe (note: this recipe does take longer than 30 minutes, so if you're on a time crunch, plan accordingly).
Season shrimp. Once your shrimp are thawed and dry, add to a clean, dry bowl and add all your seasonings with a tablespoon of extra virgin olive oil. Stir to coat shrimp in seasoning.
Prepare other ingredients. While the rice is cooking and shrimp are marinating for about five minutes, prepare your black beans, avocado, and any other ingredients you'd like to add to your shrimp taco bowl. I used canned black beans, so I drain and rinse them.
Also, I will either just slice my avocado, or create a simple guacamole with salt, pepper, garlic powder, and lime juice all mashed together.
Cook Shrimp. Heat a skillet over medium high heat. Add a tablespoon of butter or extra virgin olive oil to your skillet, and cook until shrimp are pink. This takes about three to five minutes. I like to watch my shrimp pretty closely so I don't overcook them.
Assemble Shrimp Taco Bowls. After all your ingredients have been cooked, assemble your bowls as you wish. In addition to shrimp, rice, beans, and avocado, we add salsa, diced tomatoes, cowboy caviar and even sour cream sometimes. This recipe can be adapted and changed to fit your taste buds!
How to Store Leftover Shrimp Taco Bowls
Our house rarely has any leftovers from this quick and easy, weeknight meal, but when we do, it's usually a leftover of one or two ingredients. We typically store all the ingredients separately in air tight containers so that they can be used in other meals throughout the week. This is one habit we've picked up from meal prepping every week to simplify our lives!
If you do have leftover shrimp, it will last up to three days in the refrigerator. The beans and rice will last up to a week in the fridge.
📖 Recipe
Healthy Shrimp Taco Bowls
This easy and healthy shrimp taco bowl recipe is perfect for a quick lunch or dinner. Customize it with your favorite toppings and enjoy a delicious and nutritious meal!
Ingredients
1

lb

shrimp, thawed, deveined, tails removed

2

C

cooked rice

Copycat Qdoba Cilantro Lime Rice

½

tablespoon

garlic powder

½

tablespoon

cumin

½

tablespoon

cayenne powder

½

tablespoon

chili powder

1

teaspoon

paprika

3

tablespoon

extra virgin olive oil

1

can

black beans

drained, rinsed

2

avocados

diced

2

limes

quartered

salsa

as desired
Instructions
Make sure thawed shrimp are dried by patting dry with a paper towel.

Cook rice according to directions.

In a mixing bowl, combine shrimp, olive oil and seasonings, set aside and allow to marinate for at least five minutes.

Prepare other toppings and sides by draining and rinsing canned black beans and dicing avocado.

Once rice is almost done cooking, heat 2 tablespoons of olive oil in a skillet over medium high heat.

Add shrimp to skillet and cook until pink, flipping as sides gain color.

Remove shrimp from heat, add to bowl with rice, beans, avocado, salsa and other toppings. Enjoy!