This old fashioned with brown sugar simple syrup recipe will have you feeling like you've stepped onto the set of Madmen. A simple and classic cocktail, the old fashioned is definitely a drink you need to know how to make.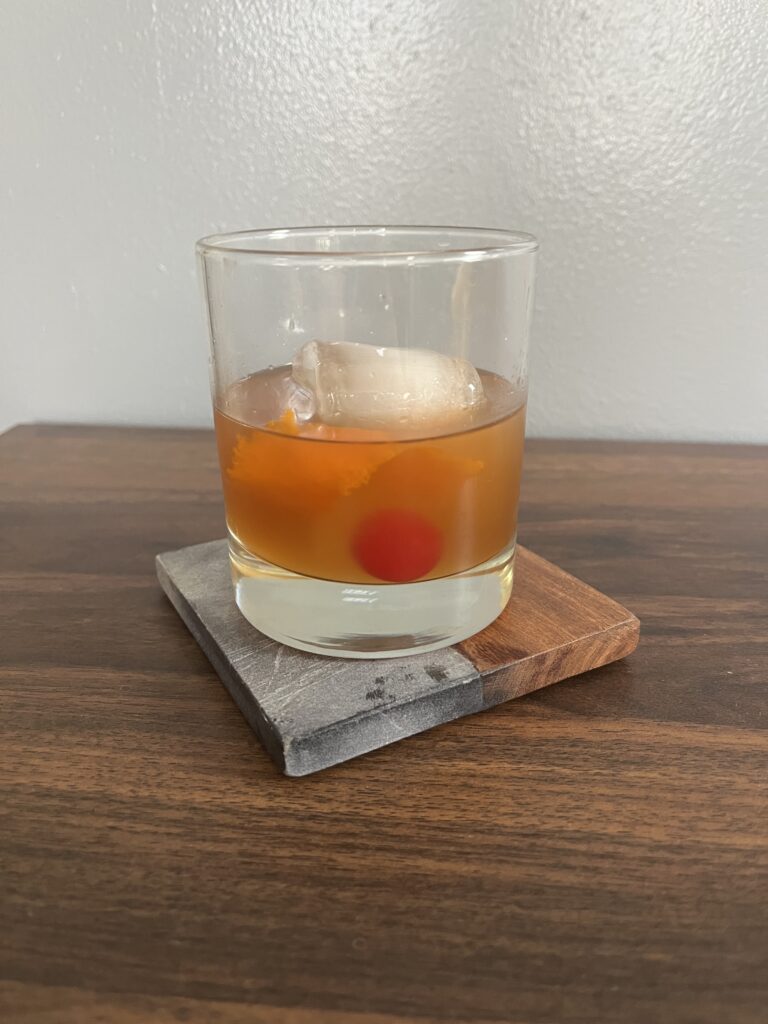 When I think of drinking an old fashioned cocktail, I think of a fancy bar with deep rich leather, and heavy mahogany walls. I think of an old fashioned as a drink that embodies masculinity; mainly alcohol with a touch of sweetness.
In our house, Old Fashioneds make for a great Saturday evening libation. But, you can also enjoy them any night of the week. We like to make our old fashioneds with simple syrup, and I'll show you how below!
---
This page contains affiliate links to products I recommend. If you purchase something from this page, I may receive a small percentage of the sale at no extra cost to you. For more info, click here.
---
There are few different ways to make an old fashioned, but today I'm sharing our recipe that uses simple syrup made with brown sugar. I'll share all the other ingredients you need to make an old fashioned as well as what tools you need!
What Do I Need to Make an Old Fashioned with Brown Sugar Simple Syrup?
Bourbon
Depending on where you live, you may make your Old Fashioned with a different liquor (whiskey old fashioned or brandy old fashioned), but we prefer to use bourbon (whiskey) in our old fashioned recipe.
If you've never purchased bourbon before, a good one to start with is Knob Creek. We like the smoothness and caramel flavor. If you're looking for a more budget-friendly bourbon, then try Four Roses.
Bitters
Bitters may come in small bottles, but they pack a mighty flavor punch. Bitters are highly concentrated spirits that are infused with herbs and botanicals to give them their strong flavors.
For a classic old fashioned recipe like this one, we use Angstora Bitters, and they are readily available at most grocery and liquor stores.
Brown Sugar Simple Syrup
There are so many ways to sweeten an old fashioned. Our preferred method is using simple syrup.
Simple syrup is truly simple to make: using a 1:1 ratio, combine equal parts water and brown sugar, heat to nearly a boil, stirring consistently, and then allow to cool. This will last one to two weeks in the fridge.
If you want more and different simple syrup recipes, then check out this post here.
Why use brown sugar for your simple syrup?
There is just a slight difference between white sugar and brown sugar, but that slight difference in flavor adds flavor depth to this simple syrup recipe. Brown sugar has molasses in it where white sugar does not, and that molasses comes through when using it in the simple syrup for this old fashioned recipe.
Cherries
There are many jarred cherries available at grocery stores everywhere, but the best cherries to use for this old fashioned recipe are maraschino. There's a few different maraschino brands, but the best out there is Luxardo.
We use one cherry in our old fashioned recipe, and that ends up being just enough sweetness when mixed with the simple syrup.
Twist of an Orange Peel
The orange peel is not just for decoration in an old fashioned; they add a hint of flavor that makes the old fashioned a different and unique cocktail.
Using a vegetable peeler, shave off about a two to three-inch section of orange rind (do not get any of the pulp), twist over your glass and then add to the cocktail. If done correctly, you will see a little bit of the orange oil floating on top of the liquid.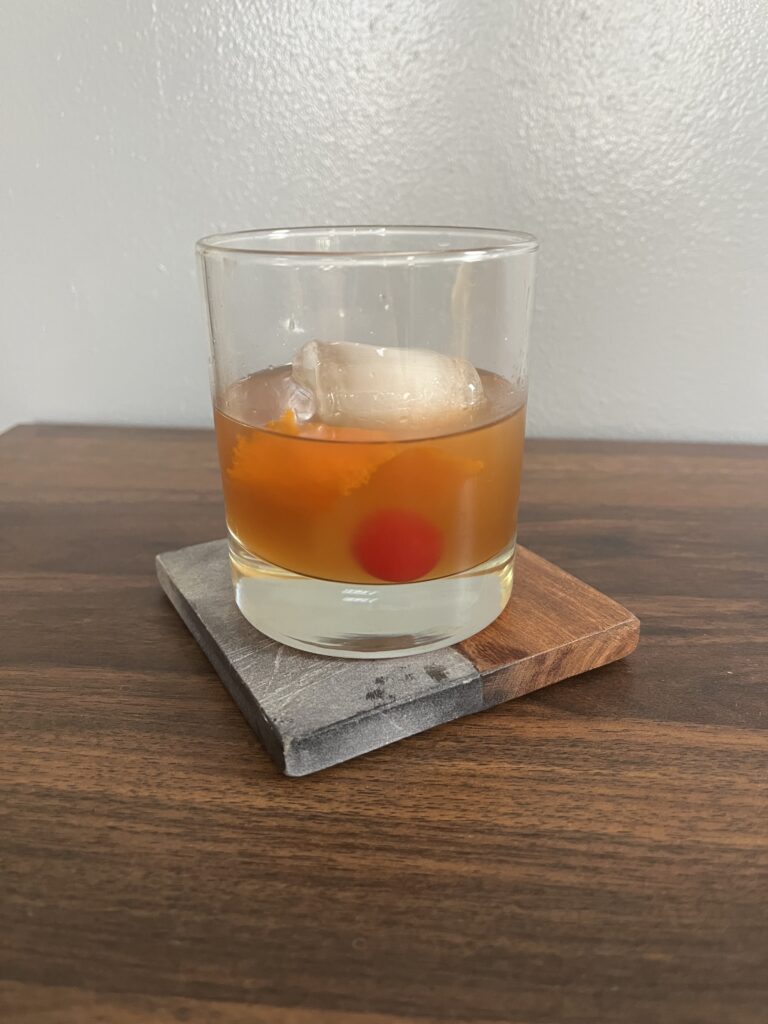 Cocktail Glass
An old fashioned is traditionally made in a low ball cocktail glass. We have these simple low ball glasses, but the sky's the limit on glass options!
Ice Molds
Trust me when I say you need one big ice cube in this drink. One large ice cube will melt slower and not dilute the flavors of the old fashioned. I recommend investing in a silicone ice cube tray, or if you're like my husband, a Star Wars ice cube mold.
I hope you enjoy this old fashioned recipe as much as we do!
If you're looking for other cocktail recipes to try, check out these posts!
A Simple and Fresh Margarita Recipe
Blackberry Margarita on the Rocks
📖 Recipe
An Old Fashioned Recipe with Simple Syrup
Equipment
1 low ball cocktail glass
Ingredients
2

Oz

Bourbon Whiskey

2

teaspoon

Simple Syrup

2

dashes

Bitters

1

Orange peel

1

Cherry
Instructions
Add simple syrup and bitters to cocktail glass.

Add bourbon and stir to chill and dilute.

Add orange peel and cherry. Enjoy!