This spicy coconut margarita recipe is a hydrating and flavorful full twist on a traditional margarita. On the rocks, this margarita is simple, delicious, and easy to make!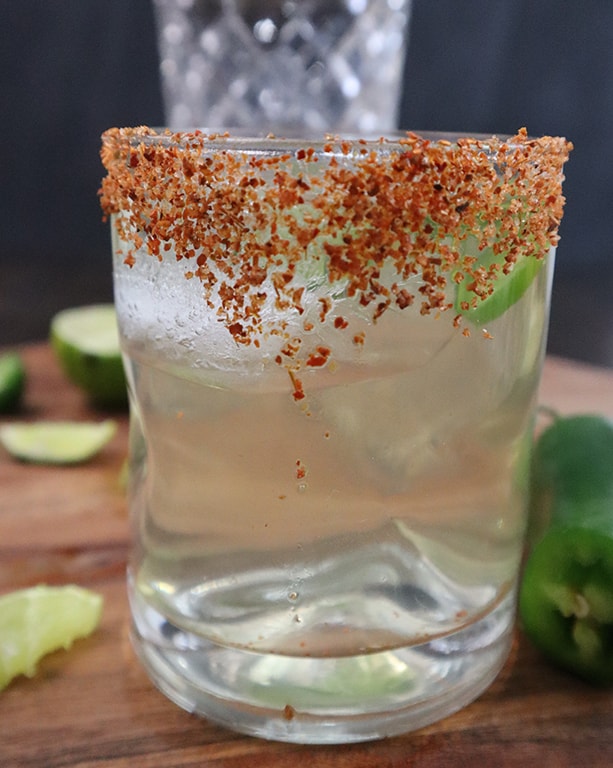 If you've been here awhile, you'll know I have a love for margaritas and tequila cocktails. I wanted to find a way to add a little spice to my margarita, but also use up some coconut water we had in the refrigerator.
Why You'll Love a Spicy Coconut Water Margarita
This spicy coconut water margarita is full of so many complementary flavors; it's a great easy summer cocktail recipe to try!
Another thing that makes this spicy tequila cocktail great is how hydrating it is. Coconut water is a great source of hydration, and it also has a plethora of other health benefits. Magnesium, potassium and sodium are all found in coconut water, which are minerals that are vital to proper human body function.
If you love spicy foods and flavors, this spicy margarita is for you! The combination of lime, jalapeno, tequila and tajin has a kick that tastes great!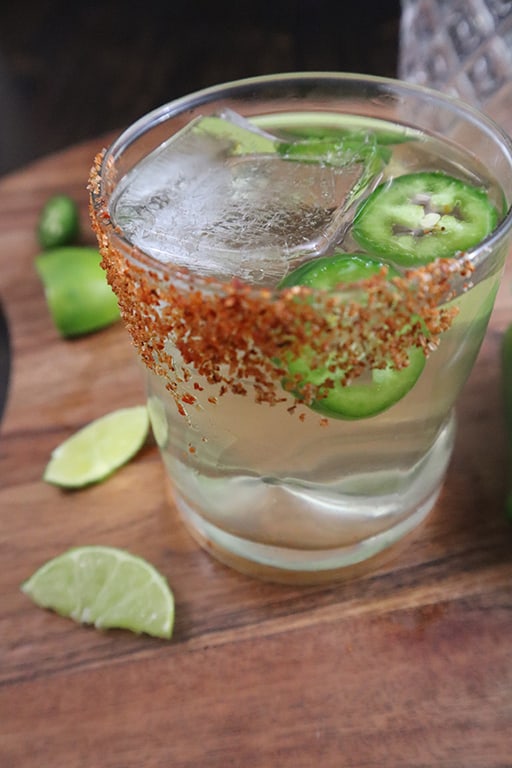 Ingredients in a Coconut Water Margarita
Tequila I recommend using a tequila blanco for this margarita. Make sure your tequila is made with 100 percent blue agave–not other fermented fruits or veggies like corn.
Triple sec Using triple sec in this coconut margarita adds a slight orange flavor to the cocktail. If you don't have triple sec, you can substitute cointreau, or Grand Marnier for an orange taste.
Agave syrup is a great natural, sugar-free sweetener that is native to Mexico and the Caribbean, and is traditionally used in margaritas. Agave is sweeter than sugar, so you need less agave for the same amount of sweetness. You can find agave in most grocery stores in the liquor section.
Lime juice Just half an ounce of lime juice adds a kick of tartness to this tequila cocktail that is the perfect complement to the rest of the flavors.
Coconut water Coconut water has a slightly nutty, and very refreshing flavor. It is extremely hydrating, and can be found at any grocery store.
Jalapeño slices Adding jalapeno slices adds heat to this spicy margarita, and if you really want to kick up the spice, you can keep the seeds in the jalapeno slices.
Tajin seasoning Tajin is a Mexican pepper spice blend that has a bit of smoky heat, salt and lime. 
How to Make a Spicy Coconut Water Margarita
In a cocktail shaker, combine tequila, triple sec, lime juice agave, and coconut water with ice. Shake vigorously. Optionally, you can rim your cocktail glass with Tajin seasoning, add ice, then pour cocktail mixture over ice. Garnish cocktail with lime and jalapeno slices.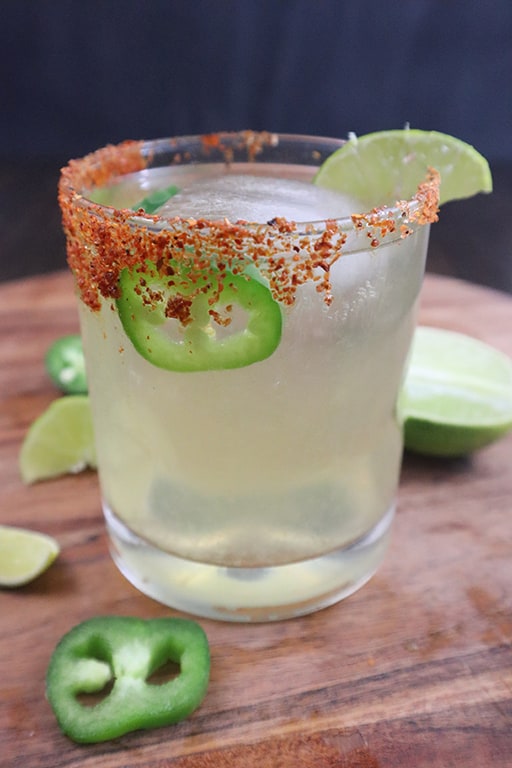 Coconut Water Margarita Recipe Tips, Tricks & Variations
There are many brands of coconut water on the market, but there are two main types of coconut water, pressed and and regular. Pressed coconut water contains all the coconut meat from the fruit and looks more white or milky. Regular coconut water has been filtered to remove bits of fruit and has a more translucent consistency, and is pure liquid. We used regular coconut water in this recipe, but you can use either!
Like I mentioned above, make sure you are using tequila that is 100 percent agave; if you choose another type of tequila it is not authentic and may have distilled corn as its main ingredient which does not have the same digestive benefits agave has.
Adding salt or Tajin seasoning may seem complicated but it isn't! Rub a cut lime around the rim of your cocktail glass (without anything in the glass of course), and place that limed-rim in your salt or tajin–I typically pour these out onto a plate so it's easy to control the garnish placement.
If you don't have agave, you can swap out sweeteners. Honey works in a pinch, but make sure to really shake your cocktail shaker to combine. Also, you could make a quick simple syrup by heating one part water with one part sugar on the stove. Stir until the sugar is dissolved, and allow to heat until water is nearly boiling. Let syrup cool, and add to your cocktail shaker.
📖 Recipe
Spicy Coconut Water Margarita
This spicy coconut margarita recipe is a hydrating and flavorful full twist on a traditional margarita. On the rocks, this margarita is simple, delicious, and easy to make!
Equipment
1 Cocktail Shaker

1 Cocktail Glass
Ingredients
2

oz

Tequila blanco

1

oz

Triple sec

½

oz

Blue agave syrup

Juice of half a lime

2

oz

Coconut water

Tajin Seasoning for garnish

Jalapeno slices for garnish

Lime slices for garnish
Instructions
Rim your cocktail glass with lime juice and Tajin seasoning. Add ice to glass and set aside.

In cocktail shaker, combine tequila, triple sec, agave, juice from lime and coconut water. Shake vigorously.

Pour contents of shaker over ice in cocktail glass.

Garnish cocktail glass, serve and enjoy!