Today, I am sharing with you my recipe for a classic and simple bloody mary recipe that is perfect to bring to your next tailgate.The Bloody Mary is an iconic American cocktail that is unique as a snowflake--no two drinks are the same.
I'm a sucker for a Bloody Mary. Call me old fashioned (I am), but this is one of my favorite mixed drinks. I love all the flavors that go into a Bloody Mary: salt, savory, a little tangy. So good!
---
This page contains affiliate links to products I recommend. If you purchase something from this page, I may receive a small percentage of the sale at no extra cost to you. For more info, click here.
---
Why the Classic Bloody Mary is a Great Drink
This classic cocktail has earned a reputation for being a hangover drink, a morning drink, a drink to highlight the most outrageous and extreme garnishes (I once had a chicken wing on a kebab in my bloody mary and it was amazing.).
This drink has also become iconic as morning tailgate drink. What do they say? "Can't drink all day if you don't start in the morning?" This cocktail is the perfect cocktail for tailgating.
Is There a Best Way to Make a Classic Bloody Mary?
The Bloody Mary has also taken on many renditions: super spicy with horseradish or peppers, or with a smoky flavor, or with a seafood taste with clamato juice, or a cajun flavored cocktail, or even green juice bloody mary's.
I have not had a Bloody Mary I haven't liked. Any time I travel, I make sure to sample at least one to experience the local rendition. Each restaurant, bar, person in their home has their own spin. Just like snowflakes, no two Bloody Mary's are the same. Each recipe is unique and has its own flare and bravado.
How to Make a Classic Bloody Mary Cocktail
While I love the pomp and circumstance of Bloody Mary's, this recipe is none of those; this is your basic, bare bones, back-to-it's-roots Bloody Mary which makes it perfect for a foundation drink for pre-game festivities. The great thing about this drink? Almost all of these ingredients are staples in many kitchens and don't break the budget.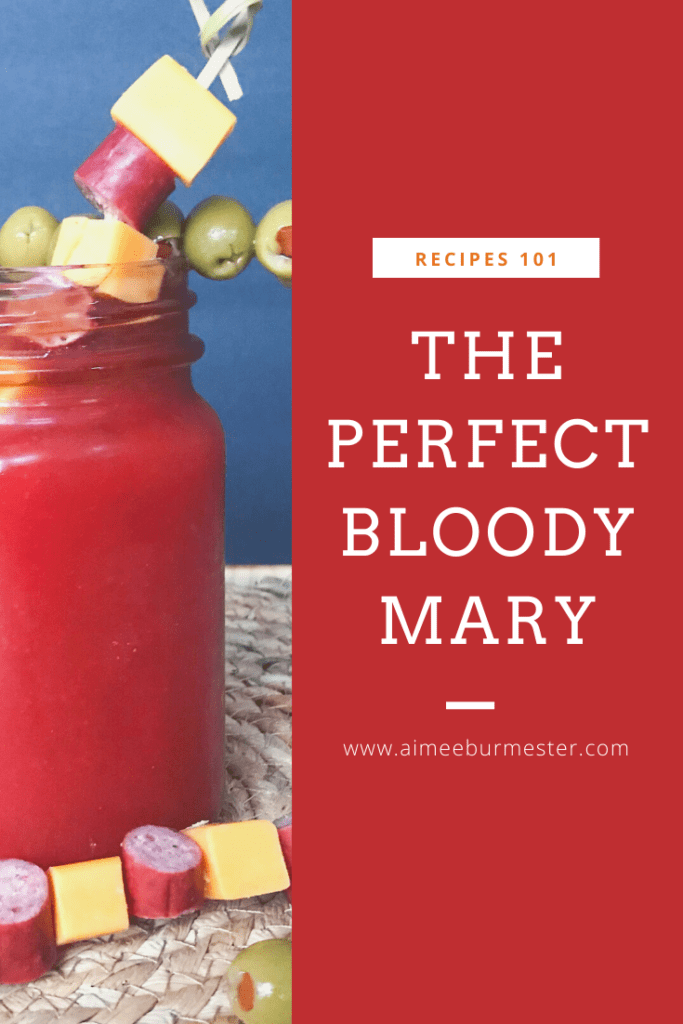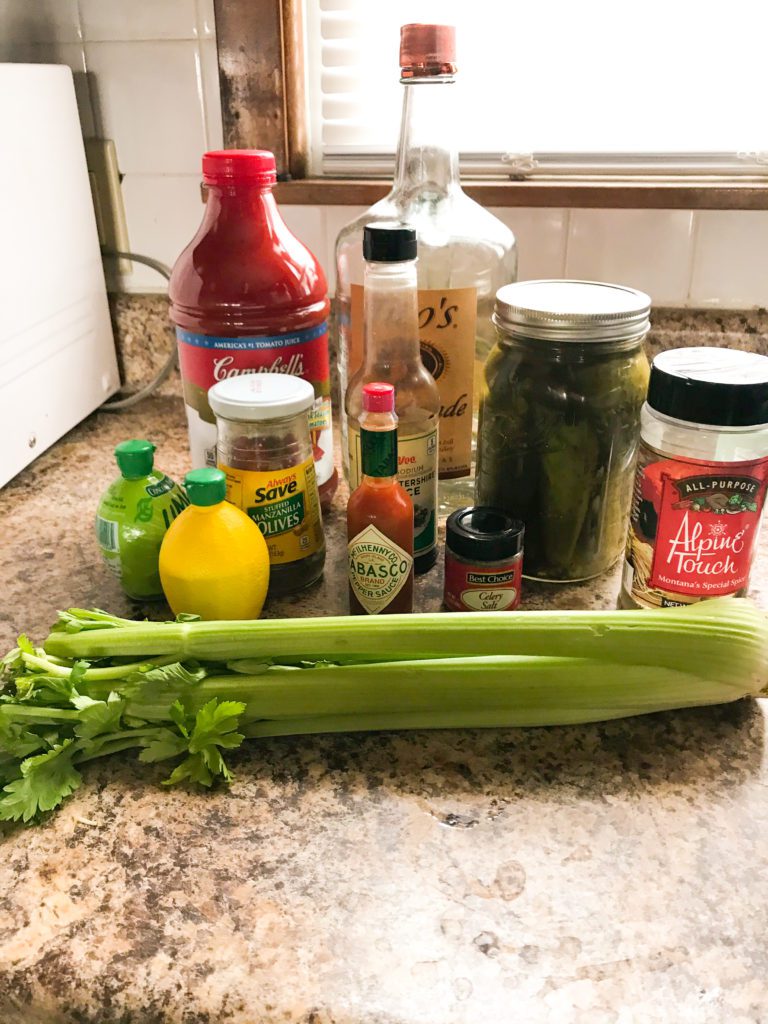 For this recipe you'll need:
2 oz. vodka
5 oz. tomato juice
Celery salt
Worcestershire
Tabasco sauce
Lime juice
Lemon juice
Alpine Touch Seasoning
Pepper
Celery (optional)
Cubed meat or cheese or pepperonis (optional)
Pickles (optional)
Olives (optional)
Toothpicks (optional)
Start with two ounces of vodka in the bottom of a shaker glass--I have (we have this bartender kit with a shaker glass) over ice. Then I just add everything else, hold the celery, pickles, meat, and olives. I put the lid on the shaker, and you know, shake it. 
When I am doing this simple recipe, I usually just use tomato juice that I've canned or tomato juice from the store. Other times I will spice it up a bit and use store bought mixes, or Demitri's Classic Bloody Mary Seasoning Mix, which is a concentrate of spice that has a great kick!
Add ice to a fancy glass (or mason jar if you're like me), and garnish with whatever is in your fridge or pantry. I normally have celery and pickles and olives on hand, so those are my go-to garnishes. Today, I had leftover pepperoni from homemade pizza so those went in my glass. Sometimes I have actual limes in my kitchen and use those, or cucumbers or baked bacon strips.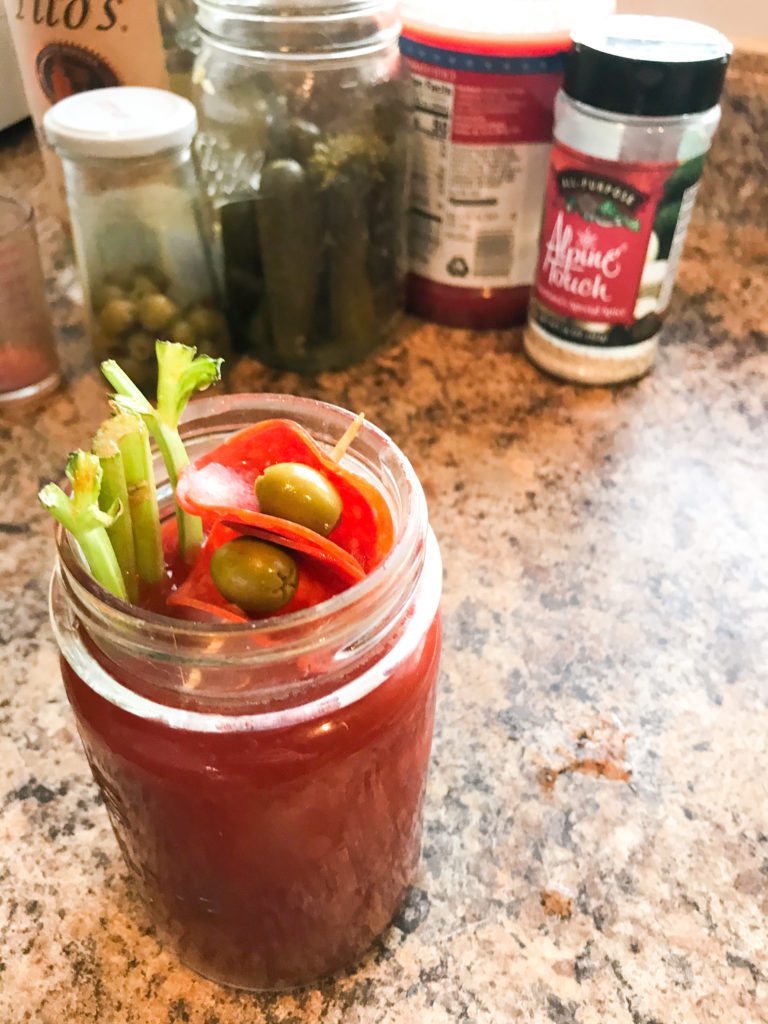 The last thing to do? Sit back and enjoy!
How do you make your Bloody Mary's?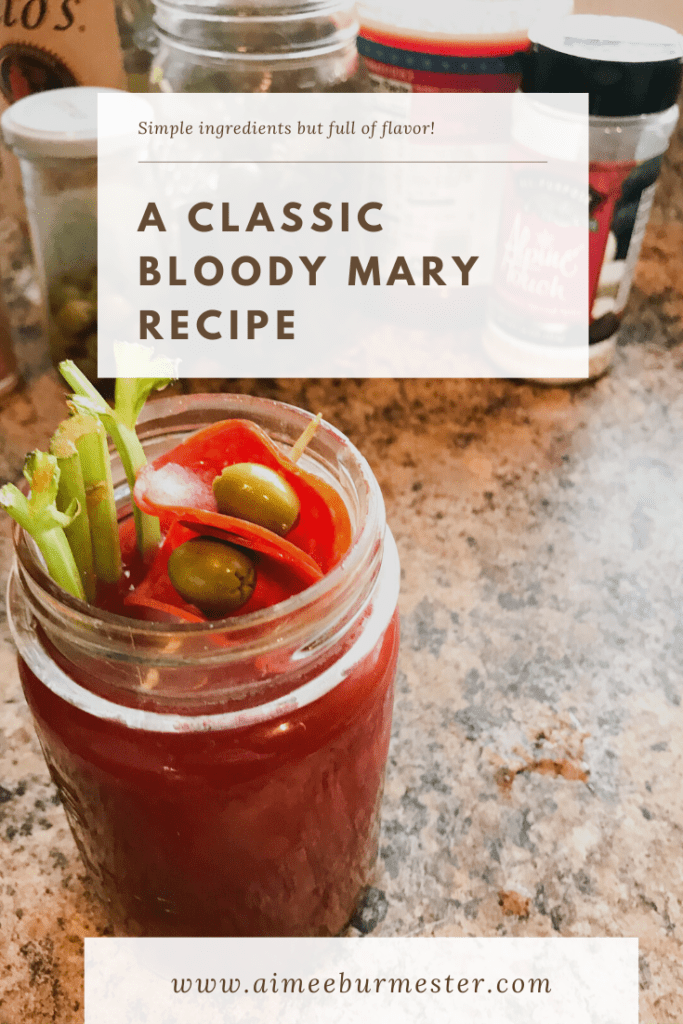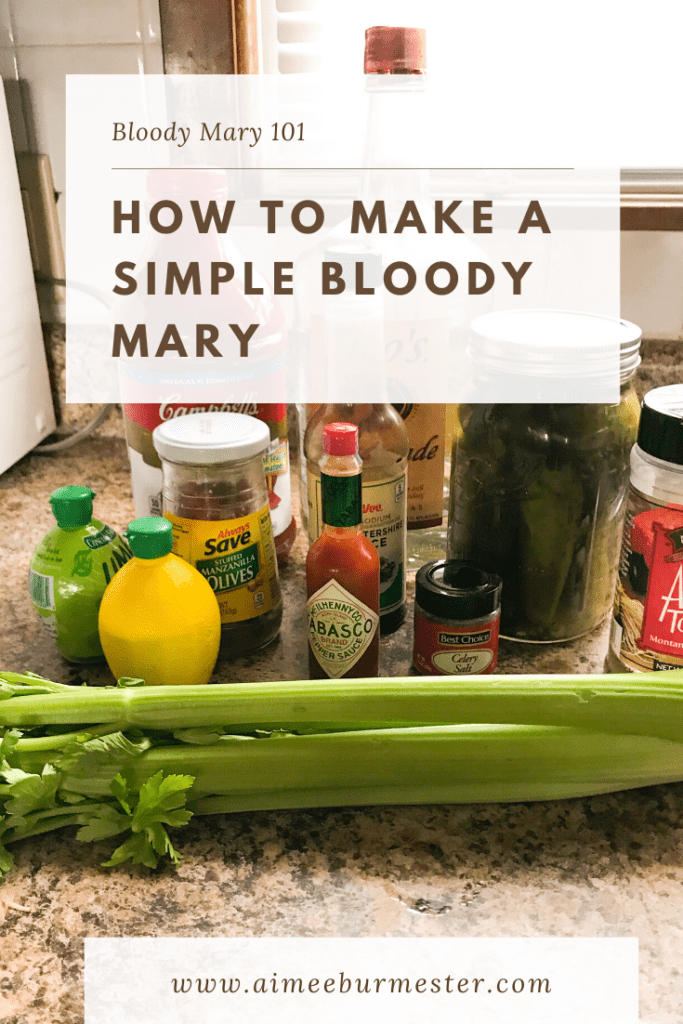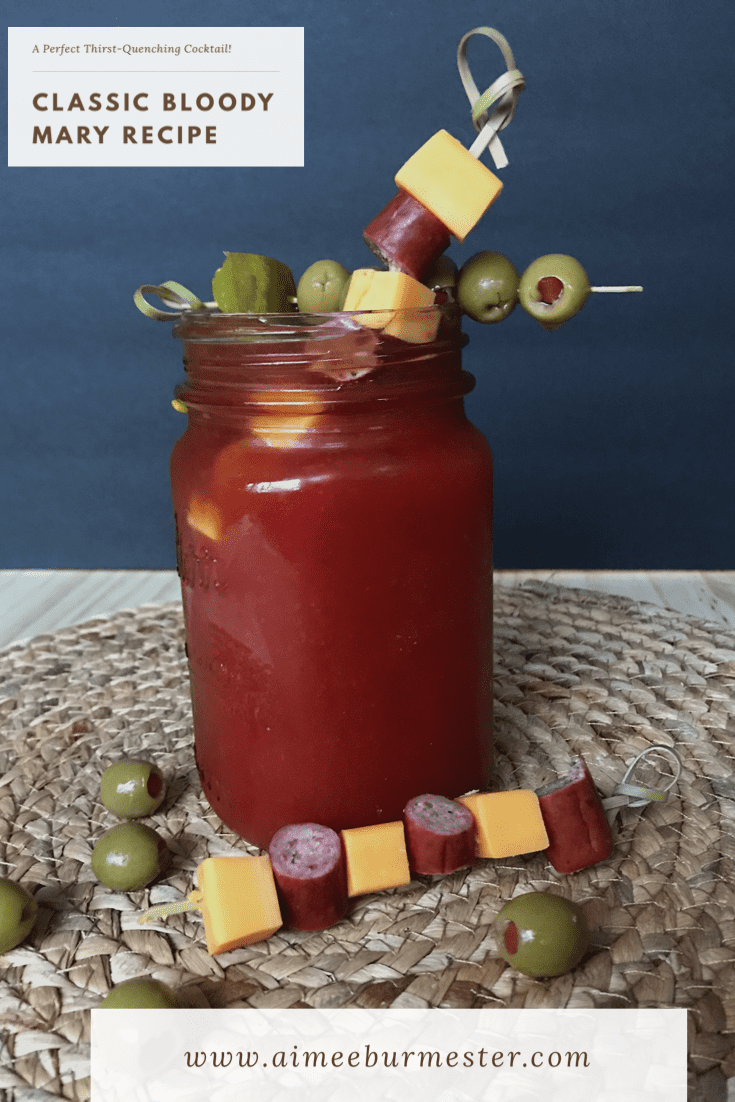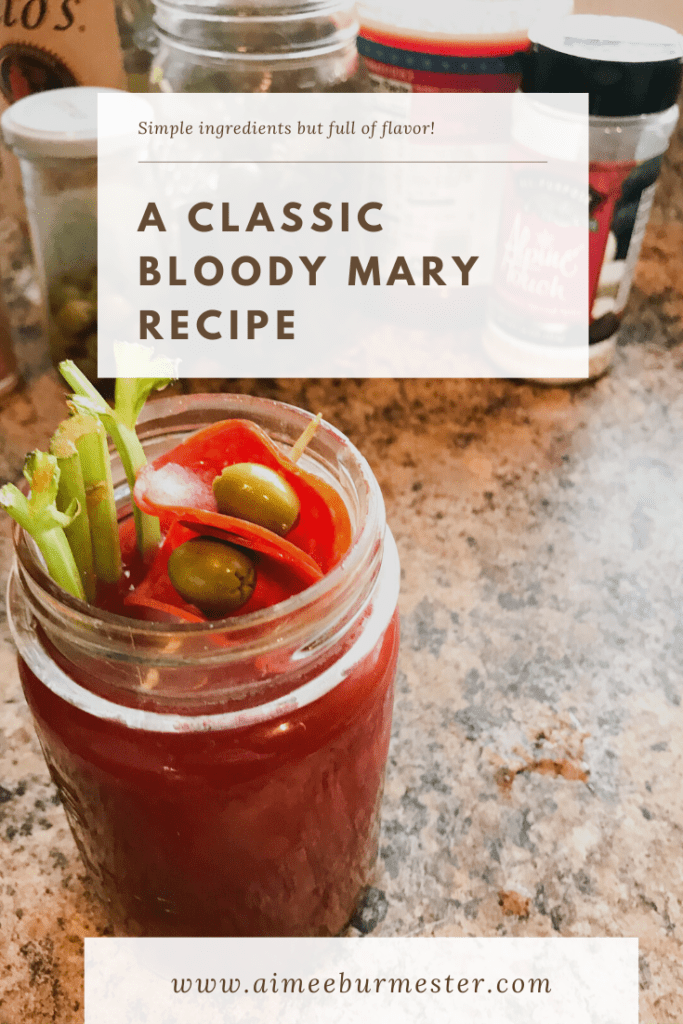 📖 Recipe
Classic Bloody Mary
This recipe is my basic recipe for a bloody mary. Feel free to adjust and change to your taste!
Equipment
Cocktail Shaker

Toothpicks

Cocktail Glass
Ingredients
2

oz

Vodka

5

oz

Tomato juice

Celery salt

Worcestershire sauce

Tabasco sauce

Lime juice

Lemon juice

Alpine Touch Seasoning

Ground pepper

Celery (optional)

Cubed meat or cheese (optional)

Pickles (optional)

Olives (optional)
Instructions
Pour vodka in the shaker glass

Add all other ingredients to shaker glass except the celery, pickles, meat, and olives. Put the lid on the shaker, and shake.

Add ice to a glass, and pour vodka and tomato juice mixture over. Put garnish (pickles, olives, meat and cheese, etc.) on toothpick and drape over side of glass.