If you find yourself visiting Sioux Falls, South Dakota, you may be surprised by just how much there is to do. Here's a guide to spending 24 hours in Sioux Falls, the largest city in South Dakota.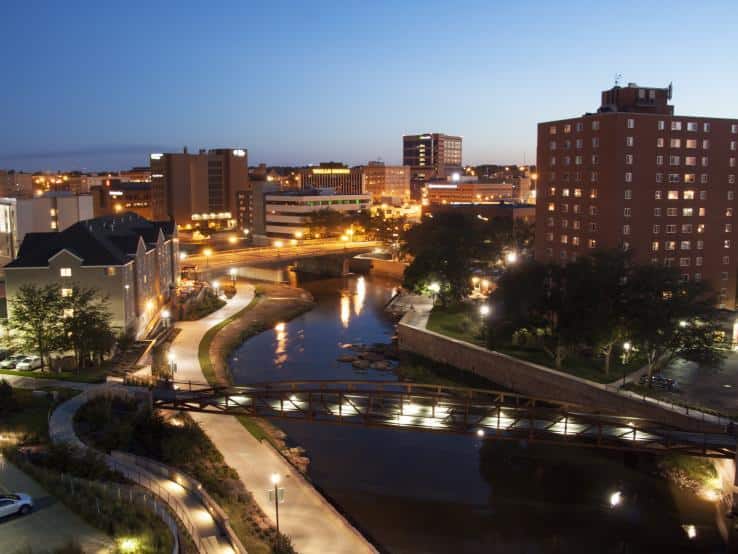 With an entire state population of under 900,000, you might think there isn't a ton to do in South Dakota, but that's not the case! While much of the state is covered in rolling prairies, or the Badlands and Black Hills, the southeast corner of the state has become a booming center for commerce. With that commerce comes amazing restaurants, one-of-a-kind bars, and stunning natural landmarks.
If you've only got a short amount of time in Sioux Falls, don't worry, you can still take in plenty of sights and sounds. Here's a recommendation of the best things to see and do in Sioux Falls, South Dakota!
Where to Stay in Sioux Falls
Downtown Sioux Falls always has fun and exciting events going on, so staying near the action is a great idea. There are multiple full-service hotels on and around Phillips Avenue, the heart of DTSF.
The newest accommodations, Hotel on Phillips, is a beautiful boutique, full-service hotel that mixes modern finishes with a throwback, 1920s vibe. Other hotels downtown include the Holiday Inn, Hilton Garden Inn, and Country Inn & Suites.
Where to Eat in Sioux Falls
Did you know that Sioux Falls has the most restaurants per capita in the nation!? So there are plenty of amazing, local restaurants to check out on your visit to the city. Here is a short list of the best restaurants in Sioux Falls.
Ode to Food
Josiah's Cafe
Phillip's Avenue Diner
Breakfast
I recommend grabbing one of the best cups of coffee in all of South Dakota at Josiah's Coffeehouse & Café. Their lattes are perfect every single time, and they offer a large variety of baked goods.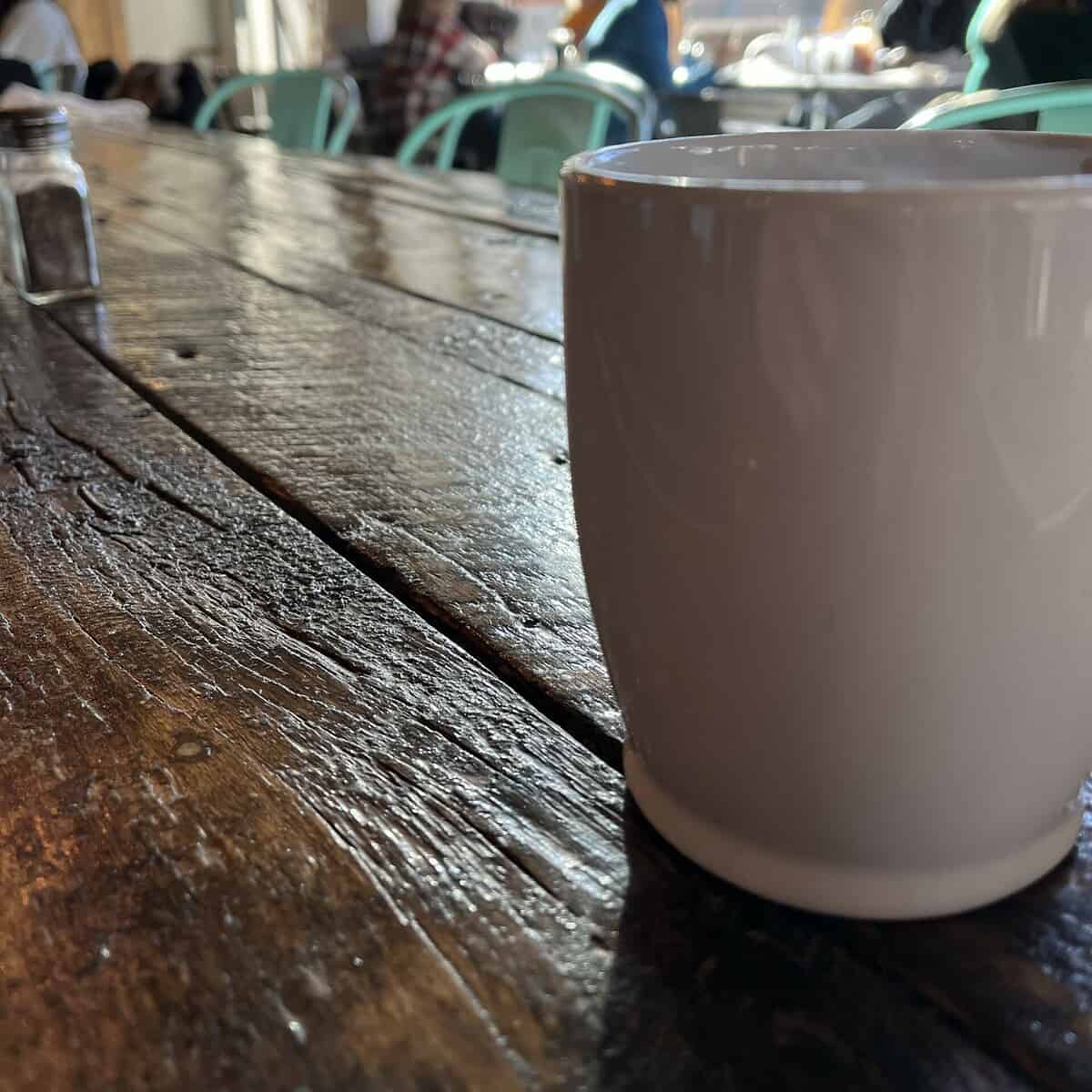 Josiah's also serves great breakfasts and lunches. I love to grab an omelet or eggs Benedict with my coffee and it is so so good. The last time we stopped at Josiah's, my husband had a homemade poptart, and I had a blackened salmon omelet.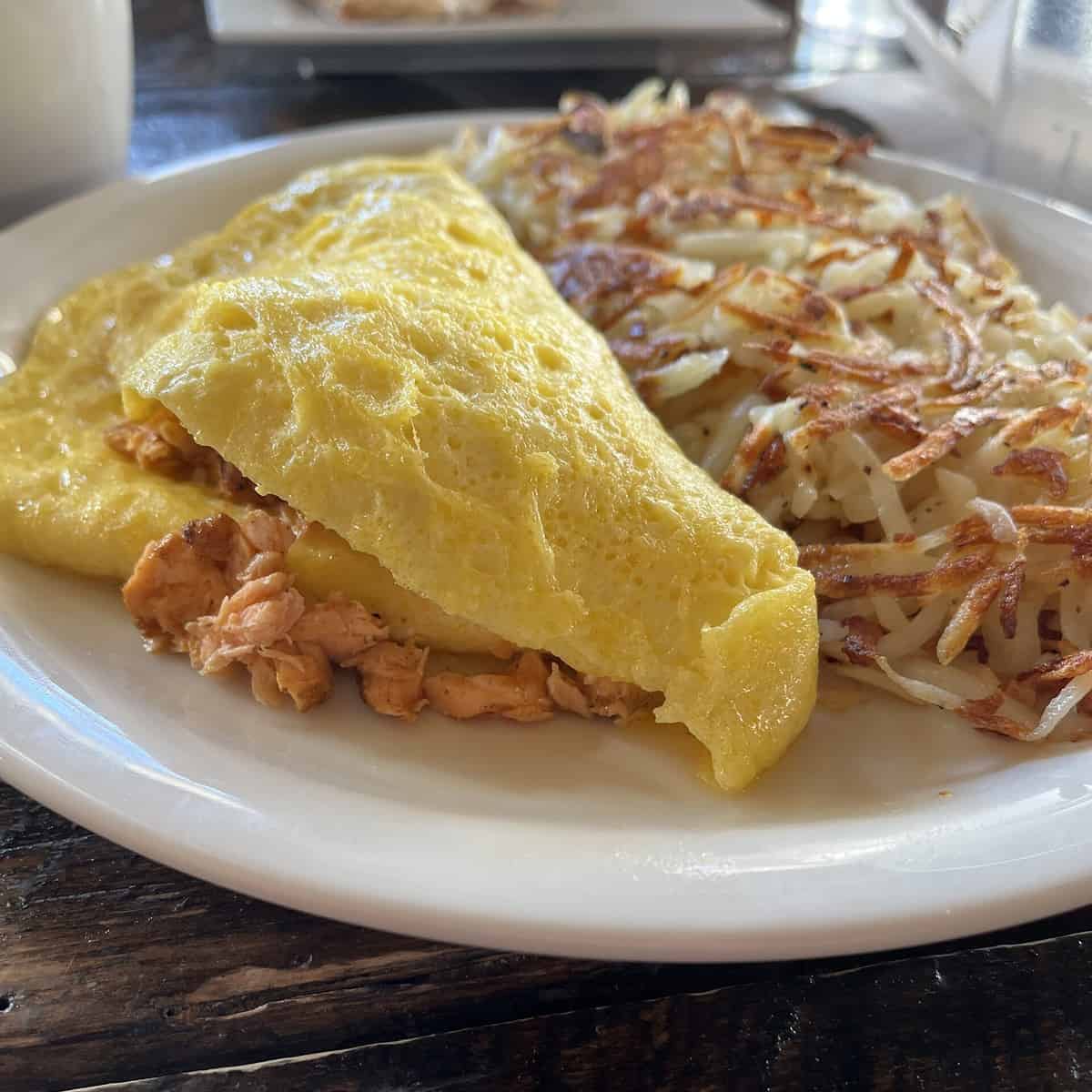 The atmosphere is bright, airy and welcoming, and there are always people congregating there–it has a very community feel. Do not let let crowd deter you, Josiah's works very efficiently and we had our food in less than 15 minutes.
Lunch in Sioux Falls
If you're looking for a lunch spot near the sites, I recommend the fun and historic, Phillips Avenue Diner. The diner was moved downtown in 1996, and features traditional diner fare.
We recommend grabbing a cheeseburger and a milkshake!
The Best Restaurant for Dinner in Sioux Falls
There are so many great local restaurants in Sioux Falls so you're sure to find a good spot for dinner, but our favorite place to share an evening meal is Ode to Food.
Ode to Food has been a staple of downtown Sioux Falls for nearly a decade. Chef Bob, a talented and experienced chef, has been creating delicious and unique meals that Sioux Falls residents and visitors love.
The menu at Ode to Food in Sioux Falls is always updated and changing to showcase local and seasonal flavors while also highlighting Chef Bob's influences of Napa Valley and San Francisco. We cannot recommend Ode to Food enough!
Where to Drink in Sioux Falls
Just like there are plenty of restaurants in Sioux Falls, there are also a plethora of bars, pubs, and taverns. We have two favorite watering holes in Sioux Falls, Severance Brewing Co., and The Hello Hi.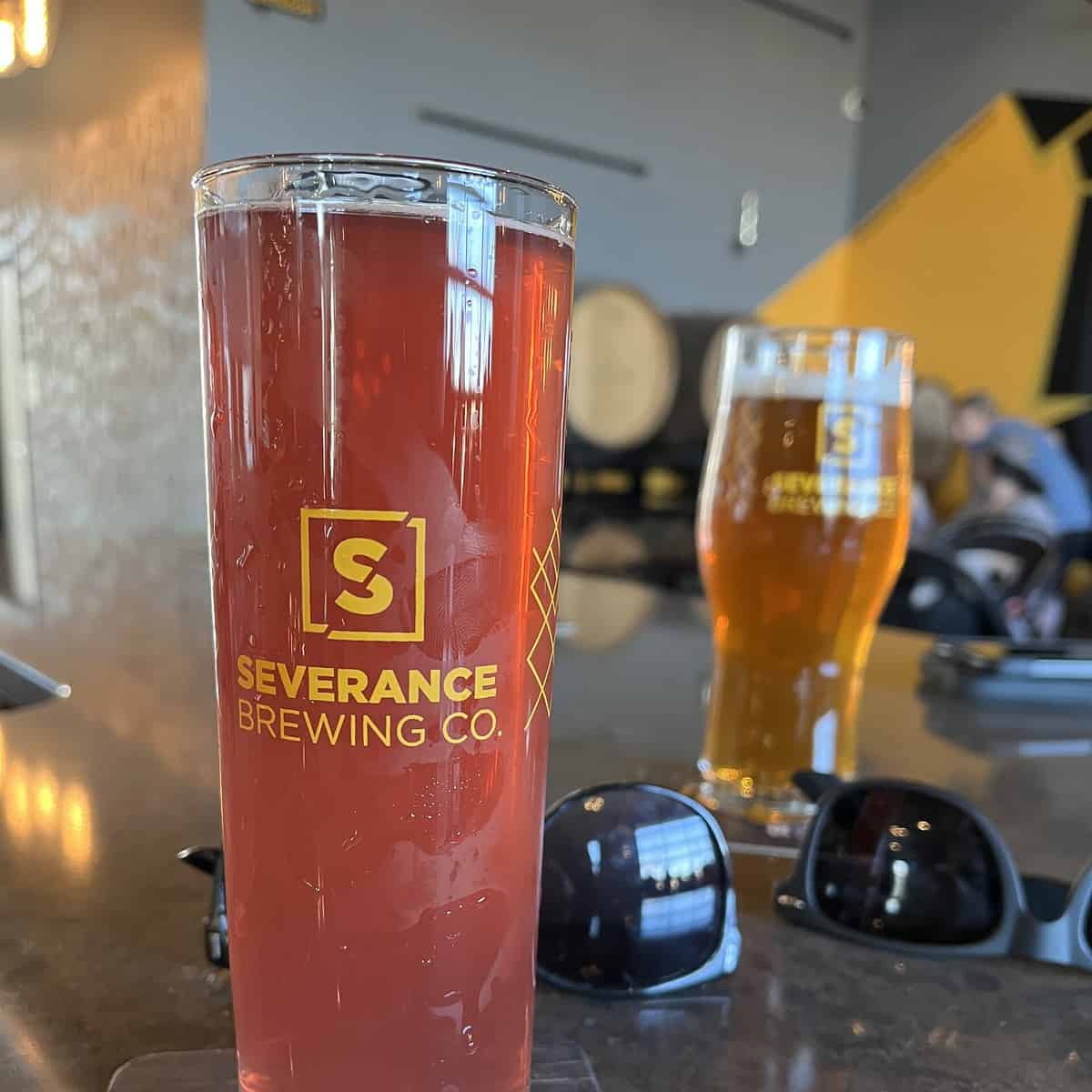 Severance Brewing Co. opened in 2019, just months before the pandemic, but that has not stopped them from thriving. Now, with over 20 lagers, ales and ciders on tap, as well as non-alcoholic options, there is a drink for everyone.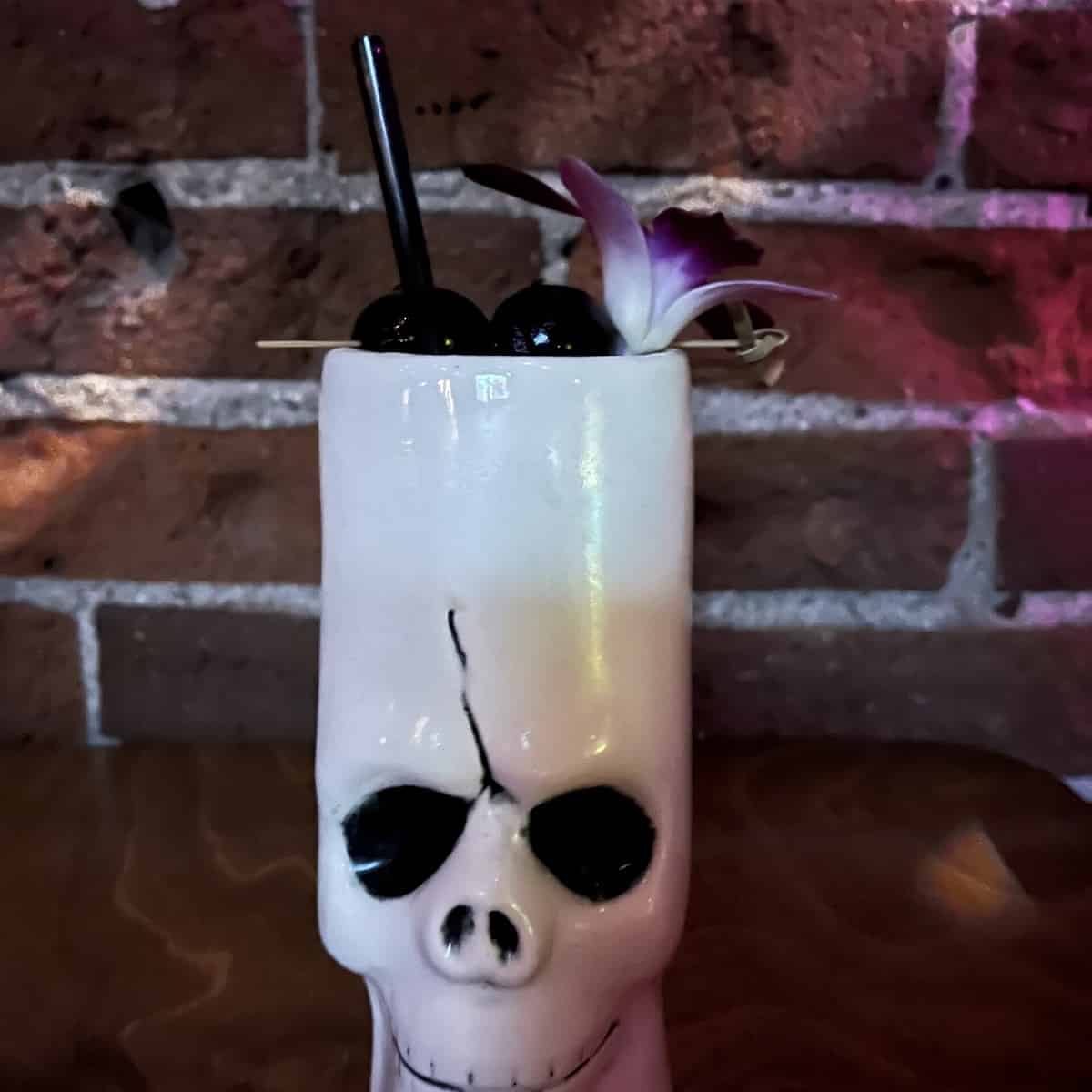 The Hello Hi is a new, fun, and funky bar in the heart of Downtown Sioux Falls. The vibe is a mash-up of retro, spooky, and 90s tropical, where they serve your traditional cocktails as well as tiki-inspired libations. You will definitely have a good time at The Hello Hi!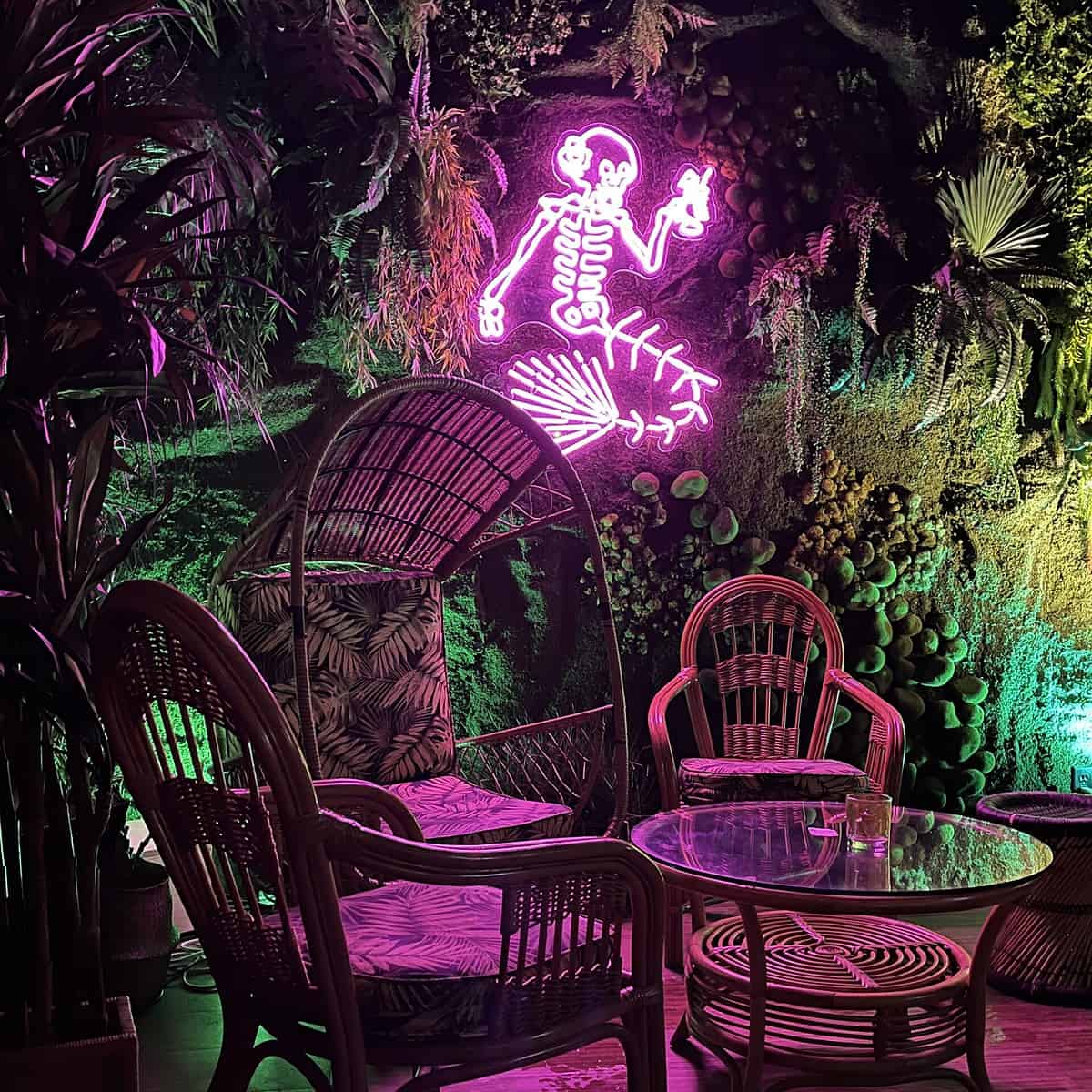 Sioux Falls Landmarks to Visit
There are some beautiful natural and man-made landmarks to visit if you're in downtown Sioux Falls—the Falls at Falls Park and the Arc of Dreams Sculpture.
Falls Park
The Falls at Falls Park, are beautiful waterfalls on the Big Sioux River. The park has 128 acres for visitors to walk around and explore, and they're located within walking distance of the rest of downtown.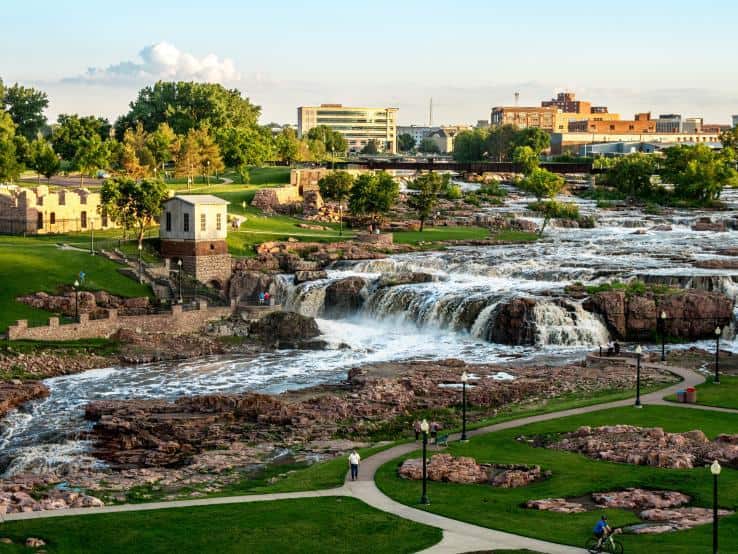 Falls Park is also home to the visitor center and historical tower, Stockyards Ag Experience (this is an awesome glimpse into the agriculture and farming lifestyle), and Overlook Cafe.
Falls Park has plenty to offer everyone in your party—even if all you want to do is take in the beauty of the falls. Admission to the park is completely free so it's an affordable Sioux Falls activity as well!
Arc of Dreams and Sioux Falls Sculpture Walk
Another landmark on the Big Sioux River in Sioux Falls is the Arc of Dreams. Another beautiful and free site-seeing opportunity, the Arc of Dreams.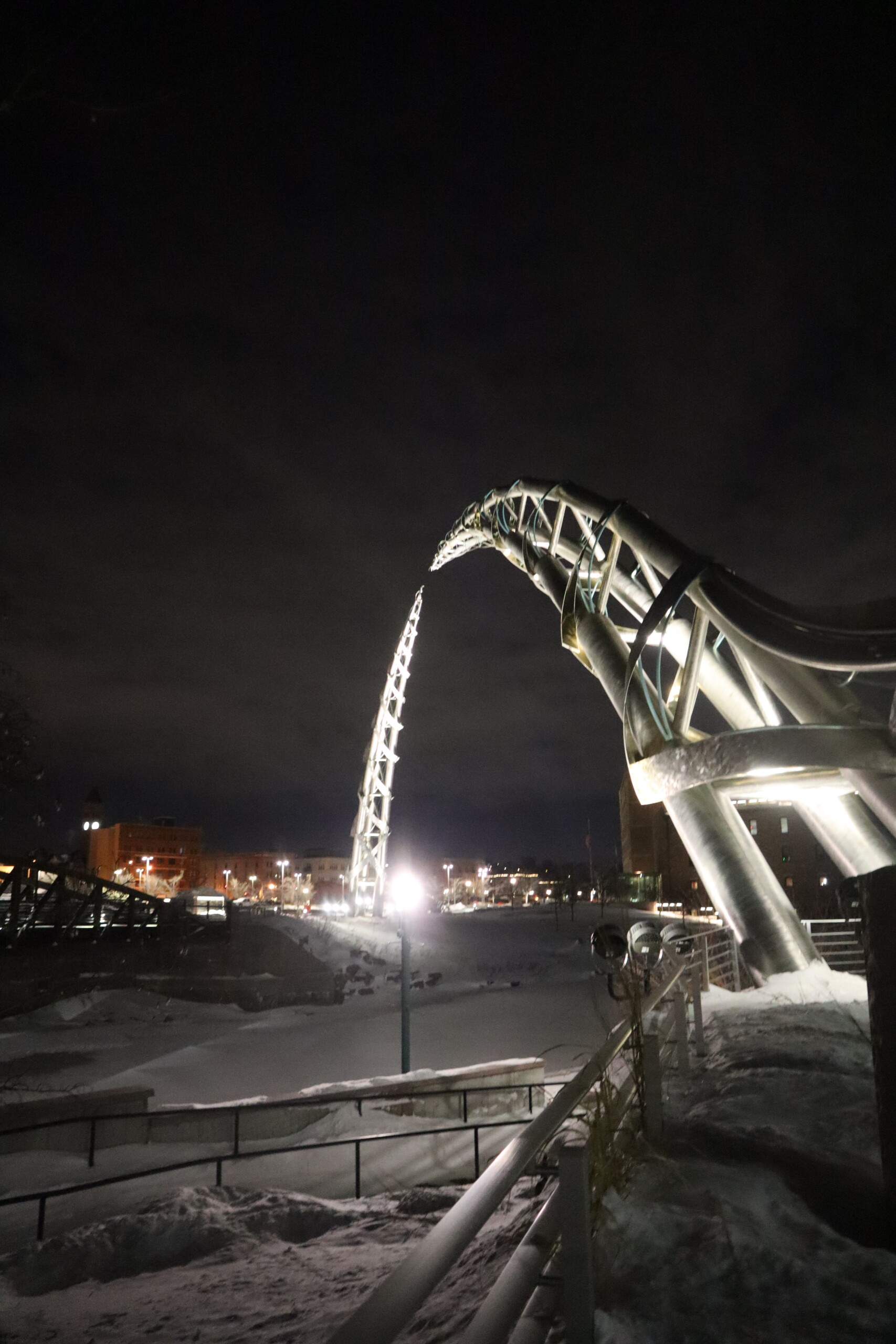 This iconic sculpture is unique to Sioux Falls and was created by Dale Lamphere, South Dakota Sculptor Laureate, and is a part of Sioux Falls' downtown SculptureWalk.
The SculptureWalk typically features over 60 pieces of art and sculptures all across downtown Sioux Falls, and wraps up with the Arc of Dreams which spans across the Big Sioux River and is nearly the size of a football field.
The SculptureWalk and Arc of Dreams are an unexpected taste of art throughout downtown Sioux Falls.
Conclusion
There are so many great places to eat, drink and visit in Sioux Falls. I hope this guide helps you when you plan your next trip to the biggest city in South Dakota.
If you've been to Sioux Falls, I'd love to hear what you love to see and do while visiting!