In all honesty, this post should be titled, 'How to acceptably eat potatoes every night in one week so you can stretch your budget further."
I love potatoes. In all forms. At all meals.
---
This page contains affiliate links to products I recommend. If you purchase something from this page, I may receive a small percentage of the sale at no extra cost to you. To read my full disclosure, click here.
---
Bubba had his shrimp. I have potatoes. Baked. Fried. Hashbrowns. Riced. Mashed. Crack Potatoes. Twice Baked. Tots. Waffles. Chips. Gnocchi. Klub. Au Gratin. ALLOFTHEM.
I have never met a potato I didn't like. They're versatile, they pair well with nearly any dish at any meal, and a bag of them can feed a crowd or a single person (holla!). They're a great source potassium and fiber, and the best thing these tasty tubers: they're affordable.
One of the things I love most about potatoes is their price tag. You can buy a five-pound bag of potatoes for around $2 if you're watching the grocery store ads. Now that I'm a single-income household, I watch my budget like a hawk. I stretch everything a little further than is normally acceptable.
When I made the move to Sioux Falls, I started aggressively budgeting. I found this excel document and this budget calendar, and use them both to track my money. I buy second-hand clothes, I shop the clearance rack, I meal plan, and I check the grocery store ads. My goal each month is to keep my grocery budget to less than $120, and I have successfully been able to do that through planning and tracking, and consuming copious amounts of potatoes.
Since the low-carb and no-carb revolution, potatoes have gotten a bad name. "I don't eat carbs, so I don't eat potatoes." I am so grateful I never jumped on that bandwagon. In the past few years, I have cut gluten from my diet and it has made a world of difference in the way my mind, joints, and guts feel. Because of my gluten-free lifestyle, I have relied on potatoes to get my carb fix.
When I was married, I threw a roast and potatoes in the crock pot at least once a week. It was effortless, and when I came home from work the house smelled amazing. We would ask a friend to come over and eat with us and polish off the whole meal in an evening. Now that I'm just feeding myself, my roast and potatoes lasts a little longer. In order to keep my budget in check, I turn my leftovers into a second meal and feed myself the same food a different way.
So this is one of my go-to meal transitions: beef roast to shepherd's pie.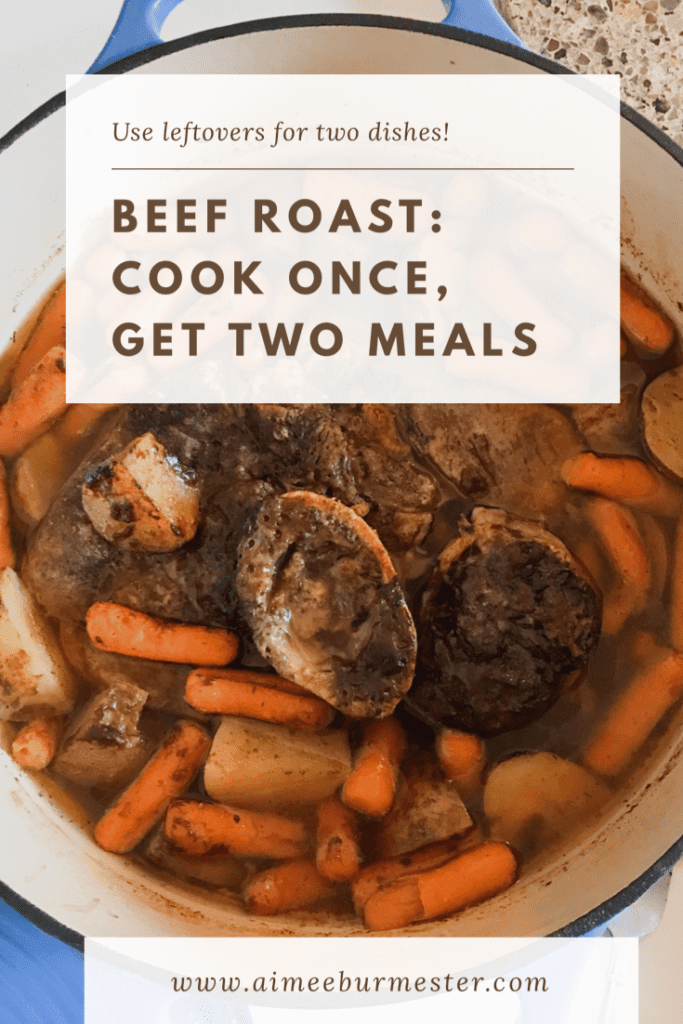 Most know what a beef roast is, but I'm assuming not as many know of shepherd's pie. It's a dish that originates in the UK in Ireland and often uses lamb instead of beef (fun fact: there are four million people in Ireland and nine million sheep). Since I have NEVER had any lamb in my freezer, I adapted to fit my diet. Back to the pie: it's not a real "pie," but you take your meat and carrots and gravy from your roast, add some peas and more salt and butter, and mix them together. I take the potatoes out of the leftovers, mash them, then cover the beef, carrots, peas, and gravy mixture—that's where the pie title comes from. Bake that combo and enjoy. Here's a bunch of pictures and descriptions of my steps:
Step one: Pick a Roast, Preheat oven to 350 degrees.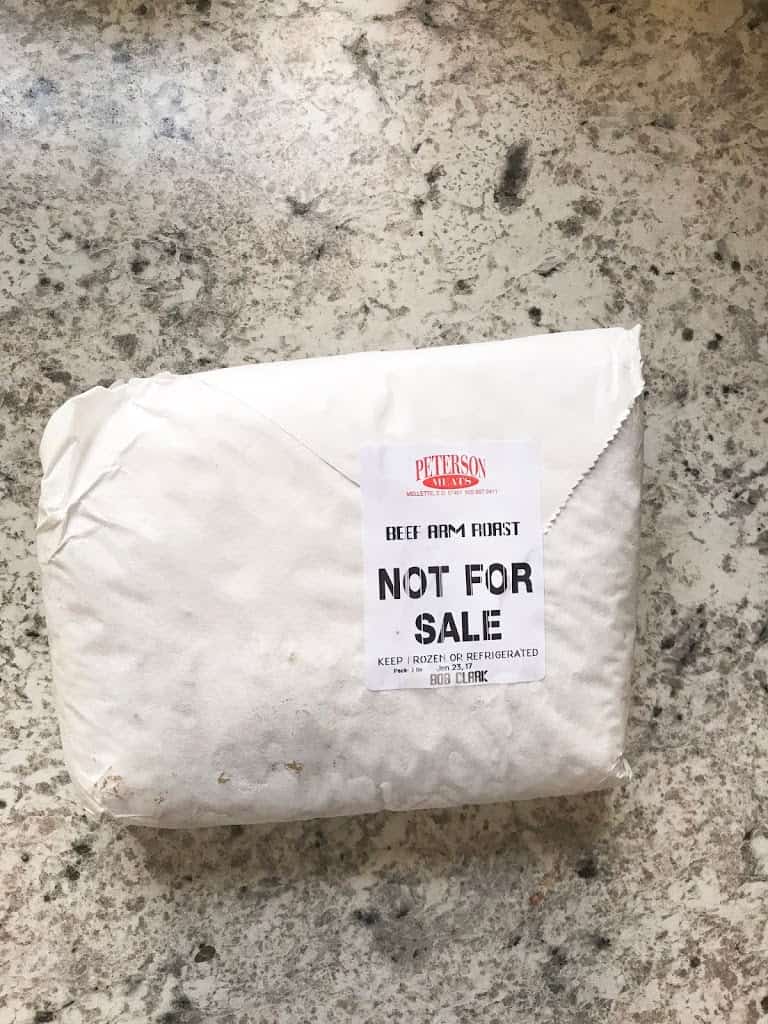 I pulled this beauty out of my freezer. Any cut of roast works for this recipe. This one just happens to be an arm roast.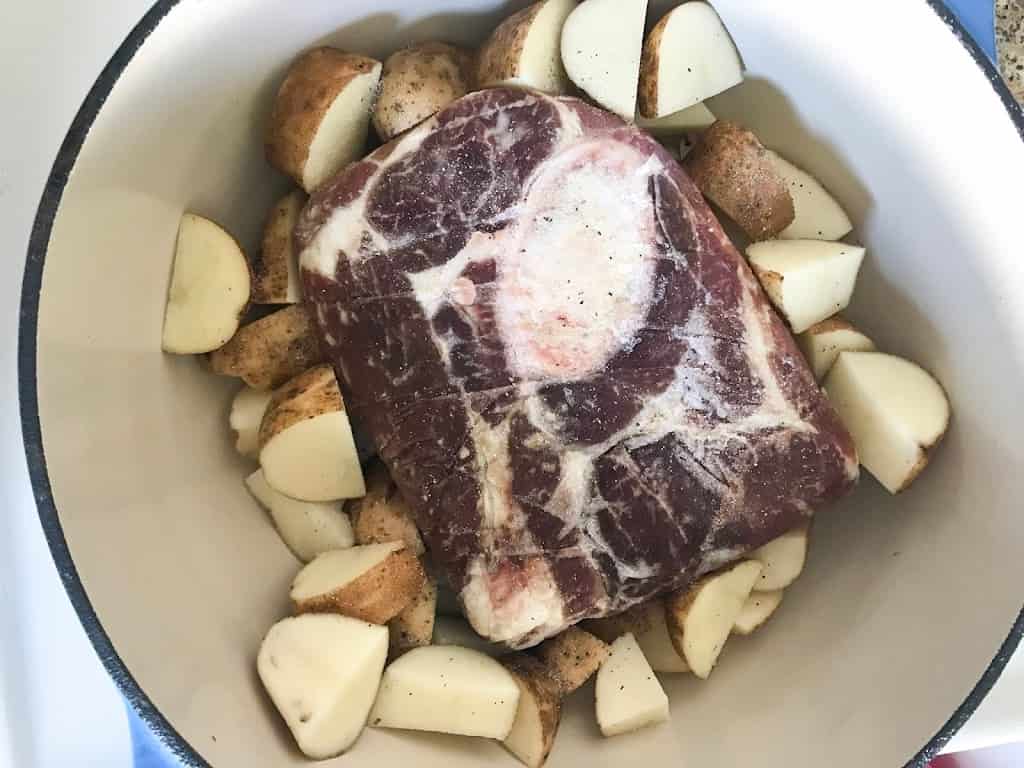 Step Two: Add Roast and quartered potatoes to pot
A lot of times I will just make my roast in the slow cooker. This roast was bigger than my slow cooker, so I used my enameled cast iron dutch oven.
I have to brag on this dutch oven for a minute: it is the MVP of my kitchen. I use it at least three times a week, if not more. I can start cooking things on the stove, and transfer to the oven. I can cook things, leave them on the stove, and turn off the heat, and they will stay warm for quite some time. I can bake things in it. I boil water, or make soup, I saute things, I brown meat, etc. It really is super useful. The one I have is seven quarts, but I know they come in smaller sizes as well.
Of course there are other brands and more expensive brands, but mine is Lodge Cast Iron and I'm so happy with it. I also use this Lodge Cast Iron skillet in my kitchen often. Needless to say, I'm a big fan of Lodge products.
Step Three: Season with Alpine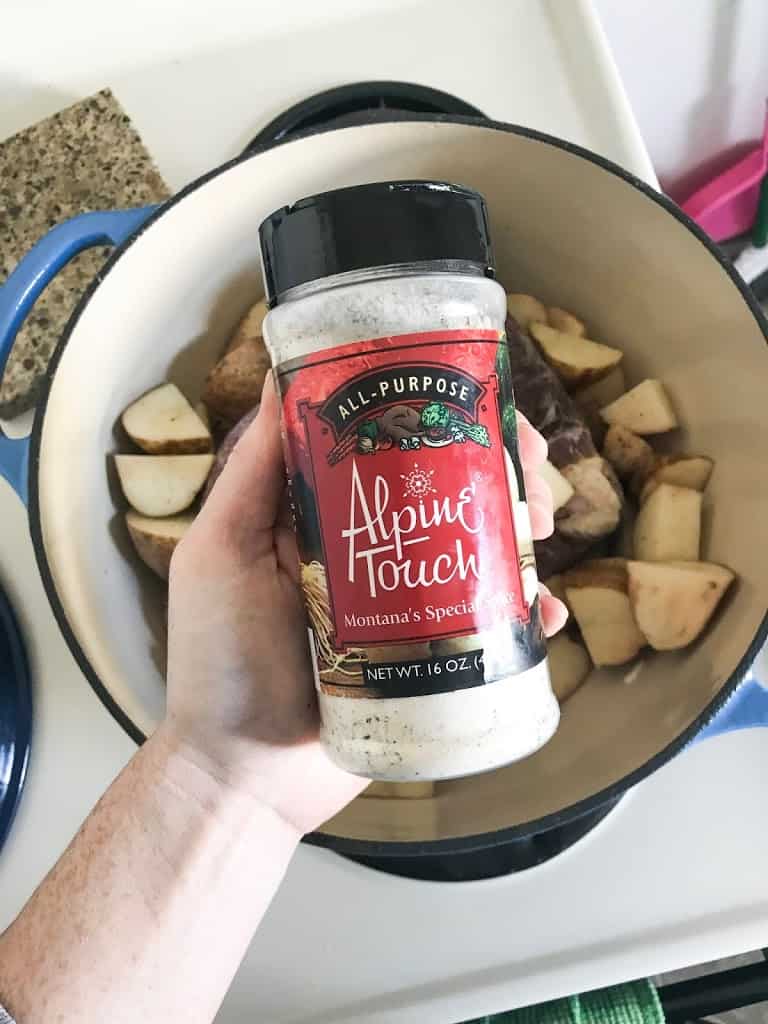 Alpine Touch is the other work horse of my kitchen. I put it on and in nearly everything I cook. Its the perfect blend of salt, pepper, garlic and onion, all flavors I love!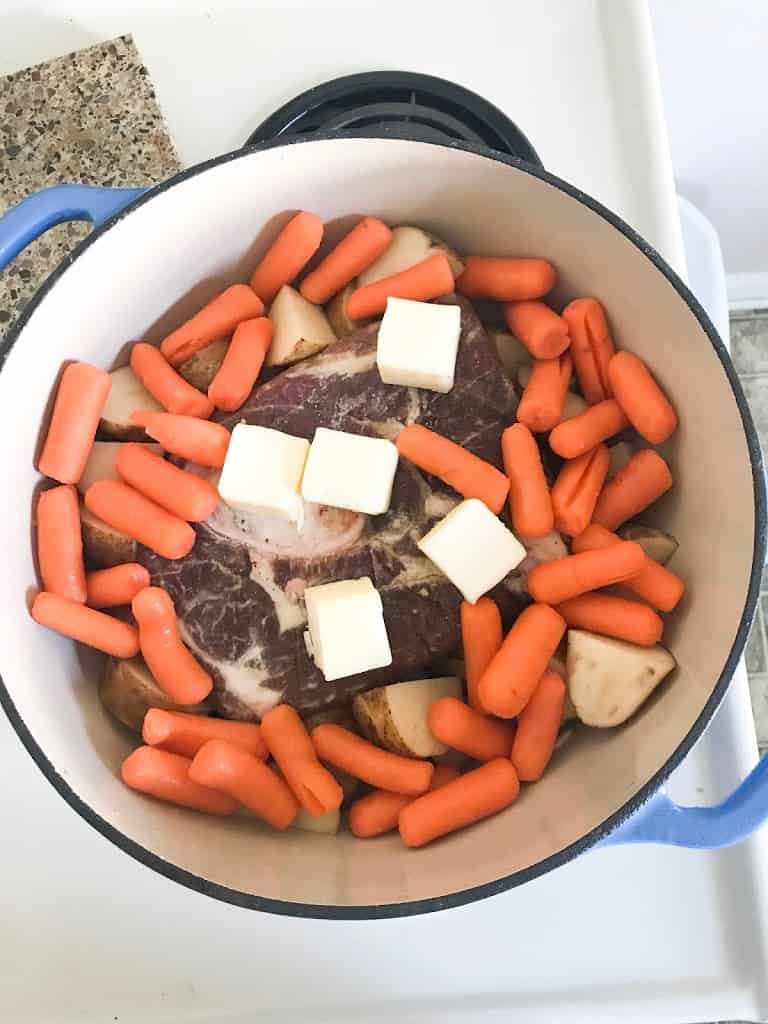 Step Four: Add Carrots and Butter
Self explanatory: add carrots and butter. I know the meat has fat in it which provides moisture, but the better just adds to this recipe's moistness (ick, I hate that word).
Step Five: add more seasonings
Don't ask me why, but I didn't take photos of this step, but I sprinkle a ranch dip packet and a gravy packet over everything.
Step Six: Cook in oven for two to two and a half hours.
Magic happens here, everything cooks, juices flow, flavors merge. Its a beautiful thing.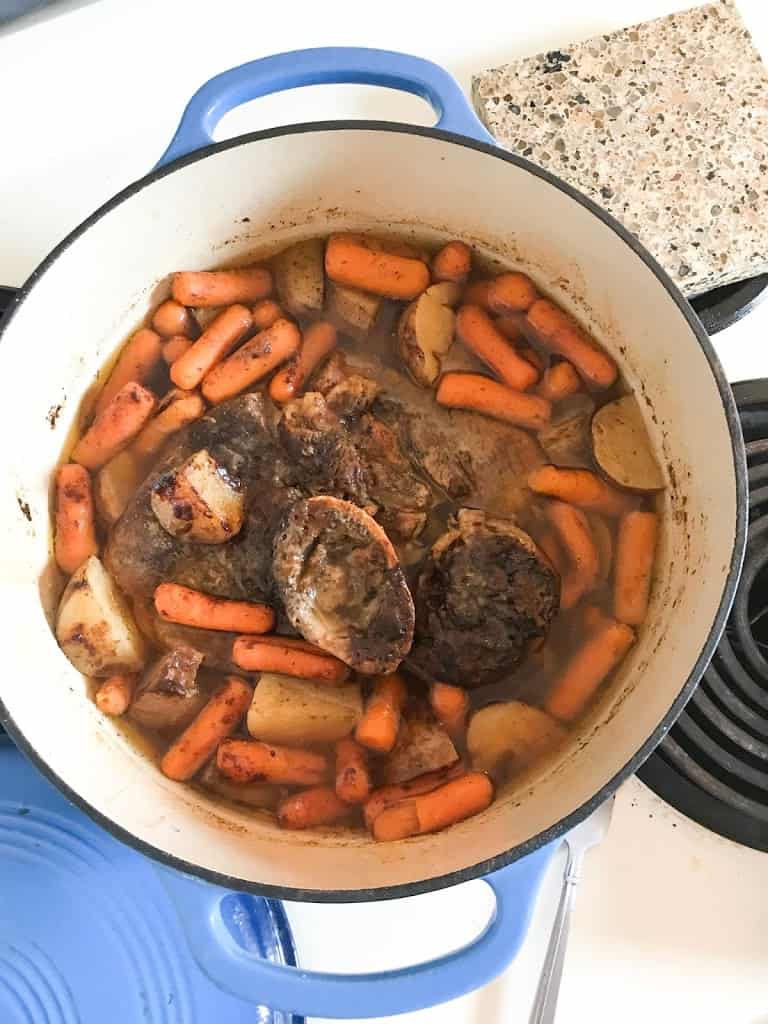 Serve with bread. Or a beer. Or Sauvignon Blanc. Or cheap Franzia Zinfandel. Zero judgement here.
Let's Make Some Pie Now
After I eat my fair share of roast, I cut the meat off the bone (if there is one), and store everything in the fridge. The next day, I start my Shepherd's Beef Pie.
Step One: Assemble Leftovers & Preheat Oven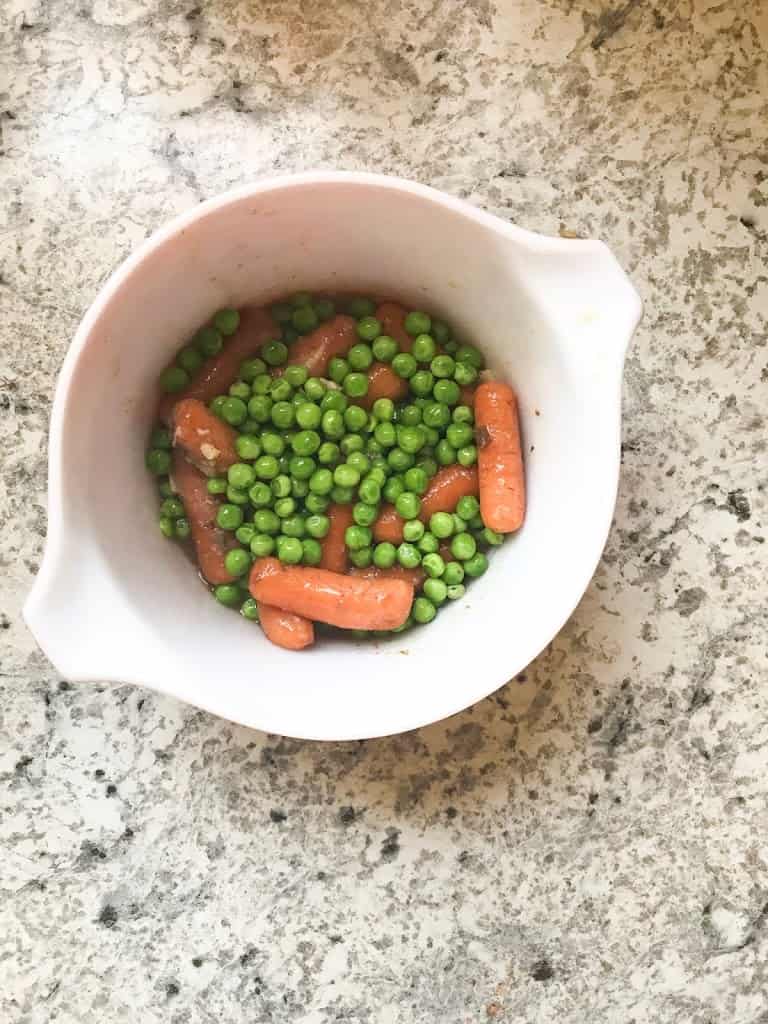 I put my carrots with frozen peas (or whatever frozen vegetables I have on hand), in the bottom of a bake ware dish. I use vintage pyrex because I am an old soul at heart and I love the designs and colors of vintage pyrex. I also preheat the oven at 350 degrees.
Step Two: Add Meat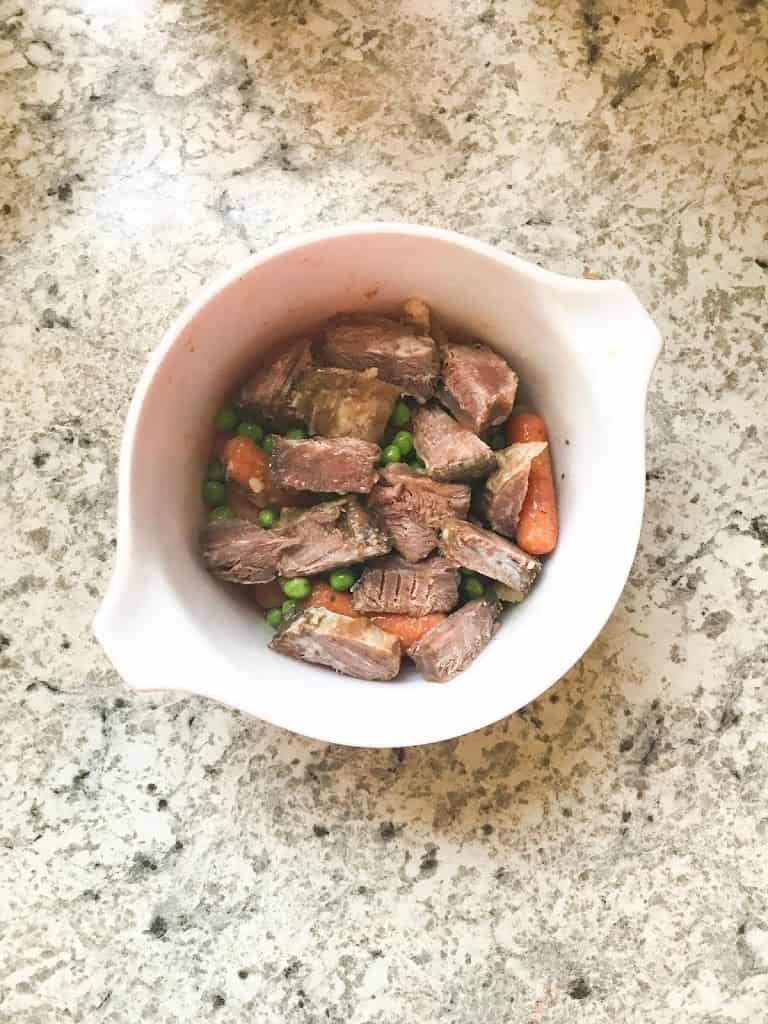 I cut the beef into chunks and layer it on top of the peas and carrots.
Step Three: Add Gravy
I microwave the the gravy-butter-ranch mixture from the day before, then pour it over the beef and veggies, and stir.
Step Four: Mash potatoes and cover mixture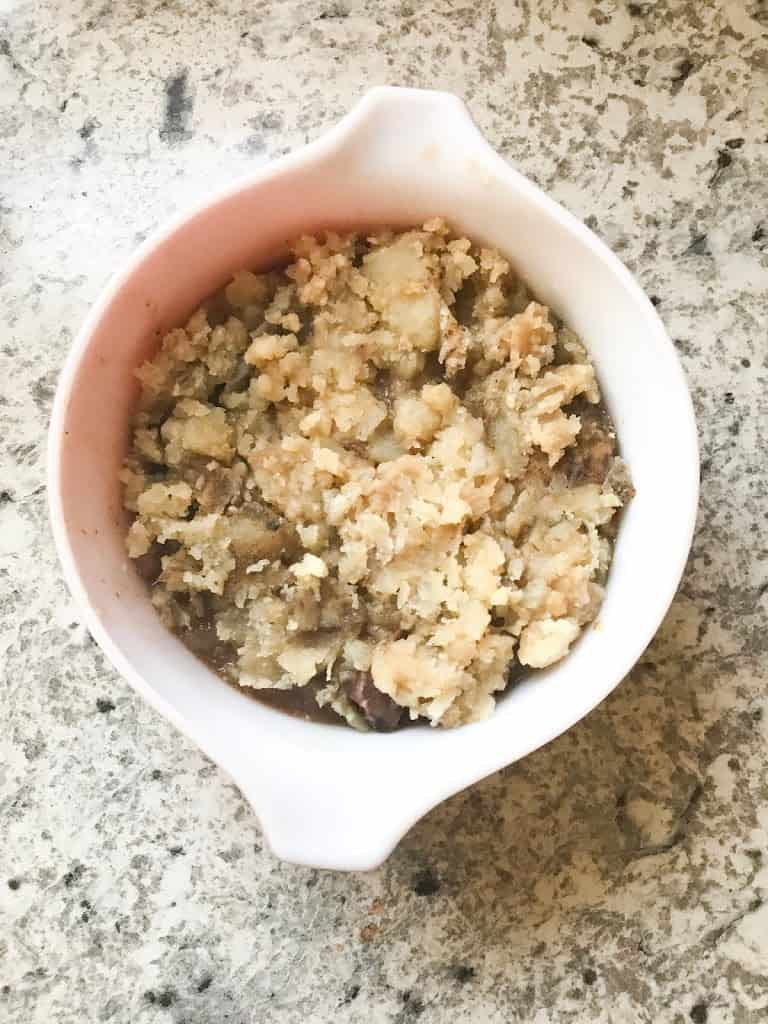 So the thing about this dish is that while it doesn't look very pretty, its simple and full of nutrients and tastes amazing. Lumpy potatoes, I love you.
Step Five: Bake at 350 for 30 Minutes
Step Six: Enjoy!