Beef bolognese over pasta is one of the quickest and easiest recipes to get a dinner full of vegetables on the table in less than a half an hour.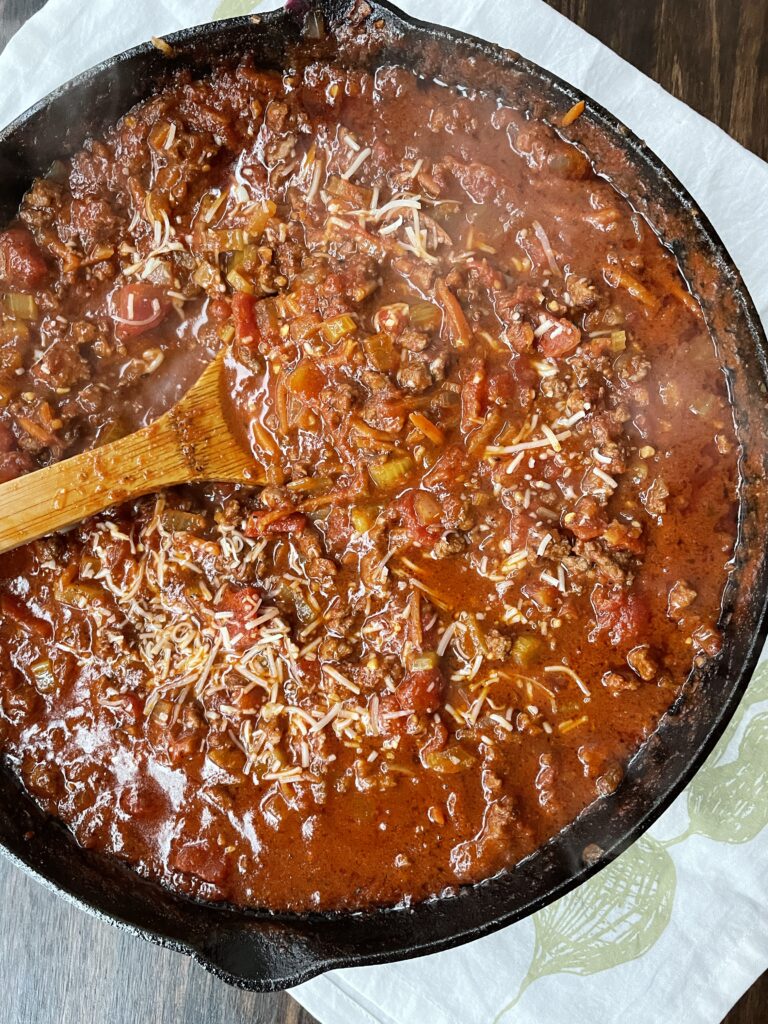 This recipe is perfect for a weeknight dinner when you don't have a ton of time.
Right now, we're about a month into football season. Fall camp has ended and my boyfriend and his team are preparing for the first game of the season. He is working some late nights at the office, so we're getting creative in finding ways to spend time together.
One way we've done this is through eating dinner together at his office. He has a small window of time between practice ending and meetings and film starting for the evening, so I leave my 9-5 job and hustle to get dinner ready by 6.
It's no secret I love meal planning and prepping to simplify my life (and decision making), and this ground beef bolognese sauce recipe is a go-to for football season meal planning.
---
This page contains affiliate links to products I recommend. If you purchase something from this page, I may receive a small percentage of the sale at no extra cost to you. For more info, click here.
---
Why Buy Local Beef
Over the past few years, we've gravitated away from buying our meat—especially beef—from the grocery store. Living in South Dakota provides us with access to some amazing farmers and ranchers who produce some of the world's best beef.
I know the beef I buy directly from my local rancher is much better quality than beef that I find at my grocery store. Why? Well, we've essentially cut out the middle-man and gone straight to the source for our meat. We know exactly where our beef is coming from as opposed to getting shipped in from another source around the country. I love shopping local, and investing in business owners right in my region.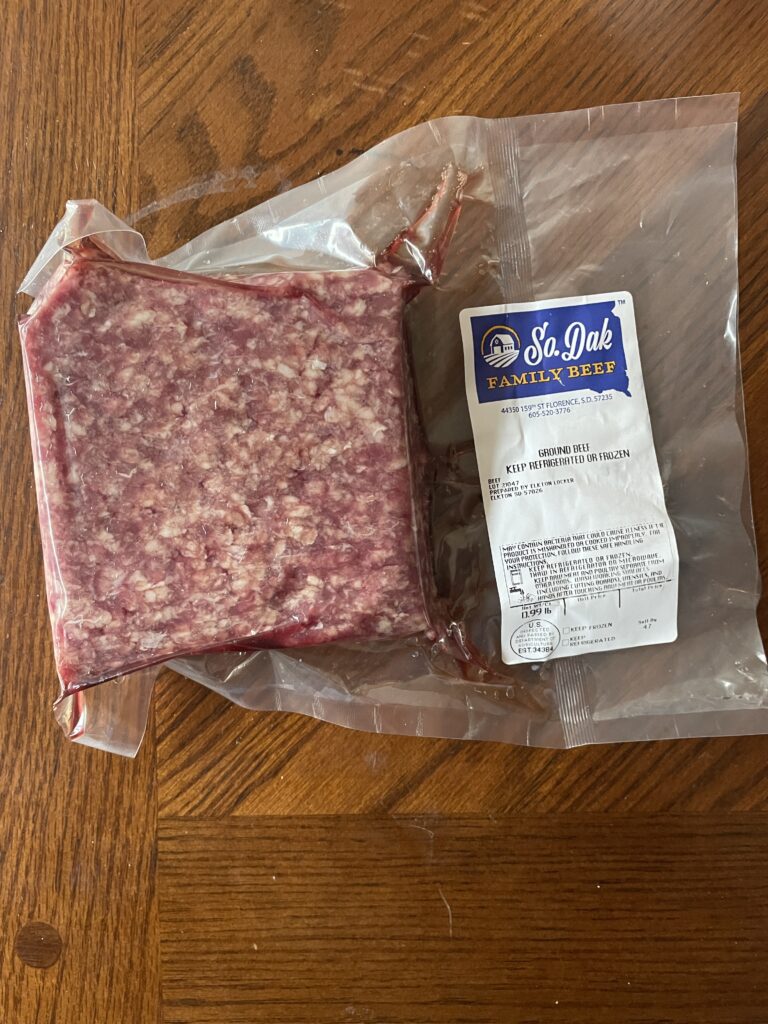 Recently, we've been buying our beef from SoDak Family Beef and we're so happy with what we've received. One thing we love about buying local is the cost. We are getting a great product for a fraction of the cost. In our last order we got sirloin and New York Strip steaks. If we bought either cut at the store, we would have spent at least $10 a pound. By buying local, we were able to get great cuts for around $6 a pound. Definitely cost effective!
We live about 100 miles from their ranch, but they still delivered our beef to us--so great! If you're busy and running 100 miles an hour everyday, the delivery of fresh and local beef, SoDak Family Beef is for you.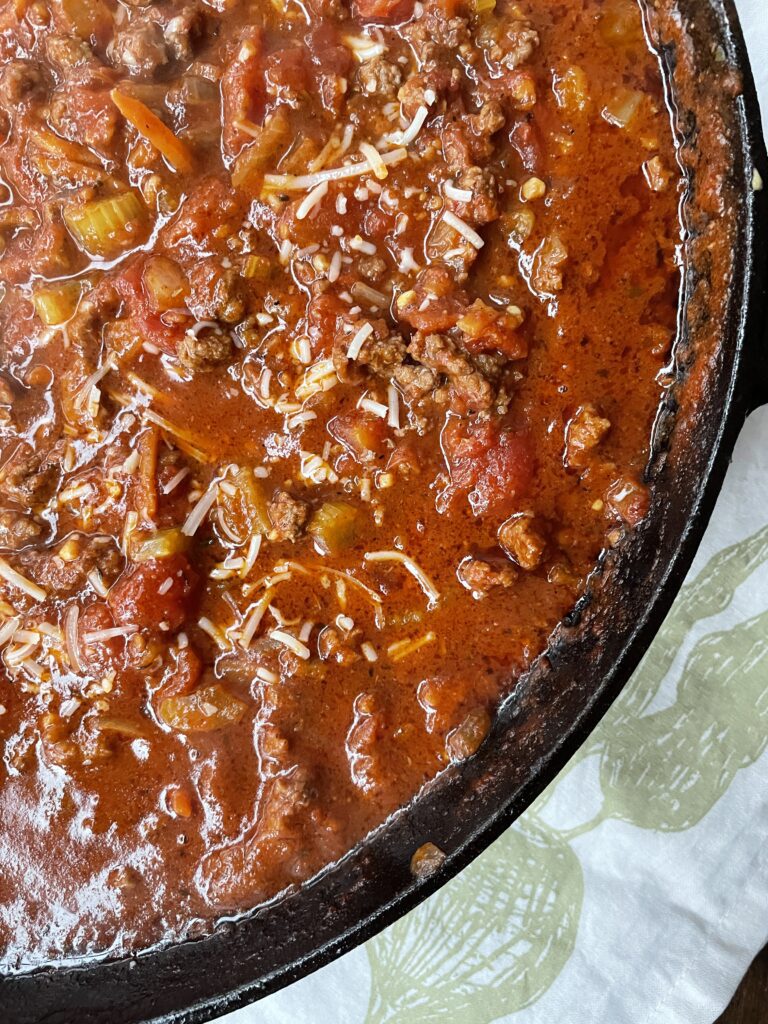 Ingredients in Bolognese Sauce
Bolognese sauce is the perfect weeknight recipe if you're looking add more vegetables to your dinner without your family knowing their eating vegetables.
Onion
I always start this recipe by sweating some onions out in butter or olive oil. I like yellow or vidalia onions in the recipe, but white onions will do too.
Celery
You may not think celery has any place in a tomato sauce-based dish, but it does! Finely diced, celery adds depth of flavor to this dish.
Carrot
Again, you wouldn't think that adding carrots would do much for this bolognese sauce but the combo of onion, celery and carrots or mirepoix create a great flavor base for this dish. Mirepoix is actually a great base to use in many dishes.
Tomatoes
For any dish I make with tomatoes, I love to use tomatoes that I've canned myself. I've been making my own tomato sauce for years now, and its become a late summer tradition for me. If you want to learn how to make your own tomato sauce, click here.
Garlic
Garlic is crucial to adding flavor to this bolognese sauce. I take a shortcut and buy the jars of minced garlic, but if you can get fresh garlic and mince yourself, that's even better. If you don't have a jar or fresh garlic, garlic powder does work in a pinch.
Spices
Other spices I like to add include salt, pepper, an italian seasoning blend, and a couple bay leaves. I put the bay leaves in the sauce at the end to let the flavor from the leaves sink into the sauce, then I remove before serving.
Red Wine
If you skip the addition of wine to your bolognese sauce, that's okay--this dish is already packed with flavor. However, adding red wine to this sauce will blow your socks off! The flavor profile when you add red wine is amazing. Don't worry, the alcohol cooks off, and you are left with the amazing flavors of the wine.
Cheese
Everything's better with cheese, amiright? Fresh parmesan to top this dish is the final perfect detail.
I love using spaghetti noodles for this recipe, but if I can get my hands on a fresh homemade noodle, I do!
Tools used to Make Bolognese Sauce
I love bolognese sauce because you make the entire sauce in one pot. I usually make this sauce in my enameled cast iron dutch oven, or just my cast iron skillet--either works great to allow this sauce and all the flavors meld together.
I also use my mix and chop tool to break down the ground beef and tomatoes. This tool breaks up everything nice and uniform which is great for consistency in this dish. I also use a hand chopper to quickly dice up my onions, celery and carrots.
Just because you're looking for a quick and easy dish does not mean you shouldn't have amazing flavor, and this bolognese packs a comforting, savory punch.
Tell me what you think!
If you're looking for other easy weeknight meals check out these posts.
Dutch Oven Smothered Chicken and Potatoes
📖 Recipe
Easy Beef Bolognese Recipe
This recipe is perfect for a weeknight dinner that's on your table in no time!
Ingredients
1

pound

ground beef

2

cups

stewed, crushed or canned tomatoes

¾

cups

diced onion

¾

cup

diced celery

¾

cup

diced carrot

2

tablespoon

italian seasoning

1

tablespoon

minced garlic

3

tbsp

olive oil

1

bay leaf

½

cup

red wine
Instructions
Add olive oil to skillet or dutch oven over medium high heat. Once heated, add garlic, onion, celery and carrots and allow two cook until soft.

Add beef to skillet and brown. Once brown, add tomatoes, seasonings, bay leaf and wine.

Turn heat to medium low and allow to cook for 10-15 minutes.

Serve over pasta noodles and top with Parmesan cheese.