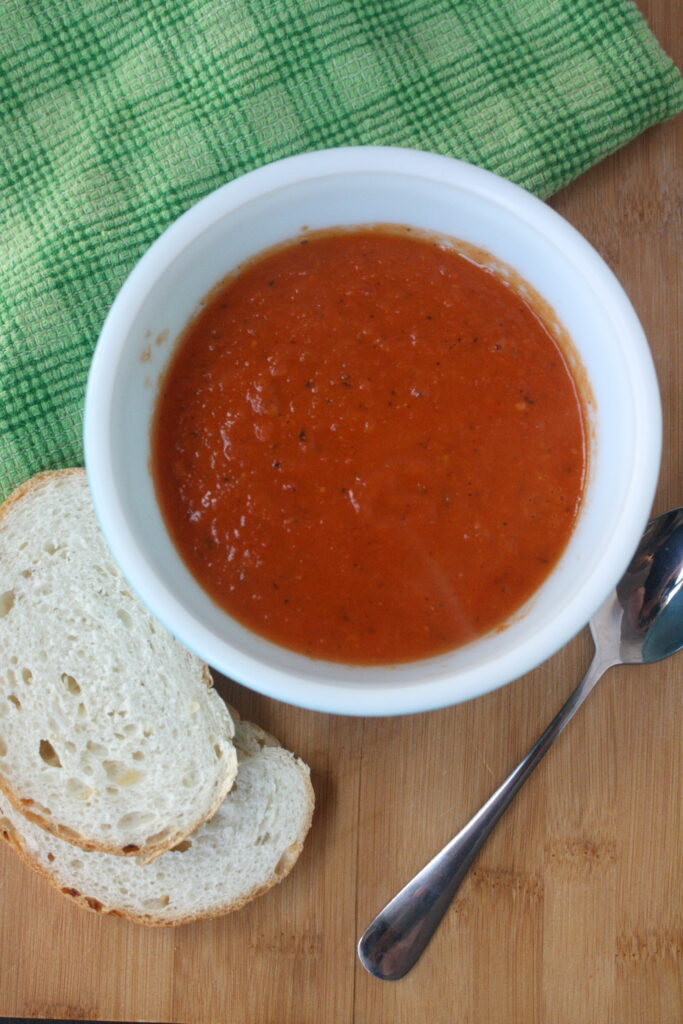 This quick and easy tomato soup recipe is savory, delicious, less than $5 for the whole recipe and comes together in under a half an hour. It's the perfect budget-friendly recipe for a winter weeknight.
I grew up Catholic. Born and raised. I attended a catholic grade school from kindergarten to eighth grade. St. Joseph's Eagles--if you know, you know. Mass every Thursday and Friday. Prayers before every class. Prayers after recess. Prayers before lunch.
Father, son, Holy Ghost, whoever eats the fastest gets the most.
So Lent has been a big part of my life for a very long time. Not necessarily lent and giving things up (gave up pop in sixth grade, never drank it again until a brief stint with Diet Coke and Captain Morgan from age 18-21), but more like I still never eat meat on Friday because I grew up Catholic and meat isn't allowed and if you eat it, Jesus doesn't love you. Whew.
Just kidding, Jesus definitely loves you even if you eat meat on Friday.
That being said, I still really struggle having meat on Fridays in the spring. I unintentionally lean toward a meatless or fish option when I start my meal planning for the next week. Old habits die hard I guess!
As a good Catholic girl, I have an extreme soft spot for tomato soup. There is something about the creamy, tomato-y texture that is just so comforting and nostalgic for me. Add a grilled cheese, and I am back in that St. Joseph's Catholic School cafeteria. The only difference now? I've stepped up my tomato soup game from the kind that comes in a tin can.
---
*This page contains affiliate links to products I recommend. If you purchase something from this page, I may receive a small percentage of the sale at no extra cost to you. For more info, click here.
---
I made my first homemade tomato soup a few years ago, and I have been hooked on the real thing since. There's a lot of recipes out there that use cream, and while I do like a grilled cheese sandwich with my tomato soup, I actually like to have a dairy-free tomato soup.
My desire for a dairy-free tomato soup recipe birthed this wondrous recipe. It's really easy to make, just dump in the ingredients in a pot (or in my case, my favorite dutch oven), allow to cook down and blend with an immersion blender, but the flavor is out of this world! It's savory and packs a little bit of heat, but paired with a grilled cheese, is the perfect kick.
The main ingredient of the recipe, tomatoes, just come from a can. I have used my homemade canned tomatoes for this recipe before, but when I made it this time, I just grabbed a couple big cans of whole stewed tomatoes from the store. It really can be that easy to make.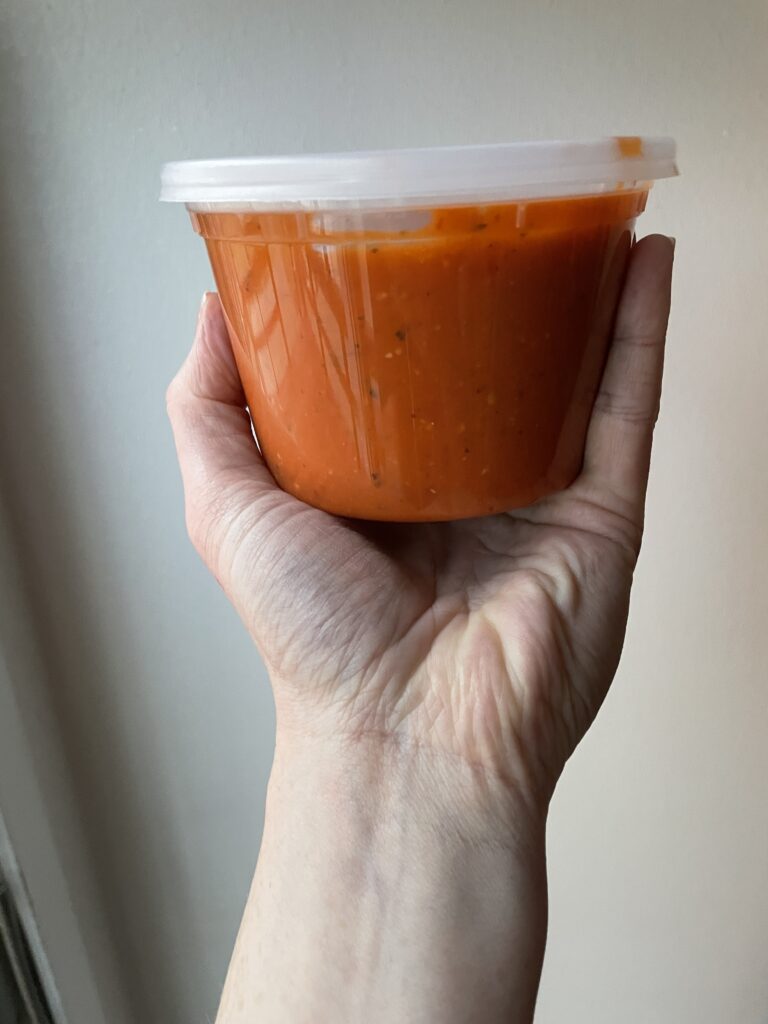 This recipe also freezes really well. Once its cooked, remove from heat, cool and store in freezer tight containers. We use these containers, and they work really well. I've used them to freeze my shredded chicken, as well as my simple chicken stock recipe.
Let me know if you try this creamy dairy-free tomato soup recipe!
📖 Recipe
Dairy-Free Creamy Tomato Soup
Equipment
Dutch Oven

Immersion Blender
Ingredients
2

28 oz

cans whole tomatoes

4

tablespoon

olive oil

If not sensitive to dairy, can substitute 2 tbs of oil for butter.

1

medium

yellow onion, diced

3

tablespoon

minced garlic

½

C

vegetable stock

⅛

teaspoon

crushed red pepper flakes

1

tablespoon

dried basil

2

tbsp

balsamic vinegar

salt and pepper to taste
Instructions
Dump all ingredients in dutch oven over medium high heat. Bring to boil.

Allow to boil for five minutes.

Blend with immersion blender.

Serve with crusty bread or grilled cheese.