Homemade chicken stock is easy to make and it's great for stretching your budget. Chicken stock is also great for providing a nutritional punch that can help boost your immune system.
Today I'm going to share with you how I make and store chicken stock so that I always have some on hand for any dish that requires extra flavor.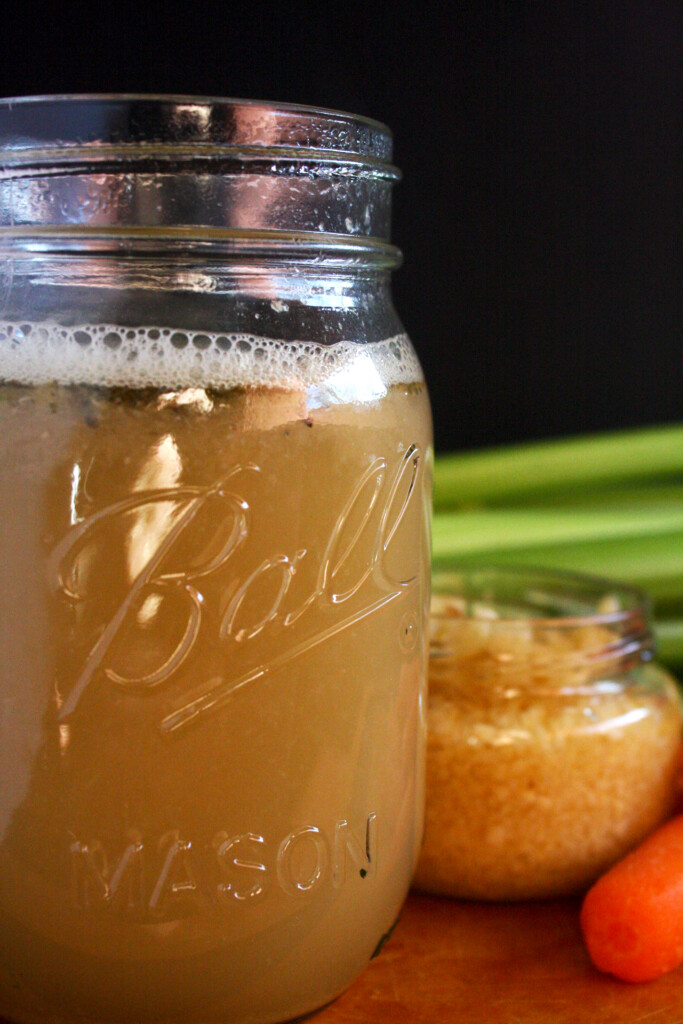 ---
*This page contains affiliate links to products I recommend. If you purchase something from this page, I may receive a small percentage of the sale at no extra cost to you. For more info, click here.
---
Well, it has happened. I have spent the last four days at home. Alone.. And because it's 2020, you know exactly why I'm home alone. Away from everyone. Womp womp.
Along with being in quarantine, I'm in the middle of a move. My boyfriend and I are taking the big step of moving in together. This was a blessing in disguise–he has not been exposed to "you know what," so he is at the new place, while I am able to still keep my distance at my old place.
The only problem? I have moved ALL my food to the new place, except (here's more good news), a few things I left in the freezer.
Want to guess what's in the freezer?
If you guessed the ingredients for homemade chicken stock, you are correct!
I use chicken stock all the time. I don't just use it to make soups either. I use it in a lot of my dishes. Chicken stock is great in rice, like my Cilantro Lime Rice recipe. It's great for adding to casseroles for flavor or I will put it in the crockpot with chicken breast to keep the chicken breast from drying out. Chicken stock makes the perfect base for gravies as well. Basically, if you need a hit of flavor, add chicken stock.
What I love about making my own chicken stock is I'm literally just using leftover food. Seriously. If you would have looked in my freezer, you would have found the remnants of rotisserie chickens, bones saved from chicken thighs, and scraps of celery, onion and carrots. I know it sounds weird, but TRUST ME ON THIS ONE.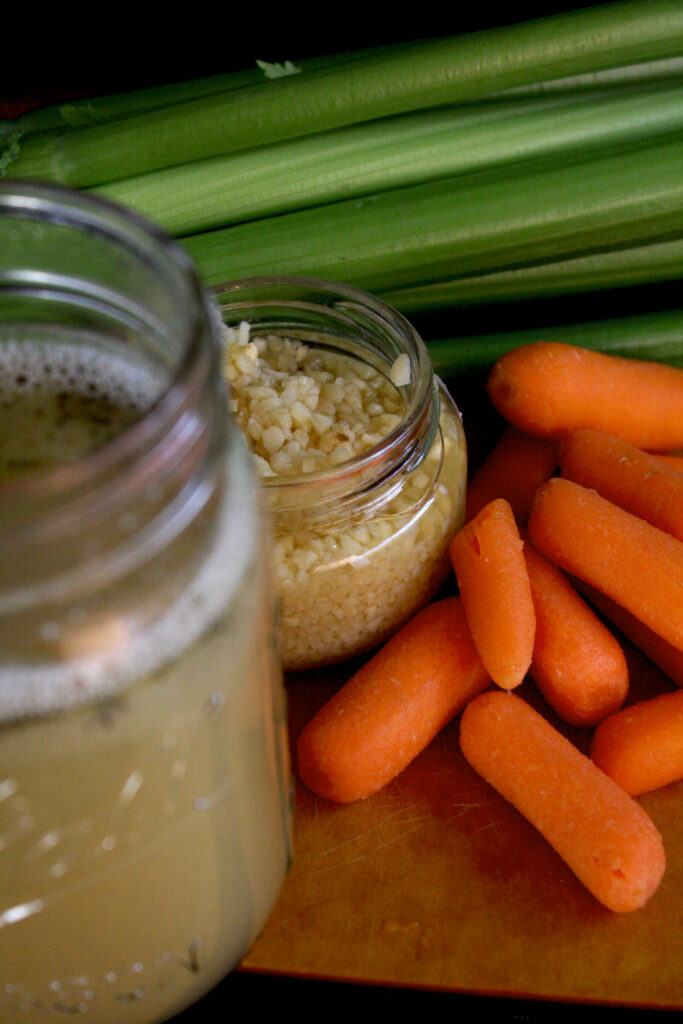 When I make chicken stock, I throw all my ingredients–the bones, the vegetables, some salt, some italian seasoning mix, and some minced garlic or garlic powder, in my dutch oven (also featured in my Dutch Oven Pulled Pork recipe, and my Lazy Girl's Guide to canning tomatoes), in the oven with the lid on at 350 for an hour. That roasting brings out the flavor, then I transfer everything to the stovetop and add as much water to cover all the ingredients. Tonight I added roughly 12 cups of water.
I let that simmer on medium on the stove for an hour, then I turned the stove off, and let it cool.
Once it's cool, I place a fine mesh strainer (similar to this one), over my large pourable mixing bowl (mine is Pampered Chef, here is similar) to strain out the bones, meat and vegetable fragments.
After just the stock is left, I pour it in these freezer-safe plastic containers. I love freezing soup and stock, so I always have these containers on hand. Each of these containers is 16 ounces, and from this batch of ingredients, I was able to get half a dozen containers
And that's it! I label each container with the date and try to use it within six months, but that's honestly not hard at all.
This stock will become the base of a simple chicken vegetable soup to, you know, help me feel better while I hang out at home. Alone.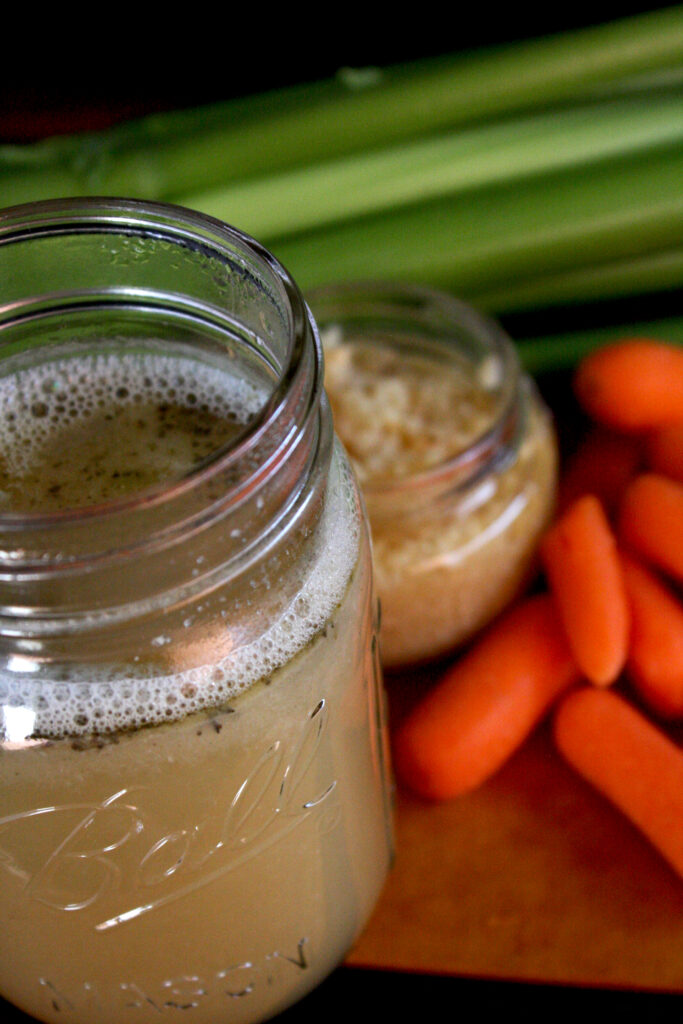 Looking for other low-cost, budget stretching recipes? Check out my other posts:
Homemade Chicken Stock
Equipment
Enameled Dutch Oven

Fine Mesh Strainer

Plastic Food Storage Containers

Pourable Mixing Bowl with Handle
Ingredients
leftover chicken bones from rotisserie chicken or chicken thighs

leftover celery pieces

leftover carrot pieces

leftover onion pieces

3

tbsp

minced garlic

3

tbsp

italian seasoning

12

Cups

water
Instructions
Add all ingredients to dutch oven. Allow to cook over, covered over medium heat for an hour.

Remove from heat to cool.

Pour contents of dutch oven over fine mesh strainer into mixing bowl to remove meat, bones and vegetables.

Transfer stock to freezable, 16 ounce containers. Freeze. Use within six months.