This dutch oven pulled pork recipe is a simple and easy recipe that can be used in a number of main dishes. Add this pulled pork recipe to your next week's meal plan!
One of my go-to affordable and versatile staples is this dutch oven pulled pork recipe. It has a savory, but neutral flavor I can use for the base of many dishes--burrito bowls, carnitas, barbeque pulled pork sandwiches, pulled pork pizza, pulled pork nachos, and on and on. In a nutshell, this pulled pork really goes well in many meals.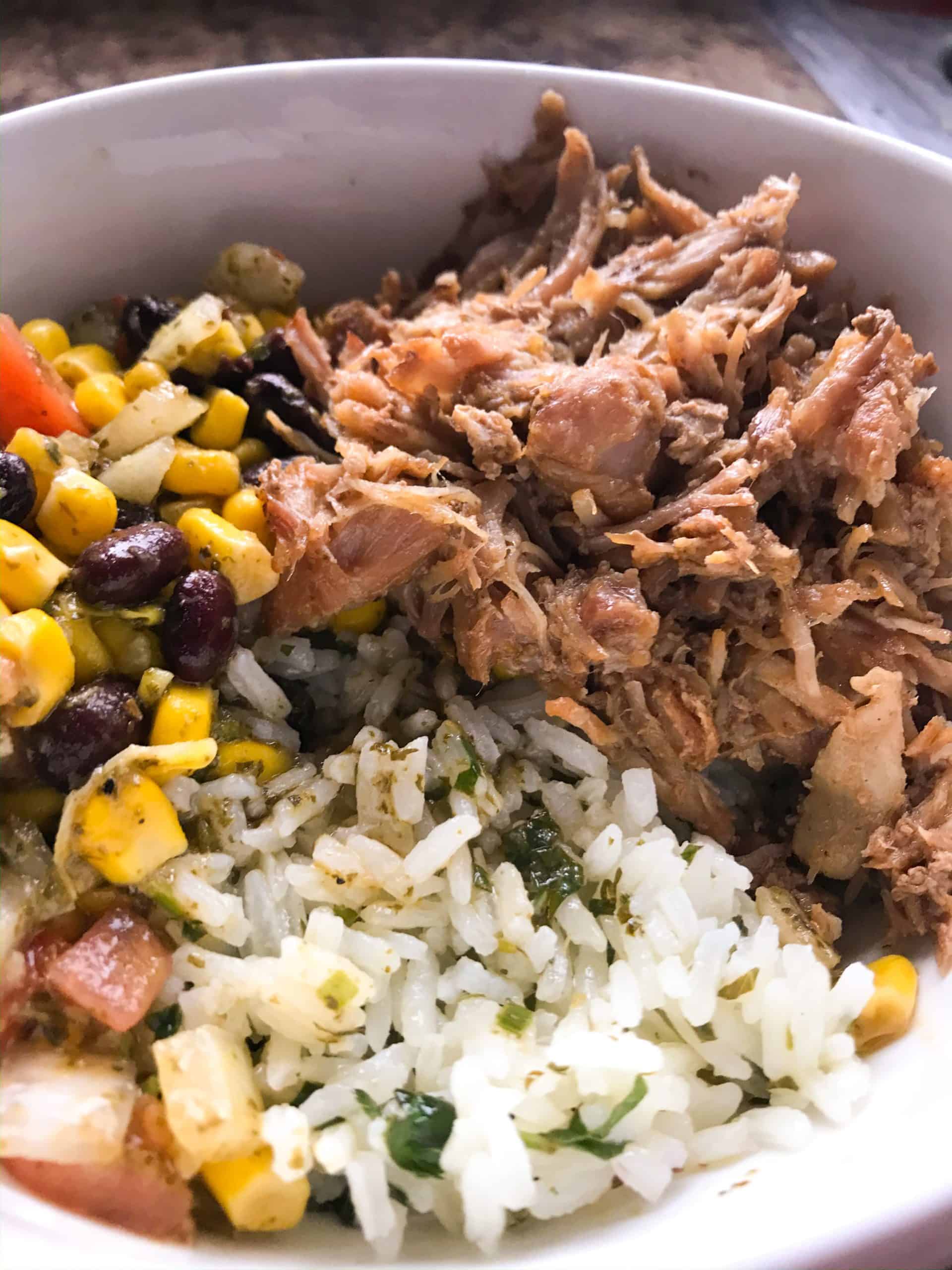 About every other month, my local grocery store runs an amazing deal where pork butt (also known as pork shoulder) goes on sale for less than a dollar a pound. That's so budget-friendly I normally buy a few roasts at a time without spending more than ten dollars. I cook one roast right away, and freeze the others for future use. Hello, stretched budget, I see you looking fabulous.
---
This page contains affiliate links to products I recommend. If you purchase something from this page, I may receive a small percentage of the sale at no extra cost to you. For more info, click here.
---
Equipment Needed to Make Pulled Pork
Dutch Oven Pulled Pork is a very simple recipe to cook. Prepping the meat for the oven is what takes the most time for me, but once everything is in my dutch oven, it just cooks itself.
I always always use my Lodge enameled cast iron dutch oven for this recipe. If I'm being honest though, I use my dutch oven nearly everyday. It can be used on just the stove top or in the oven, or it can start on the stove top and transition to the oven. I've used it to simmer dishes, to braise meat, to cook down tomatoes and on and on. I've even baked bread in it. It's the workhorse of my kitchen for sure.
How to Make Dutch Oven Pulled Pork
To begin, I take my pork butt or pork shoulder out of its packaging, and cut it into one-inch chunks. I like to make sure my knife is good and sharp so I can quickly and easily cut through the meat.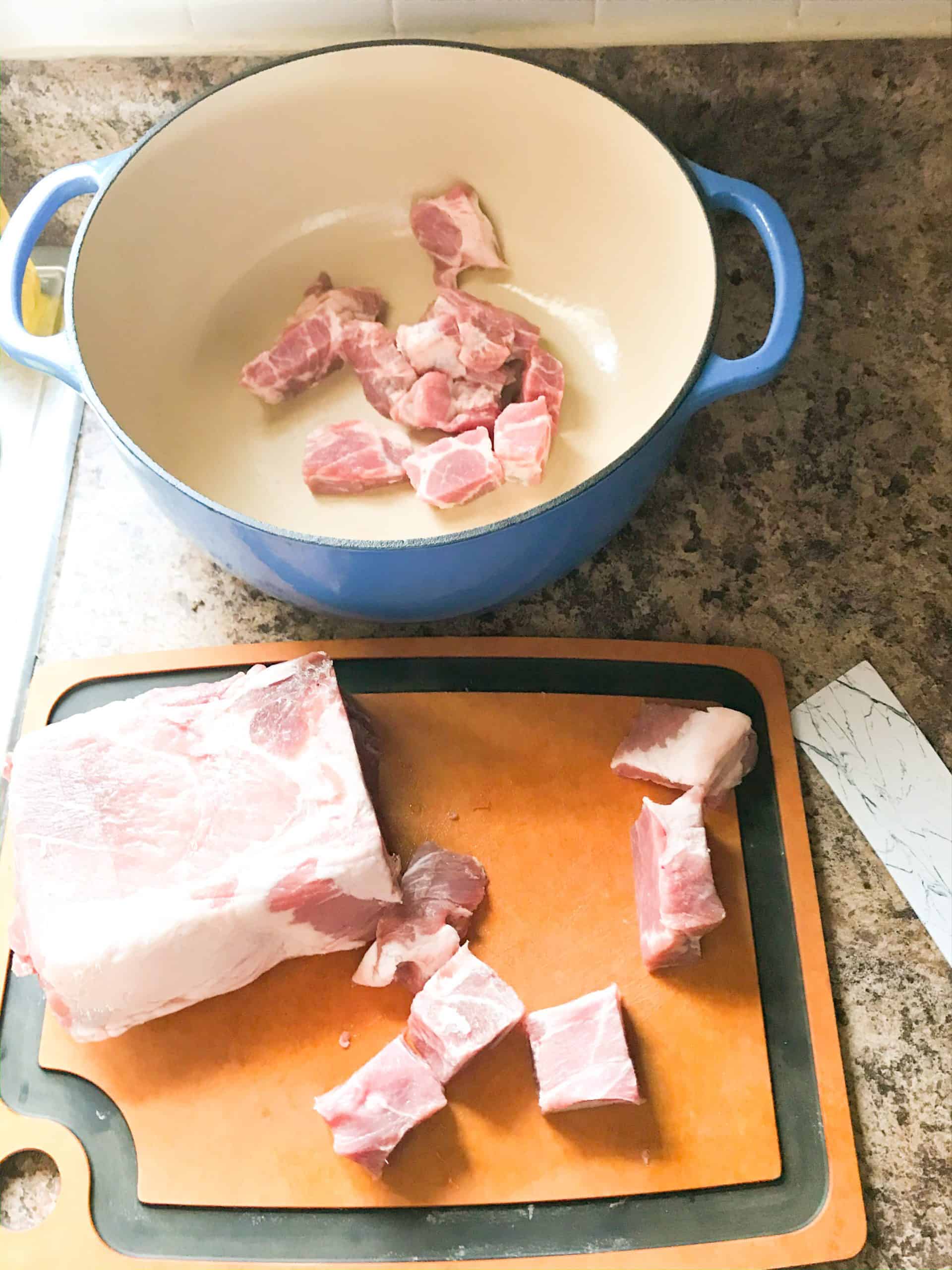 Once I've got my pork all chunked and in my pot, I add my seasonings. I use cumin, paprika, garlic powder, ground cloves, three bay leaves, and Alpine Touch Seasoning. I also cut an orange up and put the whole thing (skins on), and a quartered onion. I put two cups of water in with all of the seasonings. Some recipes call for oil at this point, but pork butt has plenty of fat that cooks down, so I prefer not to use oil.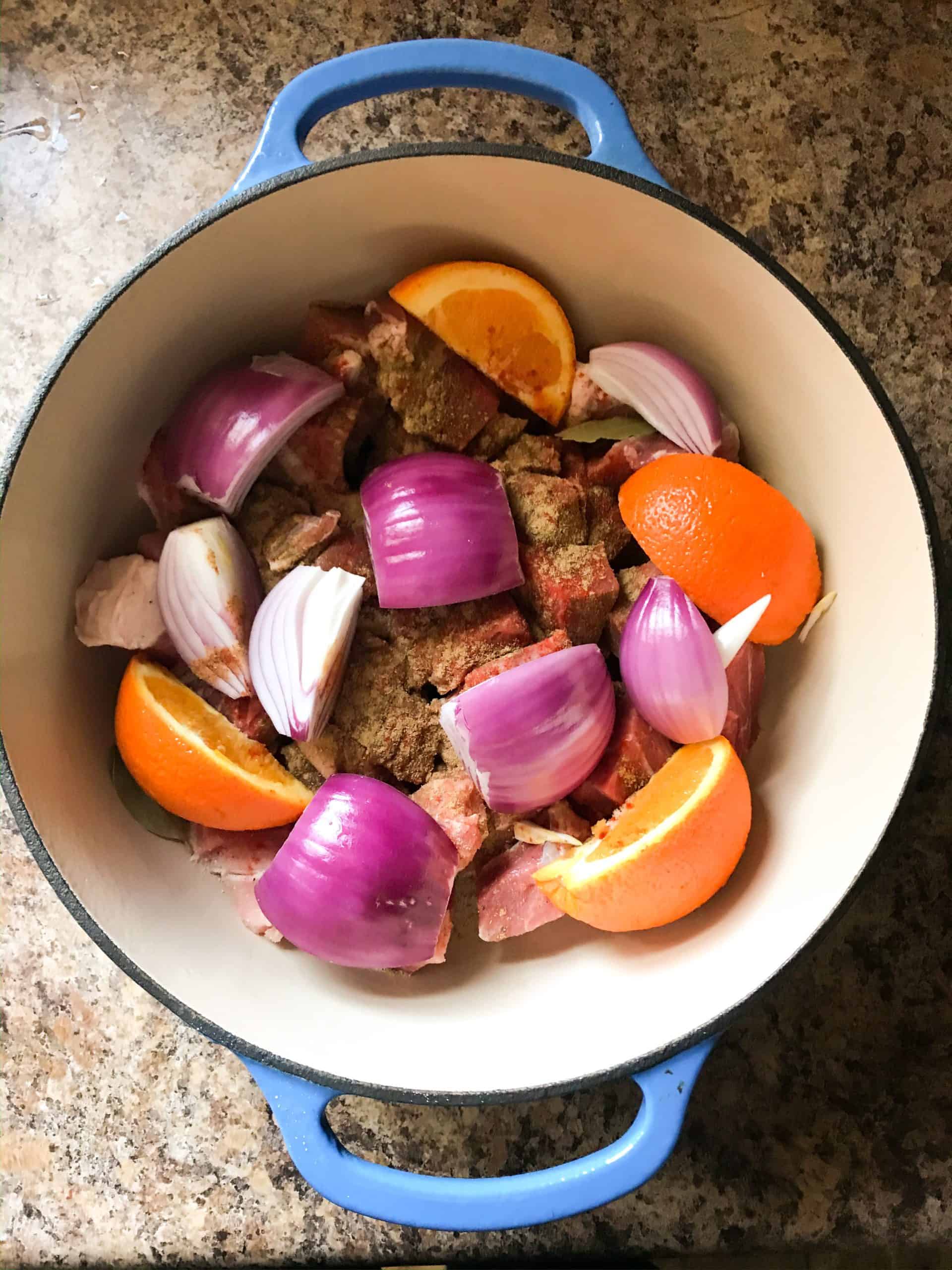 I put the lid on my dutch oven and allow the ingredients to cook at 350 degrees farenheit for two hours. I pull the roast out of the oven and remove the bay leaves, orange and onions. At this point the roast is so juicy and tender I can just use my fork to shred it up.
And this folks, is where we get the savory pulled pork. CAN I GET AN AMEN!?
What Recipes can I use Pulled Pork In?
When I made this roast, I turned it into some taco bowls with copycat Qdoba cilantro lime rice, and a corn and black bean salsa, and saved the rest for the next few days. Each taco bowl cost me about $3 which is way less than if I would have gotten it at a restaurant.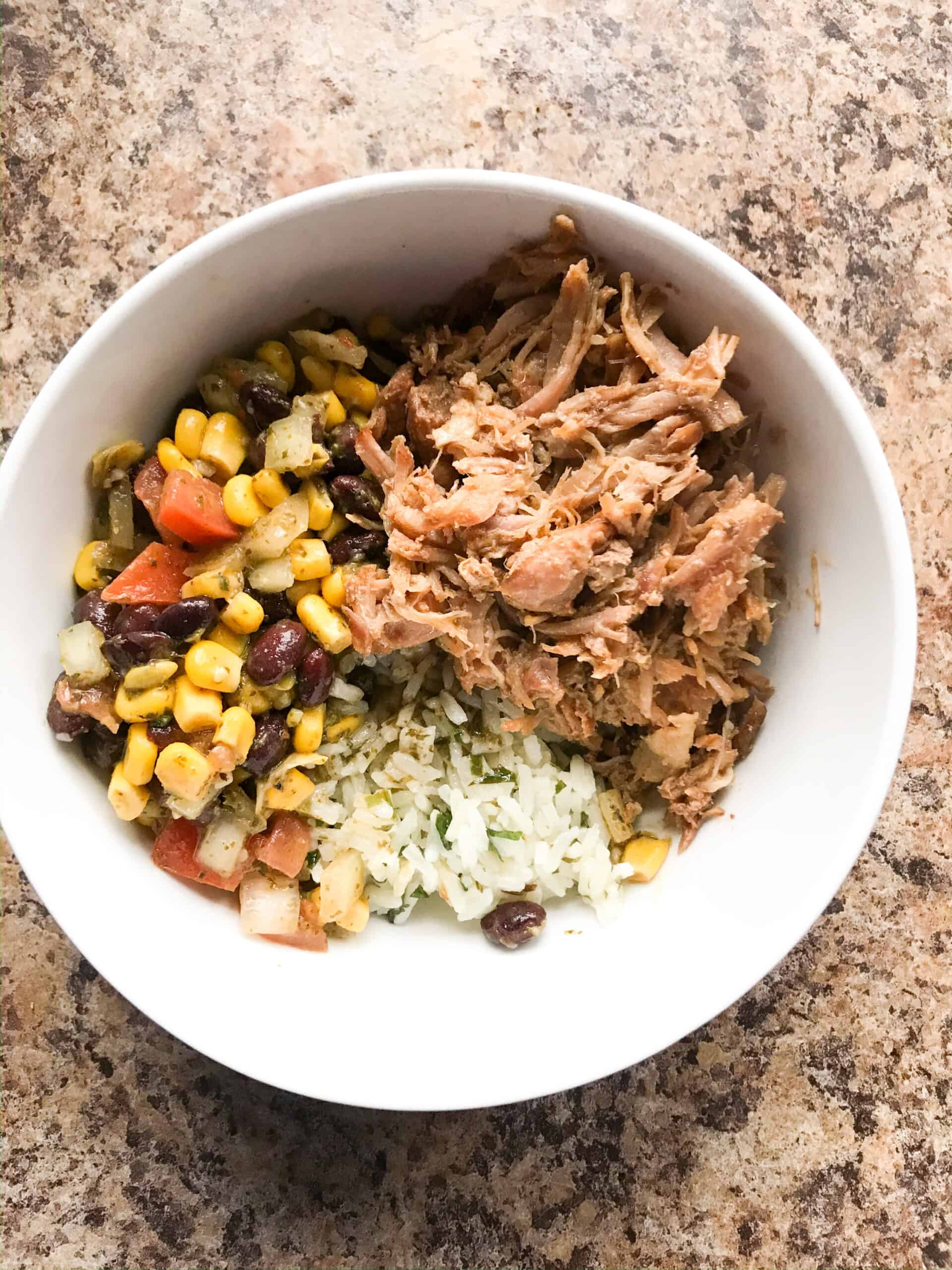 Another great way to use this dutch oven pork shoulder is to make BBQ Pulled Pork Quesadillas with Caramelized Onions. It's another great weeknight recipe that is a staple in our weekly meal prep and planning.
I'd love to hear how you use this dutch oven pulled pork recipe!
Want to know what to pair with this pulled pork? How about a spicy strawberry jalepeno margarita!?
📖 Recipe
Dutch Oven Pulled Pork
A simple pulled pork recipe
Ingredients
2-4

pounds

pork shoulder or pork butt

1

orange, quarted, peel on

1

onion, quartered

3

bay leaves

1-1 ½

cups

water

enough to barely cover the pork

1

tablespoon

paprika

1

tablespoon

chili powder

2

tablespoon

Alpine Spice

or similar salt blend

2

tablespoon

cumin

2

tablespoon

garlic powder

salt and pepper to taste
Instructions
Cut pork into one-inch chunks and place in the bottom of enameled dutch oven, cover with all seasonings and bay leaves.

Place quartered onion and quartered orange on top of pork and seasonings. Add water.

Place lid on dutch oven and cook in oven for two hours.

Remove from oven and remove onion, orange and bay leaves. Shred pork with two forks. The pork should be tender and shred easily.
Related: HOW TO GRILL A SIRLOIN STEAK ON A CHARCOAL GRILL