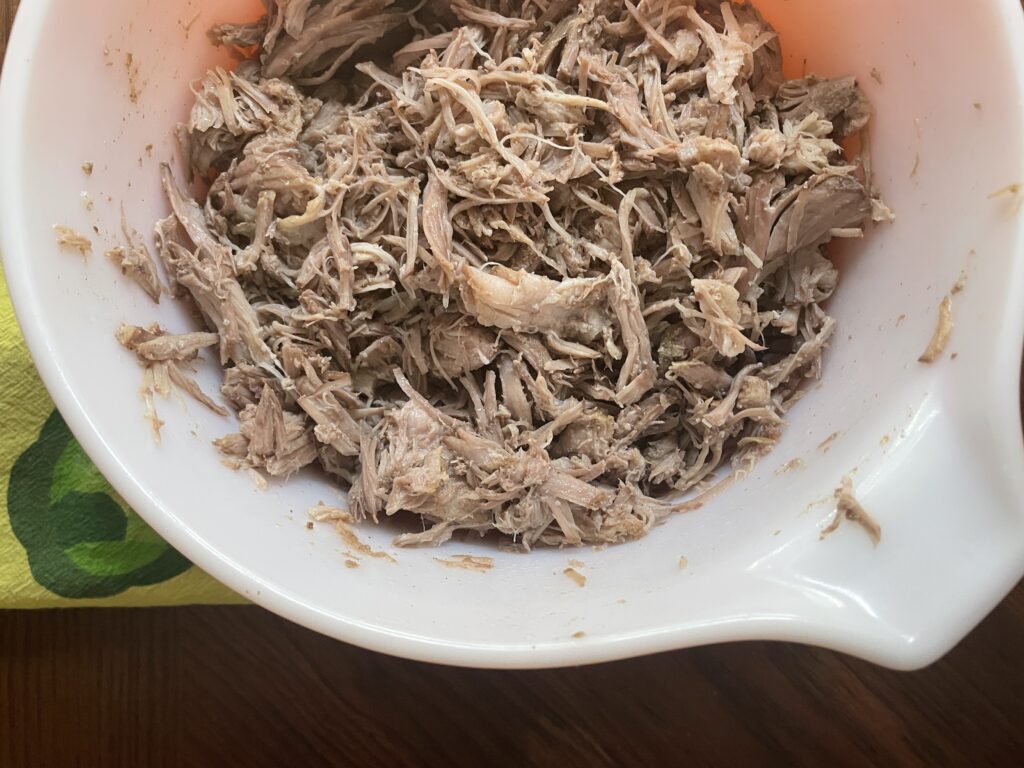 If you're looking for an easy recipe that can feed a crowd, can be used in weekly meal prep, or a set-it-and-forget-it weeknight dinner, this crockpot pork shoulder recipe is for you.
Football season is nearly upon us, which means John will be gone a lot more. Between practice, film, recruiting, travel and games, John will be living and breathing football for the next five months.
We are so excited for football to be back, but with football comes crazy schedules! I'm starting to plan for the next few months, and putting together meals and meal plans that are easy for me to execute on my own.
This easy pulled pork recipe is the MOST versatile recipe in my book. Weekly meal prep? Pair this pulled pork with rice and veggies. Tailgating? Throw it on a bun with barbecue sauce and coleslaw. Feeding the o-line? Triple this recipe and make a taco bar.
---
*This page contains affiliate links to products I recommend. If you purchase something from this page, I may receive a small percentage of the sale at no extra cost to you. For more info, click here.
---
What Equipment Do I Need to Make Crockpot Pulled Pork?
What I love about this recipe is I can start it in the morning before work, cook it low and slow and it's ready by the time I get home in the evening.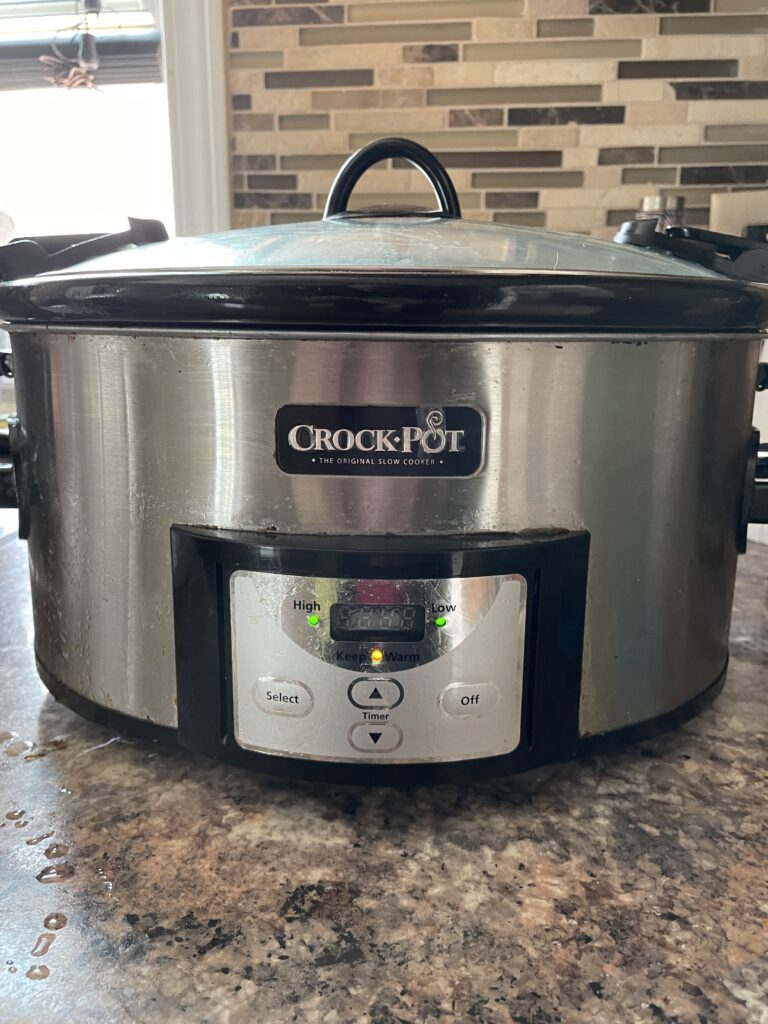 There are so many slow cooker options out there, and this is the one we have. It's an older model, but it's programmable, so I can set the time and heat level which give us more control over the cooking.
One trick I've learned for making this recipe even easier is using crockpot liners. These liners make cleanup so easy—I place one in my crockpot, throw all my ingredients in, the pot, then once everything is cooked, I remove the bag and throw everything away. So easy!
How to Serve Crockpot Pulled Pork
Have I said how much I love pulled pork? There are seriously so many options to serving this pulled pork. Here are some of the ways we've eaten this pork:
Pulled pork sandwiches this recipe is perfect for pulled pork sandwiches. Once you've shredded the meat, you can put it on a bun with barbecue sauce and mustard and pair it with a side (I suggested Cream Corn Casserole).
Pulled pork quesadillas add this pulled pork to a tortilla with cheese, fold in half, and heat in a skillet until the cheese is melty. Serve with salsa and sour cream.
Pulled Pork Pizza with a store-bought crust (or even just a tortilla), put together a delicious pizza with barbecue sauce, carmelized red onions, cheese and pulled pork for a great twist on pizza
Pulled Pork Rice Bowl add this pulled pork to a bowl with veggies, rice, soy and teriyaki sauce for easy meal prep.
Pulled Pork Tacos use this pulled pork for your base for a taco bar. Add all your favorite taco toppings and serve a crowd.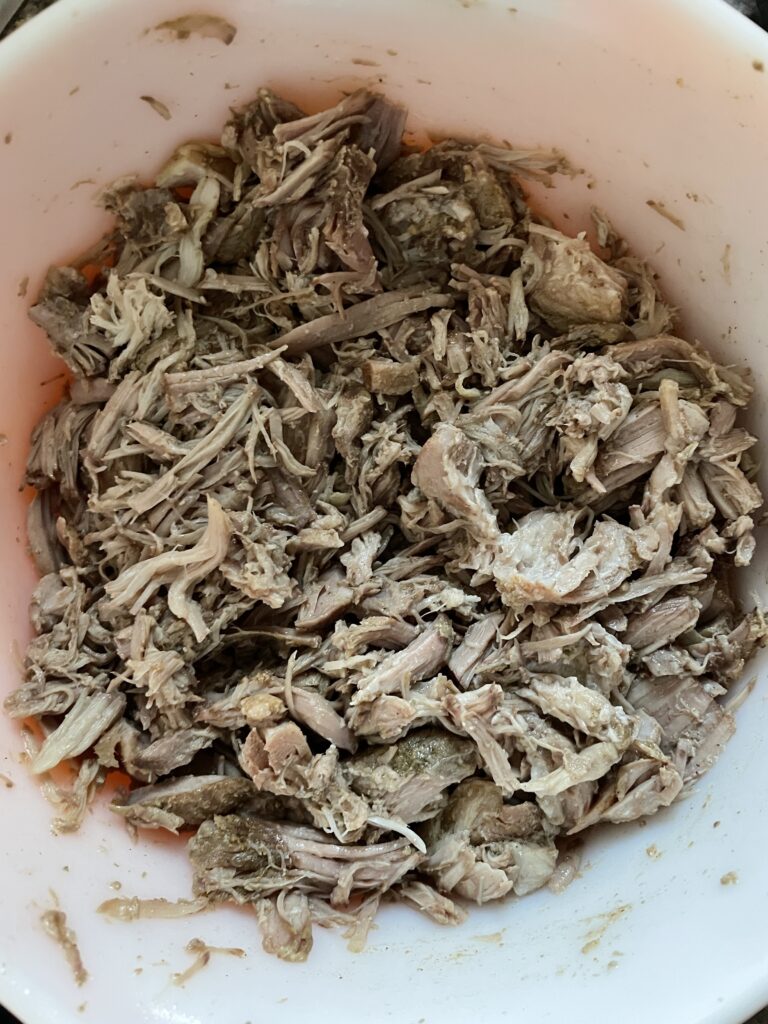 Let us know how you've used this pulled pork recipe!
If you're looking for more great recipes, check these out!
Dutch Oven Smothered Chicken & Potatoes
📖 Recipe
Easy & Versatile Crockpot Pulled Pork
This pulled pork recipe is perfect for weeknight meals, parties, or potlucks!
Ingredients
3-4

lb

pork butt or shoulder

2

tbsp

garlic powder

2

tablespoon

onion powder

2

tablespoon

paprika

2

tablespoon

ground mustard

2

tablespoon

ground cumin

1

teaspoon

salt

1

bay leaf

½

C

apple cider vinegar

½

C

water
Instructions
Place all ingredients in crock pot.

Cook on low for 7 hours or high for 3.5.

Drain, shred with a fork and serve how you wish!