Get ready for a fiesta of flavors with this dutch oven Mexican shredded chicken recipe! Perfectly seasoned and tender, this dish is a crowd-pleaser that will elevate your taco nights. Follow our step-by-step guide to make this easy and delicious recipe at home. Spice up your dinner routine with this must-try recipe.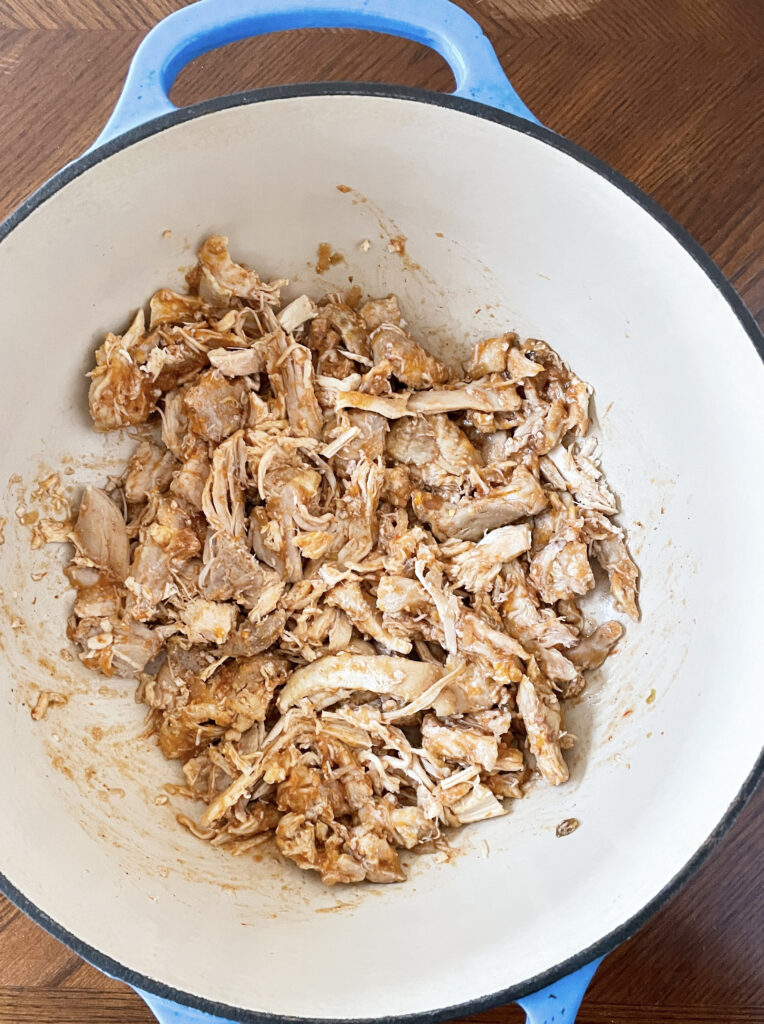 Why We Love this Recipe
There are so many dutch oven chicken recipes out there, but this is one of my favorites. We use this shredded chicken at least every other week for dinner in taco bowls, or I will make a large batch for meal prep. If I've got a ton of chicken to cook up, but its not on my meal planning list for the week, I will use this recipe to cook all the chicken and then freeze it to use in future recipes. It's such an efficient recipe!
Equipment Needed to Make Mexican Shredded Chicken
It is no secret I really love my dutch oven. I mean I really love to use my dutch oven. Why? Because it is so versatile! I have this Lodge Enameled Cast Iron Dutch Oven and it's amazing.
Enameled cast iron is great because it is sturdy, it doesn't rust like traditional cast iron if not cared for correctly (and don't be fooled, I love using a cast iron skillet as well), it cleans easily, and can be used on the stove or in the oven. For all these reasons, my dutch oven is my go-to kitchen device.
This recipe highlights all the great qualities of my dutch oven, and it makes some easy and great flavored shredded chicken. When making dutch oven shredded chicken, you can combine all the ingredients, turn up the heat, set it, and forget it.
Try my other dutch oven shredded chicken recipe, or my dutch oven pulled pork recipe that is so popular!
Ingredients in Dutch Oven Mexican Shredded Chicken
Chicken: Don't know if you should use chicken breast or chicken thighs for this recipe? Well, honestly, you can use either! Recently (read: last year or so), I have moved away from using chicken breast and I prefer to cook all my meals with chicken thighs.
I made the switch when I received the cookbook Eat Slow, Run Fast from a dear girlfriend. The book is written by two Olympic long distance runners, Shalene Flanagan and Elyse Kopecky, who stress the importance of animal fat in our diets, and that thought just stuck with me. Also, I think chicken breast ALWAYS turns out super dry no matter how I cook it.
If you have better success with chicken breast than me, or you just prefer the breast to the thigh, it doesn't matter, this recipe will work for you! I love that you can now find boneless skinless chicken breast AND boneless skinless chicken thighs at the grocery store now--no need to trim fat or remove bones. So convenient!
Other Ingredients in Mexican Chicken
Taco Seasoning: I like to use a cleaner, less-preservatives, pre-made taco seasoning to save time, but still keep healthy, I reach for Siete Taco Seasoning. I like their products and how they keep their ingredients to a minimum.
Chicken Stock or Broth: I love love love using my homemade chicken broth in my dishes to add flavor. It makes this Mexican chicken so savory and adds depth of flavor.
Salsa or Rotel: You can adjust the heat of this recipe by using spicier salsa or more mild salsa, or spicier or more mild Rotel.
Other Seasonings: I always included garlic powder, chili powder, salt and pepper to every Mexican recipe. They're the best seasonings out there!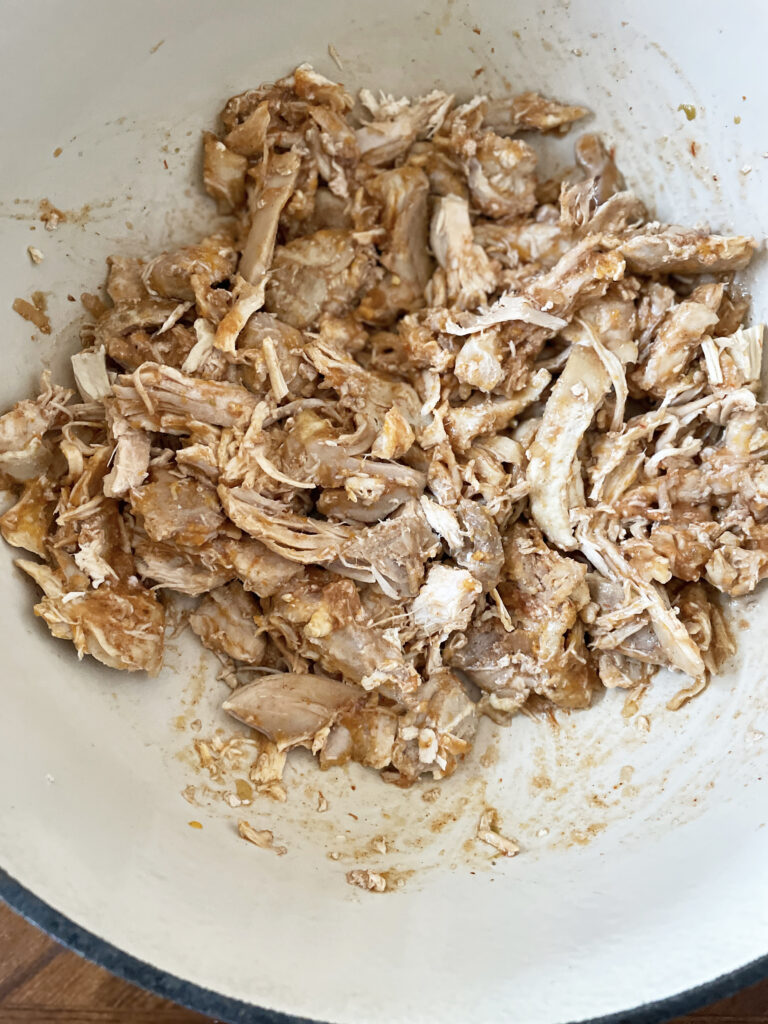 Step-by-Step Instructions to Make Mexican Chicken
This Mexican shredded chicken is seriously so so easy to make, and it hardly takes any steps!
Preheat your oven to 350 degrees fahrenheit.
Place all the ingredients in my dutch oven, put the lid on and let everything cook for 45 minutes to an hour.
Remove dutch oven from oven, remove lid and pull chicken from dutch oven and shred with two forks. From here you can add it to your favorite Mexican dish like tacos or quesadillas.
If you are not eating this chicken immediately, but saving it for later in the week (because you love meal prepping like we do!), allow the meat to completely cool and store in an air tight container. This Mexican shredded chicken will last five to seven days in the refrigerator.
Recipe Variations
Crock Pot If you don't have a dutch oven, you can still make this shredded chicken recipe in a crock pot, and I've done that multiple times and it still turns out perfectly. This is the crockpot I have, and I love that I can choose how long the temp is set for, then it just switches to a warm setting to keep all the chicken at a safe temperature.
Stove Top The great thing about dutch ovens is you can use them in the oven or on the stove top! If cooking this on the stove top, I recommend using medium-high heat. Cook time may vary. Be prepared for this chicken to take longer than 45 minutes to an hour.
Adjust the Spiciness You can make this recipe as spicy or as mild as you'd like just depending on the ingredients you add. I use store-bought salsa in this recipe, but I will vary the heat level by using either medium or mild salsa. If you're really craving a kick, you could use hot salsa. If I have Rotel on hand, I will sometimes throw that in as well.
Different Chili Powder There are also different heat levels in chili powder, so if you're looking for another way to kick it up a notch, add more spicy chili powder. Need a more mild flavor? Just use regular chili powder, or skip that heat all together. This recipe is so forgiving, you really can't fail.
How will you use this dutch oven shredded mexican chicken recipe?
We love to pair this chicken with our cowboy caviar and copycat cilantro lime rice recipe.
Looking for more meal prep and grocery budgeting inspiration? Check out these posts:
German Potato Salad with Grainy Mustard
📖 Recipe
Dutch Oven Mexican Shredded Chicken
Ingredients
4

boneless skinless chicken thighs

3

tablespoon

taco seasoning

½

C

chicken stock

1

C

salsa or rotel

2

tablespoon

garlic powder

salt and pepper tp taste

2

tablespoon

chili powder (more or less to taste)
Instructions
Preheat oven to 350 degrees. Add all ingredients to dutch oven. Cook in oven for 45 minutes to 60 minutes. Remove from oven, shred chicken. Serve.