Today I'm sharing with your five keys to thriving while working from home. As the world has adjusted and accepted working from home, we've also had to adjust how we care for ourselves. Here are my five keys and daily activities that help me stay productive while working remotely.

---
This page contains affiliate links to products I recommend. If you purchase something from this page, I may receive a small percentage of the sale at no extra cost to you. For my disclosures, click here.
---
Benefits to Working from Home
There are so many benefits to working from home, making it easy to thrive while working from home. Some remote-work benefits include:
No Commute: Working from home means there isn't any time spent traveling to and from an office or workplace. Many people have saved precious minutes and hours--that had previously been spent on travel--at home.
More time means more flexibility: Working from home has given many people more time in their day to accomplish personal tasks and chores. Instead of taking a break at an office or workplace, employees who work from home have been able to finish chores that had previously been done in the evening, which has freed up more time for fun and relaxation.
Increased Savings: Without commute costs, and paying for lunch and coffee from places near the office, many people have saved money on fuel, car repair and food costs.

Last week I implemented these five keys to maintain a sense of normalcy and thrive while working from home.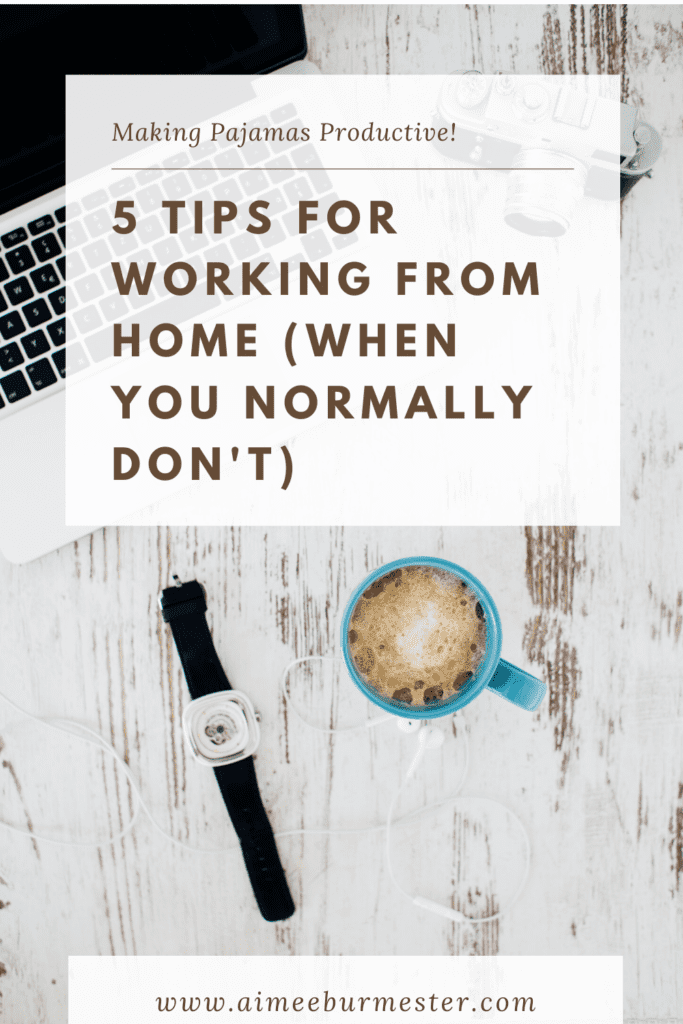 1. Set a schedule
In my first week of working from home, I had absolutely no schedule. Instinctively, I woke up each morning about the same time as I had when going into work, but then I was lazy. I made a pot of coffee, watched the Today Show (I love Hoda and Savannah!) until about 10, looked at my computer, watched some Netflix, made more coffee, scrolled Instagram, looked at my e-mail again, checked out Twitter, back to Netflix--you get the idea. I did very very little actual work in those first few days.

The following week, I knew I needed to create some sort of routine. I needed structure that not only allowed me to enjoy the perks of being at home, but also, get actual work done for my job.

Here is the schedule I follow each week day: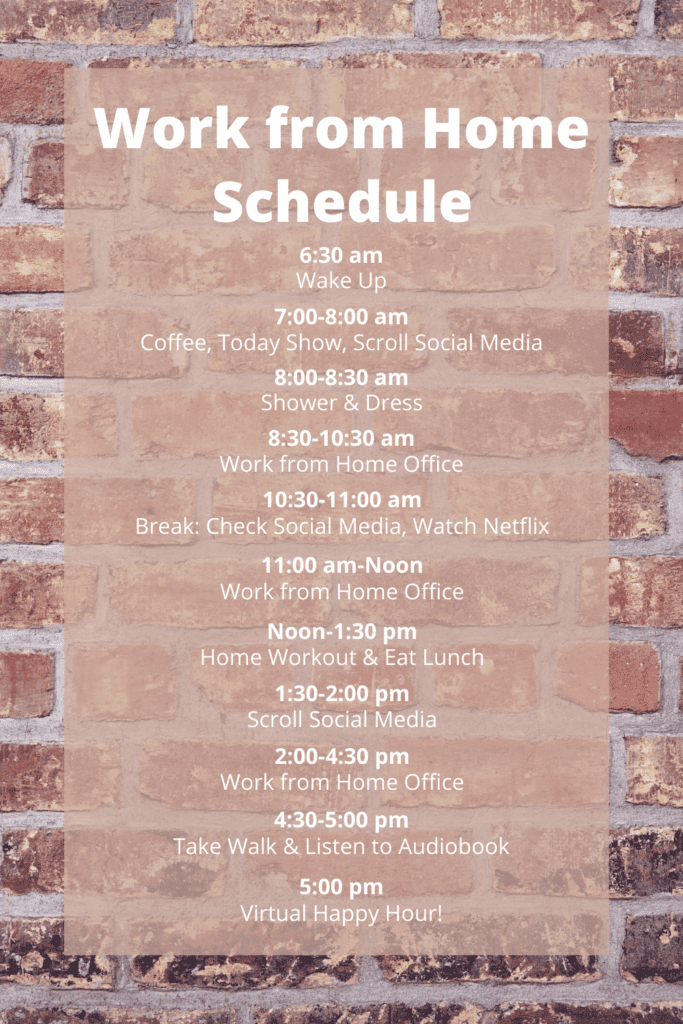 Is this schedule less than the eight hours I worked each day? Yes. Do I feel bad about it? No.

Here's why: When I'm working from home and following a schedule, I have found I'm actually more productive, than when I'm in my office. When I stick to my schedule, I've been able to minimize distractions, I don't waste time chatting with others, and schedule times to "social media scroll." Also, these are unprecedented times, and I feel we are being forced to slow down, so I'm giving into that feeling.

2. Create a Work Space
Having a designated space just for working while working from home is crucial to thriving while working remotely. I already mentioned this in my previous section when I wrote: go to my home office, but no matter if it's an actual office, a space at your kitchen table, a card table in a corner of your bedroom or living room, just find a space you can designate as a work zone.
Please, please, please do not work from your bed. Keep that space sacred. Working from your bed can make sleeping in your bed harder, and I know many of us already struggle with sleep.

By having a designated space, it has made it easier for me to shift from "lounging at home Aimee," to "working Aimee." I can get my mind focused on getting my work done, and staying productive while never actually leaving my apartment.

I am very lucky that I have a space in my home that I can designate as my office. About a week before our work-from-home-orders can from my leaders at work, I searched Facebook Marketplace for a desk. I found a small one for $25. Is it perfect? No. Does it do the job? Yes. 

I had a home printer that actually pooped out on me about a month ago. I was not going to replace it, and then my employer implemented our work-from-home policy. I was able to score an awesome deal on this HP 3830 All-in-One Printer. It can scan multiple pages at once, or just one scan at a time, makes copies, and prints wirelessly. I've always used HP printers and this one has been great so far.

I pulled a decorative antique folding chair out of storage, hung a white board, took my keyboard and mouse I used for my smart tv in my living room and connected it to my computer, and I purchased this small laptop lift to give myself more space. 

While I was trying to be as budget-friendly as possible with this workspace, I realized I had forgotten my blue light glasses at my desk in my office at work. Since we aren't allowed back in the building for who knows how long, I purchased this second pair for home.

3. Move your body & Meditate
Another way to thrive while working from home is to make time for your mind and body. Just like I try to do during my typical work day, I make sure I take time to get up from my desk and move my body. Working from home means we can also move at home. Many workouts have been adapted so that they can be done in your living room. My husband and I invested in a Titan Fitness Spin Bike. Here is a similar spin bike.
For home workouts, I like to go to Youtube and search for "at home workouts," or "at home hiit workouts," or "living room yoga." There are options upon options upon options. I have been able to do a different workout each day. I love all the variety I've been able to find! My husband and I have found a ton of workout options included with our Amazon Prime account. Many of them are free to us because we are Prime members. This is a benefit we love!
Here are a couple workouts and meditations I love:
4. Make a Plan for Tomorrow's Work at the End of Today
This is my favorite way to make sure I can continue my productivity, and I actually use it even when I'm in the office. This might be a no-brainer, and if it is for you, dear reader, I am so jealous, but for me, experience was my teacher.
Creating a to-do list for tomorrow was a lesson I learned in a previous career. I would finish work for the day, drop everything, and go home to relax. The next morning I wasted so much time trying to remember what I had worked on the day before and what I needed to accomplish that day. Now, before I leave my home office (spare bedroom), I make a quick to-do list of what I need to work on the next day. I can quickly jump back into my work and not spend time figuring out what to work on.
*Side Note! Along with daily to-do lists, I also make a weekly plan list, or weekly to-do list. I use this Weekly Tracker note pad to list out all the things I need to accomplish for the week. Whether it's drink 100 ounces of water a day, or pay my electric bill, or write five press releases, it all goes on the list. I love this note pad because it has a check mark space for every day of the week for each task you want to do. So like I said, I want to get a 100 ounces of water a day, everyday, and this notepad has a space to mark off for each day of the week. It really helps me stay on track towards whatever I am committed to.
5. Disconnect
So earlier, I wrote that I follow my schedule, watch the news every morning and check my social media throughout the day. However, I'm going to take a left here, and tell you to step away from these things. Choosing to disconnect from the news feeds and constant updates is important.
Yes, we need to have Zoom meetings and FaceTime happy hours, to stay connected to coworkers and loved ones, but we also need to take this time to reflect. When was the last time you were forced to slow down? When did you last look at all the things you were trying to cram into your day?
Are you focusing on what is most important or are you focused on hustling as much as you can? Are the things you fill your day with helping you to be the best version of yourself? Are these things making you happy?