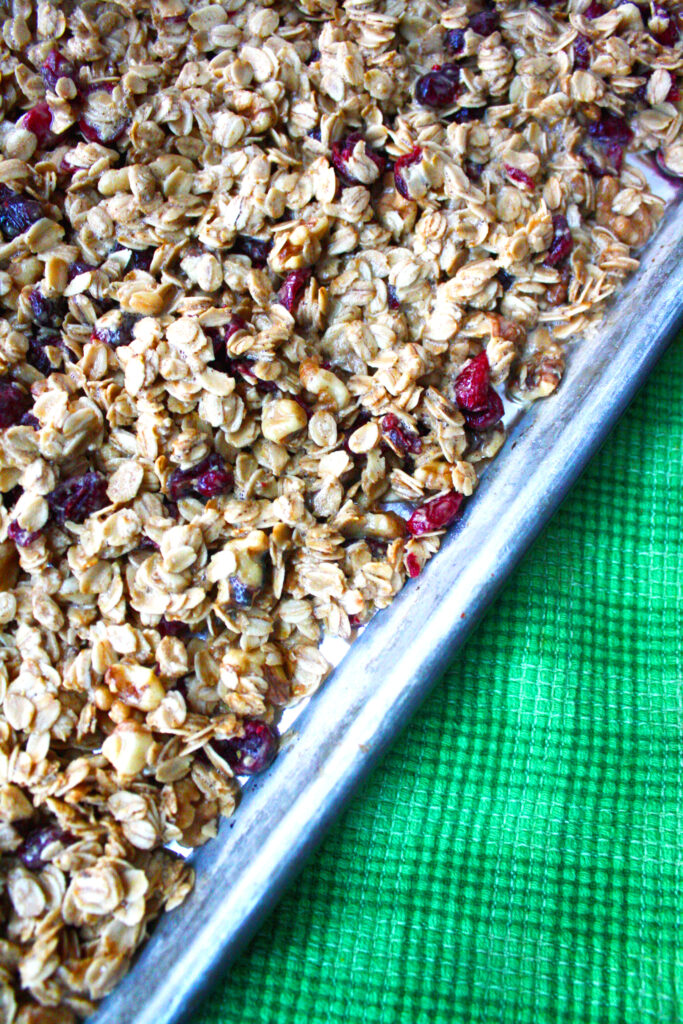 This homemade gluten-free peanut butter granola recipe is the perfect budget-stretching snack you didn't know was so easy to make.
If you love eating granola, but you are buying it at the store, today is the day you need to stop, and make your own.
I'm not kidding.
Granola is so easy to make. It takes two minutes of work.
Granola is also so cheap to make. Mine cost me $4 for a huge batch.
And the best part? You get to decide the flavors you use. I have found adding peanut butter to this recipe made it even better.
I love having granola on hand. In our house, we honestly just eat it plain. You could add it to yogurt, or ice cream, or any other sweet treat, but if you're like us, you keep it on the counter and grab a handful to snack on as you walk by.
I keep this recipe gluten free and dairy free (mostly). I melt coconut oil and use that to bind everything together. I also choose old fashioned oats or steel cut oats for my oats--most of the time these are gluten-free, but if you are concerned, you can find oats that are specifically marked as g-free.
I also like to add chocolate to my granola, and I try to keep dark chocolate on hand, but sometimes all I have is milk chocolate. In these circumstances, I follow the motto: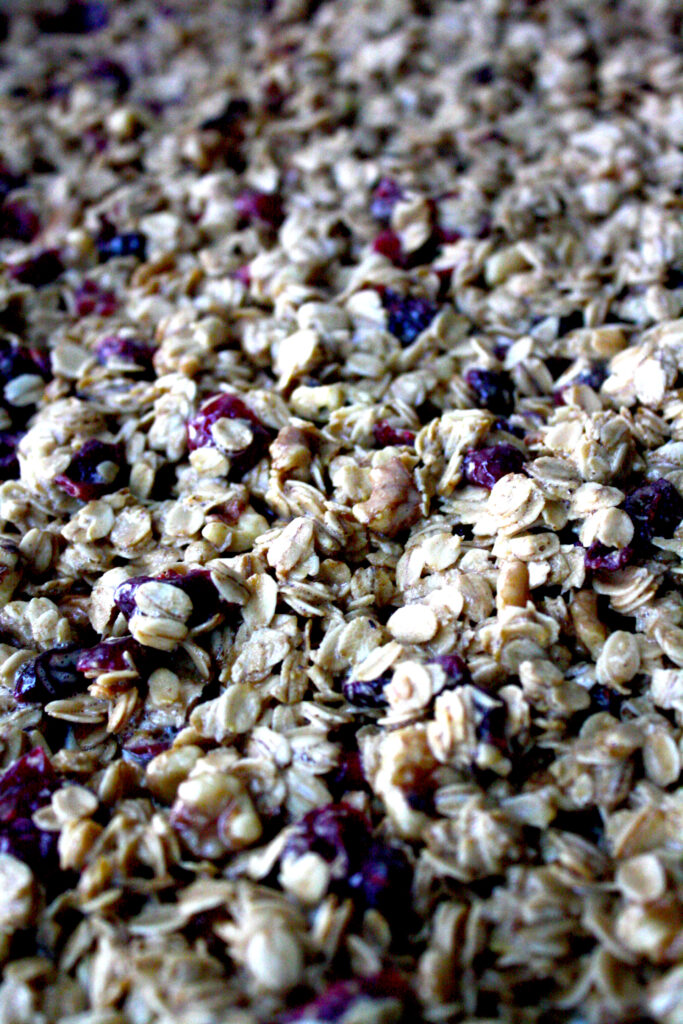 "Do what you can, with what you have."
It works for life, and it works for granola.
What Ingredients do I need for Gluten-Free Peanut Butter Granola?
When you make gluten-free granola, the sky is the limit to what ingredients you can use. I start with a foundation of oats, a fat of some sort (coconut oil usually) and peanut butter.
Depending on what I have on hand, I will add other nuts, seeds, or dried fruit. I've used pepitas, shelled sunflower seeds, raisins, dried cranberries, walnuts and peanuts before. In this recipe, I also like to use peanut butter to add extra flavor. 
You do you--make it your own. You really cannot fail!
How to Make Gluten-free Peanut Butter Granola
From start-to-finish, this recipe takes about 45 minutes to make, but only about five minutes to put together.
I combine all my dry ingredients in a large mixing bowl, then microwave the coconut oil and peanut butter to melt. After its melted, I add vanilla. Pour the melted ingredients over the oat mix, and spread out evenly over a cookie sheet covered with parchment paper or foil.
Bake at 300 for about 20 minutes, then mix and press down to bake another 10-15 minutes. Remove from heat and allow to cool.
That's all you have to do to enjoy gluten free peanut butter granola. So easy!
Each batch of my granola yields about five cups, and I store it on my counter in a half gallon mason jar.
I hope you try and love this gluten-free peanut butter granola recipe! How do you like to eat granola? What are your favorite add-ins?
📖 Recipe
Gluten-Free Peanut Butter Granola
Ingredients
5

C

Gluten-Free Old Fashioned or Steel Cut Oats

½

C

Coconut Oil

½

C

Peanut Butter

¼

C

Honey

½

C

Walnuts (or other nuts)

½

C

Dried Cranberries (or other dried fruit)

½

C

Dark Chocolate chips (optional)

1

teaspoon

vanilla
Instructions
Preheat oven to 350 degrees F.

Place oats in a large bowl. Combine honey, coconut oil and peanut butter in a liquid measuring cup. Heat in the microwave for about 45 seconds, until the peanut butter starts to melt. Whisk peanut butter and honey to blend. Add in vanilla and whisk to incorporate.

Pour the peanut butter mixture over the oats and stir until well combined. Spread granola in an even layer on a rimmed baking sheet (line the baking sheet with parchment paper or aluminum foil for easy clean up). Bake for 20 minutes, stir, and then press granola into an even layer on the baking sheet. Bake 10-15 minutes more until granola becomes light golden brown.

Let cool completely on baking sheet. The granola will become crisp as it cools. Store granola in an airtight container for up to two weeks.