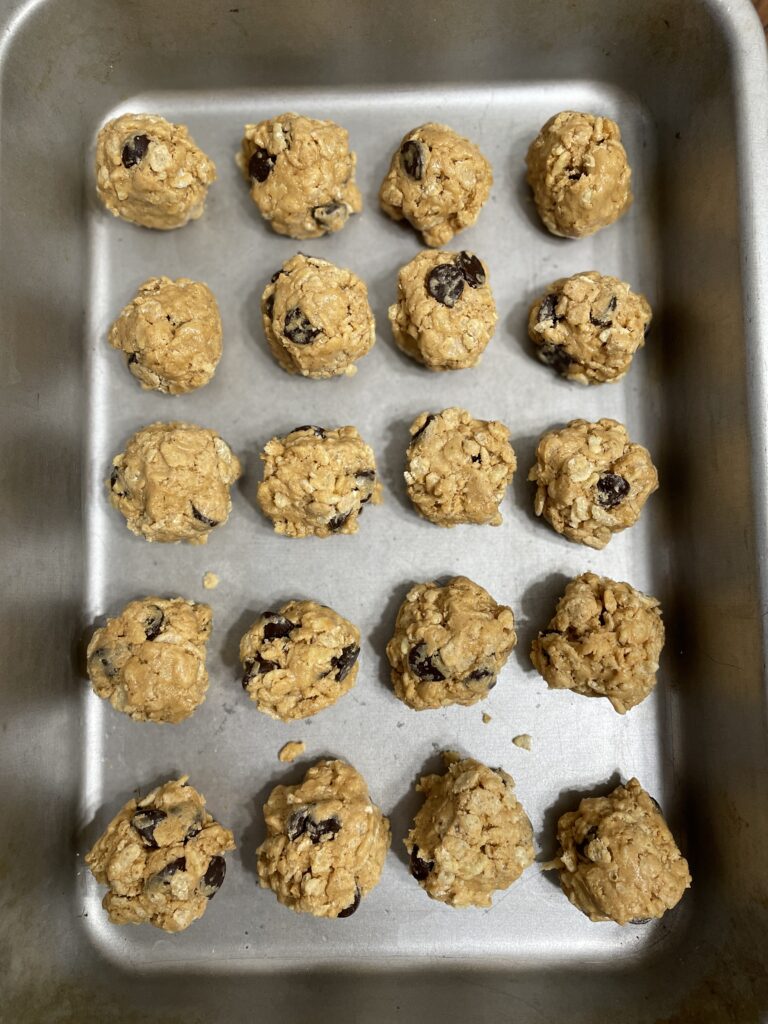 These easy peanut butter protein balls with rice krispies are the perfect snack when you're in a rush or needing a pick-me-up during the day.
Whenever I am in a rush, or I work late, or I'm laying on my couch all day and too lazy to cook anything for myself, protein balls are my go-to dish.
Yes, I am calling them a dish like they are an actual meal. Because sometimes you forget to meal prep enough food and you're hungry. Judge if you must.
---
*This page contains affiliate links to products I recommend. If you purchase something from this page, I may receive a small percentage of the sale at no extra cost to you. Click here for more info.
---
Benefits of Prepping Crunchy Peanut Butter Protein Balls
Having go-to simple, easy to-make-snacks is key when you live a busy life. If you're like me, you spend many days a week working, then working out, then maybe trying to cram in some time with friends and family. These peanut butter rice krispie balls help me stay on budget, eat healthy and avoid costly, budget-busting fast food.
There are many days I will begin working around 8 a.m., and not get a moment to rest until after 7 p.m. What's crazy is the day goes so quickly, I don't even realize how much time has passed. Which often leads to not having time to sit down and cook a meal. I pack a lunch everyday so meal prep has become huge.
Another benefit of meal-prepping these crunchy peanut butter protein balls is how many nutrients they pack. I justify eating them for a meal because they have protein in them and peanut butter, and sometimes flax seed, and sometimes chocolate chips. Protein, carbs, fat and fiber. I hit all the macros in one ball. Or seven. Whatever.
How to Make Peanut Butter Protein Balls with Rice Krispies
Start with a big bowl. I always use my yellow vintage Pyrex, because I am a woman from the 1950's at heart. I also can tomatoes for spaghetti sauce. #oldsoul
Add a quarter cup of protein powder. I use SB Organics Plant Based Vegan Protein. Am I vegan? Nope. Am I even vegetarian? Also nope. BUT! My stomach does not play well with whey protein so plant-based protein it is.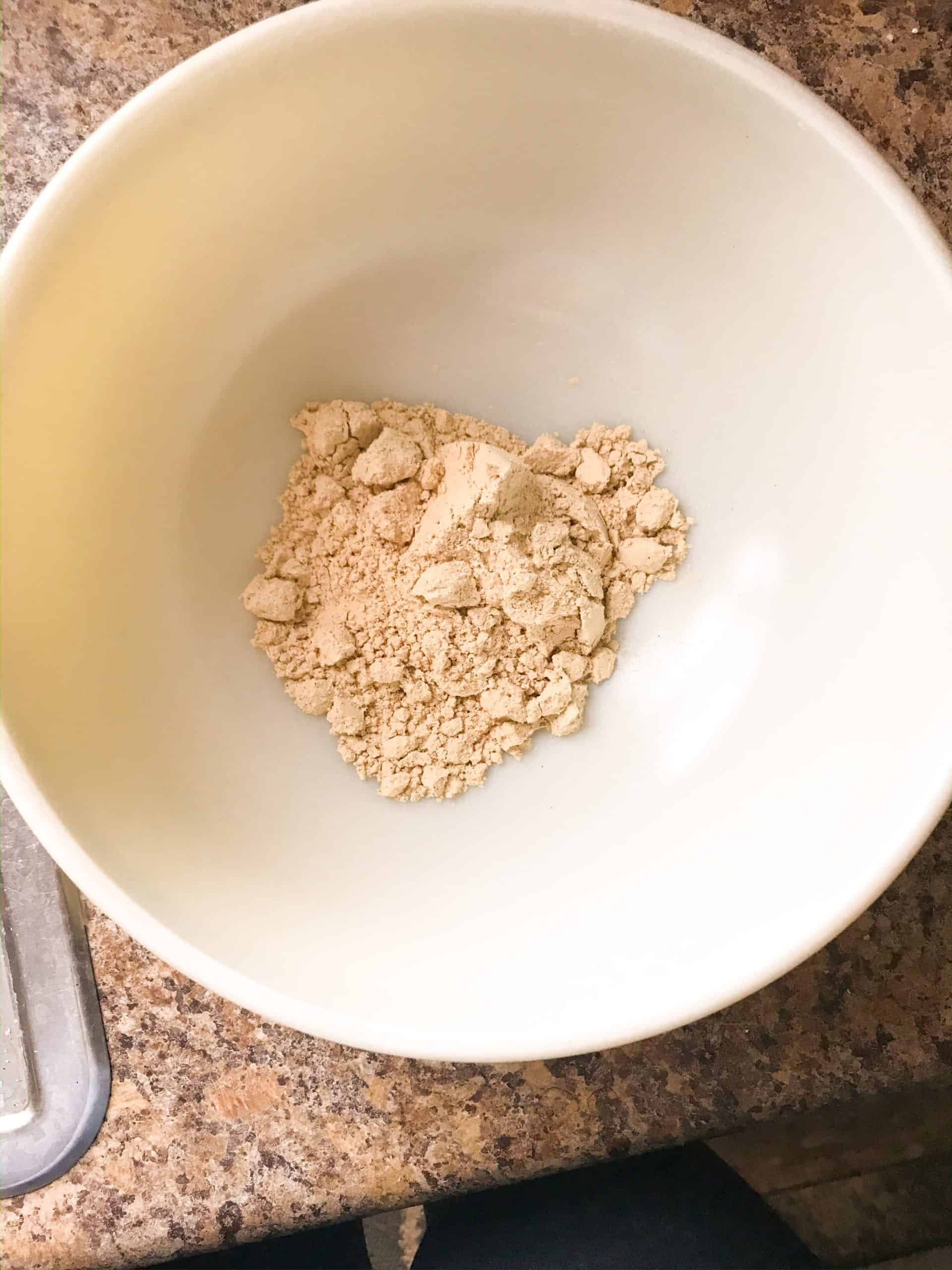 Sometimes plant-based proteins taste grainy or like peas, but I really like this protein because it mixes well in these balls. It also goes well in protein shakes and protein oats.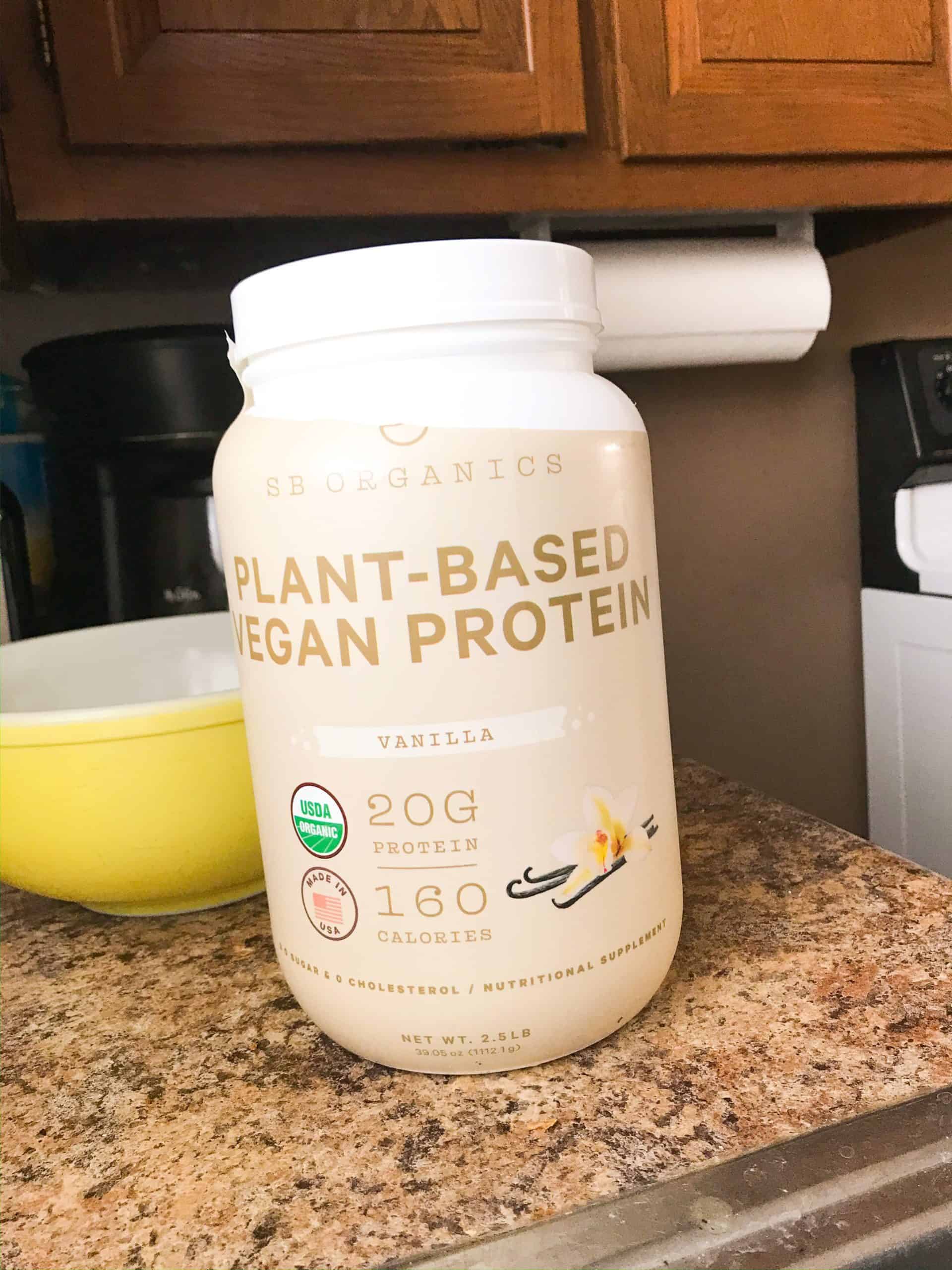 Then I add a cup of peanut butter. I don't measure so it actually ends up being closer to about a cup and a half, or maybe two. I lick the spoon clean, then throw it in the sink. Add half a cup of honey, which also isn't measured except with my eyes.
Depending on what I have in my cupboard, I will either add chocolate chips or chunk up a dark chocolate bar and throw those in as well.
Then I add the best part: RICE KRISPIES! One and a half cups. Again, eyeballed.
I use a wooden spoon to do a majority of the mixing, then I switch to my hands to make sure its all combined and all the ingredients are evenly distributed.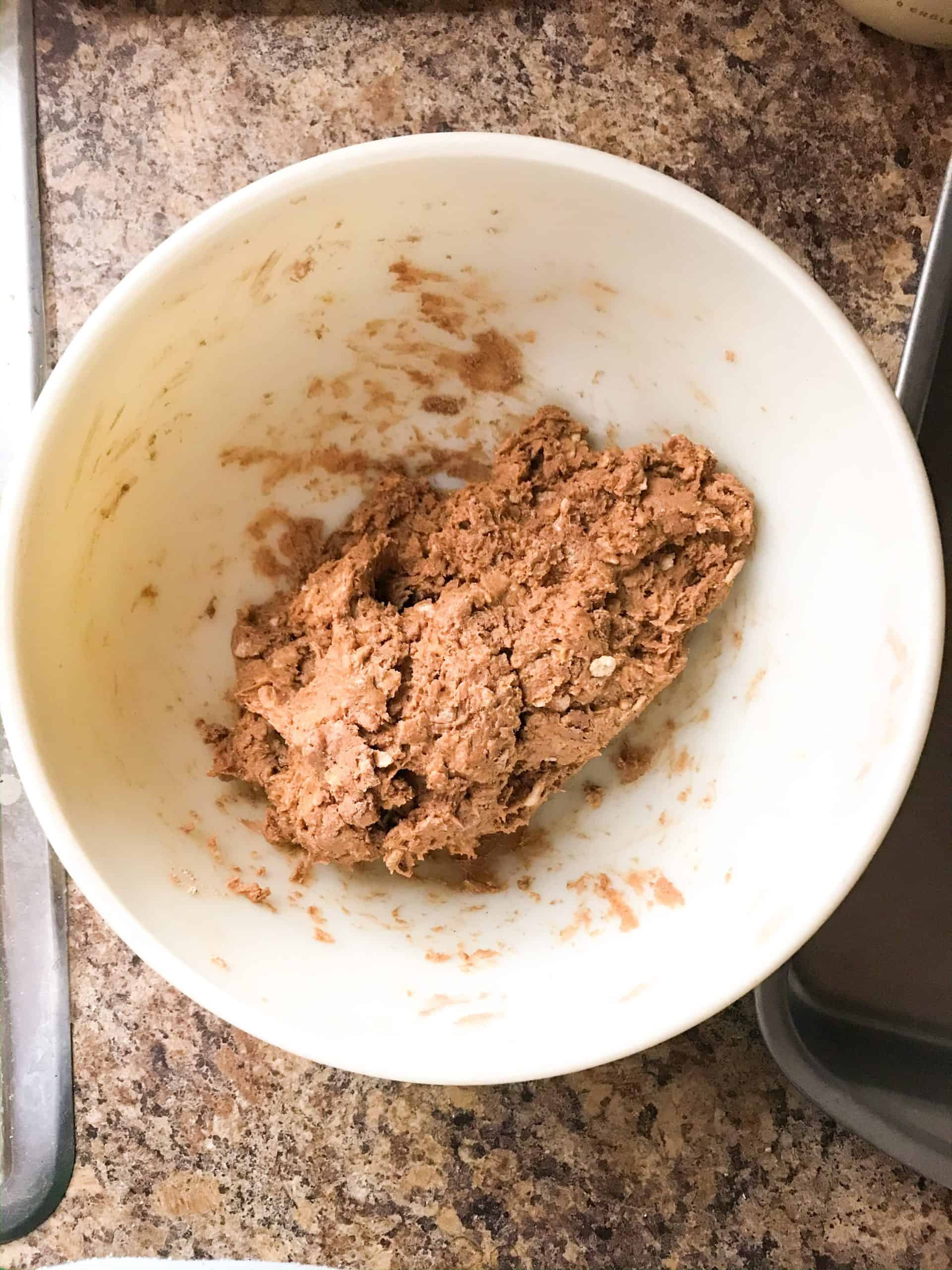 Now its time to roll the peanut butter protein balls.
Pro-tip: get your hands wet so the the crunchy peanut butter ball batter doesn't stick to your hands. Every few balls I get my hands wet again (Can I just say every time I type balls the immature sixth grade boy in me giggles? Oh I'm not alone? Great.) so the batter stays on the ball and not my hands. Each ball fits in the center of my hand, and is maybe an eighth a cup of the mix.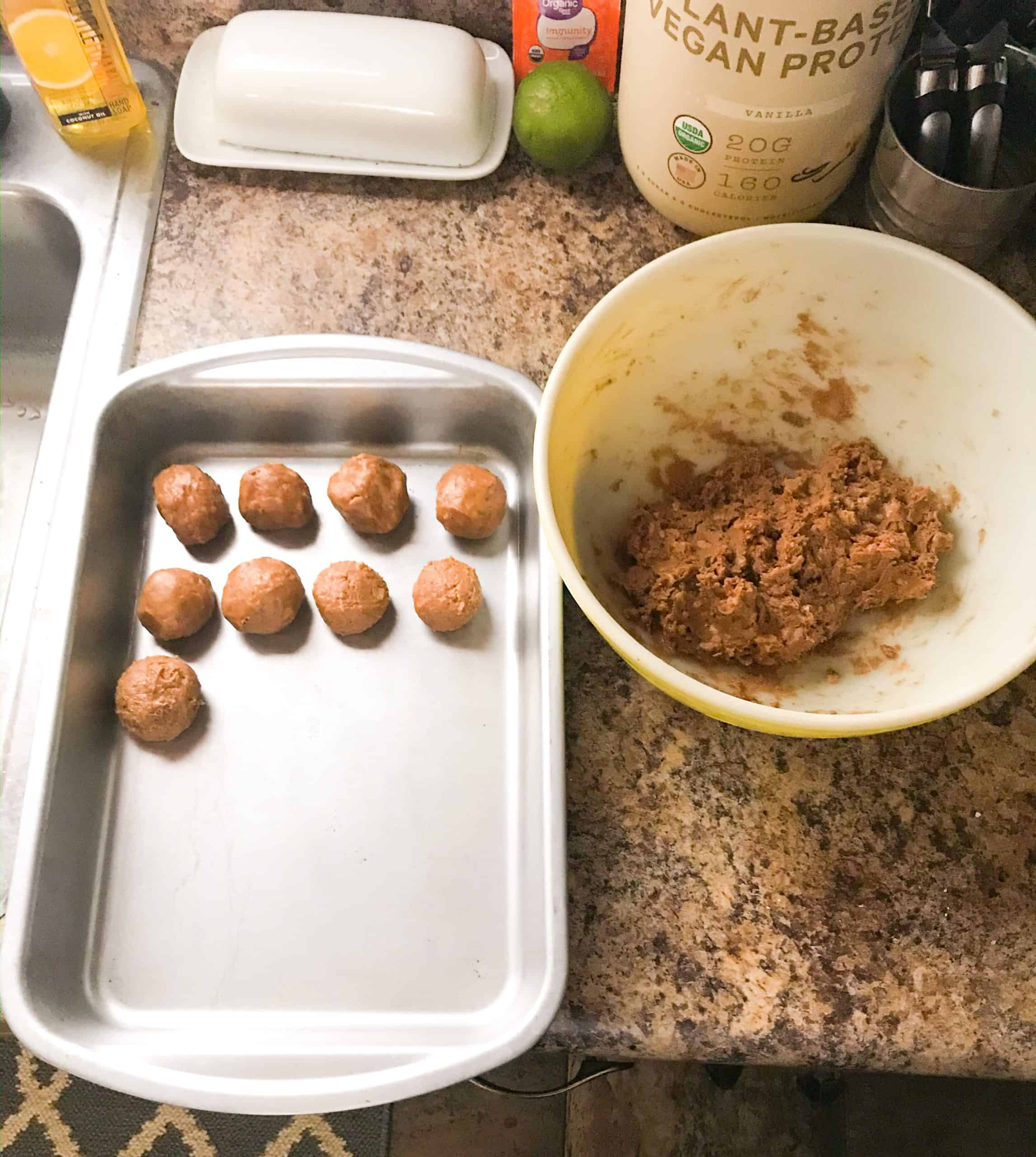 I line them up in a 9x13 pan and usually get between 16 and 20 protein balls per recipe. Put the pan in the fridge to chill. Wait at least ten minutes before you start to eat the entire pan in one sitting. Enjoy!
Looking for other quick and easy recipes? Check out these:
How to Make Homemade Peanut Butter Granola
Gluten-Free and Dairy Free Pumpkin Muffins
Chicken, Pea, and Pesto Pasta, an Easy Weeknight Dinner
📖 Recipe
Easy Protein Balls with a Crunch
Ingredients
¼

C

protein powder

1

C

peanut butter

½

C

honey

½

C

dark chocolate chips

1 ½

C

crispy rice cereal
Instructions
Combine all ingredients in bowl. Mix until protein powder is incorporated and no longer sticking to sides of the bowl. Wet hands. Using your hands, mix and roll balls that fit in the palm. Place balls in 9x13 baking pan then refrigerate. Eat as desired.