Have an abundance of peppers from your garden? Today I'm going to show you how to use up those extra peppers and make pepper jelly to give as gifts, bring to gatherings, or just enjoy over cream cheese with a glass of wine. 
Pepper Jelly is so simple to make. Whenever I get wind of someone trying to share extra peppers from their garden, I jump on the opportunity to whip out this recipe. I can make a batch of 12, four ounce jars or six, eight ounce jars in about 45-minutes from start to finish.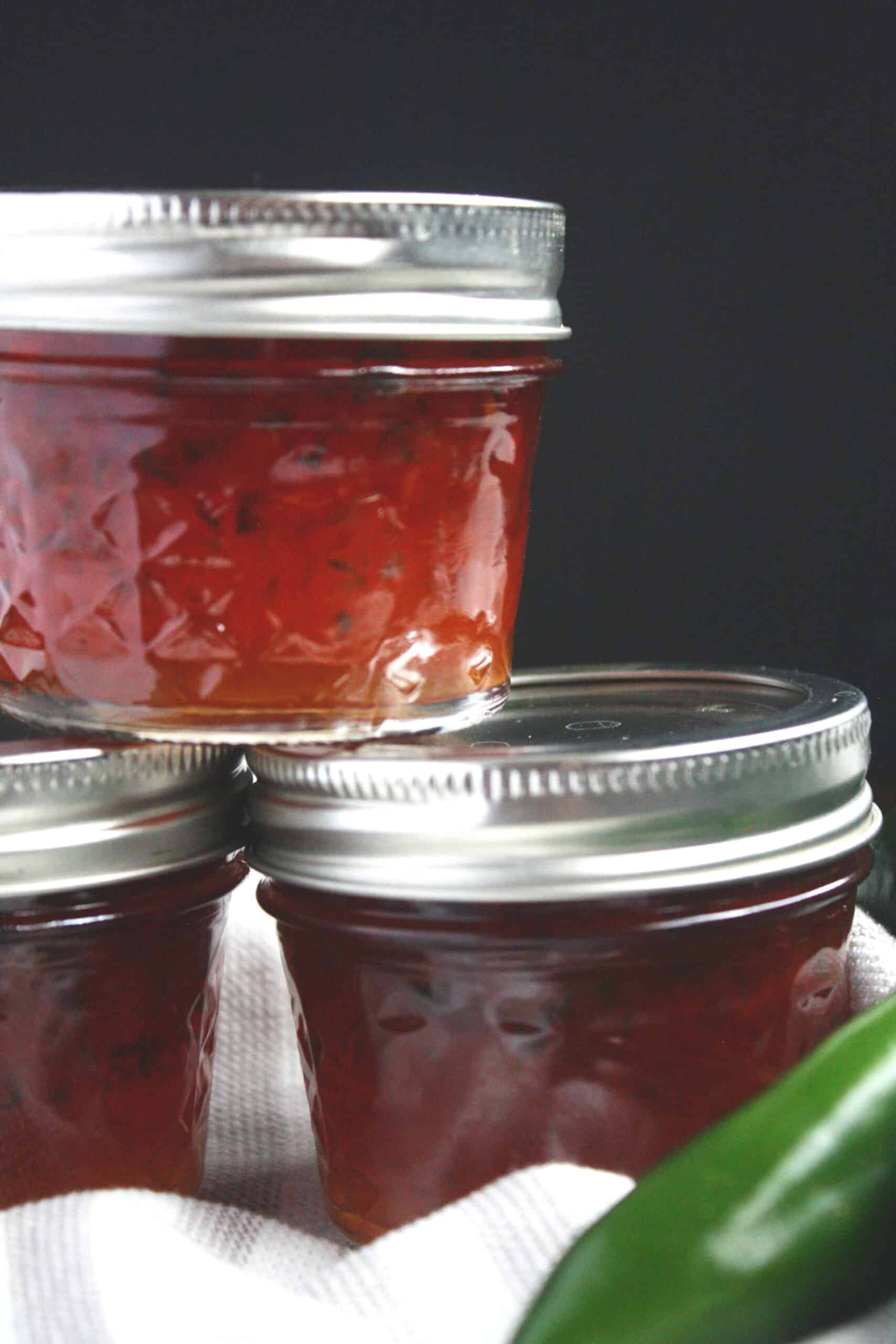 ---
*This page contains affiliate links to products I recommend. If you purchase something from this page, I may receive a small percentage of the sale at no extra cost to you. For more info, click here.
---
I like to keep jars of this pepper jelly on hand at all times, because it makes a great appetizer, or gift for a hostess, or gift basket filler or just because you need a snack with your glass of wine. This year, I'm making extra pepper jelly to give to coworkers for a small Christmas gift.
What Peppers Should I Use?
When I make this jelly, I like to have a little spicy kick because I will pour it over cream cheese and eat it with crackers. The spicy flavor is tempered with the cream cheese. I will always use red and orange bell peppers and jalapeños, but you can control the spiciness with whatever peppers you choose. Want a spicier batch? Increase the number of jalapeños you use, or kick it up a notch and use a hotter pepper like a habanero. In the same way, if you don't want as much spice, use more bell peppers than spicy peppers. You can experiment with the heat in this recipe, just make sure you have four cups of peppers.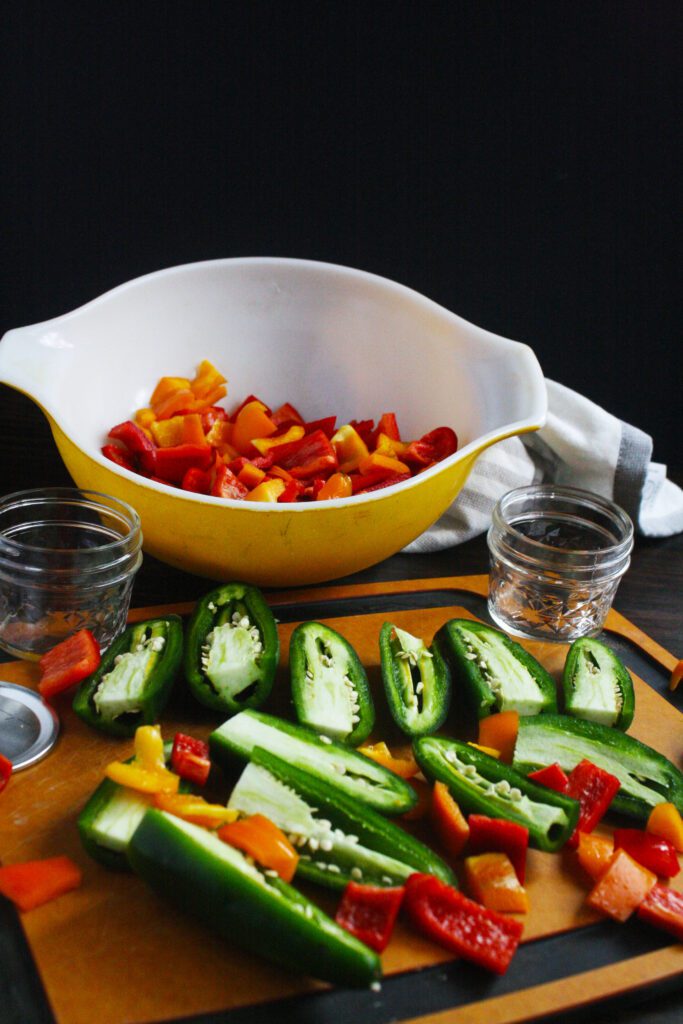 Supplies Needed
I use a lot of my same canning supplies over and over again (which is one of the reasons I love canning; a one time investment to use for years). If you haven't checked out my posts on canning a simple tomato sauce or making pickles, you may not know what supplies are needed to can. Here's what I use when I am canning pepper jelly.
Enameled Cast Iron Dutch Oven
This is my kitchen MVP. It lives on my stovetop because I use it so much. This enameled cast iron dutch oven (well any enameled cast iron really) is so versatile. I love it because it can be used on the stove top, in the oven, or on the grill. It conducts and holds heat really well, and is so sturdy so it will last a long time. It's perfect for canning pepper jelly because I can fit one entire jelly batch in the dutch oven, so I can can all my jars in one batch.
Food Processor
I could just chop and dice my peppers by hand, but I have found that its most time efficient to rough chop the peppers, then run them through a food processor to make sure they're all a consistent size. I have a small Cuisinart food processor (similar to this one), and I just process my peppers in batches. A food processor is not necessary, but definitely makes the chopping job go quicker!
Large Waterbath Pot
Almost every canning recipe calls for water bathing. I love using big pot because I can fit a fair amount of jars in the pot at one time. This is the speckled stock pot and canning rack that I use.
Canning Kit
I like this kit because it has all the tools I need for any given canning recipe. I always use the magnetic grabber to pull lids and seals out of boiling water. And the jar tongs make it easy to pull jars out of the water bath.
Mason Jars, Lids & Seals
Of course when you are canning you need jars to store your preserved food. This year, it's hard to get your hands in jars, but I love using Ball. For this recipe, I used these half pint or four ounce jars.
Looking for more canning recipes? Try your hand at my crunchy dill pickle recipe, my four ingredient strawberry jelly, or my lazy girl's guide to canning tomatoes.
Pepper Jelly Recipe
Canning Pepper Jelly is super easy and a great way to use up the extra peppers from your garden!
Equipment
6 pint or 12 half pint jars, lids and rings
Ingredients
6

Bell peppers, preferably red, orange or yellow.

6

jalepenos, seeded

1

C

apple cider vinegar

1.75

oz package

pectin powder

5

C

sugar
Instructions
Wash jars by hand or in dishwasher with sanitize cycle. In small sauce pot, boil lids and rings

Slice all peppers to a diced size. Remove seeds (be very careful with jalapenos--wear gloves or use a spoon to remove). Use food processor or hand processor to finely chop peppers.

Transfer peppers to large pot over medium-high heat. Mix in 1 cup apple cider vinegar and 1.75 oz powder fruit pectin.

Stir constantly. Bring to a rolling boil. Remove from heat.

Add 5 cups of sugar and place back on high heat. Return to a rolling boil for one minute.

Remove from heat. Skim off any foam from top.

Ladle jelly evenly into sterile jars, filling to ¼ inch from top of jar. Wipe lids of jars then cover with flat lids and screw on screw bands tight.

Place jars into canner with hot water that is not boiling. Water should completely cover jars. Cook on high heat to reach a boil. Process for 5 minutes, Remove from heat.

When jars are completely cooled, check seals by pressing centers of lids with finger. (If lid springs back, lid is not sealed and refrigeration is necessary, and jars will last a month in the fridge.)