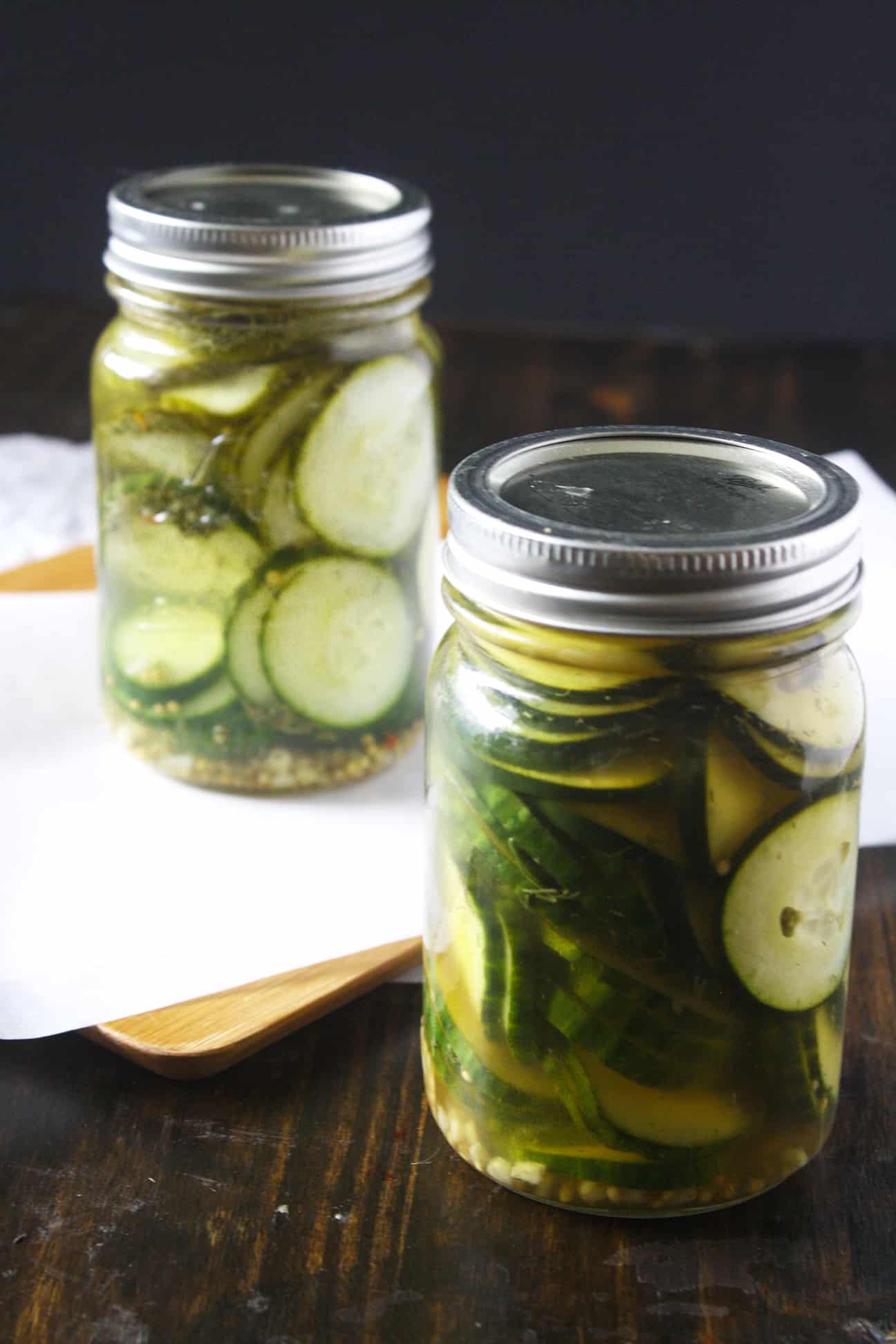 Are you looking for a small batch pickling recipe for your garden harvest? This post will walk you through how to quickly and easily pickle your cucumbers in a small batch so you can have crunchy, crispy, dill pickles whenever you're craving them!
Is there anything better than crunchy dill pickle slices on a cheeseburger? Beef, cheese, tomato, lettuce, and some nice crunchy pickles. It's the best.
We were meal planning for our week a few weeks ago and we wanted to grill burgers during the week. I saw it as the perfect opportunity to try my hand at converting my pickling recipe to a small scale recipe that could be used at any time. 
---
*This page contains affiliate links to products I recommend. If you purchase something from this page, I may receive a small percentage of the sale at no extra cost to you. For more info, click here.
---
I wanted to see if I could pickle just a couple jars of cucumbers to have homemade pickles whenever. And guess what? You ABSOLUTELY can. So here's my adaptation of my dill pickle recipe to a small-batch dill pickle recipe.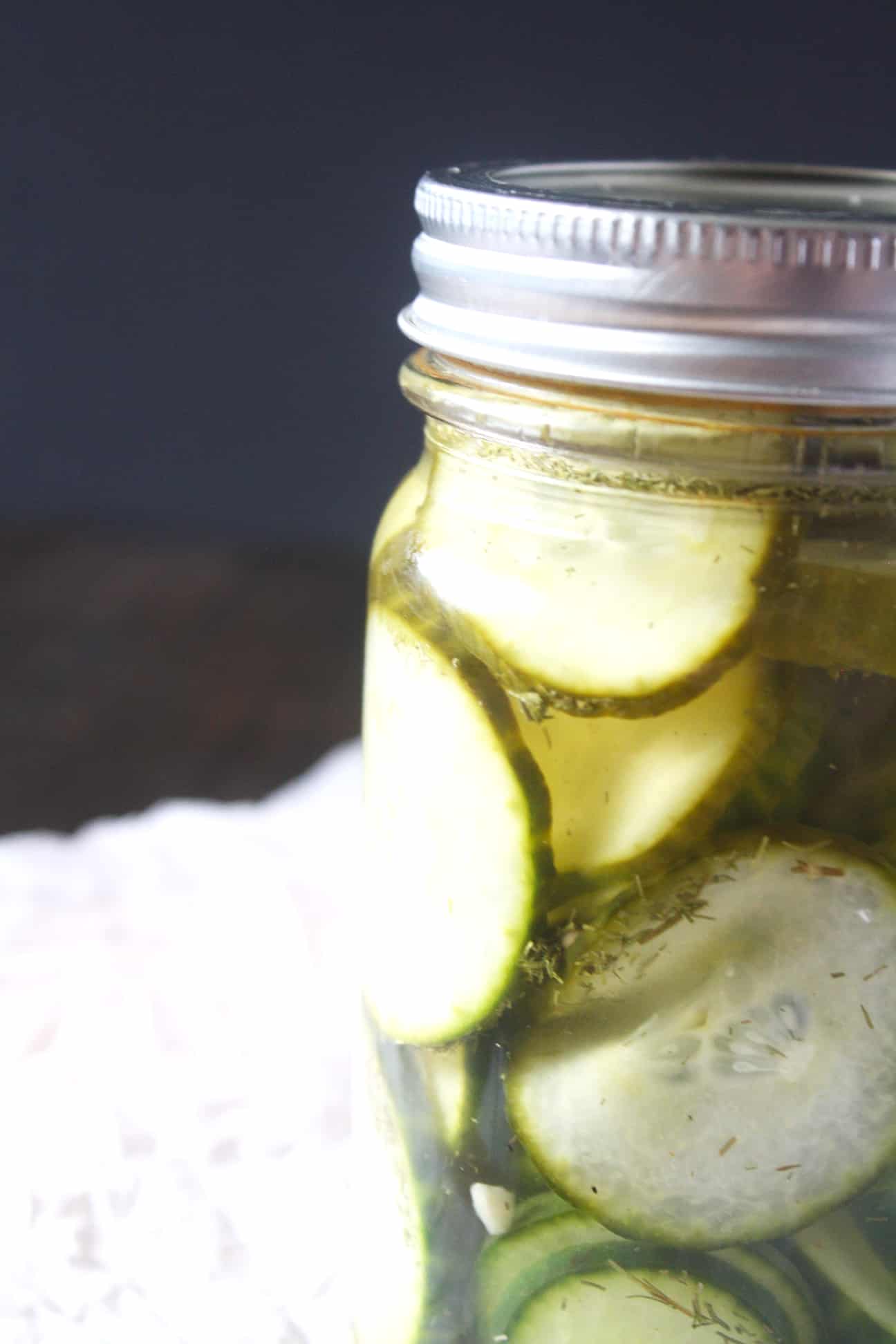 What Equipment do I Need to Make Small-Batch Dill Pickles?
The nice thing about doing small batch pickling is you can do this recipe right in your kitchen, and you don't need a ton of equipment. This is a great recipe to use if you are just learning to can, and trying to decide if canning is something you really want to pursue. Here's the equipment you will need to make these small-batch pickles.
Jars, Rings & New Lids
This recipe will still seal your jars using heat, so they have a longer shelf life, but I only used two pint jars, rings and lids when I made this recipe. These are the jars that I use, and while they come in a pack of a dozen, and we're only using two jars for this recipe, TRUST ME, the other ten jars will get used.
Canning Kit
Even though this recipe is for a small batch of pickles, you'll still be working with boiling water and boiling brine, so I recommend a canning kit that has tongs and a funnel so you can care for your hands and not burn yourself when transferring brine or moving the hot jars. Here's the canning kit I have, but here is also a similar kit.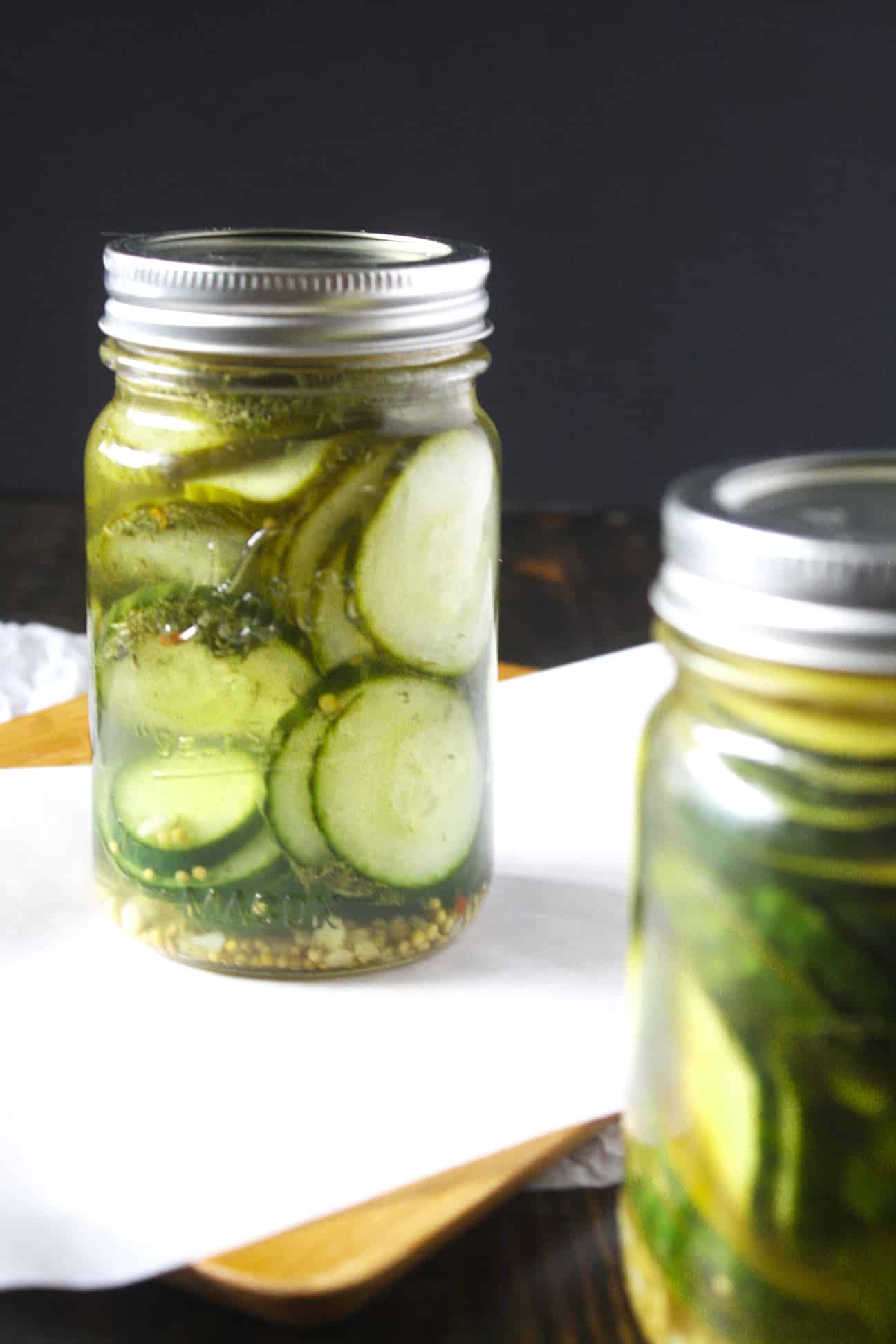 What Types of Cucumbers Should I Use for my Small-Batch Pickles?
I have used a few different varieties of cucumbers for my pickle recipes, and my suggestion is to experiment and see what type you like best.
This recipe is great if your garden harvest is small and your cucumber plants just produce a few fruits at a time.
Or, you might be like me, and you were just craving a jar of pickles, and you don't have a garden this year. If that's the case, you can just go to the grocery store or farmers market and buy a couple cucumbers. For this recipe I used English cucumbers and they turned out crispy and crunchy. 
How Long Can I Store My Small Batch Dill Pickles?
I typically try to keep my canned goods no longer than 18 months, and the same is true for these small batch dill pickles. Once you open a jar (and if you don't eat them all in one setting), store them in your refrigerator for up to three months.
I hope you enjoy! If you're looking for more easy canning and pickling recipes, try out these!
Quick and Easy Pepper Jelly You can Make in an Hour
Four Ingredient Strawberry Jelly
Lazy Gal's Guide to Canning Tomatoes
📖 Recipe
Small Batch Dill Pickles
A Quick & Easy Recipe to Make a Small Batch of Dill Pickles
Ingredients
2

cucumbers sliced into ⅛ inch slices

1

tablespoon

dill divided between two jars

2

tablespoon

minced garlic

1

teaspoon

crushed red pepper flakes

1

C

water

1

C

white or apple cider vinegar

¼

C

sugar

⅛

C

pickling salt
Instructions
Clean and sanitize two pint mason jars. I sanitize by using the sanitize cycle on the dishwasher.

Bring a pot of water to boil (separate from the water listed above in the ingredients), and place rings and lids in the water to boil.

In a separate pot, combine water, vinegar, sugar and salt. Bring to boil.

In the bottom of pint jars, add dill, garlic and crushed pepper flakes. Pack jars with sliced cucumbers.

Pour brine over cucumbers, leaving a ½ inch head space. Seal jars with hot lids and rings. Flip jars over and allow to rest on counter for 24 hours.