If you're looking for an affordable Black Hills getaway, this guide on how to vacation in the Black Hills for less than $500 is for you! I'm going to share with you how I was able to spend five days in the Black Hills on a budget!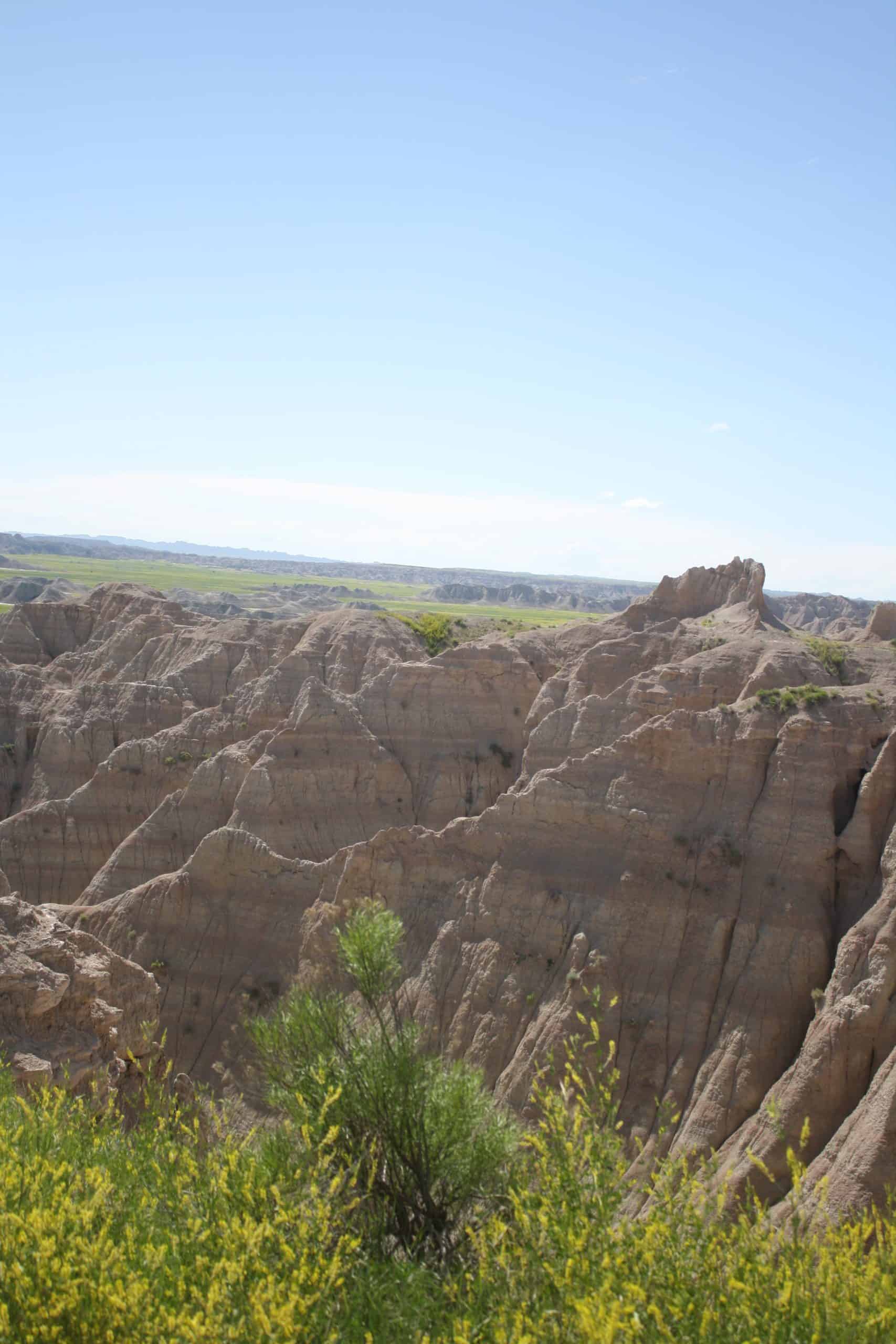 The Black Hills of South Dakota are stunning and full of natural beauty. While the majority of South Dakota's geography is flat prairie, the Black Hills offer a stark contrast of rock formations, millions of trees, an abundance of wildlife, and breathtaking views.
If you've never visited the Black Hills, I urge you to put it on your travel bucket list. The Black Hills are located along the western South Dakota border and stretch over 8,400 square miles. "The Hills," as they are called by South Dakotans, are full of so many gems, like Custer State Park, Deadwood, Hill City, Mount Rushmore and the Crazy Horse monument. 
---
*This page contains affiliate links to products I recommend. If you purchase something from this page, I may receive a small percentage of the sale at no extra cost to you. For more info, click here.
---
I am embarrassed to say I have considered myself a South Dakotan for a decade, but had never really explored the Black Hills until last summer. Oops.
Luckily for me, my dear friend, Ben, is just as budget-conscious as I am, and suggested we plan a trip to the Hills but make sure we didn't break the bank. I was in!
Today I'm going to show you how Ben and I spent five days in the Black Hills of South Dakota, were able to see many sites, find relaxation and peace, avoid crowds, and spend less than $250 EACH!
Make a Plan for Your Black Hills Vacation
An affordable vacation to the Black Hills takes some planning and preparation. We were able to have a budget-friendly vacation that was extremely enjoyable because we first made a plan.
We came up with a plan and itinerary a few weeks before our trip. You would think an itinerary would be restrictive and rigid, but it was actually so helpful. Each morning we looked at our itinerary, and figured out if what was on the itinerary was what we actually wanted to do that day, or if we need to make changes.
For example, on the third day of our trip, we had scheduled a trip to Mount Rushmore, however, the day before we had wandered through Custer State Park on Needles Highway (definitely a MUST DO), and had some breathtaking views of Mount Rushmore.
We decided to not go to the monument, but instead we took more time relaxing in the morning, then slowly made our way to Deadwood (also a must-see!) So coming up with a plan gave us structure, with flexibility. 
Budget-Friendly Accomodations in the Black Hills
The Black Hills has accommodations for literally every price point and desire. Want to rent a farmhouse? Here's the spot for you. Want a central location near a lot of action? Pick a place like this in Deadwood. Have a big group that wants to rent a house? This is the cabin for you. 
For us, we wanted none of those things. We wanted to be as close to nature as possible, and we chose accommodations at a campground. Many of the campgrounds in the Hills offer a variety of sleeping options with tent camping spots, camper spots, cabins without kitchens or bathrooms and cabins with kitchens and bathrooms. We found an amazing campground that we LOVED that has so many accommodation options. 
Hidden Valley Campground, A Little Slice of Heaven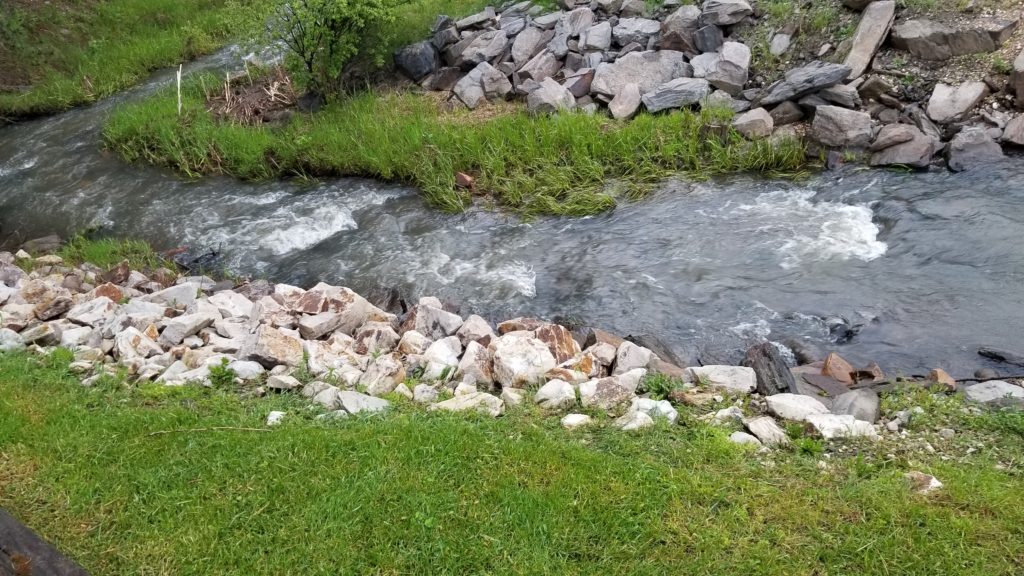 We stayed at the Hidden Valley Campground in a tent, and it was such a great experience. Hidden Valley has cabins to rent, spots for tent camping or your camper or RV, and if you don't have a trailer to stay in, you can rent theirs! 
We loved so many things about our stay at Hidden Valley. First, it was just off Highway 385, and only a ten minute drive from Deadwood to the north. If you head south on 385 you are only 20 minutes from Hill City (Prairie Berry Winery!). Second, the entire campground was impeccable.
It's tucked in a valley, and the owners keep it so clean. The bathrooms are community bathrooms, but offer individual shower stalls and large bathroom stalls. It was ALWAYS clean! I was nervous to camp because I didn't know what the bathroom would be like, but now, I am so glad we chose Hidden Valley. 
The third thing we loved is how quiet the campground was. When we stayed last summer, nearly every camping spot was full, yet it didn't feel cramped at all. Two creeks run through the campground and there are pine trees everywhere.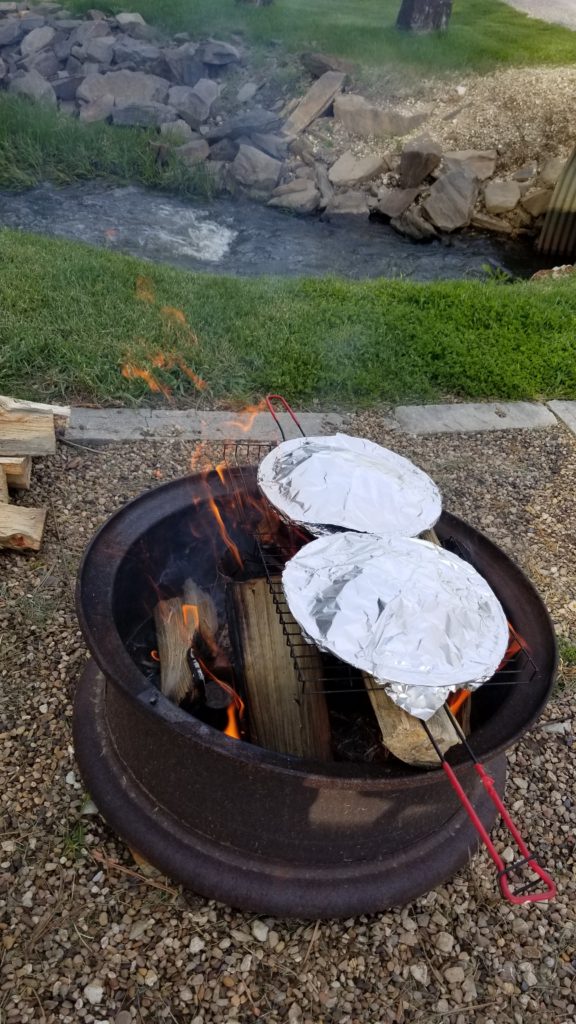 The last thing we loved is a little strange, but what we needed: you could only get cell service at the C-Store, so when we were at our tent, we were completely disconnected. We put our phones away and enjoyed each others company (along with lots of wine). 
Hidden Valley is located right next to the Steel Wheel Campground, and both are owned by the same family. Each night their children made their way through both campgrounds delivering firewood to whomever needed it. Seriously, it is an gorgeous, welcoming place to stay.
Why tent-camp in the Black Hills
Staying in a tent in the Black Hills is a unique and enjoyable experience. We stayed three nights for just $30 a night, and that is a freaking steal! We literally spent $90 on our accommodations. You cannot beat that. If you're willing to spend more, Hidden Valley and Steel Wheel more than likely have what you're looking for. 
Side note: since we were camping, we had to pack a lot of things like chairs, kitchen things, camping wine glasses and bedding.   This is the sleeping bag I have. It's slightly too short for me (it says it fits someone up to 5'11, I'm 6'0), and I also had an extra blanket on top of me because it got pretty chilly at night in the Hills.
Like I said, we also packed other things. Ben had a couple zero gravity chairs similar to these that we each used, and they were so nice after being on our feet playing tourist all day. Prior to the trip, I ordered us a couple of stainless steel wine tumblers. These are necessary for any camping trip, no questions asked. 
Since we were camping, all of our evening meals (except the last night) were around a campfire. So we were able to save a fair amount of money by grocery shopping before heading to the Black Hills. Here is a list of what we packed and what we ate at the campsite.
What Groceries to Pack for a Camping Trip in the Black Hills
Here is a list of what we packed for a camping trip to the Black Hills for two people:
Granola Bars
Brats and Hot Dogs
Chips
Potato Salad (prepared at home)
Protein Balls (see the recipe here!)
Ingredients for Campfire Nachos

Tortilla Chips
Shredded Chicken (cooked at home)
Shredded cheese
Salsa
Beans

Ingredients for S'mores

Graham Crackers
Marshmallows
Hershey's Chocolate Bars
Reese's Peanut Butter Cups

Ingredients for Walking Tacos

Taco meat (ground beef with taco seasoning prepared at home)
Shredded lettuce
Shredded cheese
Salsa
Beans

Wine and Beer!
How to Plan your Itinerary for a Trip to the Black Hills
When Ben and I were planning our trip, we listed off the places we absolutely, without a doubt, had to see, and a list of places that we would love to see but we didn't care if we missed.
Here is the list of the places we wanted to see:
Wall Drug
Badlands National Park
Custer State Park, specifically Needles Highwayl
Prairie Berry Winery
Devils Tower
Deadwood
Wall Drug
If you have ever been to South Dakota, or even just driven through the state you know that there are Wall Drug billboards EVERYWHERE. Since I've moved to the state ten years ago, I've always been tempted to go and check it out, and I'm sure if you've seen the signs everywhere, you've been tempted too.
Wall Drug is in Wall, S.D., which is just off Interstate 90 to the east of Badlands National, so it was a quick and easy stop to lunch before we headed into the park. Wall Drug offers a ton of cute little shops to explore including a rock store, fudge shop, an actual pharmacy, a clothing store and of course souvenirs. 
Must see and do at Wall Drug: have a cup of five cent coffee, and have your picture taken on the massive jackalope!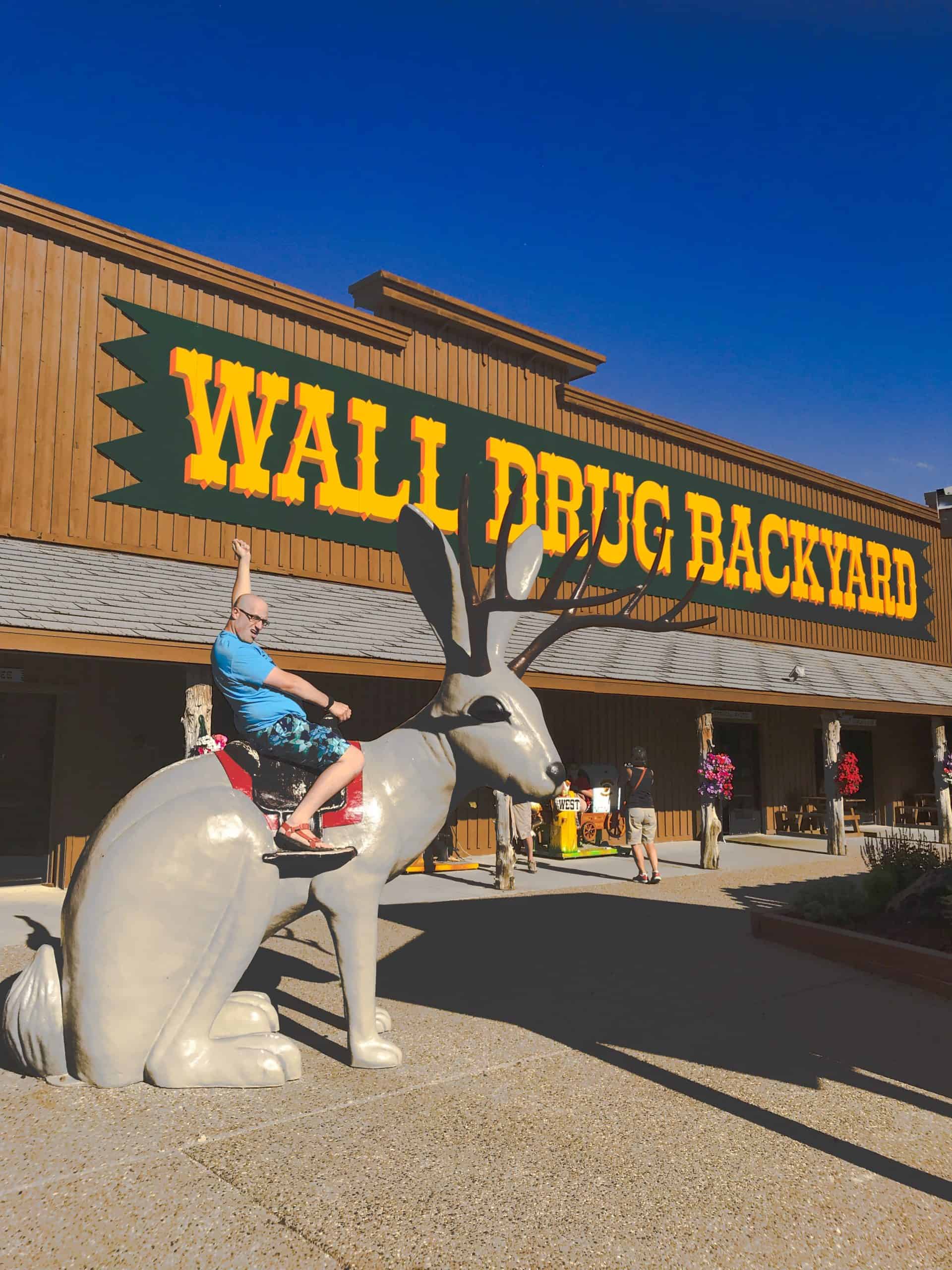 Badlands National Park
Looking back on our trip, Ben and I could have (and should have) spent more time at the Badlands National Park. The park is over 240,000 square miles and features expansive rock formations, sweeping grasslands, a variety of hiking trails for every experience level, and so much wildlife.
Since we were stopping on our way out to the Hills, we only stayed about four hours, however, next time, we'll consider camping at the park. 
While we didn't stay nearly long enough, we were still able to hike a few trails, see some animals, and take some great photos.
What to know about the Badlands: The Badlands is a national park, and you need a pass to enter. We paid for the day pass for $25. Also, we entered the park from the east entrance, and took the Badlands Loop Road through the park--we were able to see so much just by exploring near the road, but I definitely recommend getting off the main road.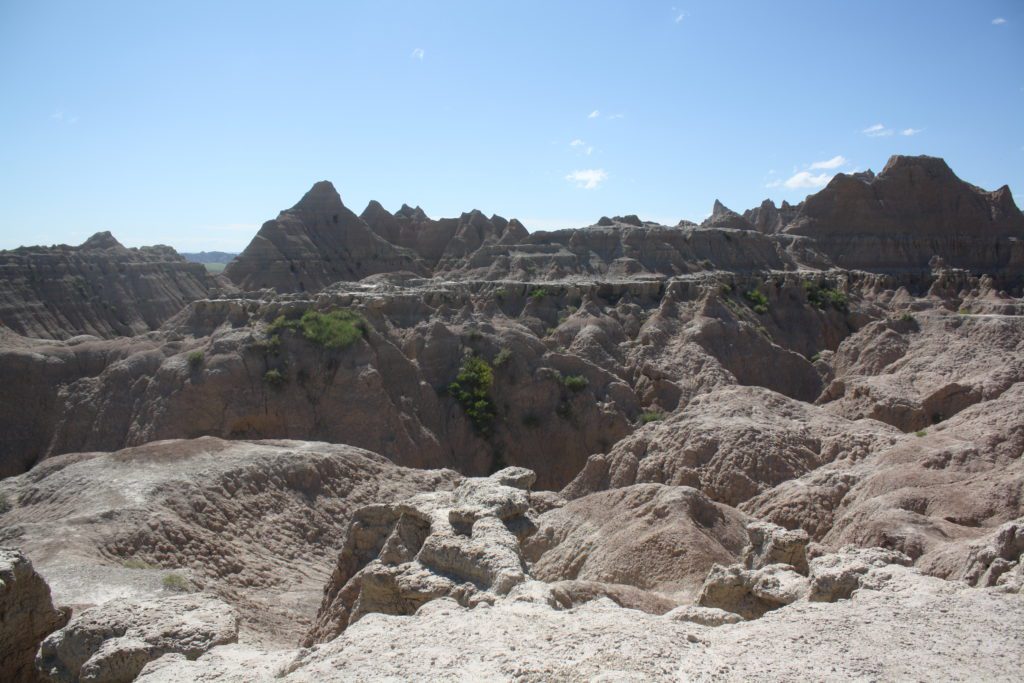 Custer State Park
Custer State Park is my absolute favorite place to explore in the Black Hills. If you do not visit any place in the Hills except this one, you have done your trip right.
Custer is amazing for so many reasons. There are plenty of places to camp; you can stay in the Lodge and have hotel amenities, or you can rent a cabin within the park. There are buffalo roaming everywhere, as well as elk, deer, and bighorn sheep.
There are also so many hiking trails for every skill level.
What we loved most about the park was our drive along Needles Highway, and Sylvan Lake.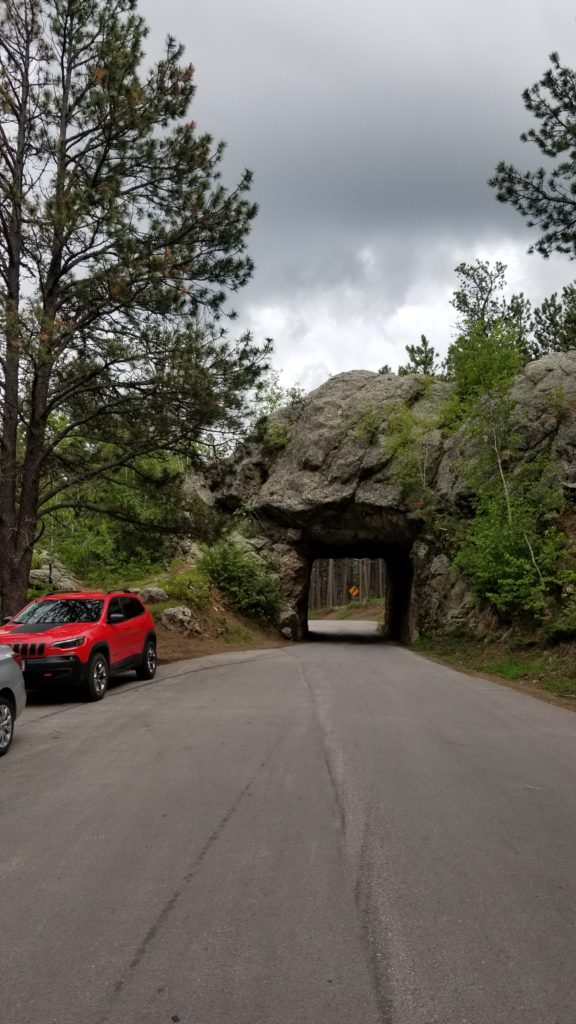 Needles Highway is a curvy, corkscrew road that makes its way through the entire park. Drivers can pull off at many locations to take in picturesque views of this Hills.
There are tunnels carved right out of the actual hills that cars drive through, and if you don't have Mount Rushmore on your itinerary, you can still see it from Needles Highway.
Another hit of Needles Highway is the Cathedral Spires rock formations. These formations stick straight in the air, and you guessed it, look just like spires on a cathedral.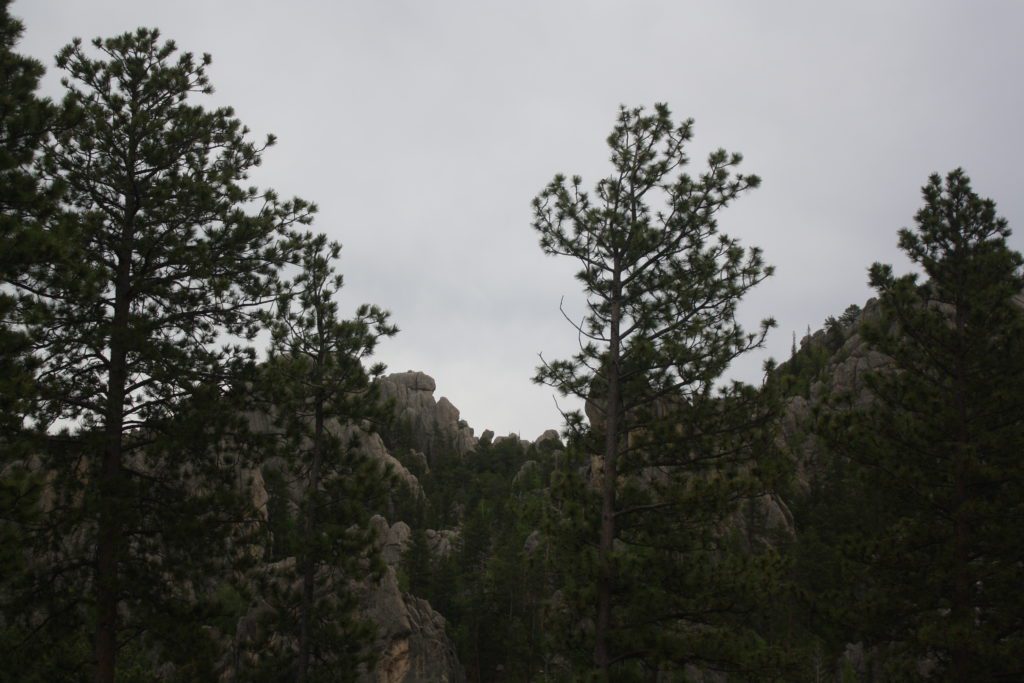 Sylvan Lake is another beautiful spot in Custer State Park. It was featured in the movie, National Treasure 2: Book of Secrets, and offers some spectacular scenery. It's nestled at the base of Black Elk Peak (formerly known as Hearney Peak), which is the highest point in South Dakota, and is the perfect spot camp, hike, swim or fish.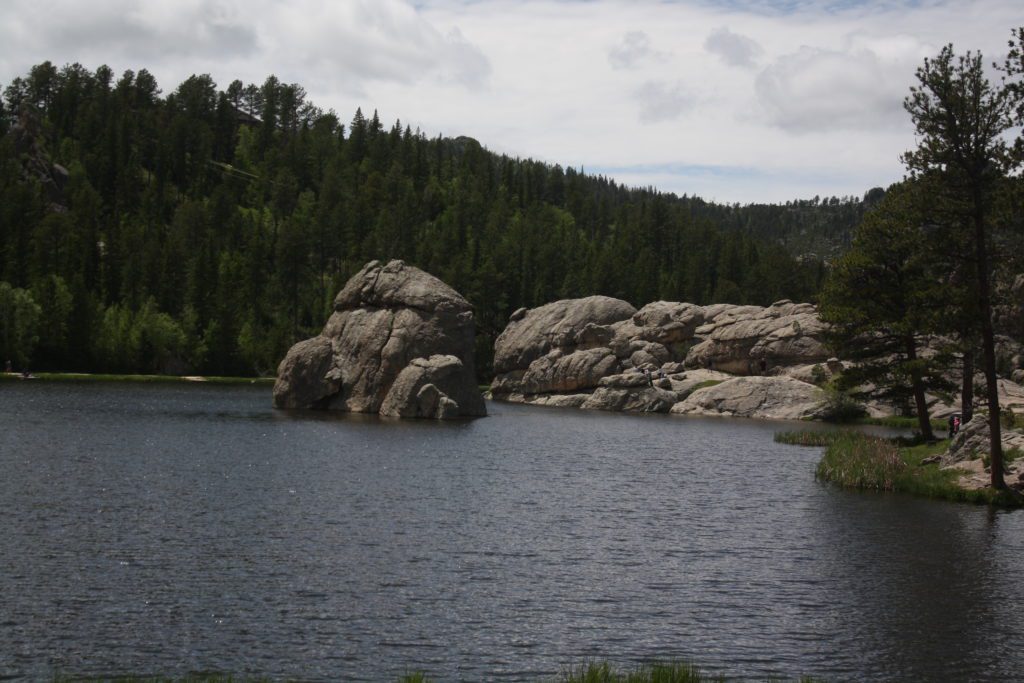 What to know about Custer State Park: You can buy a park pass for your car for either a day or for the entire year. If you buy a year pass, you have access to all of South Dakota's state parks. Always make sure to give all wildlife their space. Buffalo are plentiful in the park, but need to be admired from a distance.
Hill City & Prairie Berry Winery
Prairie Berry Winery is my favorite winery of the Black Hills, located on the outskirts of Hill City, the winery is one of South Dakota's most famous wineries. Prairie Berry makes over ten types of wine, but almost all tend to be on the sweet side.
Their wines have won many awards, but their most popular pick is the Red Ass Rhubarb. Prairie Berry offers wine tastings to guests as well as an extensive menu. My favorite way to enjoy Prairie Berry is to start with a tasting, then order a bottle of Calamity Jane wine, and a charcuterie platter and flatbread pizza to share.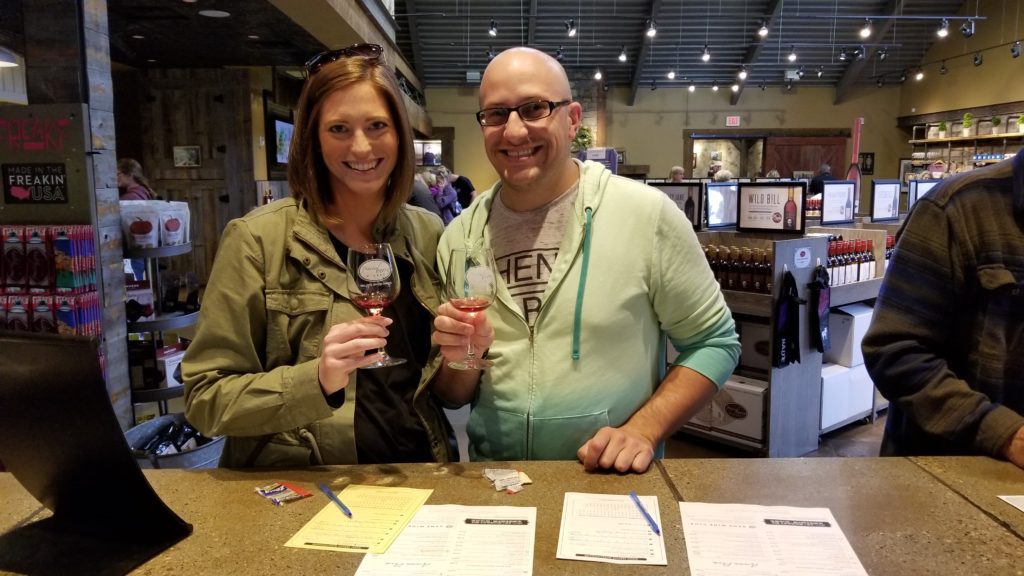 Must Try at Prairie Berry: Make sure you include Red Ass Rhubarb on your wine tasting menu, and if you order a case of wine from Prairie Berry, they offer a pretty decent discount. After your time at Prairie Berry, wander down into town to check out what Hill City has to offer.
Devils Tower National Monument
While actually located in Wyoming, Devils Tower National Monument was still on our list of places to visit while in the Black Hills, and we were happy we visited. There is a stark difference in the geography between the Black Hills and the landscape in Eastern Wyoming, so the drive to the monument was just as beautiful as the monument itself. The eastern half of Wyoming is mainly large rolling hills and pastures, and it seems as though the sky can go forever.
Once you get to Devils Tower, you can see why it is a national monument: this rock formation seems to just jut out of the ground and into the sky.
What to know about Devils Tower National Park: Similar to the Badlands National Park, you must pay $25 to enter the park, but once inside you can walk around the entire base of the rock formation and see almost all the sides of the Monument.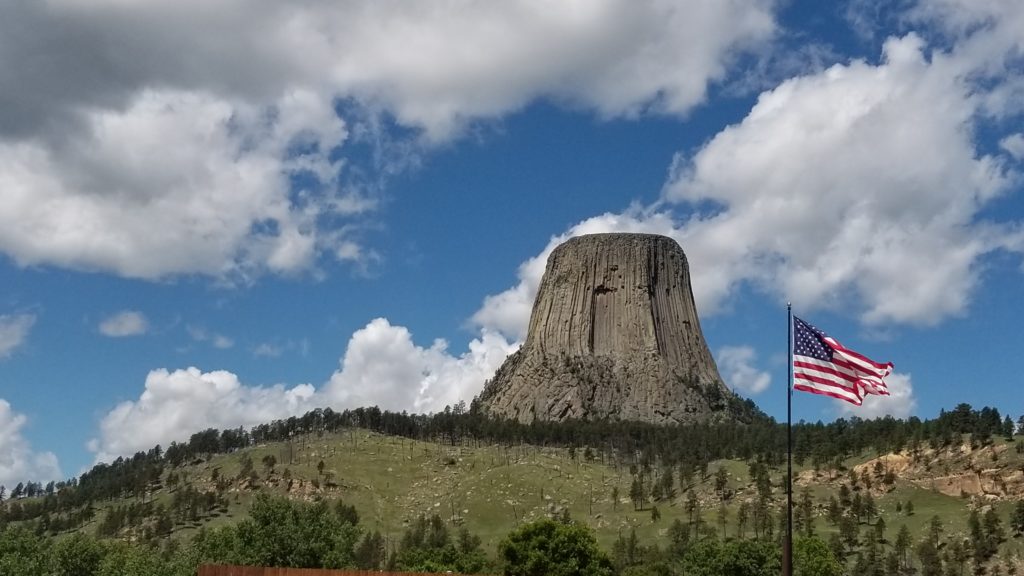 Visit Deadwood
Whenever I think Wild Wild West, I picture Deadwood, South Dakota. Deadwood is the gambling capital of the state and has tons of options for places to stay or risk it all on red. We weren't looking to spend a ton of time in Deadwood this trip because we weren't looking to be around people or to gamble, but we did stop at Tin Lizzie Casino every morning for Starbucks.
Deadwood is famous for the slew of cowboys that spent their time in the town in the late 1800s and early 1900s. Some famous names you'll see around town are Calamity Jane, Jack McCall and Wild Bill Hickock.
If we had planned better, we were going to hike to Mt. Moriah Cemetery to see where Wild Bill and Calamity Jane were buried, and also get a sweeping view of the valley town. I highly recommend that hike and view. 
Must Stop in Deadwood: Stop for a cocktail at Saloon #10 to check out all the wild west lore and memorabilia. Every afternoon a shootout is reenacted in front of the Franklin Hotel and Silverado Casino, those are also highly entertaining.
While you can definitely spend more time and more money exploring the Hills, we were very happy with our five days and $500 we spent.
Tell me, what's your favorite thing about the Black Hills?