This Bloody Maria Cocktail Recipe is a great alternative to the Bloody Mary and has just as much versatility and flavor as the original! Try this great tequila cocktail recipe today.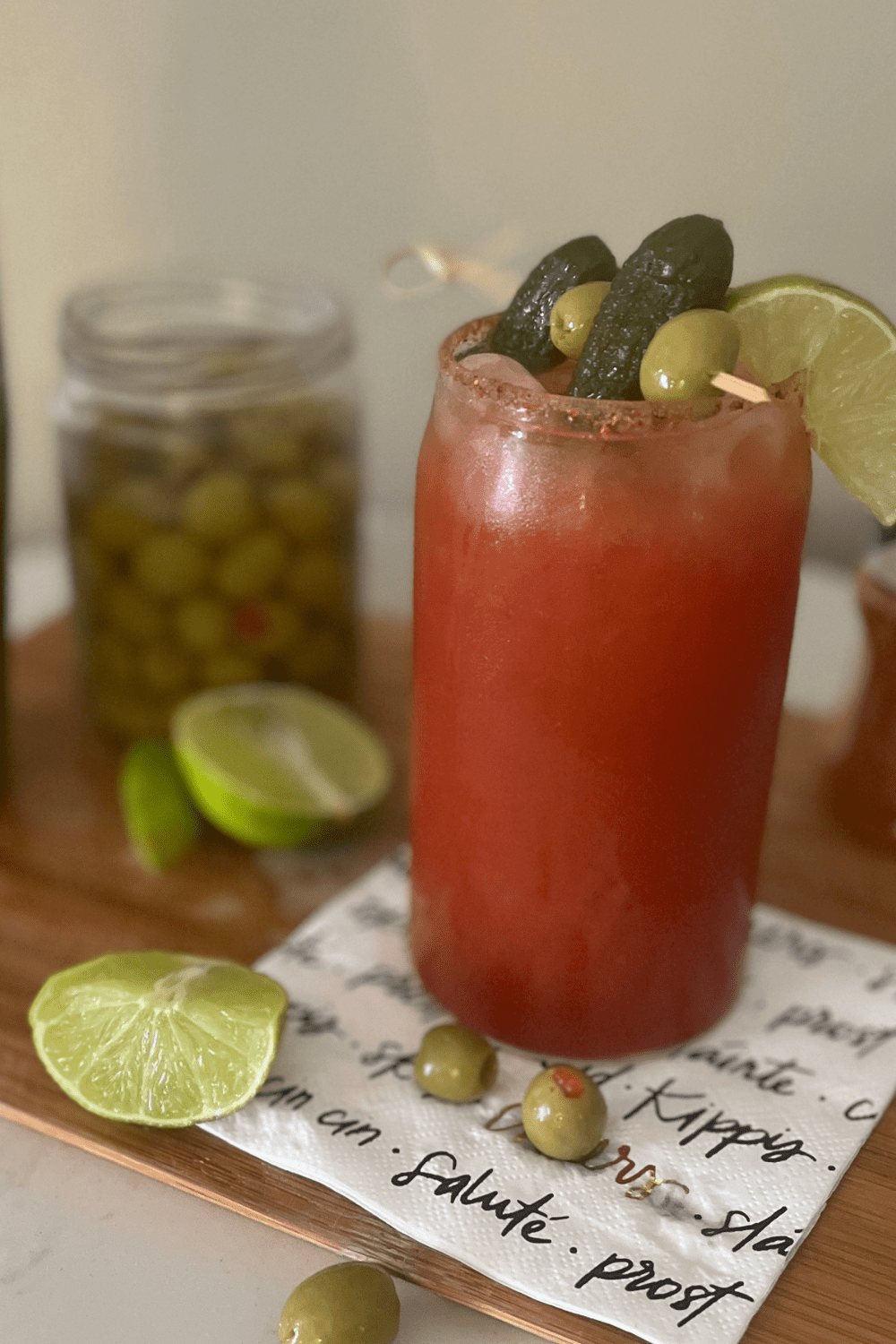 What is a Bloody Maria?
A bloody maria cocktail is a recipe that combines tequila, tomato juice, hot sauce, worcestershire sauce and a variety of spices to make a savory and flavorful cocktail that is often enjoyed at a tailgate, brunch or any other libation opportunity.
What is the difference between a Bloody Mary and a Bloody Maria?
Both the Bloody Mary and Bloody Maria cocktails are tomato-juice based recipes, but the biggest difference between the two is the liquor used. A Bloody Mary recipe uses vodka as the liquor, while Bloody Maria cocktails use tequila. You could say a Bloody Maria is a Bloody Mary with tequila. Both taste great with vodka or tequila! If you want to find a good Bloody Mary, check out this post!
What do you need to make a Bloody Maria Cocktail?
Making a Bloody Maria cocktail calls for nearly all the same ingredients as a Bloody Mary, and just like a Bloody Mary, you can add any amount of variety and spice you'd like!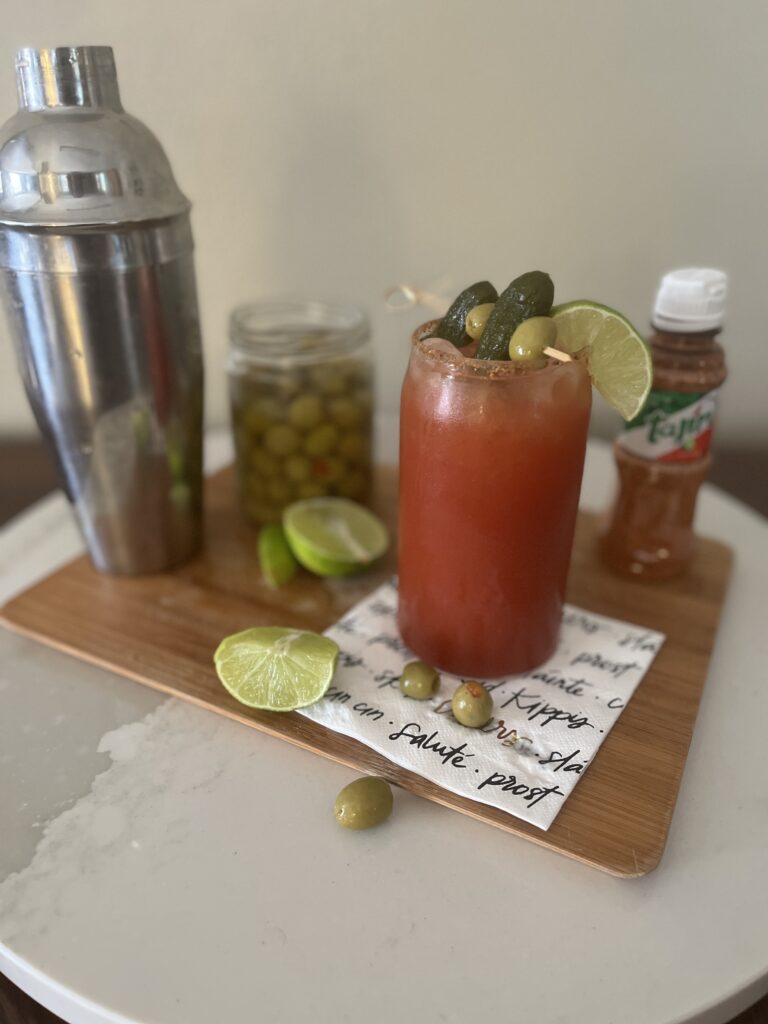 Tequila: Always make sure you are use a tequila that is 100 percent blue agave tequila, otherwise you are not getting the highest quality tequila, and you are putting yourself more at risk for a hangover! Blue Agave tequila can actually help with digestion (in moderation of course), and I wrote all about the benefits of Blue Agave tequila in this post.
Tomato Juice: This is the base of both a Bloody Maria and a Bloody Mary. If you want to skip making a homemade Bloody Maria, using pre made Bloody Mary mix works just as well!
Worcestershire Sauce adds a rich and savory depth to your Bloody Maria
Lime Juice: balance out the savory flavor of Worcestershire Sauce with tart lime juice
Tabasco Sauce will add a splash of heat to your Bloody Mary, and is optional
Celery Salt or Tajin: A traditional Bloody Mary uses celery salt around the rim of the glass for an extra touch, but if you want to switch it up, I recommend using Tajin which has different, spicier seasonings in its mix that will give your Bloody Maria a kick!
Meat, cheese & veggies to garnish: Some would argue the garnish on a Bloody Maria is the best part of the tequila cocktail, and it definitely is one of my favorite parts! The sky is the limit when it comes to what you can add as a garnish. I recommend pickled veggies like green olives and pickles as well as celery for a more traditional garnish, but also add some cubes of cheese, beef sticks, candied bacon or cocktail shrimp. I've even seen cocktails with chicken wings, and cheeseburger sliders as garnish–whatever your heart desires!
Can I Make This Bloody Maria Cocktail Recipe for a Crowd?
You can absolutely use this Bloody Maria cocktail recipe to serve a crowd. While the directions below are for an individual cocktail, you can multiply the ingredients, and even make your Bloody Maria cocktail mix ahead of time. This mix will last up to five days in the fridge, so this makes the perfect tailgating, brunch or party cocktail because you can make it ahead of time.
Use this standard to figure out how much you need to serve your crowd. To make five Bloody Maria cocktails at once, you'll need:
10 oz tequila
25 oz tomato juice
¼ C Worcestershire Sauce
¼ C Lime juice
1 tablespoon Tabasco Sauce
I recommend having celery salt or tajin, as well as salt and pepper, on hand so each person can add any extra seasonings as they'd like.
This Bloody Maria recipe can be duplicated using these ratios to any amount you need or want. Add all ingredients to a seal-able pitcher or jar, and store in the fridge until ready to serve. I recommend this seal-able gallon pitcher that has a lid and makes travel to a tailgate or party a breeze.
How do you Serve Bloody Marias?
You can serve a Bloody Maria in any type of glass–there isn't a traditional glass like a martini glass or wine glass. If you're looking to have a little fun with your glassware, I recommend these fun beer can glasses. They put a fun spin on the traditional cocktail glass.
I also have these cocktail skewers for all my garnishes to stay in one place. They're about four inches long and can hold plenty of snacks in your Bloody Maria!
What Are Some Other Tequila Recipes?
It's no secret I love a good tequila cocktail! Here are some of my other favorite tequila recipes:
A Simple and Fresh Margarita Recipe
Strawberry Margaritas with a Twist
Blackberry Margarita on the Rocks
📖 Recipe
Bloody Maria Recipe
Equipment
1 Cocktail Shaker

1 Cocktail Glass
Ingredients
2

oz

tequila

5

oz

tomato juice

1

tablespoon

Worcestershire sauce

1

teaspoon

Tabasco sauce

1

tablespoon

lime juice

celery salt or tajin to taste

salt and pepper to taste

garnishes such as olives, pickles, celery, cheese cubes, etc.
Instructions
To cocktail shaker, add all ingredients. Shake

Optional, add celery salt or tajin to rim of cocktail glass.

Add ice to cocktail glass. Pour contents of cocktail shaker into cocktail glass, add garnish toppings as deserved and enjoy!