Here is my guide to how I spend my Sundays so I can have a stress-free week. I will walk you through my step-by-step process to making sure my hectic work-week does not get the best of me!
Do you get the Sunday Scaries? Do you get overwhelmed when you think about your upcoming week and just dread what you have to accomplish or work through? This has been my problem FOR YEARS! I would procrastinate allllll the things I wanted to get done over the weekend until Sunday afternoon, and I would still try to plan for the upcoming week. It was too much. I had to come up with a routine so I could start my week as stress-free as possible.
---
*This page contains affiliate links to products I recommend. If you purchase something from this page, I may receive a small percentage of the sale at no extra cost to you. For more info, click here.
---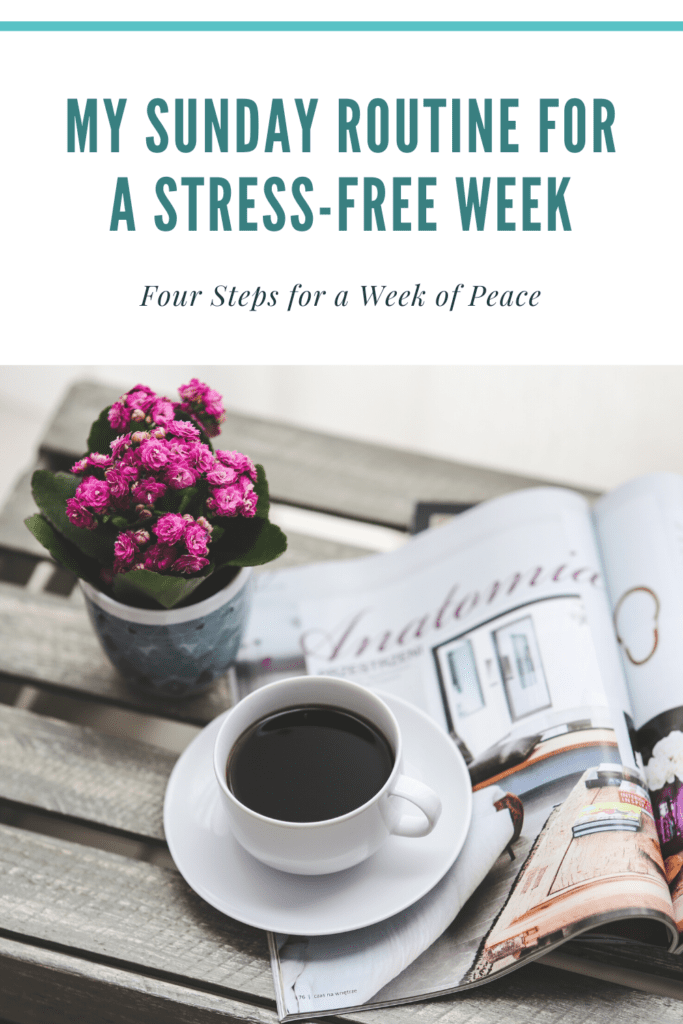 I have learned there are times during the year that are much busier than others. For me, October through March, when I'm coaching college basketball, my days are absolutely packed.There are many times where I will actually be working six days a week. I will leave my house as early as 6 a.m., and not return until after 10 p.m. Having an intentional Sunday is crucial to so many aspects of my life: my mental health, my budget, and those I interact with everyday.
This wasn't a routine that I one day just said, "okay, let's make a plan, and let's follow it." This routine just evolved into what it is today, but it definitely has worked for me, and I would like to share with you in hopes of helping you have a peaceful day, but also a peaceful week.
Here are the four things I do on Sunday so I have a stress-free week.
Disconnect from electronics
Disconnecting from my phone, my laptop, and my tv has been so beneficial to helping me release stress and reconnect with myself and my loved ones. All week long I am on my phone and my computer doing things like breaking down game film, recruiting future players, chatting with our current student-athletes, planning food and travel accommodations for the weekend's games, and on and on and on.
I try to spend at least an hour or two (sometimes more) on Sundays without any electronic distractions. I will drink my coffee and journal, or read a book or newspaper. I will often put a record on my record player, do my weekly laundry (bedding, towels, dirty clothes) and clean my apartment, and cook. I also use this time to look at my paper planner, and write down the things I need to accomplish in the following week.
Move my Body
No matter how tired or worn down I am, I try to at least move my body a little bit every Sunday. Sometimes it will be a strenuous lift or HIIT workout or group fitness class, other times it might be a simple walk or restorative yoga. I have realized that movement is ESSENTIAL to maintaining my mental health. I have to release energy and endorphins to keep myself level. In this post, I highlight some of my favorite home workouts and meditations that you can do anywhere!
Meal Prep
Like I said, there are days I am at my office from before sunup until after sundown, and if I don't plan food for the day, I won't eat OR I will spend money I don't want to spend on a meal from the cafeteria or having something delivered. By taking time on Sunday--usually about two hours, start to finish--I can alleviate a lot of week-long stress.
My go-to meal prep moves are:
Cook a bunch of rice. I can pair this with any meat, it's easily digestible and is a great source of energy. My favorite rices are long-grain blends and jasmine rice. In the middle of basketball season when I don't have much time to hit the grocery store, I will order in bulk from Amazon. It's not the most cost-effective, but the value of my personal time drastically increases in busy season, so I'm willing to spend more.
Cook a bunch of protein. I will brown up a bunch of ground beef and add taco seasoning, I also throw chicken breasts in the crock pot with chicken broth and a ranch seasoning packet, and sometimes I will make this recipe for pulled pork.
Prep veggies and beans. I will buy bags of frozen veggies and store them in my freezer so I can just grab one and go each morning.I will also buy cans of black beans or garbanzo beans, rinse them, and store them in the fridge to also grab and go.
I store my protein, rice and beans in these glass pyrex containers so I can just pull them from the fridge at work, and throw them in the microwave. While these meals seem super boring and not wild, eating this clean helps me avoid stomach issues during my busy time and also provides me tons of fuel.
Check my schedule for the week
I am a paper planner person, and I LOVE writing things down with a pen and paper. I will write a to-do list for the week, write in all my scheduled practices and games, and plan out when I will do other things (like recruit, breakdown film, work on this blog!, etc.).
I use two paper tools to help me stay on track all week long. The first is this planner from Blue Sky. I love this style planner because each day of the week gets a huge chunk of space so I can write down all my daily to-dos, my meetings, and any reminders I need.
The other paper tool I use is this Weekly Tracker notepad. Each Sunday I fill this sheet in with things like: "drink 100 ounces of water," "create three Pinterest pins," "check Google Analytics," "walk ten minutes." These are things I strive to do EVERY SINGLE DAY. By writing all these things down, I'm able to see what I need to do and stay accountable to myself, my job, and this blog. Since I bought this notepad two months ago, I have been able to develop some really awesome habits just by seeing what I need to do everyday.
When I can see my week scheduled out and planned before it happens, I feel much more confident and prepared for what's to come, and I KNOW it alleviates undo stress.
When I do these four things on Sundays, I am setting myself up for success for the following week.
What do you do on Sundays to prepare for the week?
Looking for more tips on how to relieve stress on the weekend? Check out these posts:
How to Meal Plan to Stretch Your Budget