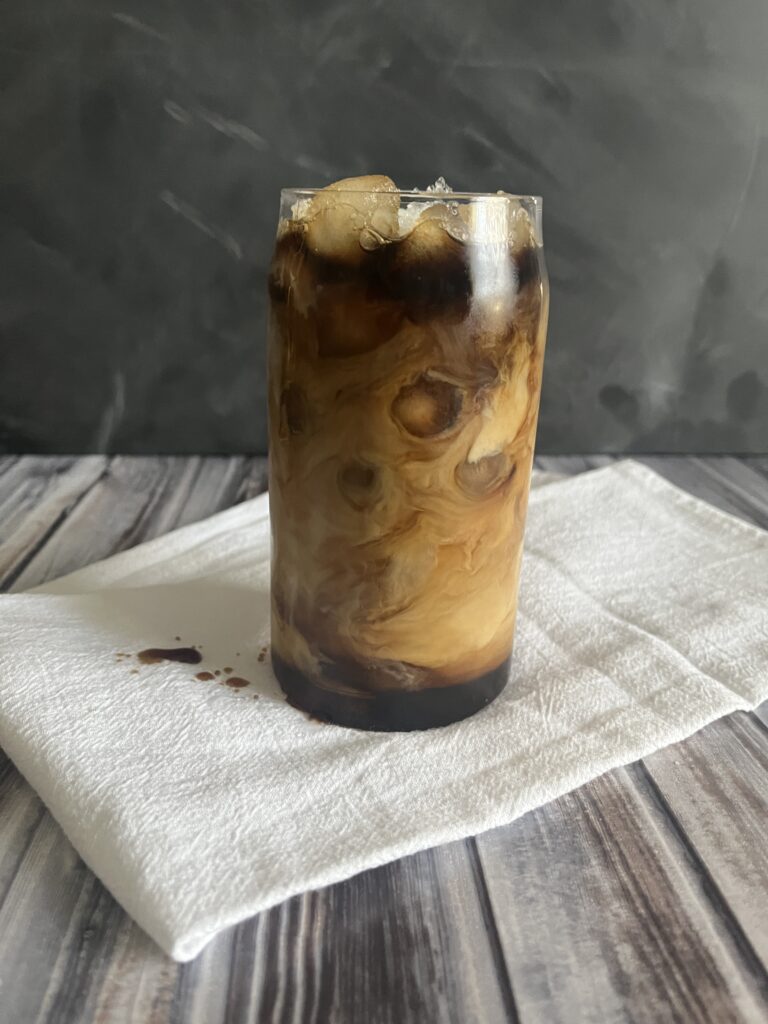 There are so many ways to enjoy coffee, and one of easiest and refreshing ways is by making iced coffee. Making iced coffee at home is simple, delicious and so customizable, so you can get the exact drink you're craving every time!
---
This page contains affiliate links to products I recommend. If you purchase something from this page, I may receive a small percentage of the sale at no extra cost to you. For more info, click here.
---
Whether you want a super sweet, decadent coffee drink, or just coffee on the rocks, there is no wrong way to drink iced coffee. Like traditional hot coffee, everyone takes their iced coffee differently!
One of my favorite things to do is go through the Starbucks drive through on Saturday morning and grab an iced coffee with a splash of almond milk and sugar free vanilla syrup. Sometimes I switch it up and choose a cold brew or iced americano, but they're essentially all the same drink, just made differently.
I don't always have time to hit up the drive-thru, however, and I'd prefer to just make my iced coffee quick before I head out the door, so here are a few different ways I've made iced coffee at home.
Ways to Make Iced Coffee
In the summer we like to make traditional hot coffee, but also have cold brew on hand. Instead of saving leftover hot coffee in the fridge (I have found it tastes stale after a day, but that's just my personal thoughts, you can definitely try it!) We brew a different batch just for cold brew, but there are so many options for making an iced coffee at home!.
Use a Cold Brew Coffee Maker
I use this Bodum Cold Brew coffee maker. It looks just like a french press, and works just like it too! We fill the coffee maker with water and grounds and let it sit in the fridge overnight. We have perfect iced coffee in the morning and over the next few days!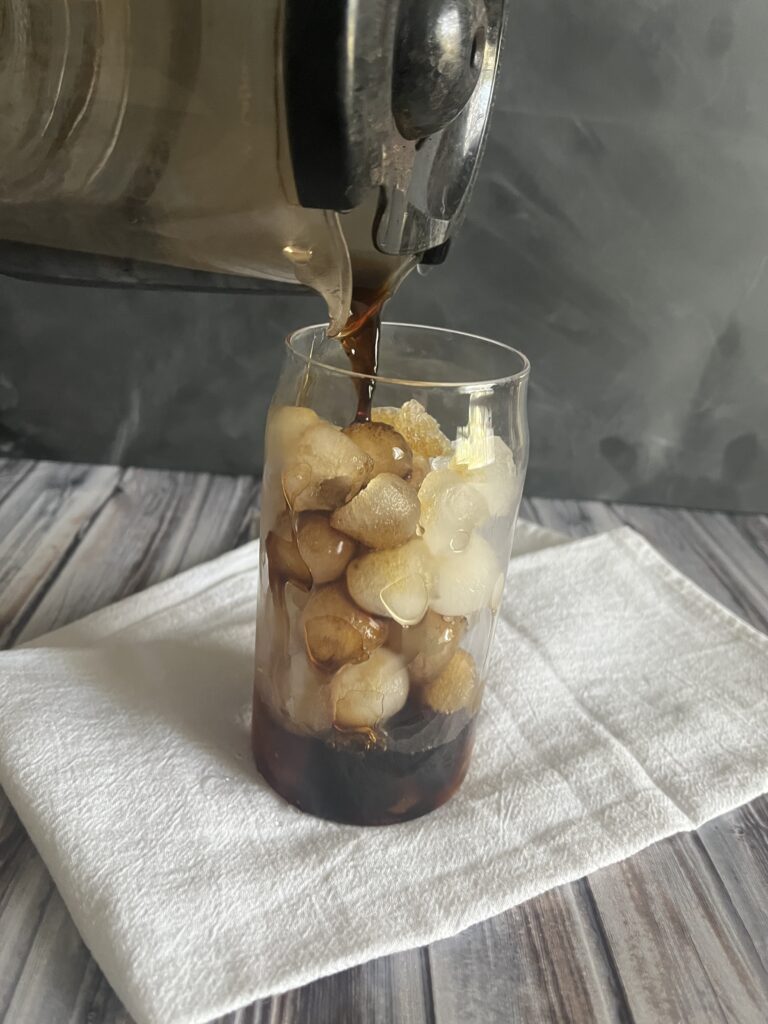 Let your Hot Coffee Chill and Serve Over Ice
Another way to make iced coffee is to make a pot of hot coffee and let that coffee cool, then serve over ice with whatever extras you love in your coffee. I love doing this on Saturdays; I'll make a big pot of coffee in the morning, drink a cup or two, then once it's cooled I'll turn it into iced coffee.
We recently got those adorable pop-can looking glasses (shown above), and I love them! I feel just a little *extra* when I drink from them.
When I'm having coffee in the morning, I drink it without any extras, but my afternoon coffees are kicked up a notch with almond milk and homemade simple syrup. I share how to make simple syrup below!
Kick up the Coffee with Espresso
Sometimes regular coffee just isn't enough, and you need some more zip in your iced coffee. When I'm needing an extra dose of caffeine, I will turn to my espresso machine. I have this Mr. Coffee Espresso machine, and it's the perfect size for a cold brew for John and me.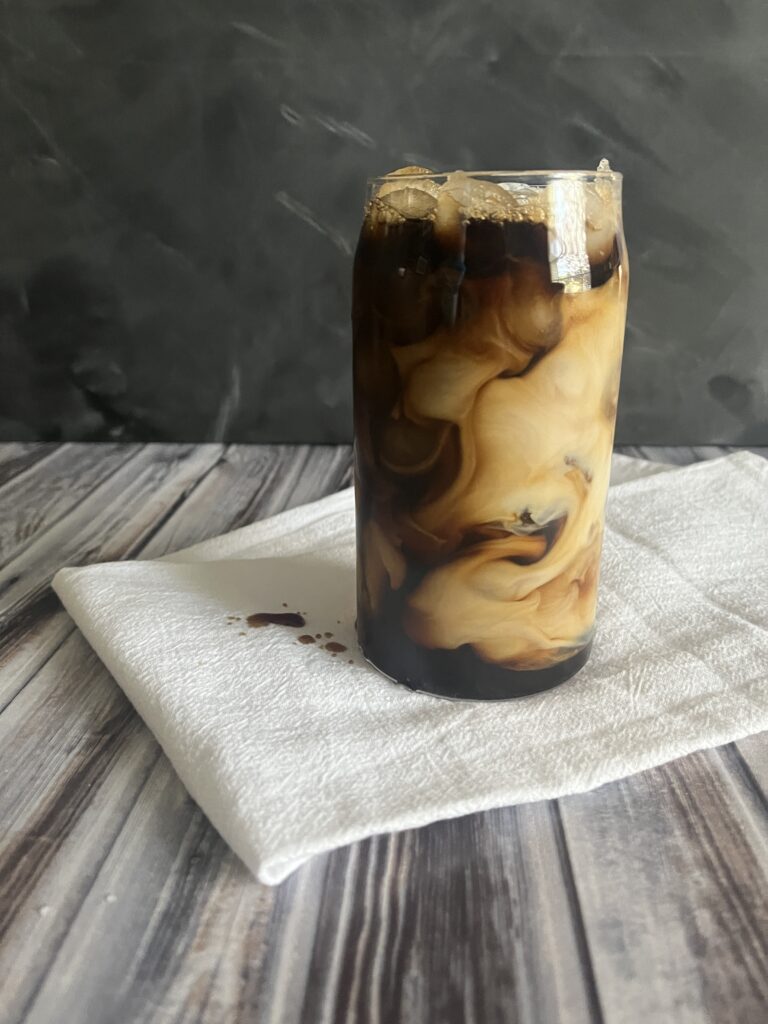 Espresso beans are different than regular coffee beans. I try to keep espresso beans on hand, and I really like to buy the Starbucks Espresso beans. The flavor is strong and smooth and I'm having a Starbucks coffee without leaving the house.
Make Coffee Ice Cubes
If you don't want your iced coffee to become watered down, switch those regular ice cubes for coffee ice cubes! If you have extra brewed coffee from your regular coffee maker, just pour that coffee into an ice cube tray and allow to freeze. This is a great way to create a strong brew, and use up all that leftover coffee!
Flavor your Coffee!
Do you like a flavored ice coffee over plain black iced coffee? You are not alone! Flavored coffees are so popular and there are SO MANY ways to flavor your coffee! I do things pretty simple when I flavor my coffees: I like to use plain vanilla, but I try to make it homemade!
How to Make Simple Syrup
Simple Syrup is just that--simple! However, it is so flavorful so we try to always have a jar on hand. Simple syrup can be used in so many drinks--not just coffee--and can be flavored to suit your needs!
All you need is one cup water, and two cups sugar, or those two ingredients with the same ratios of one to two. In a pot, heat the water (no need to heat to boiling), then add the sugar, stir for a few minutes.
At this point, you can add any flavoring you'd like--I like to add one teaspoon of vanilla extra. Then allow to cool and store in your fridge up to two weeks.
Want to add other flavors? For a mint flavored simple syrup, add a handful of fresh mint leaves, stir and allow to cool. Fruit flavored? Add strawberries, or blueberries or raspberries. The options are endless!
Skip the DIY Syrup
If you're not in the mood to make your own syrup, or you haven't been able to perfect a flavor that you like, you can always purchase flavored syrups!
There are so many options for syrups that you can make some wild coffee concoctions! I really like to use these syrups by Torani.
Top with Milk
Do you like milk in your iced coffee? Skim? Whole? Oat? Almond? Coconut? Add whatever milk you'd like--or don't add any at all.
The only rule with making iced coffee? Make sure you enjoy it!
Looking for more coffee recipes? Check these out!
The Best Budget Friendly Coffee Gadgets to Make the Best Coffee at Home