If you have the opportunity to visit Tacoma, Washington, we have a few recommendations of places to visit. Here is how we would spend 24 hours in Tacoma!
After a year of not traveling, the chance to get on a plane and see another part of the country felt like an absolute luxury. My partner is originally from the Pacific Northwest, so we spent a week visiting his family and friends. I had never spent much time in Washington, but my PNW-native boyfriend knew all the best places to see and experience.
Weather in Tacoma Washington in July
We traveled from the Midwest to the PNW in early July, and in our time there, the weather definitely varied from place to place. Tacoma weather in July is definitely pleasant!
Tacoma in July was warm and sunny--temperatures during the day hovered between 75 and 85 degrees fahrenheit. We wore shorts and tank tops during the day, and I actually got a sunburn, so packing sunscreen is a must when visiting Tacoma in the summer. 
We did spend our evenings outside, and once the sun went down, the temps dropped. Packing a sweatshirt, sweater or something to layer is a great idea for a trip to Tacoma.
What to See and Do in Tacoma
Sitting on the Puget Sound, many places in Tacoma have gorgeous views—we actually spent much of our time gazing out at the water, but there are still many other things to do while visiting Tacoma!
Museum of Glass and Chihuly Glass Bridge
The Museum of Glass and Glass Bridge are two of the most famous landmarks in Tacoma. The Museum was opened in 2002 as a part of an effort to restore the Thea Foss Waterway. Since then, The Museum of Glass has hosted thousands of artists as exhibitors, showcasing the history of glass-making as well as modern glass art. You can also watch glass-blowing live at the museum and potentially even blow your own glass. To learn more about The Museum of Glass, visit museumofglass.org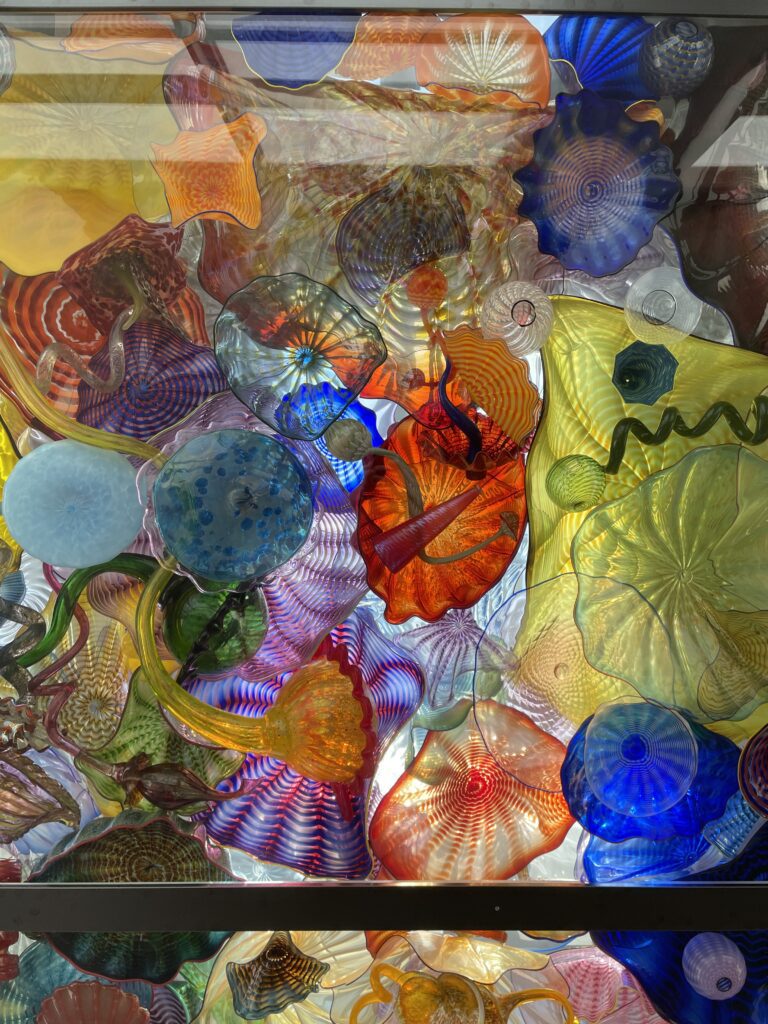 After visiting (or before) the Museum of Glass, check out the Chihuly Bridge of Glass. The pedestrian bridge is open 24-hours a day and is a stunning exhibit of Dale Chihuly's glass art. With over 100 of his installations filling an 80-foot wall, it is a sight to take in! The bridge is completely free and definitely worth the stroll. Learn more about the Chihuly Bridge of Glass by clicking here.
Prairie Line Trail
After you explore the Museum of Glass and Bridge of Glass, take a stroll towards town. There is a unique art installation across the University of Washington-Tacoma campus. The Prairie Line Trail art exhibit was done by artist Vaughn Bell and installed in 2019. The art stretches along over 250 feet of wall on campus and intersects the historic Northern Pacific Railway--also known as the Lincoln Railroad. This was the transcontinental railroad that was the main source of cross-country travel in the United States in the late 1800s and Tacoma was home to a rail station.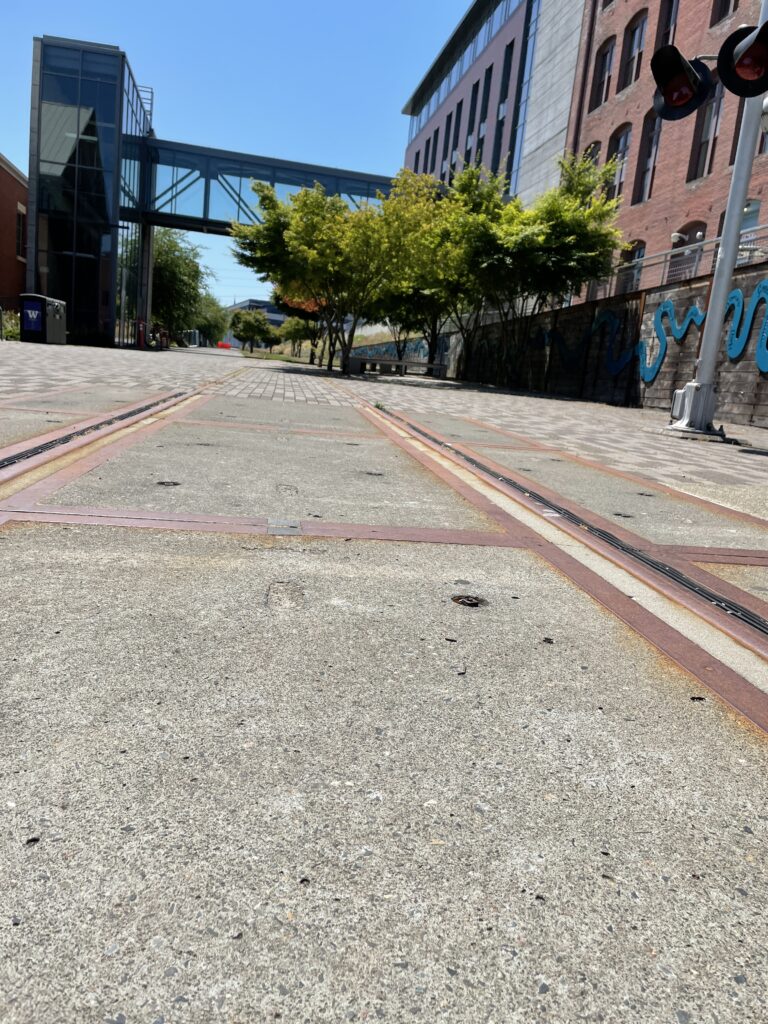 The art is a nod to the other, natural routes of travel--rivers--specifically the Puyallup River-- that cross the country and provide a means of travel, industry, food and life.Learn more about the Prairie Line Trail here.
Ruston Way Waterfront
Just minutes from the University of Washington-Tacoma and the Museum of Glass is the Ruston Way Waterfront that connects the museum district to Old Town Tacoma. The walk along the south end of Puget Sound is paved and offers gorgeous views of Mount Rainier, the Sound, and the Olympic Mountain Range.
Talking a stroll on the path brings you to Old Town Tacoma, the site of the original settlement of Tacoma. Old Town offers plenty of eating and shopping options that are fun to explore.
Visit McMenimans Elks Temple
If you're in the Pacific Northwest, a stop at a McMenimans is a must! McMenimans is a unique restaurant chain found only in Washington and Oregon. Each McMenimans is completely different from the next; founded 36 years ago with 54 locations, the owners have focused on restoring old historical buildings and converting them to restaurants, brewpubs, theaters and hotels. McMenimans in Tacoma is no exception, as it was previously Tacoma's Elks Temple.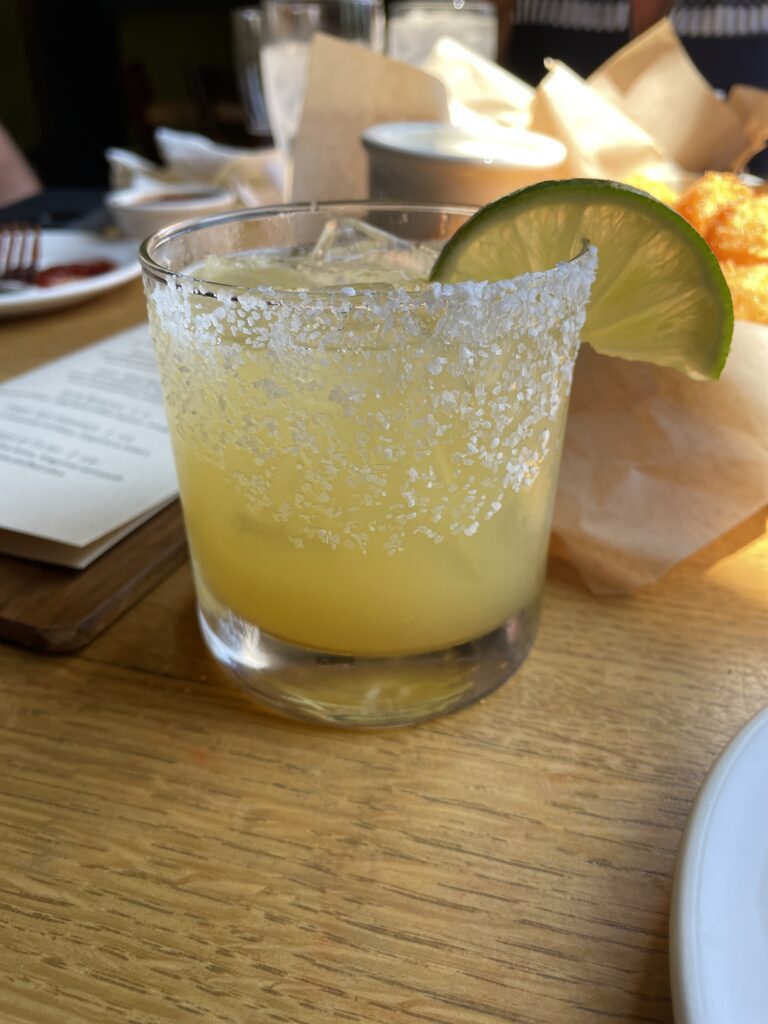 Now, McMenimans in Tacoma features lodging, six bars and restaurants, a brewery, and a ballroom for concerts and events. Every turn at McMenimans Elks Temple offers the senses a new adventure. It definitely is a must see! Learn more McMenimans Elks Temple here.
We loved our time in the quaint, waterside town of Tacoma. We'd love to hear your favorite things to do and see in Tacoma.
Looking for more travel guides? Check out these posts!
The Best Accommodations for Couples in the Black Hills