These watermelon margaritas are a twist on a classic cocktail recipe that is perfect at the end of summer when watermelons are at their ripest and sweetest.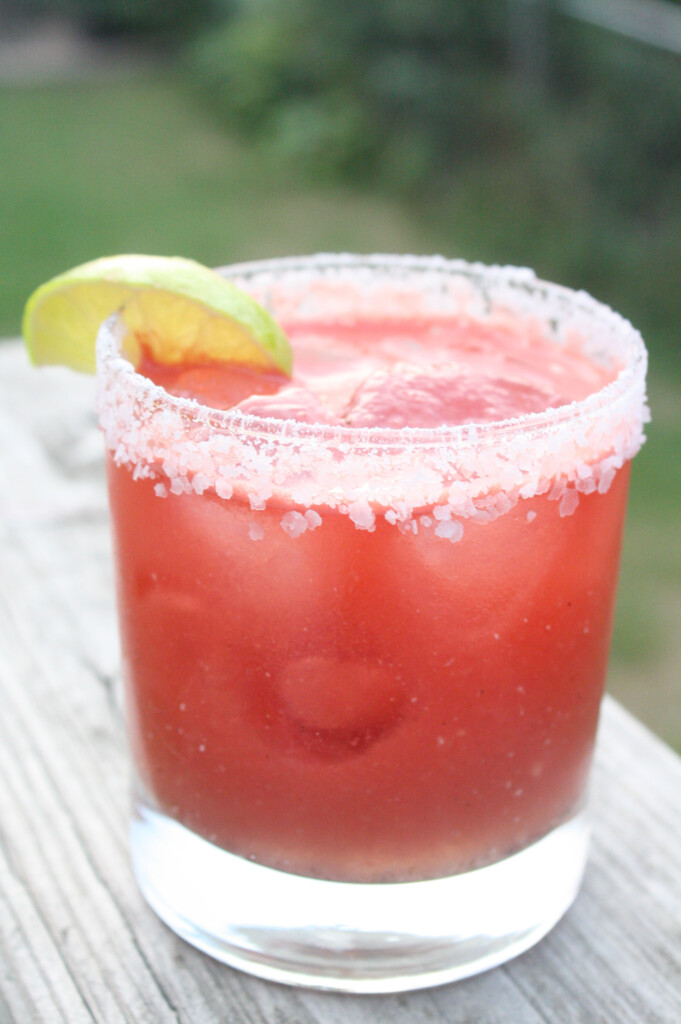 Labor Day weekend is always bittersweet for me. I love getting three days instead of just two to rest and relax and work on weekend projects. However, living in Northeast South Dakota, Labor Day signals the end of summer--the end of long days of sunshine, warm weather, and time spent outside. It marks the official turn to cooler temps, early sunsets and moving indoors to hibernate. Usually, by the end of September, temps have dropped from the 70s and 80s, to 40s and 50s. By the end of October, it will be close to the 30s nearly everyday. So soaking up these last summer days are essential!
---
*This page contains affiliate links to products I recommend. If you purchase something from this page, I may receive a small percentage of the sale at no extra cost to you. For more info, click here.
---
This year has been weird (clearly, thanks, Rona), so we've spent so much time entertaining ourselves, and I've discovered I have a love for tequila and a good margarita. I've had plenty of time to figure out how to make a fresh and zippy marg, like this strawberry jalepeno marg.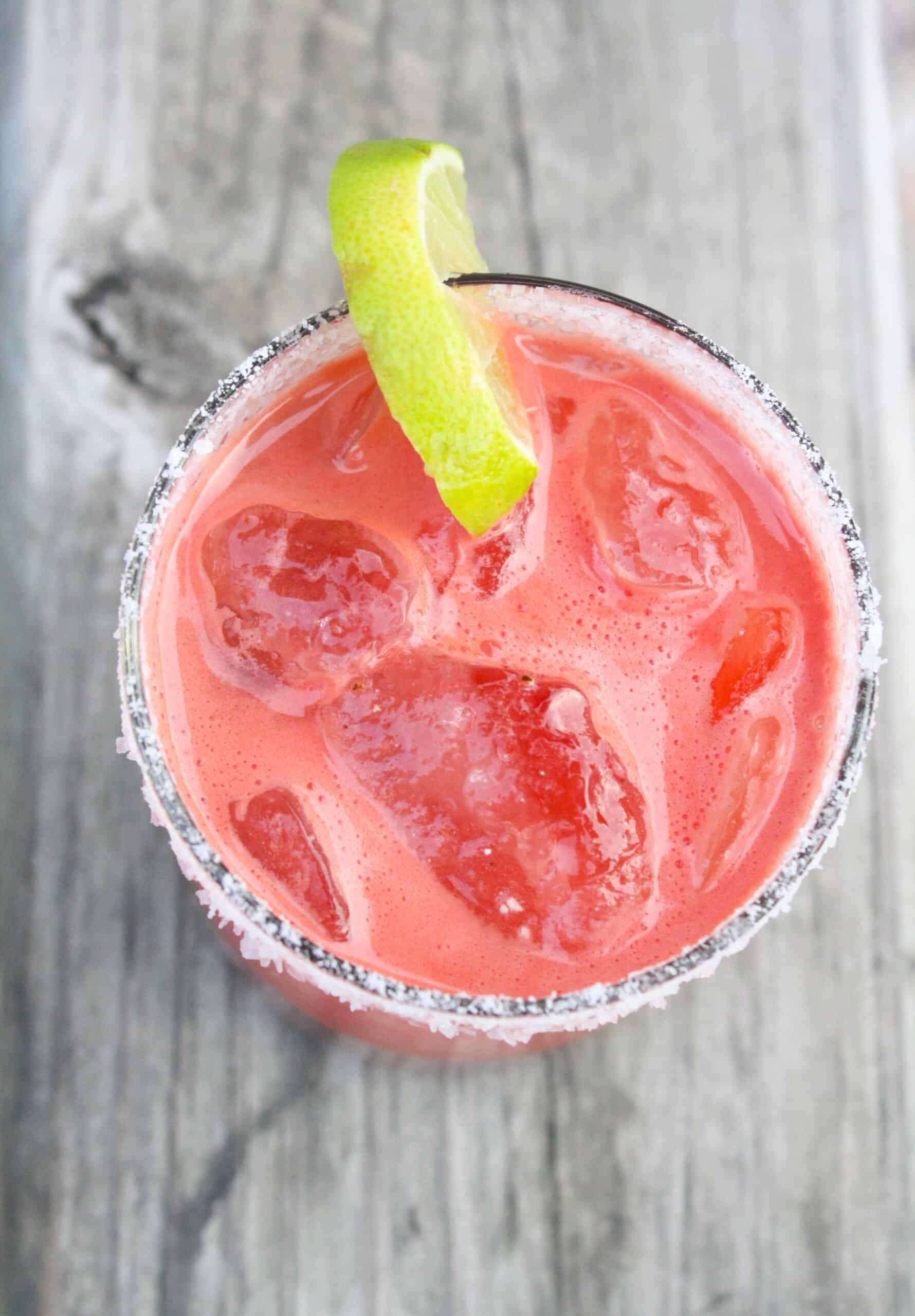 The Deets
Last week at work, one of my coworkers brought in a truck bed full of large ripe watermelons. The one I got had to be at least ten pounds--okay I'm not exactly sure how big, but just like old men talk about the big fish they caught that got away, this is the biggest watermelon I had ever seen. We chunked half of it and filled a giant bowl (took us two days, and consuming it during every meal to finish it!), and we still had a second half to do something with. (Watermelon margarita recipe enters stage left.)
We chunked the second half of the watermelon, removed as many seeds as we could by hand, and put it in our blender (it's nothing fancy, just a basic blender from Hamilton Beach. I don't blend a ton of things, so this works really well.) added lime juice, tequila, triple sec,and ice, and wham, bam, thank you ma'am, we had a refreshing watermelon margarita.
How to Level Up Your Margarita
The taste of this watermelon margarita is a little less zippy, but still very refreshing and so good. I'm not a fan of pre-made mixes with lots of sugar, so these watermelon margaritas have the perfect amount of natural sweet. If you need more sweetness in your life, I would add this agave. What is agave? Agave is a natural sweetener that is actually the main ingredient in tequila.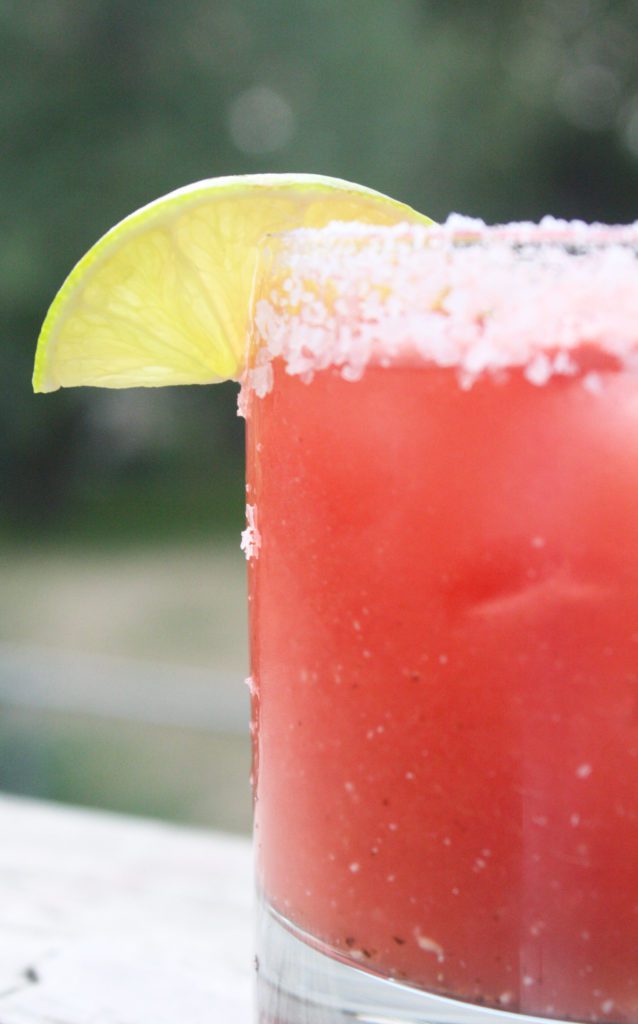 The most labor intensive part of this whole drink is cutting up the watermelon and removing the seeds. Two things would make that easier: first, buy watermelon already chopped, or second, buy a seedless watermelon. Since mine was given to me, I'm not going to complain. 
We made two drinks at once, and after our first round of cocktails, I realized I need a lot more lime juice (I love things tart), but you do you, and make this to taste. 
Margaritas are typically served in traditional margarita glasses, however, I used these simple cocktail glasses I purchased through Amazon. I also salted these rims, because the salt makes the marg! This is the salt I use. I am on my second salt rimmer container this summer--sorry not sorry.
Looking for more cocktail recipes? Check out my classic bloody mary recipe, or my favorite moscato concoction.
📖 Recipe
Watermelon Margarita
A refreshing watermelon margarita for your summer harvest
Ingredients
4

cups

watermelon

chunked, seeded

4

oz

tequila

2

oz

triple sec

2

cups

ice

8

oz

lime juice

salt for rim

limes for garnish
Instructions
Making in batches (unless your blender is big enough), add half the watermelon, ice, tequila, triple sec and lime juice. Blend. Salt and sugar the rim of your glass, add ice, pour watermelon mix over ice, garnish glass with lime. Repeat with rest of ingredients. Enjoy!