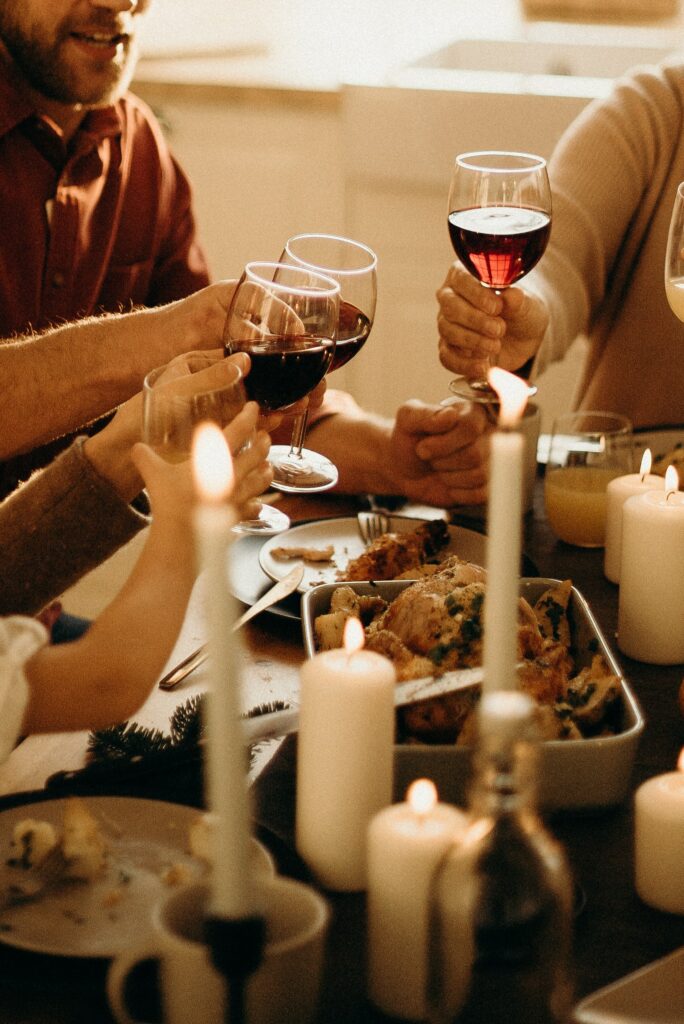 If you're trying to stay within a budget, but enjoy the Thanksgiving holiday with family and friends, here's ten ways you can save on your Thanksgiving costs!
Are you like me and you love hosting Thanksgiving dinner? Having my loved ones all in one place, getting to feed them (my love language I swear), and getting to laugh together is one of my favorite things.
One thing I don't love about Thanksgiving, however, is the cost. If you also do not like the cost of hosting and paying for all the food, decor, beverages, and serving ware, read ahead to learn how to cut those costs!
What is the average cost of a Thanksgiving dinner?
In 2020, the average cost of Thanksgiving dinner across the US was $48. That's just for one meal. I can attest, however, I have hosted my family of five before, and spent over $100 on just one meal. So while the average still may not feel so high (and it's predicted to increase by 5% this year), others are definitely spending more.
Here's ten ways to cut down on Thanksgiving costs.
One: Plan Ahead Throughout the Year
If you're already conscious of your budget, you're probably already doing what you can to cut costs on groceries. If you aren't, I recommend reading this post on how to meal prep to save money, and this post on how to save money at the grocery store.
When you're at the store throughout the year, keep an eye out for deals that lower the cost of your big dinner. Things like canned goods (think corn for cream corn, green beans), or clearance rack paper products that can be saved for Thanksgiving. I love shopping right after Thanksgiving for the following years' napkins and cute plates.
Two: Utilize Your Freezer
Building on the first tip I shared on how to save money on Thanksgiving dinner, is utilizing your freezer. If you are planning throughout the year for your Thanksgiving dinner, one way you can save money is by stocking up on foods that go on sale and can be frozen.
One way I do this is by buying butter when its on sale throughout the year and then freezing it until I need it. Many of the recipes found in a traditional Thanksgiving spread call for butter, so if you know you'll use it, you have the freezer space, and it's at a price that is lower than normal, I recommend stocking up.
This also works for other items like your Thanksgiving turkey. Even buying a frozen bird at a lower price, then saving it in the freezer can save you time and money over running to the grocery store the week of Thanksgiving. Grocery stores often lower the price of turkeys in the weeks prior to Thanksgiving.
Three: Plan a Potluck
One easy way to lower the cost of your Thanksgiving meal is to split the bill. By choosing to do a potluck, everyone brings one dish to share, and everyone shares the cost of the meal. This drastically cuts down costs for everyone.
If you're hosting you could do the turkey and ask everyone else to bring a side. Or if you have someone on your guest list who is a great cook, they could do the main dish.
Another option? If you're comfortable, ask everyone to contribute a little money to the meal to cover the costs.
Four: Shop Generic Brands
It is common knowledge that when you're purchasing name brands, you're paying more for the logo and the brand, but getting the same product you'd find in generic brands. If you're looking to save money on Thanksgiving, I recommend purchasing generic brands over name brands.
Each store has their own brand that has just as good of quality as the name brand, but is normally a fraction of the price.
Five: Shop the Sale Ads
Nearly every grocery store puts out a weekly ad each week. In the weeks leading up to Thanksgiving, most traditional ingredients go on sale. Keep an out for these deals on things like butter, eggs, pumpkin and stuffing. You can save significant money on your Thanksgiving by planning ahead and shopping these ads.
Six: Skip the Decor
Another way to save money on your Thanksgiving dinner is by skipping the decor. This small detail can save so much in your budget, save you space on your table and save you the headache and stress. If you feel the need to decorate for your Thanksgiving dinner, you can cut costs by shopping at thrift stores or second hand stores. Or pull decor from previous years, or from things you already have in your home.
Seven: Use a Cashback Program
Cashback apps like Ibotta or Dosh, are great options for saving money on your Thanksgiving dinner. In the time leading up to Thanksgiving, these apps will offer money back for the things you buy from the grocery store. My favorite app is Ibotta, and I have saved nearly $150 this year on all my grocery purchases. When I redeem my savings, Ibotta sends them to my Paypal account, and I then transfer them to my bank account.
Eight: Take Advantage of Ingredients in Your Pantry
Oftentimes people think they need to buy every ingredient for their Thanksgiving dinner. Wrong! You can find many of the things you need to make your Thanksgiving dinner right in your kitchen. Many ingredients for Thanksgiving are those we are already stock all year long.
Nine: Make it BYOB
A great way to save money on Thanksgiving is to make your festivities BYOB. The cost of wine, beer and liquor can drive up the cost of your get-together, but having everyone bring their own libations assures each person gets what they want to drink and your costs stay low.
Ten: Skip the Disposable Plates, Silverware, Paper Products
Paper and disposable products can make cleanup convenient, but it can also increase your overall spend for Thanksgiving dinner. You can save the cost of these disposable products by using your traditional dishes and cutlery. Sure, you'll have to spend more time on clean-up, but you can recruit your guests to lighten the load.
I hope these tips inspire you to host a low-cost, enjoyable Thanksgiving.
What other budget-friendly tips do you recommend to save money on Thanksgiving dinner?
Looking for more ways to save on groceries, or extend your budget and grow your wealth? Check out these posts:
How to Save Money for the Holiday Season
How to Meal Plan to Stretch Your Budget