The holiday season can be a stressful time when money is tight. The additional expenses can wreck financial havoc. The good news is the Holidays don't have to be stressful when you save and plan ahead.
Today, I'm sharing my tips and tricks for saving for the holidays to help you stay stress-free and keep your path to financial success clear.
Just a few years ago, I was one who had absolutely no money for the holidays. I dreaded seeing family, I dreaded going home, I dreaded absolutely everything from November to January because I had zero money. None.
I remember Christmas 2014, I had somehow come up with gas money to get home, and my family said "don't worry about gifts, we are just happy to have you home." I felt so much shame and guilt around not being able to show my family how much I loved them by gifting them. That same year, as I stood in line with my sister while she bought some last minute gifts, I miraculously found a visa giftcard I had forgotten about with $97 on it. I stood in the checkout line and cried because I was so relieved to have something to give my family.
Never again. I will never again allow myself to feel that way. I will never again allow my finances to get that bad and dire. And I want to do what I can to share my knowledge to help others avoid that pain, and stress and shame as well.
Today, I'm sharing the things I have done over the past few years to save money for the holidays. I'm giving my tips on how to save money for Christmas and the easiest ways to budget for the holidays.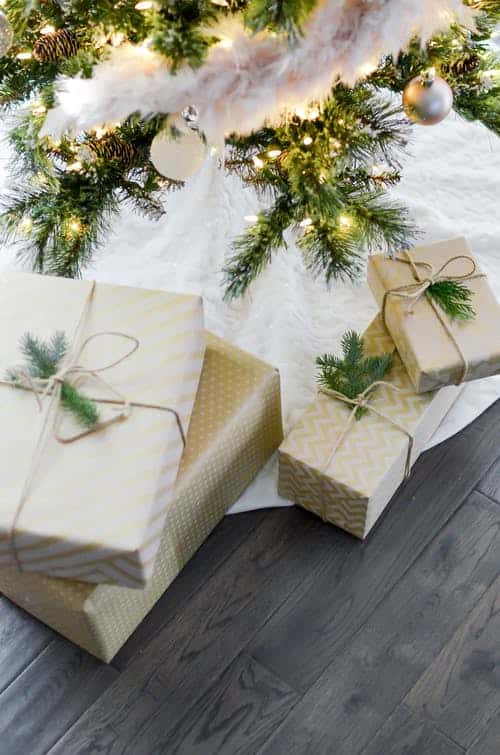 Prepare for Christmas Spending by Saving
According to the National Retail Federation, consumers spent an average of $659 on Christmas gifts in 2019. In my previous scenario, if I had nearly $660, I would not have been able to put that towards Christmas--that money would have gone towards gas in my car, groceries and bills. However, because I took control of my financial situation, got my money in order, and started to turn things around, I do know now how to make sure I have money budgeted for Christmas spending.
One of the first things I did to get ready for Christmas spending was save all year long.
For me, I don't spend $660 on Christmas gifts for my closest people (sorry, fam), but I am getting closer! And now, nothing brings me more joy than giving gifts to my family and friends. Right now, I budget about $300 a year for Christmas gifts. How do I do that so I don't take a huge chunk out of my December budget? I save all year long.
So figure out your budget for holiday spending, stick to that number, and figure out how much you need to save per month (and I recommend breaking it down even further to per paycheck), and start setting that money aside. Want to have $1,000 saved for Christmas and the holidays? Save $84 a month. To calculate how much you need to save just divide the total amount of money you want to have saved by 12 (for 12 months), or whatever number of months you have before Christmas (example, if you start in May, divide total amount by 7).
Create a Savings Account just for Holiday Spending
I actually set up a savings account that is not connected to any of my other bank accounts, and every paycheck (I get paid twice a month), I deposit $12.50 into that account, and by December, I have $300 saved for gifts.
In order to keep myself from myself, I set up a bank account at a bank separate from my other checking and savings accounts. I did this so I wouldn't be tempted to transfer money between accounts easily. It's a mind trick I play on myself. It takes about a week for money to move from my everyday account to my Christmas account, and takes the same amount of time to move it back--so this keeps me from being tempted to waste this Christmas money on something for instant gratification.
I use Aspiration Bank for this savings account for a couple reasons. They support and invest in green energy, they plant trees every time someone makes a purchase with their checking account, and every time someone new signs up for an account with Aspiration, the bank adds $25 to their account AND donates to a charity of your choice. I like knowing that my money that is going to help me purchase gifts for loved ones, is also helping supporting other causes.
If you use this link and open an account, you'll receive $25 for that account, and $25 to the charity of your choice. That's a head start to your Christmas savings!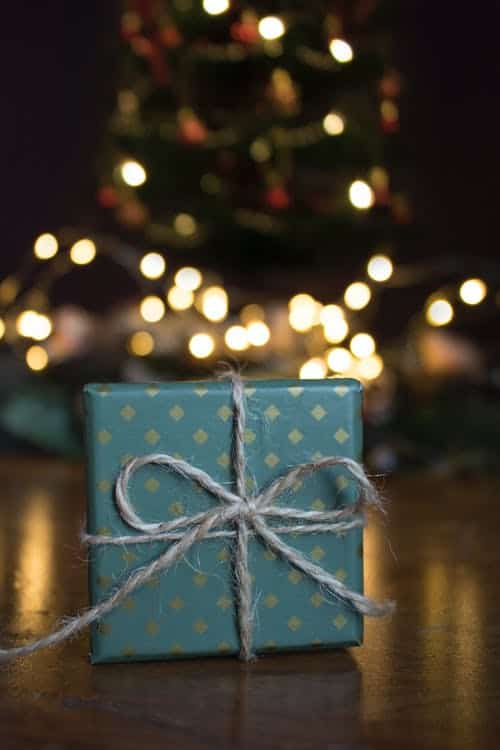 Don't Have Extra Money to Save for Christmas? Try This:
Until I got to the point where I could afford to take money out of my budget to save for Christmas, I used cash back apps, and saved all the money from those apps specifically for Christmas.
I would buy my groceries, and toiletries and other things I needed for my home and daily needs, but make sure I had used one of my applications on my phone to make sure I was getting at least a small portion of my money back.
The app I used the most (and still use) for saving for Christmas is Ibotta. I make sure to check the app before I ever go shopping at Walmart or Target or even my local grocery store to see if there is anything I need to buy, that is offering cash back. My thought is if I'm already budgeting for these necessary items, why not take whatever the app is willing to give back to me, and save for something else--which is what I did to save for Christmas! 
Use this link from Ibotta, to set up your own account and start saving while spending!
Looking for other apps that give you cash back on everyday purchases? Check out Dosh and Rakuten--both also pay you for purchasing through their apps. 
Other Ways to Save During the Holiday Season
Even if you are saving all year long to afford gifts during the holiday season, there are still quite a few other ways to cut costs during the Holidays. Here is a list of a few of the ways I have stretched my budget in the past.
Make or Bake Your Gifts
One way to save money during the holiday season is by making your gifts.
I know, I know, arts and crafts are not your thing, but hear me out. You don't need to get out the hot glue gun and ribbon, you can purchase items in bulk and put them into gift baskets or buckets or something similar, and cut your cost. Or you can bake them. In the past I have used my holiday baking as a chance to get in the holiday spirit, but then I gift the goodies to others.
Do you have a stupid amount of bananas in your freezer that you were "saving to make banana bread?" Well whip those bad boys out and make some mini loaves for your coworkers or neighbors. My blogging friend, Haley, of Cheap Recipe Blog has a great twist on a traditional banana bread recipe that is perfect for spicing up your holiday giving. Haley also has tons of other recipes of holiday treats that can help you with your baked gifts ideas! 
Draw Names for Gifts Instead of Buying for Everyone
This is one way my family cuts down on our holiday spending. Instead of buying gifts for everybody and their spouses, we all put our names in a hat and draw for each other. We set a spending limit of $50 usually, and cut our gift-giving costs way down.
Choose Experiences not Christmas Gifts
In the past, my significant other and I have decided to forgo gifts in order to put that money towards something else. Since our families live on opposite sides of the country, we decided to use the money we would have used on gifts for each other, on flights to spend time with our loved ones. We realized that having "things" is nice, but seeing our families was much more important to us.
This year, we have talked about skipping gifts again and putting that money towards a large goal. We have a few big plans in mind, and we know that saving that money would help us immensely in getting to our goals.
Christmas and holiday spending does not have to be a stressful, budget-breaking time. If you plan ahead, save all year, and cut costs along the way, you can still have a fabulous holiday season while thriving financially.
Looking for other financial tips and tricks? Check out these posts: