When trying to budget and extend your paycheck, one of the first places to look to save money is on your grocery bill. I'm sharing five ways to save money on groceries, extend your budget, and help you build financial success!
If you've been here awhile, you know I love a couple things: eating good food and building financial security. Both can and do go hand in hand. I have been able to eat well to nourish my body while also teaching myself to budget and save. These factors have empowered me to make moves that I never imagined I would be able to do, and I want to share all my tips for creating good food and growing money with you!
---
This page contains affiliate links to products I recommend. If you purchase something from this page, I may receive a small percentage of the sale at no extra cost to you. For more info, click here.
---
I've previously shared ways to save money on groceries, and I've also shared how meal prepping has saved us money. Today I'm bringing you a few more ways I've been able to save at the grocery store. I hope these grocery savings tips help you!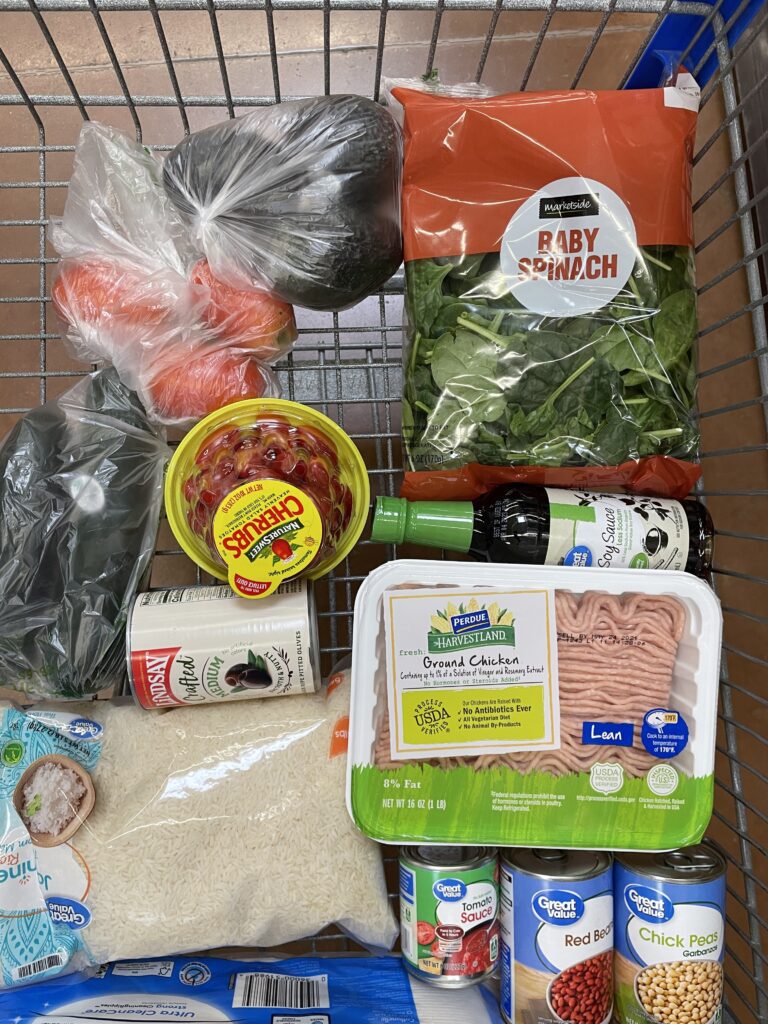 Buy Frozen Meat and Veggies.
One of the easiest ways to make sure you are eating whole, nutrient-rich foods, while reducing the amount you waste and stretching your budget, is by buying frozen food. There are a few foods we will consistently buy frozen, but I will caution, there are also some things to avoid.
When we buy frozen foods, we purchase frozen meats such as frozen fish (not breaded or fried) and frozen chicken thighs or breasts. One thing we like to do with frozen chicken, is buy a three-pound bag of either boneless skinless chicken breasts or boneless skinless chicken thighs (which I prefer for flavor) and cook the entire bag in the crockpot on Sunday. We will use that cooked chicken in lunches during the week and dinners during the evening. It saves us time and decision making during the week when we already have our chicken prepped.
The price comparison between a three-pound bag of frozen chicken breasts or thighs and a three-pound fresh package of the same is about $5-$7 difference. Another thing I've noticed--many of the "fresh" chicken packages, are actually frozen in the grocery store coolers--so how fresh are they really?
We also love to buy our veggies frozen in bulk. Some common veggies at our house are peas, carrots, green beans, and brussel sprouts. All of these can be purchased in the frozen food aisle and cost a fraction of the cost of fresh veggies.
Purchase Versatile Foods
Another way we have been able to save money on groceries is by purchasing versatile foods. What do I mean by versatile foods? We like to purchase foods that can be adapted and used in many meals and dishes. Some of the most versatile foods are old fashioned oats, potatoes, and rice.
Old Fashioned Oats With old fashioned oats, we make overnight oats, apple crisp, as well as grind it up to use as a flour. One of my favorite recipes that uses oat flour is my pumpkin muffin recipe! You can get a big container of old fashioned oats for around $3 and use them many different ways.
Potatoes Just like old fashioned oats, we cook with potatoes every week and in many different ways. Some of the easiest ways to cook potatoes are to bake or fry them, but we also love to eat them in this German potato salad recipe, or this smothered chicken and potatoes recipe. Both recipes are super flavorful and stretch our budget. We buy potatoes by the five pound bag, and we're usually able to get them for $3 or under.
Rice The last versatile food I recommend having on hand is a bag of rice. A one-pound bag of rice costs us less than $3 (spotting a trend here?) and lasts a couple weeks because rice expands as you cook it so one cup of dry rice makes four cups cooked which is A LOT! We like to meal prep a big container of rice and use it for our daily lunches and meal prep all week. Looking to learn more about meal prepping to save money? Check out this post!
Buy Fruits and Veggies in Season
While we like to purchase frozen fruits and veggies to stretch our budget, sometimes, you just can't beat fresh fruits and veggies. In order to go easy on our budget, we try to only purchase fruits and vegetables that are in season. Living in South Dakota makes that a little difficult, but we've been able to make it work!
A couple fruits we are always able to buy because they fit our budget are bananas and cucumbers. In the fall and winter, we like to buy different squash and root vegetables, and in the spring and summer we're able to purchase quite a few more fresh items.
Find Recipes that Utilize Leftovers
The last way we've been able to save money on groceries is by finding recipes that use up our leftovers. Instead of cooking food to just be eaten at one meal, we cook things that can be repurposed into something else.
We love to make mexican shredded chicken for taco bowls, then use the leftovers for quesadillas. We also like to purchase pork butt or pork shoulder to cook once then use for multiple meals. Another example of a meal that uses leftovers is pork roast; we cook the roast with veggies like potatoes, carrots, onions and celery, then use the leftovers for shepherd's pie.
Develop a list of budget-friendly meals you love
One way we've been able to save money on groceries is by finding meals that we love to cook, and cooking them often. While yes, we do love to eat out, and we love to cook really good cuts of beef and fish that cost more, but have made it a habit to only eat out or cook high end cuts of meats every once in a while.
We have a list of easy to make, budget-friendly weeknight meals that we rotate between that make it easier for us to manage our grocery budget. When we know the ingredients we're going to be using time and again, we can take advantage of deals and sales at the grocery store, and when something is at a super low price, we buy multiple.
One of the ways we've been able to be efficient and save money on groceries each month is with our weekly meal planner. We had been making a schedule and list that we put on our fridge every week, and then I found this weekly meal notebook, and it was exactly what we were looking for! The list and schedule are separated by a perforation, and each Sunday, we put our plan and list together, then tear the list off and take it to the store.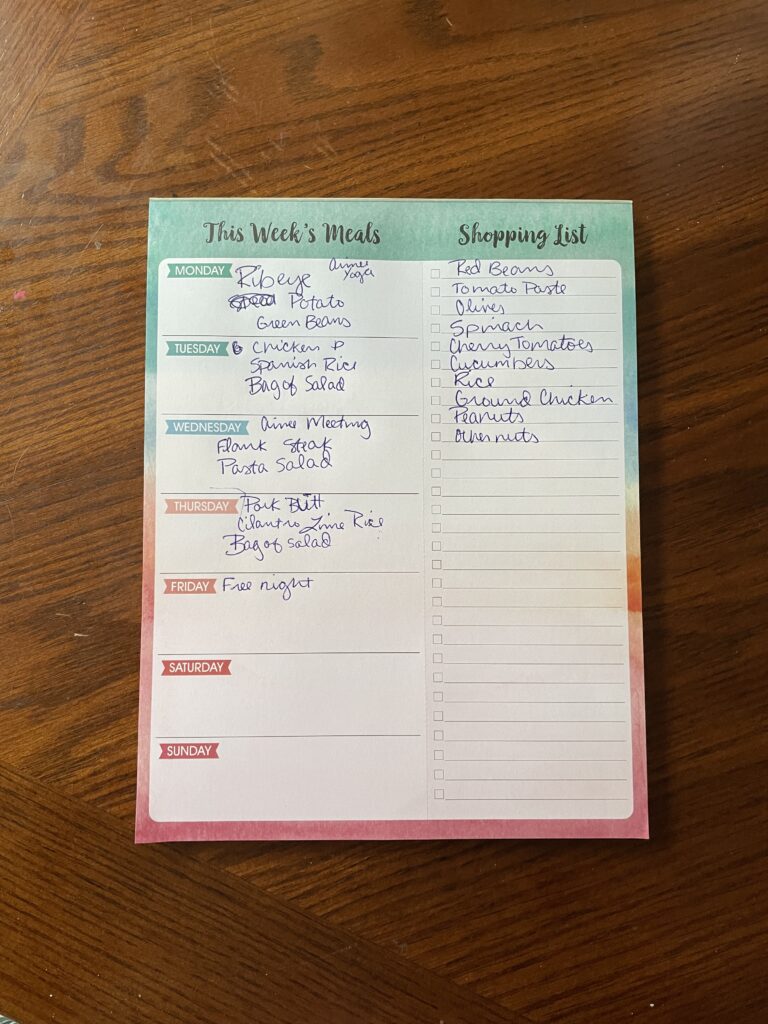 Some of our favorite meals to make during the week that help us save on groceries are dutch oven pulled pork with cilantro lime rice and cowboy caviar; we also love to make chicken, pea and pesto pasta often. 
There are many ways to stretch your budget to save more while buying groceries, but just buying groceries more over eating out at restaurants or getting takeout already has you stretching your budget further!
What are some ways you save money on groceries?
Looking for more ways to save money and grow your wealth? Check out these posts! 
How to start an emergency fund and save $1,000