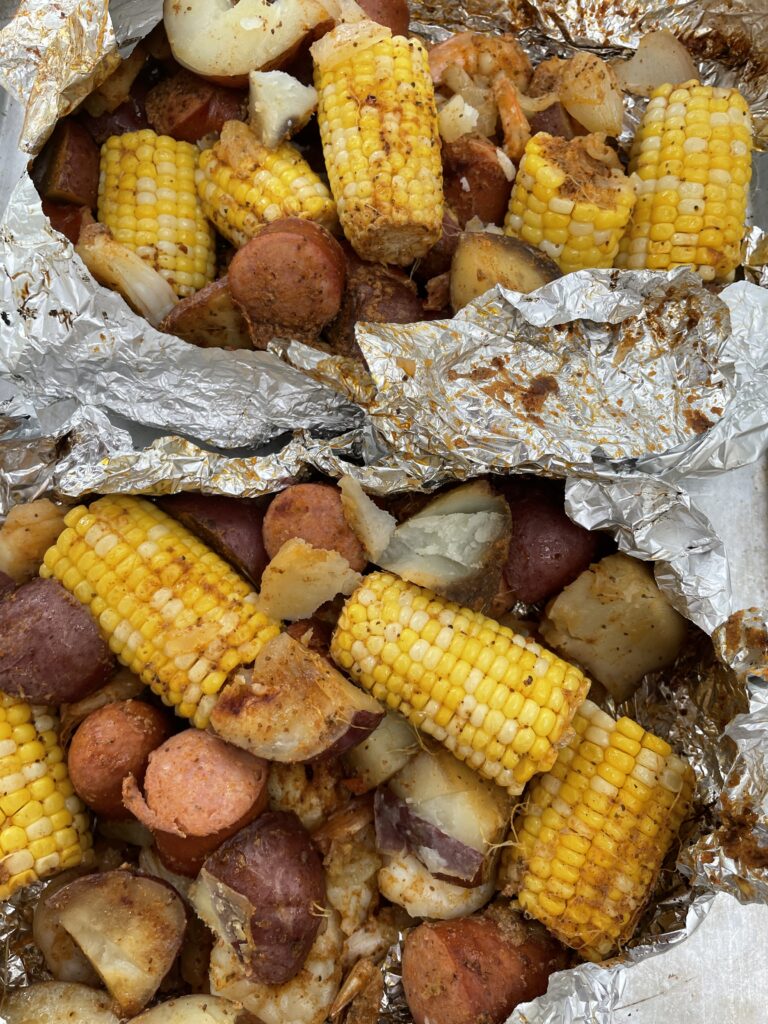 Summer is the perfect time to get out of the house and utilize your grill. If you're looking for an easy, delicious option with minimal mess and clean-up, then try these Cajun shrimp foil packets for your next dinner!
I've never lived anywhere but the midwest. I've been landlocked my whole life, and I've never spent more than two weeks near the sea, but let me tell you, I am a sucker for anything from the sea! Crab, lobster, all types of fish, and definitely shrimp, are some of my favorite things to eat.
When I learned how to use a grill, I knew I wanted to try my hand at grilling everything! I've found that I love making foil grill packets because the cleanup is so easy, and everything cooks at the same time. I love all the flavors that meld together in these grill packets, and I think you will too!
This page contains affiliate links to products I recommend. If you purchase something from this page, I may receive a small percentage of the sale at no extra cost to you. For more info, click here.
What do I add to my Shrimp Foil Packets?
When I make these shrimp foil grill packets, I love to make them into mini shrimp boil packets. I love mixing the flavors of a cajun shrimp boil into individual servings so I can make as many as I need. These foil packets are great if you're feeding just two people or a crowd. At our house, we make a packet for each John and myself so that we don't waste any food, but they can easily be adjusted to make multiple packets. Here's how I put my packets together!
How to Put Together Grill Packets
When I put my shrimp foil packets together, I start with the base with foil. For each packet, I use one 12 inch by 12 inch piece of aluminum foil and add corn on the cob cut into two inches pieces to the middle (one cob per packet, so two to three pieces), then I add ring sausage. I like to use about five, one-inch pieces of sausage, then I like to add potatoes to these packets as well, and I cut them into the inch-size bites.
I layer my shrimp on top so they are further from the heat than the rest of the ingredients. I use frozen, raw, deveined shrimp. When you live in South Dakota, you have very limited access to fresh shrimp. If you can get fresh shrimp, definitely use those instead!. I like to take the tails off before I put these packets on the grill (because I hate getting my fingers gross pulling off the tails while eating). I use about 10 shrimp per packet.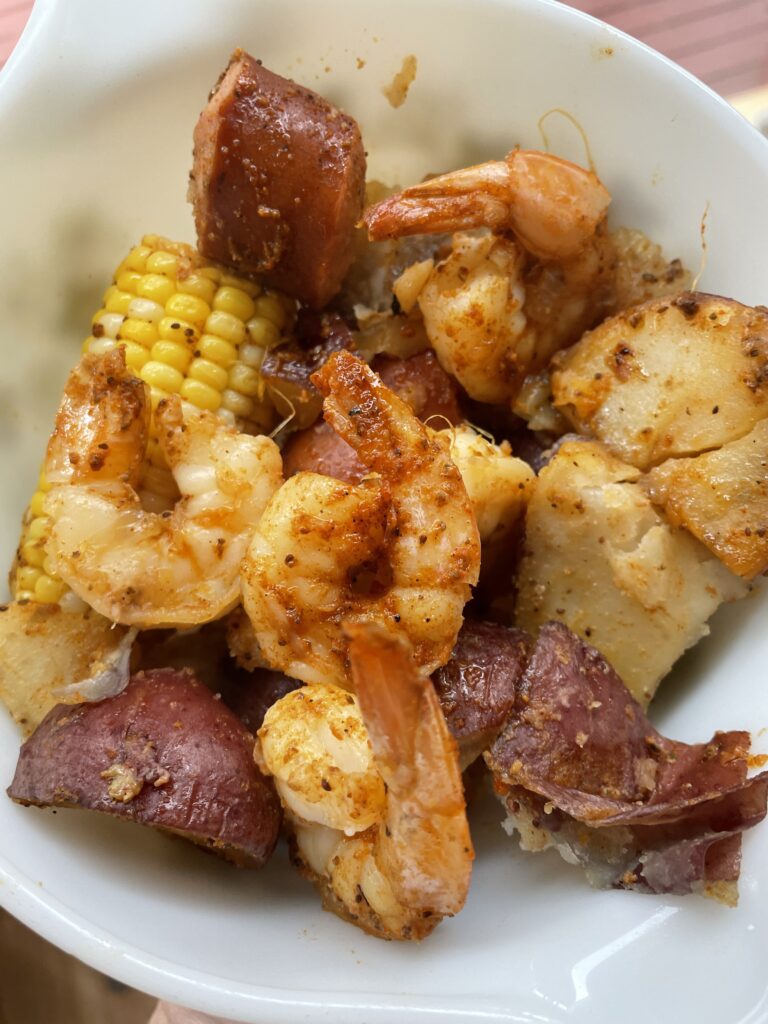 Top the entire packet with two tablespoons of extra virgin olive oil and Old Bay Seasoning. Old Bay is the perfect Cajun seafood seasoning and all the flavors meld perfectly together. I fold the foil around the food to make sure everything is seal in and flavor cannot seep out. 
If you're worried about the heat of your grill overcooking the shrimp, I have a couple tips. Potatoes often take longer to cook, so I will sometimes chop them, and microwave them for three to five minutes before I throw them in the grill packets so they get a headstart on cooking.
Another tip is to use a grill mat on your grill for another layer between your food and the heat of the grill. We like to use these reusable grill mats. They come in a pack of six, and are dishwasher safe which makes our clean-up even easier! 
These Cajun shrimp foil packets take between 10 and 15 minutes on the grill, so from start to finish, you can have this meal on the table in less than 45 minutes. Win!
If you're looking for more ways to use your grill, check out this post on How to Grill a Sirloin Steak on a Charcoal Grill.
Need more fast dinner options? Try these!
Chicken, Pea and Pesto Pasta Recipe
Dutch Oven Pulled Pork that is Perfect in Everything!
📖 Recipe
Grill Shrimp Foil Packets
Ingredients
1

pound

raw, deveined shrimp, thawed

1

pound

ring sausage, cut in one inch pieces

4

cobs

corn on the cob, cut in two inch pieces

1

pound

small red potatoes, cubed

8

tablespoon

extra virgin olive oil, divided

8

tablespoon

Old Bay Seasoning, divided
Instructions
On four 12 inch by 12 inch pieces of aluminum foil.

Divide all ingredients amongst the four sheets of foil, placing shrimp on the top of the packet. An option is to microwave or boil the potatoes before adding to the packets to speed up the cooking process.

Fold foil over all ingredients, and seal, keeping the seam facing upwards. Place on grill and cook for 10 to 15 minutes.

Remove from grill, and open carefully as hot steam will come out.