Weeknights can be crazy, and this chicken, bacon and pesto pasta is a great one-pot dish that can be whipped together in less than a half an hour, and costs less than three dollars per serving.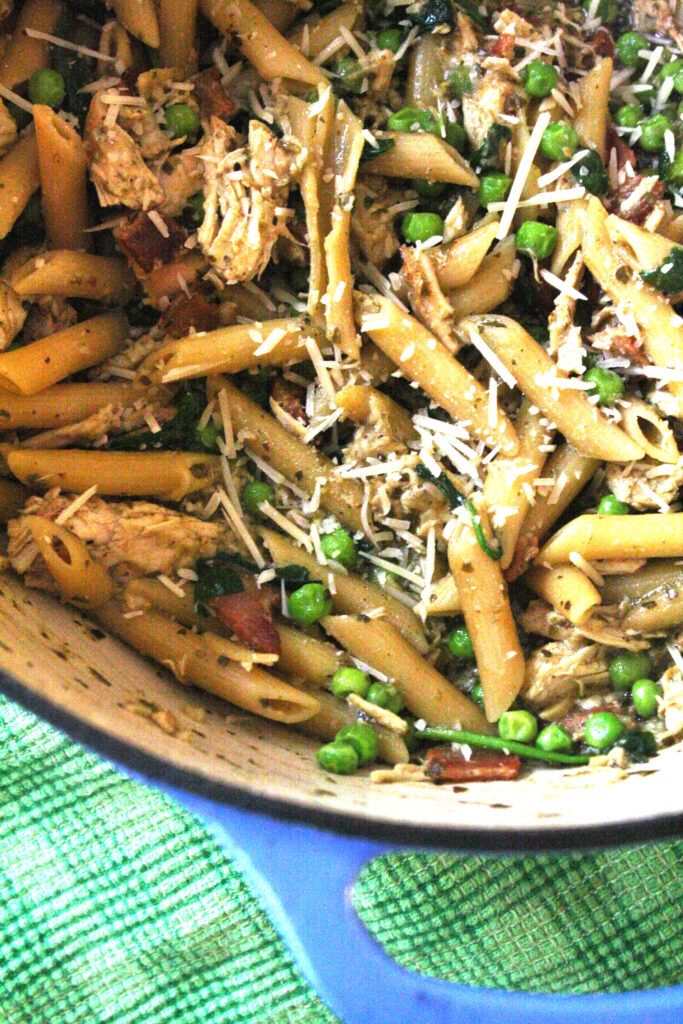 I am a sucker for efficiency. What can I streamline in my life to make things run, smoother, quicker, and more seamless? Anything that fits those categories is so appealing to me, and this dish is one of the most efficient meals in my wheelhouse, and can be made with items often found in the pantry.
---
*This page contains affiliate links to products I recommend. If you purchase something from this page, I may receive a small percentage of the sale at no extra cost to you. For more info, click here.
---

We love meal prepping (see above: efficiency), and buy almost the exact same groceries every week. Not only because we know how these groceries fit in our budget, but also because we know the nutritional value.
My husband and I are particular about what we allow in our bodies and how we fuel ourselves. Chicken, bacon and pesto pasta is a dish full of nutritious value that comes together quickly.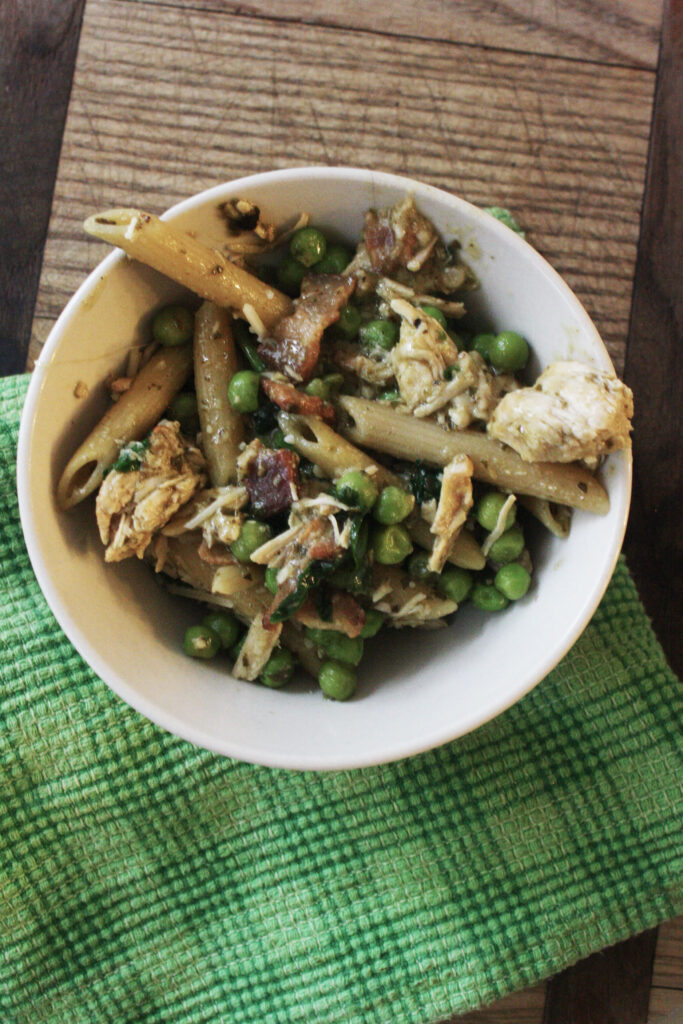 Ingredients in Chicken, Bacon and Pesto Pasta
Chicken, bacon and pesto pasta comes together very quickly, but can be done even quicker with a little bit of meal prep. Here are the ingredients in chicken, bacon and pesto pasta.
Chicken When we meal prep, we often make a large batch of chicken thighs. Making the thighs ahead of time helps speed up the dish.
Bacon The salt and fat in bacon are a great addition to this dish.
Vegetables To increase the nutritional value of chicken, bacon and pesto pasta, I add a slew of veggies. Typically, we keep frozen peas on hand, and always have spinach and mushrooms in the fridge as well.
Noodles Any dried noodle will do to make chicken, bacon, pesto pasta, and I typically have gluten-free penne on hand.
Cost of Chicken, Bacon, Pesto Pasta
Another thing I love about this easy weeknight dinner is just how cheap it is. I whipped all these things together, and created a dish that literally costs us about three dollars a serving, and takes less than a half hour to put together. It's also packed with super foods like chicken, spinach, garlic, mushrooms, basil and peas.
Here's the cost breakdown:
Four-pack of chicken thighs: $5.00
Half a pint of mushrooms: $1.00
¼ Cup of Parmesan cheese: 1.25
Frozen Peas: $.99
Three slices bacon: $1.00
Cup of Spinach: $.75
Half a package of gluten free noodles: $ .80
½ jar of pesto: $1.50
Total: $12.05 (makes four servings)
Equipment Needed
I only needed two pots to cook this dish--a pot to boil water, and my absolute favorite tool in my kitchen, my Lodge Enameled Cast Iron Dutch Oven. This post just lives on my stove now because I use it so many times each week.
If you're looking for a weeknight staple that you can make quickly, you've come to the right place.
Check out my other budget-stretching dishes:
CREAM CORN CASSEROLE THAT'S PERFECT FOR HOLIDAYS OR ANY DAY OF THE WEEK!
HOW TO SAVE MONEY ON GROCERIES
QUICK COPYCAT CILANTRO LIME RICE
DUTCH OVEN PULLED PORK THAT IS PERFECT IN EVERYTHING!
📖 Recipe
Chicken, Bacon and Pesto Pasta
Ingredients
2 ⅓

C

Penne Noodles

4

Chicken Thighs

or two cups cooked chicken, diced or shredded

1

C

Fresh mushrooms, sliced

¾

C

Frozen Peas

2

C

Fresh spinach

3

Slices bacon

½

Jar

Pesto

¼

C

Parmesan Cheese
Instructions
Cook Chicken whichever way you prefer, and start boiling salted water for noodles in a separate pot

Slice and cook bacon over medium-high heat. Add cooked chicken to skillet. Add frozen peas.

Add in mushrooms. Stir, allow to cook.

Turn heat down to medium on bacon, chicken and peas. Allow penne to boil for five minutes then drain, reserving one cup of salted pasta water.

Add penne to chicken, bacon, and pea skillet, add half a cup of water, spinach and pesto. Allow water to cook down, adding more if needed. Stir occasionally.

Immediately before serving, add parmesan cheese.