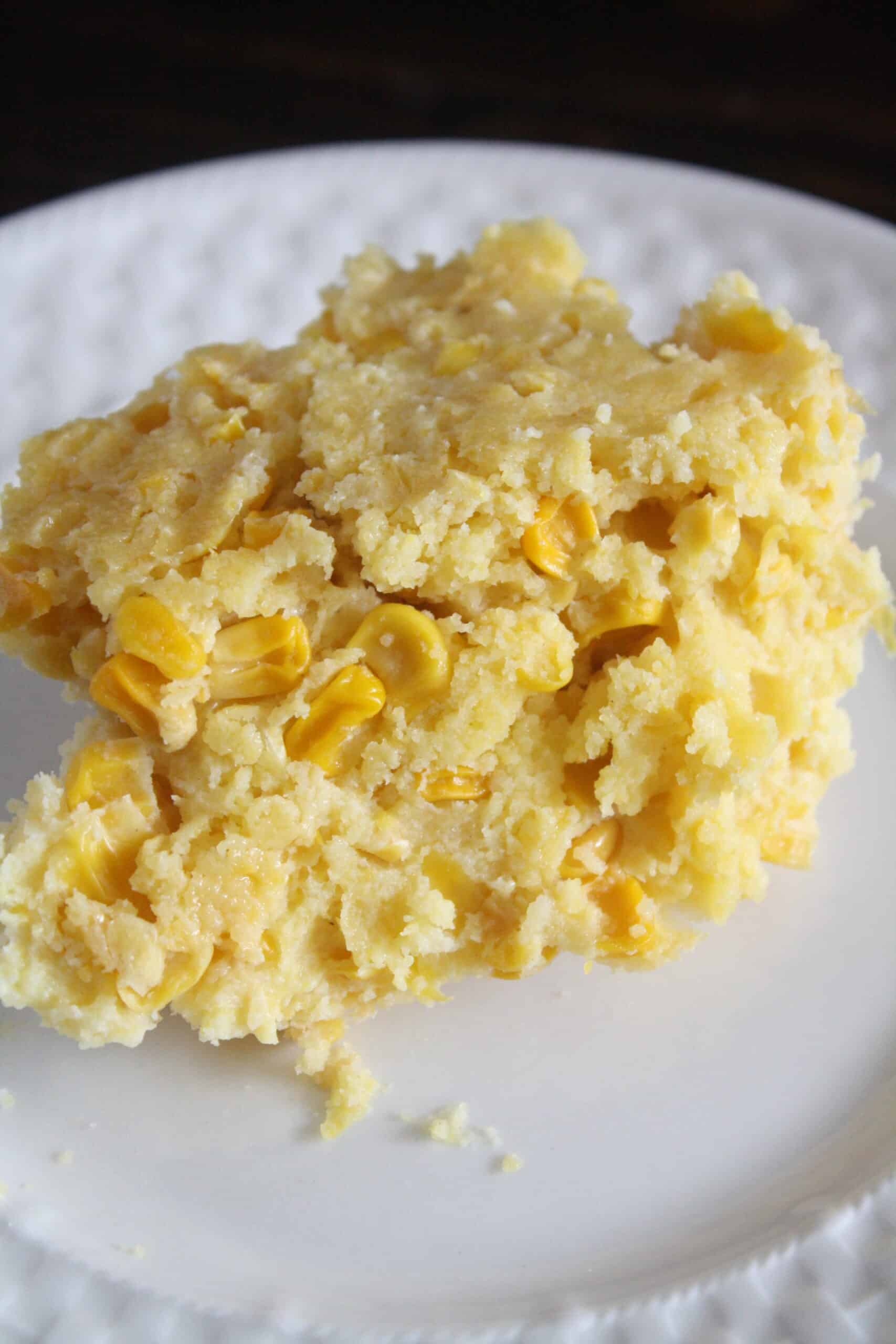 Cream Corn Casserole is a great budget-friendly comfort food that costs less than five dollars to make and is the perfect addition to any weeknight dinner or holiday table.
This recipe is a childhood favorite for me. Cream corn casserole was found on the table at every single holiday.
Thanksgiving? Cream corn casserole.
Christmas? Cream corn casserole.
Easter? Cream corn casserole.
It snowed in South Dakota this week. It's October. I am not impressed. I might not love the snow, and the cold and winter showing up prematurely (rude), but I do love that I can pull out my comfort food, body-warming recipes. This cream corn casserole is one of those dishes. It's a great mix and bake recipe that warms the kitchen and makes the house smell great while it bakes.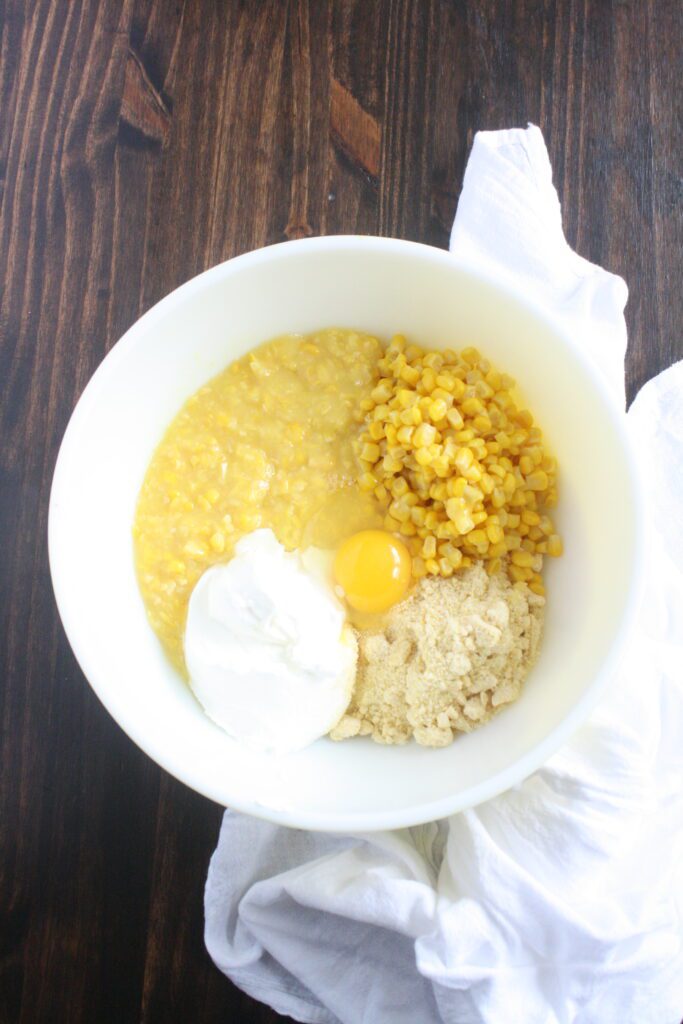 While there might have been leftovers of stuffing or mashed potatoes, my family devoured this casserole! And there's literally nothing special about it. It's five ingredients, mixed together, and baked. Boom. That's it. The flavor and texture, however, are so creamy and comforting, it's no wonder it was always gone in a matter of twenty minutes.
Easy and Quick and Crock-Pot Ready!
Today, I like to put this cream corn casserole recipe in my monthly rotation for a couple reasons. First, it's so easy. It's a dump, and mix, and bake recipe. I can mix and prepare the casserole the night before I want to eat it, store it in the fridge, and then after work the next day, throw it in my oven to cook while I prepare my main dish. 
I have also made this cream corn recipe in the crock pot! I like to use my small crock pot like this, and bake this on low for four hours. The edges of the casserole end up a little crispier, but it's still so so good!
Cream Corn Casserole is Budget-Friendly
Another reason I like this corn casserole recipe? It's so cheap. I used canned cream corn and either frozen or canned sweet corn and I never spend more than a dollar on any of those options.
Throw in an egg for about a quarter, a box of corn muffin mix for less than a dollar, a stick of butter for 75 cents, and 50 cents worth of sour cream, and you've got a great side dish that serves eight for less than five dollars. That's definitely budget-friendly and a great option when you're trying to save money on groceries and food.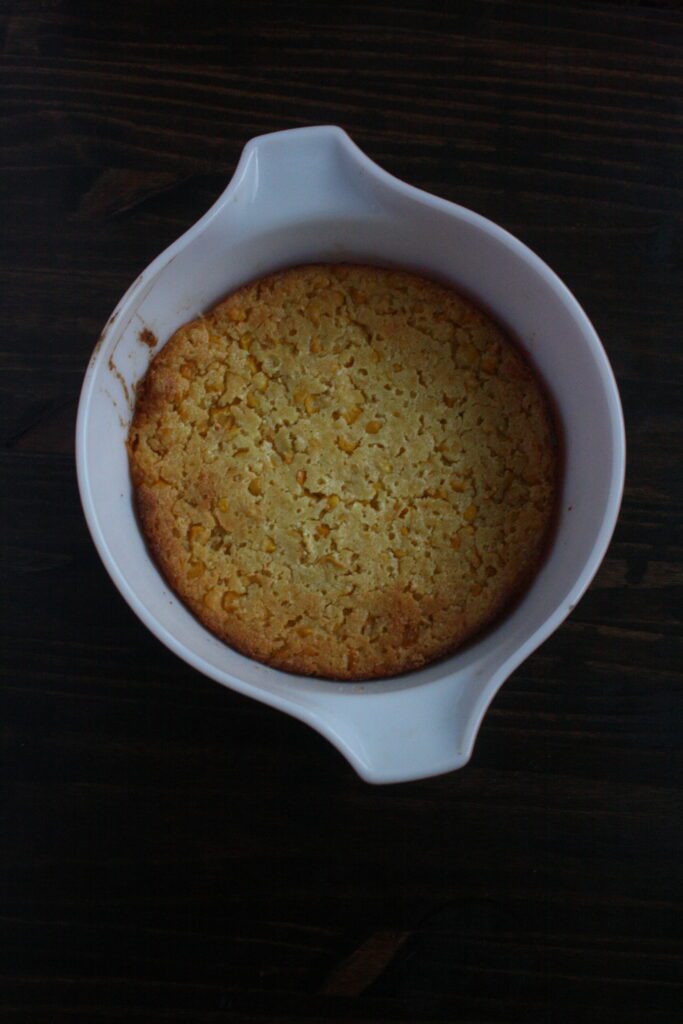 This side dish recipe is also so versatile and pairs well with a lot of main dishes. I like to pair it with chicken, or pork chops, or even steak or burgers. In our house we've had it with turkey and ham as well. Basically, cream corn casserole is a great side for any meat option you're bringing to the table. 
Corn Casserole is Great for Leftovers
You might be like me, and have no need to eat eight servings of cream corn casserole in one setting (confession: I can eat over half of this entire dish at one time and not feel the least bit guilty), I do like to make this as a meal prep option, and take it for lunch for a few days of the week.
I love to use these glass pyrex leftover containers to take my lunch so I can reheat the casserole directly in glass dish and not worry about transferring it out of a plastic container. 
Looking for more budget-friendly, comforting meal-prep recipes? Check out these posts:
Gluten Free, Dairy Free Pumpkin Muffins
Cream Corn Casserole
Ingredients
1

Can

Cream Corn

1

Can

Sweet Corn

1

Box

Corn Muffin Mix

1

Stick

Butter, melted

1

Egg

8

oz

Sour Cream
Instructions
Preheat oven to 350 degrees. Grease 8x8 casserole dish or round dish  with wrapper of butter or cooking spray.

Pour all ingredients in casserole dish, and stir. Bake in oven for 45-50 minutes, or until a fork poked in the middle comes out clean.