If you're obsessed with all things pumpkin, you'll have to try these gluten-free, dairy free pumpkin muffins made with oat flour. This super simple recipe will satisfy your love for pumpkin, and are the perfect, budget-friendly snack.
I have a confession: I DO NOT love pumpkin spice lattes. I don't know why, I just really don't. I do, however, love other pumpkin foods. I'm only slightly a basic b*tch.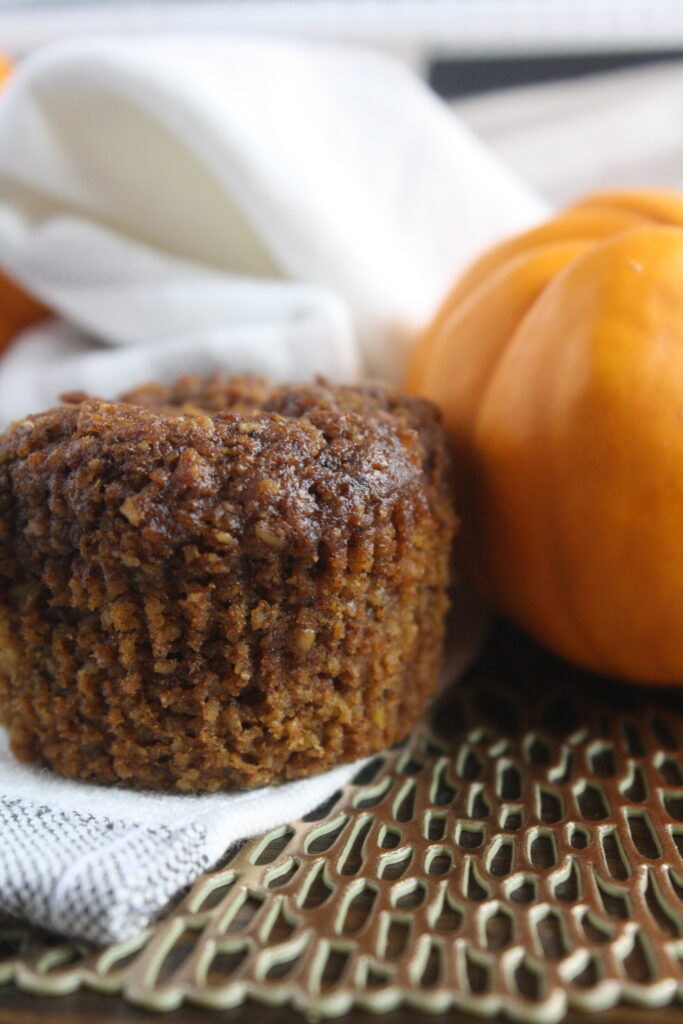 I recently tried some pumpkin muffins and they were amazing, but they were not gluten-free, so I could only have a little bit. I loved the flavor of them however, so I knew I needed to recreate them.
---
*This page contains affiliate links to products I recommend. If you purchase something from this page, I may receive a small percentage of the sale at no extra cost to you. For more info, click here.
---
I made a couple non-traditional swaps to my pumpkin muffins including the flour and fat I used to create my recipe. Simple changes in this recipe made it so I couldn't even tell they weren't made in a conventional way. Here's the ingredients!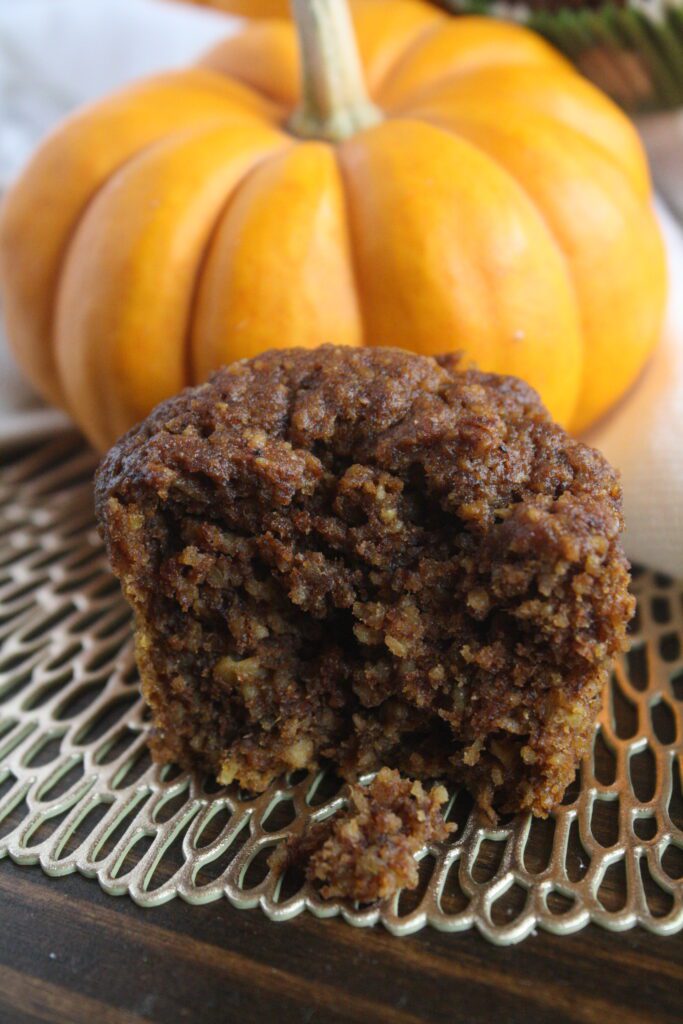 Ingredients
Old Fashioned Oats for Flour
Instead of regular flour, or even buying gluten-free flour. I used my food processor (similar to this one) and made flour from old-fashioned oats. Since my food processor is small, I made my oat flour in batches by scooping ½ cup into the processor, and pulsing until fine. It didn't create a super uniform consistency, but it was fairly fine, and worked well in the recipe.
I like using oats for a swap for flour because they are extremely gentle on my stomach. They are a complex carbohydrate and take longer for my body to break down so I don't have a huge sugar spike when I consume baked goods.
Coconut Oil instead of Vegetable Oil or Butter
I also used coconut oil instead of butter or vegetable oil. I actually normally just use butter in my recipes because I LOVE using unsalted butter, but I actually found coconut oil in my cupboard and said, "hell yes, let's do this!" (That's literally what I said to myself.) Avoiding butter also helps to make this recipe dairy-free so great for those who are lactose intolerant.
Coconut oil is considered a superfood and can help your body in so many ways. One key component of coconut oil is fatty acids which help burn fat, and provide a quick source of energy for the brain. Coconut oil is also known to kill bacteria and harmful pathogens.
Pumpkin
This recipe calls for a can of pumpkin, NOT pumpkin pie filling. While most people love pumpkin in the fall, it's actually a super food with amazing benefits that make me want to eat it year round. Pumpkin is packed with antioxidants that can help repair skin damage as well as potentially lower your risk of cancer and help your eyes. Pumpkin also contains vitamins that can improve your immunity (don't we all want that right now–I see you, 'Rona).
Optional: Protein Powder
I did experiment with this recipe some and I actually swapped a half a cup of protein powder (I use this plant based protein) for half a cup of oat flour. The muffins were fluffier, but they also flopped when they cooled. Either way they were good!
Hope you enjoy these gluten-free, dairy-free pumpkin muffins as much as I do! What are your favorite pumpkin recipes?
Looking for other snack recipes? Check out these crunchy peanut protein balls.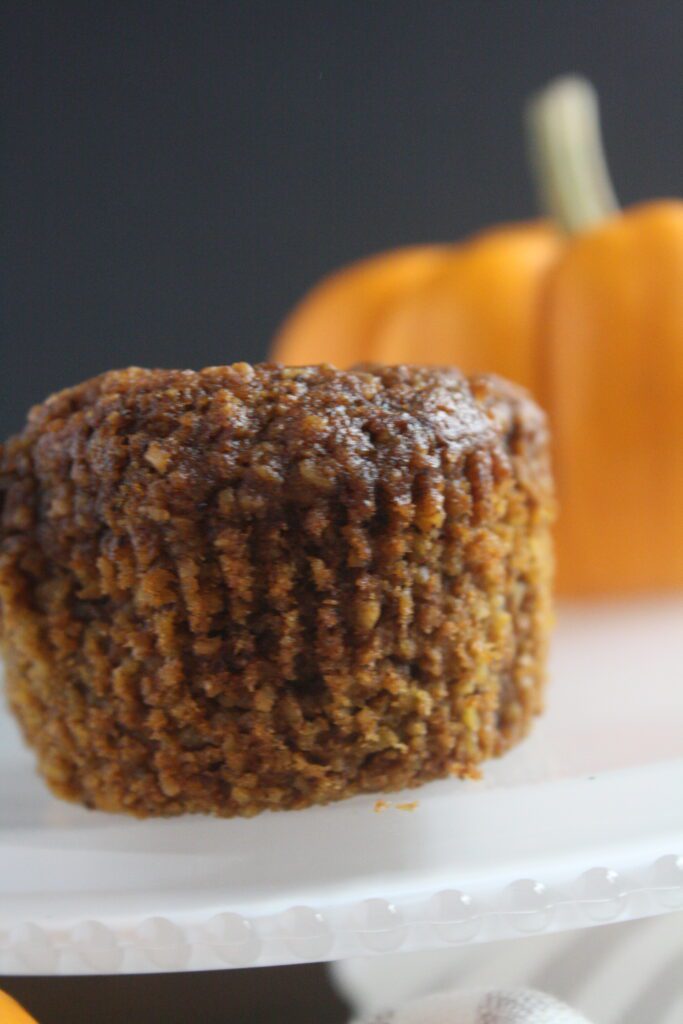 Gluten-Free, Dairy-Free Pumpkin Muffins
Ingredients
1 3/4

C

oat flour

3/4

C

sugar

1/2

C

brown sugar, packed

1

tsp

baking soda

1/2

tsp

baking powder

1/2

tsp

salt

1

tbsp

cinnamon

1/2

tsp

ground clove

1/2

tsp

all spice

1/2

tsp

nutmeg

2

eggs

1

can

pumpkin puree

1/2

C

coconut oil, melted
Instructions
Preheat oven to 350 degrees. Line muffin tin with paper liners.

In a large bowl, combine all dry ingredients and mix thoroughly.

Add wet ingredients, and with a hand mixer, mix until all ingredients are combined.

Using a 1/3 cup, scoop batter into muffin tin holes.

Bake for 25-30 minutes, or until toothpick inserted into muffin and removed is free of batter.