Building and stocking a home bar is essential for anyone who loves to host or loves to have a libation or two at home. Read ahead the essential home bar checklist.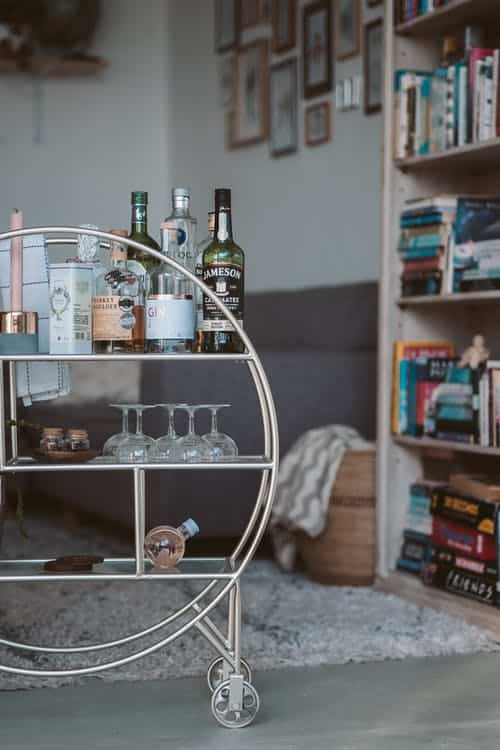 If you're ready to trade nights at the pub for cocktails at home, stocking a bar at home is a must. Your home bar can be as simple or as outlandish as you'd like, but I do have a few recommendations of what is vital to have in your bar.
---
This page contains affiliate links to products I recommend. If you purchase something from this page, I may receive a small percentage of the sale at no extra cost to you. For more info, click here.
---
Due to circumstances, I've done quite a bit of research on what is needed to own the ultimate home bar. While each home bar may look different, this is what we use at least weekly when we let our hair down.
Ultimate Home Bar Checklist #1: Glassware
We have various glasses in our home bar essentials, some are only used when we make certain drinks (like these copper mugs for moscow mules), but we also have the following glassware for all purpose.
Red Wine Glasses
If you're on a budget and can only afford one type of wine glass for your home bar, I recommend investing in red wine glasses.
I only have red wine glasses. I know I know, the white wine doesn't taste the same, but I would argue that my cab and merlot just taste so much better from a bigger wider glass. And I drink more red than white wine, so it was more of a necessity for me to have red wine glasses over white.
I have these Mikasa red wine glasses, and I love them. If you'd like to buy white wine glasses to add to your bar, I would purchase these Mikasa White Wine glasses.
Rocks Tumblers
These are our most-used glasses for cocktails in our bar at home. From old-fashioneds to my favorite margaritas (like my strawberry jalapeno or blackberry), to my boyfriend's whiskey on the rocks, these short tumbler glasses get used ALL THE TIME in our house. Super versatile, good weight, we bought these Libbey glasses, and we've been really happy with them. 
Mason Jars
Whenever I'm in a pinch for more cocktail glasses, I pull out my trusty mason jars. Because I love canning, I have jars of all sizes on hand.
Sometimes I use giant jars to mix and store cocktails in bulk, and sometimes I just pull out a flat of pint jars. You can find mason jars anywhere, but here's a link to them anyway!
Ultimate Home Bar Checklist #2: Storage & Containers
One thing I love about our home bar is having everything we need for cocktail creation all in once place--bar cart, liquor, ice--all right there. Here are the storage and containers you need for your home bar.
Bar Cart
You do not need a fancy schmancy bar cart to have the ultimate home bar, however, if you have one or want one I think that's great! In a perfect world, this bar cart would be in my home. Metal and wood together? I die.
However, living on a budget, this piece just isn't something I'm currently willing to spend the money on, so my boyfriend and I built our own! If neither building nor buying are in your budget, you can go a different route.
There are so many beautiful repurposed home bars on Pinterest. I'm currently working on turning an old tv stand into a home bar for my mom. I found it on Facebook Marketplace for $20! Also, check out thrift stores for small tables, bookshelves, cabinets--anything can become a bar cart with your imagination!
Decanters
Just like the bar cart itself, decanters are EVERYWHERE at thrift stores. I picked up a couple for our home bar, cleaned them thoroughly and filled them with John's whiskey.
If second-hand is not your jam, I recommend this decanter. It's pretty, and simple and under $25
Ice Bucket & Tongs
For us, our kitchen is right next to our bar cart, but sometimes, we want to move our party and supplies to another room, so an ice bucket is just so much more convenient. We bought ours at a local store, but this is a great option under $20.
Ultimate Home Bar Checklist #3: Tools
Sometimes, you need a little bit of those extras to make your drinks just perfect. Here are some that I recommend for supplying the ultimate home bar.
Shaker with Strainer
We use our shaker all the time. Margaritas, bloody marys, martinis, you name it, that's what we use. This is the budget-friendly shaker that I have that came with a strainer, jigger and spoon, and these drink recipes on the side. So fun!
Wine Bottle Opener
Confession: I have three wine bottle openers. I've accumulated them over time, and have never sold or donated any of them. They all work great, and I have actually used them all in the last three months. I'll link to each of them, but really a simple corkscrew is all one really needs.
Cutting Board & Knife
I like having a mini cutting board handy when I'm making drinks. A lot of drinks call for lemons or limes and it's nice to be able to just slice them right at the bar. Also, I like a cutting board to double as a charcuterie board! We made our own cutting board, but here is a nice simple option.
There you have it--the ultimate home bar checklist. The only thing missing is the alcohol!
Looking for more home bar inspiration?
Check out my other posts:
Refreshing Watermelon Margaritas You Need to Make Today
Strawberry Margaritas with a Kick!