This coffee bar-bar cart, (Boozy Coffee Bar) has been the best addition to my apartment, and was much more affordable than buying something from a store or online.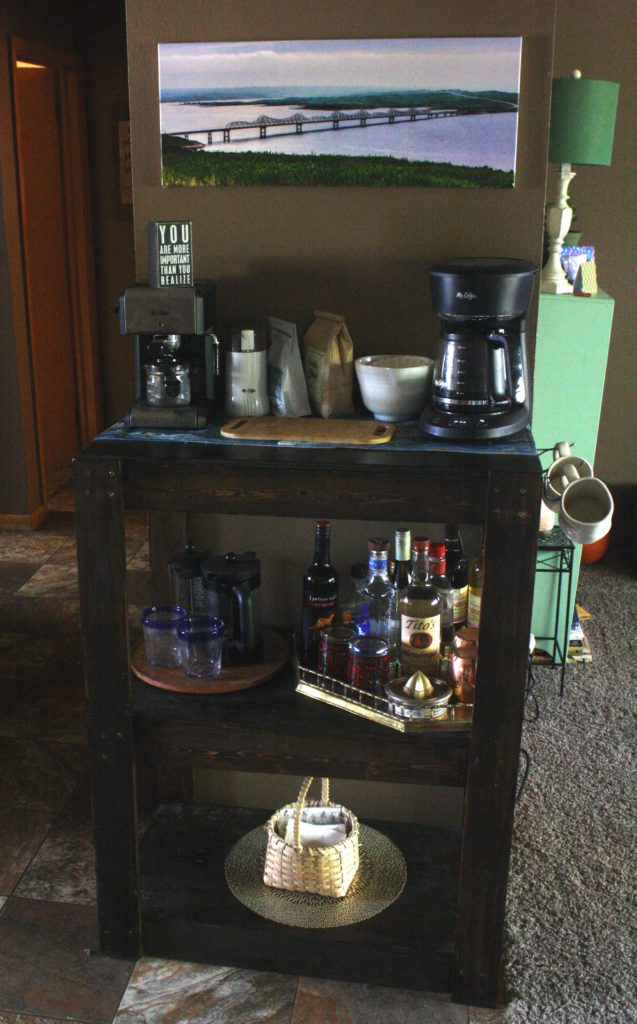 I had been searching for a space for my favorite beverages (coffee and wine) for awhile. I have multiple coffee making contraptions, and wanted to store them all in one place off my counter. I also wanted a space to keep all my alcohol and wine so that it was accessible and all in one place if I ever wanted to entertain.
While most of my posts are how-tos, or tips and tricks, today I just want to highlight this beautiful space and how much I love it, as well as share some of my favorite parts of the space with you.
The Main Event: The Boozy Coffee Bar
Can I just say how much I love this piece? I love it for a number of reasons which I want to share with you.
John (my boyfriend, and teammate extraordinaire) and I built it together.
John designed it himself.
It is customized to fit my house and my needs perfectly.
It fit my budget perfectly.
When the pandemic started, and social distancing began, John and I were searching for ways to keep ourselves busy. We both love to do things with our hands so we naturally gravitated towards building things. This shelf was one of our many projects from Rona. When I told John I was wanting a space for my coffee and booze, he started planning.
The Specs
I had this empty space between my kitchen and living room that we thought would make a great location for our alcoholic coffee cart. I told John I wanted three shelves: top shelf for coffee, second shelf for booze and cocktail glasses, and third shelf for storage.
John and I are both over 6'0, so we wanted it to be tall so we could make coffee and drinks easily. The measurements for our Boozy Coffee Bar are as follows: 42 inches tall, 32 inches wide, and has a depth of 18 inches. There is so much room on each shelf so nothing feels crowded and cluttered.
Lessons Learned
We learned so much while we built the Boozy Coffee Bar. Neither of us had ever built something this substantial so everything was a new skill. We learned how to measure and cut wood, and how to use a J-kreg tool to make pocket holes and attach pieces of wood together. We also learned how to prep, sand, stain and seal wood so it could withstand the wear and tear it would take as a boozy coffee bar.
Speaking of stain and seal, we used Minwax Wood Interior Stain in Espresso, to stain our Boozy Coffee Bar. I put two coats on, and allowed about six hours of drying between each coat. I will do a tutorial on how to stain wood in the future, so stay tuned!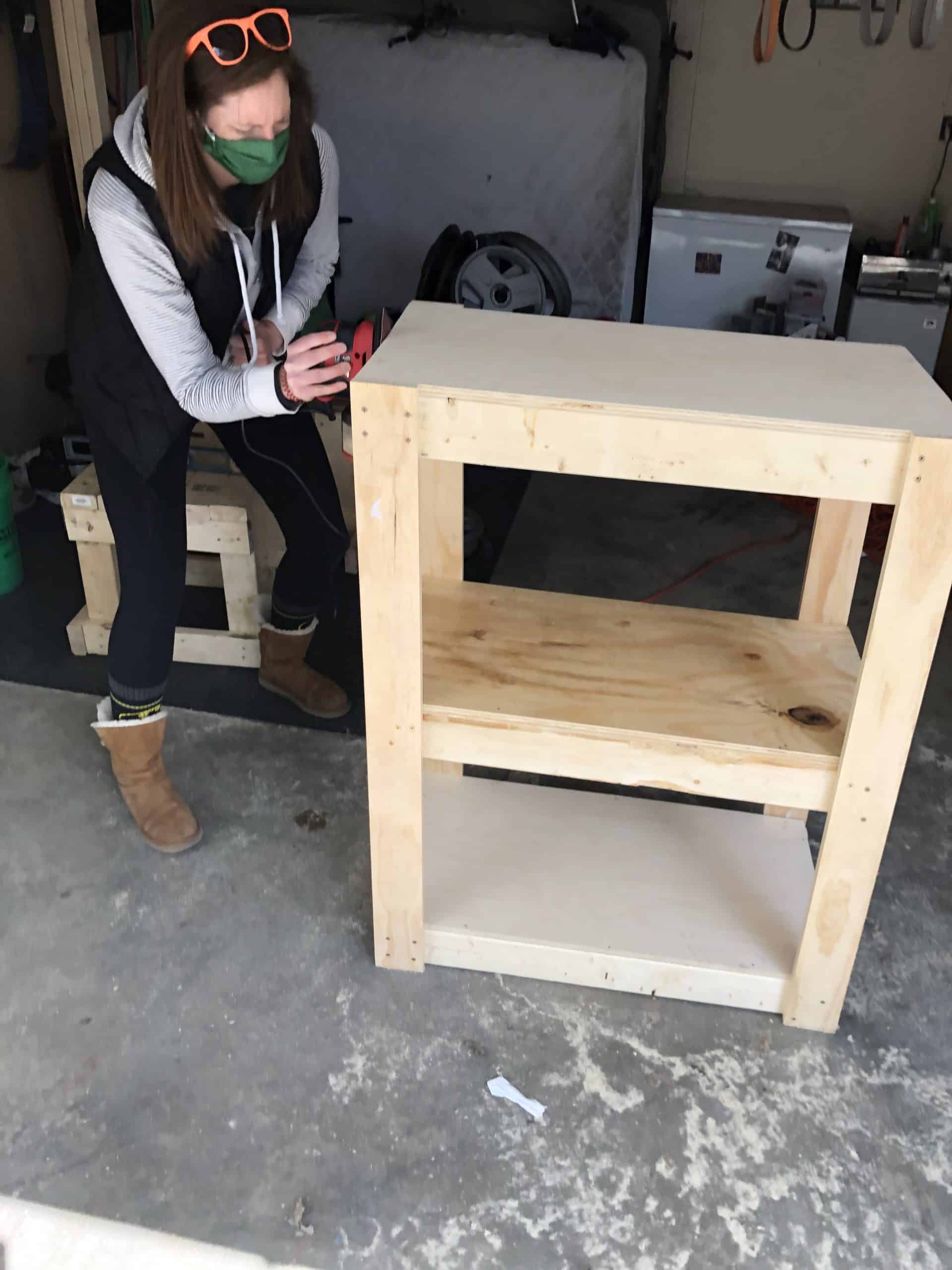 After staining our BCB, we sealed it. I applied three coats of Minwax Fast Drying Polyurethane in Clear Finish to seal the wood. I still try to not allow any condensation or liquid on the coffee bar, but sealing the wood also helps. If you're going to seal any wood with this polyurethane, make sure you apply it in a well ventilated area, let it dry, and also sand between coats to ensure a smooth seal.
Budget-Friendly
While going online and buying a coffee bar or a bar cart would have been much quicker and easier (for the record, I lovvveeeee this bar cart), we gained so much experience building this one AND we spent maybe a third of what we would have spent if we purchased online.
Another thing that makes this Boozy Bar Cart budget friendly? It makes us want to spend more time at home. Yes, I know we are currently in a pandemic and can't (read: choose not to) go to bars or restaurants or coffee shops, however, after the chaos ends and we have the opportunity to "go back to normal," this BCB has shown us we can make a lot of the drinks we love at home.
Cheap Good Coffee (at home)
Right when the pandemic began and coffee shops closed down in our area, I purchased this Mr. Coffee Espresso Machine, so we could make our own lattes and americanos at home. Along with the espresso machine, we also now make our own cold brew coffee and french press coffee (we realllllyyyyy love coffee). Last year, before Rona was even a thing, I purchased this Bodum Cold Brew Coffee Maker for less than $15 (!), and this Bodum French Press for less than $20. While my coffee obsession does not make or break my budget, I get such satisfaction from making my drinks at home and saving about $20 a week by not going to coffee shops. 
Want to read more about budget friendly coffee at home? Check out this post on how I save on coffee at home!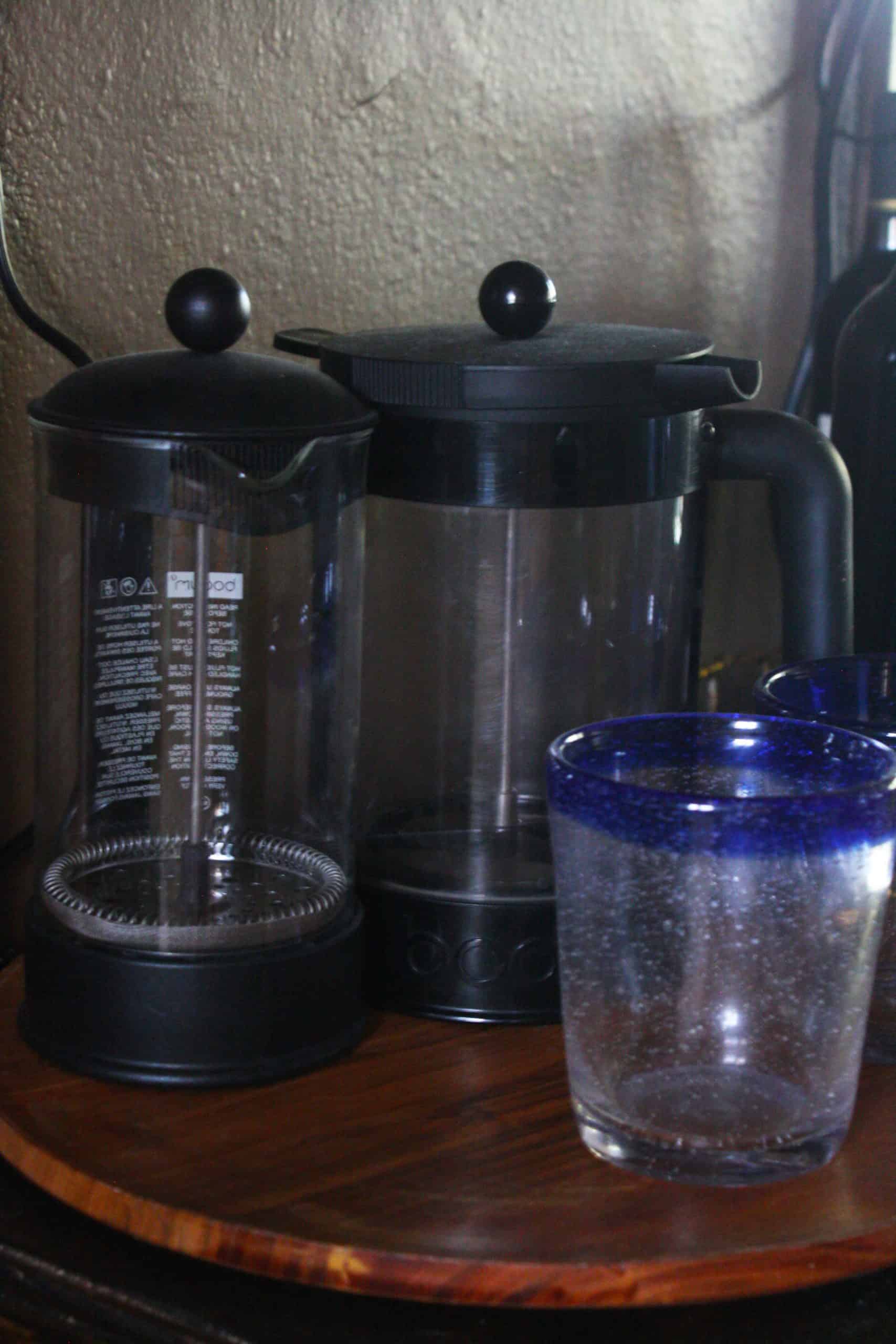 Hey, Bartender
The other great thing about this Boozy Coffee Bar? Duh, the booze. Just like the coffee aspect, having a stocked bar at home (pandemic or not), saves us so much money. John and I have developed some nice little routines that have honored a slowed-down life during social distancing. Just like we savor our good coffee, we now choose to drink good alcohol. Because we are buying bottles of liquor and wine for our home, and not paying bar prices, we are saving so much money every weeknd (literally, one night out for the two of us cost between $75-$100, BUDGET BREAKER). Our splurge now is experimenting with different fun cocktails. We made these Strawberry Jalapeno Margaritas a few weeks ago, and we love a good moscow mule in copper mugs similar to these, and I can't wait to share with you some of the other drinks we've made.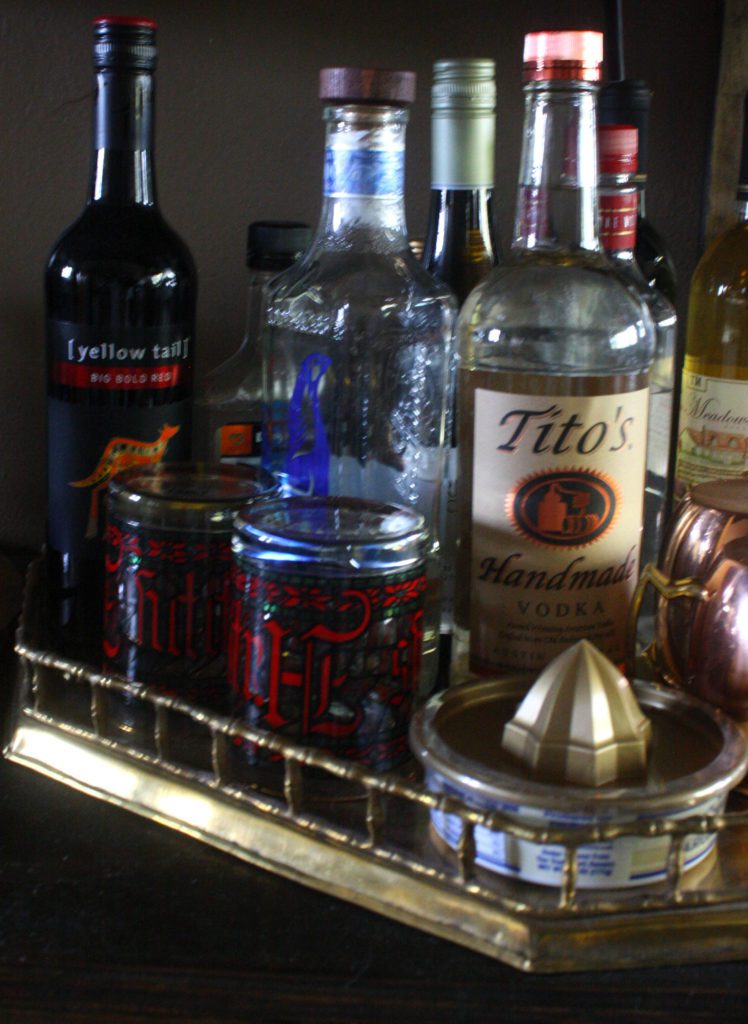 It's All in the Details
There aren't a ton of pieces of flare on our Boozy Bar Cart because I don't want it to become cluttered, but there are some little details I do want to point out.
John had the great idea to add these hooks to the side of the BCB to show off my Rae Dunn mugs and keep them handy in the morning. I found these hooks at an antique store, but you can find similar ones here.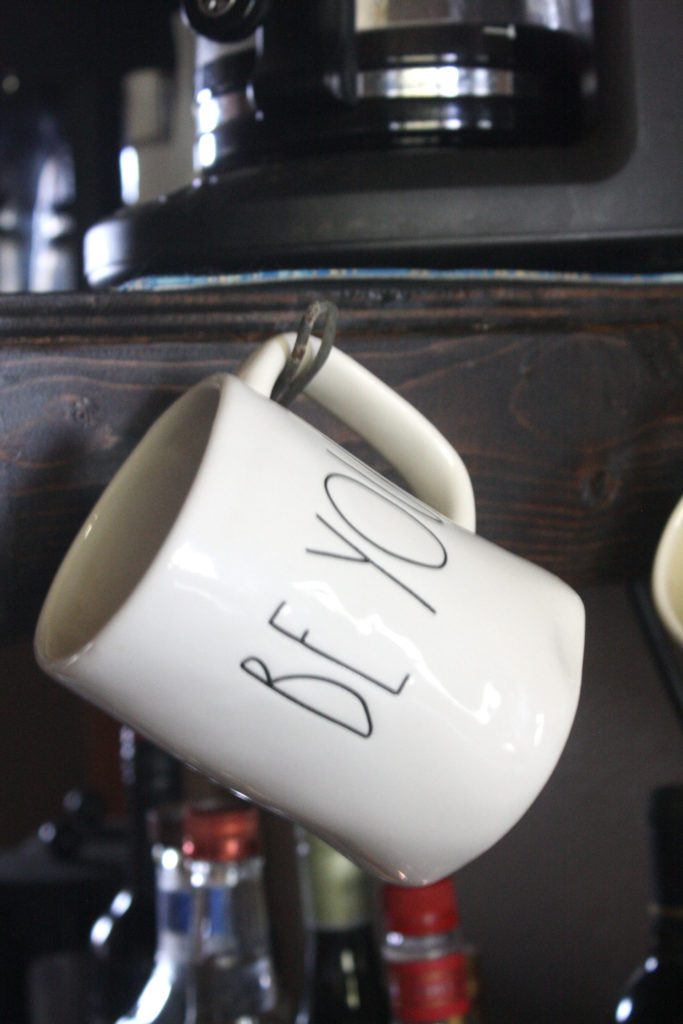 Vintage Pyrex is my weakness (I seriously can't stop collecting it), and this pretty mixing bowl fits my coffee filters perfectly. Don't ask me where I got this bowl, but I have a couple just like it. Go to any antique store and you'll find vintage Pyrex.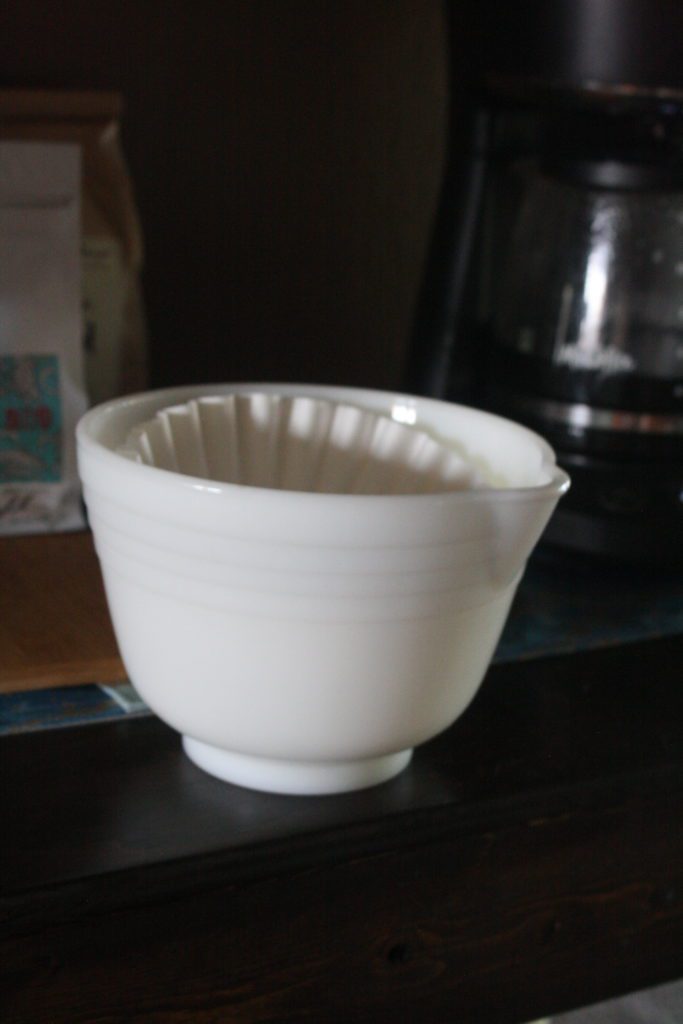 I wanted a way to corral all my booze in one space visually, so I found this cute brass tray for $3 at Salvation Army. I have seen similar almost every time I've gone thrifting, but if you don't want to thrift, you can get a similar one here or here.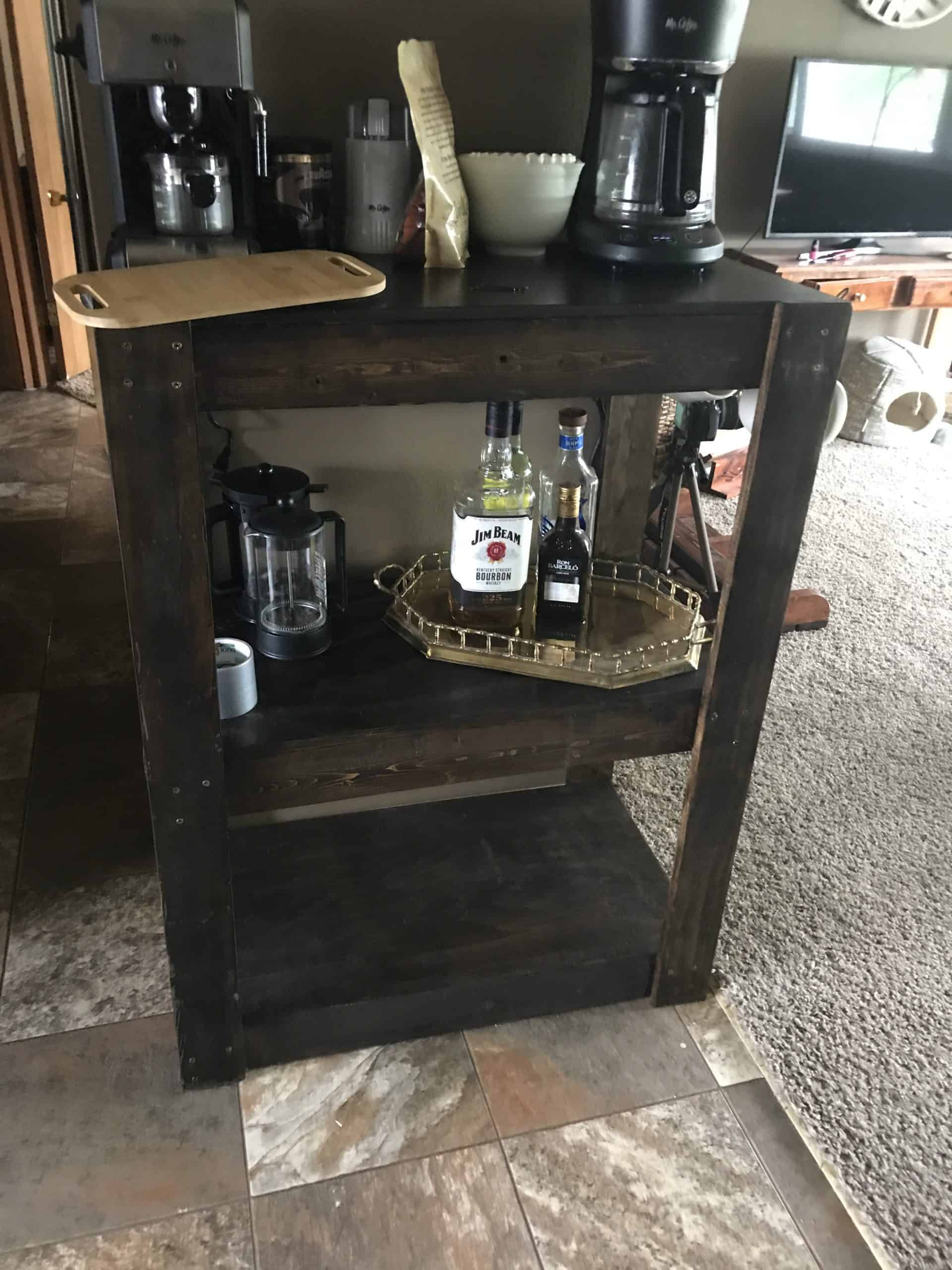 So that's our Boozy Bar Cart. We love it so much, it fits our needs perfectly, and helps us stay on track with our budget.
What do you like about our Boozy Bar Cart?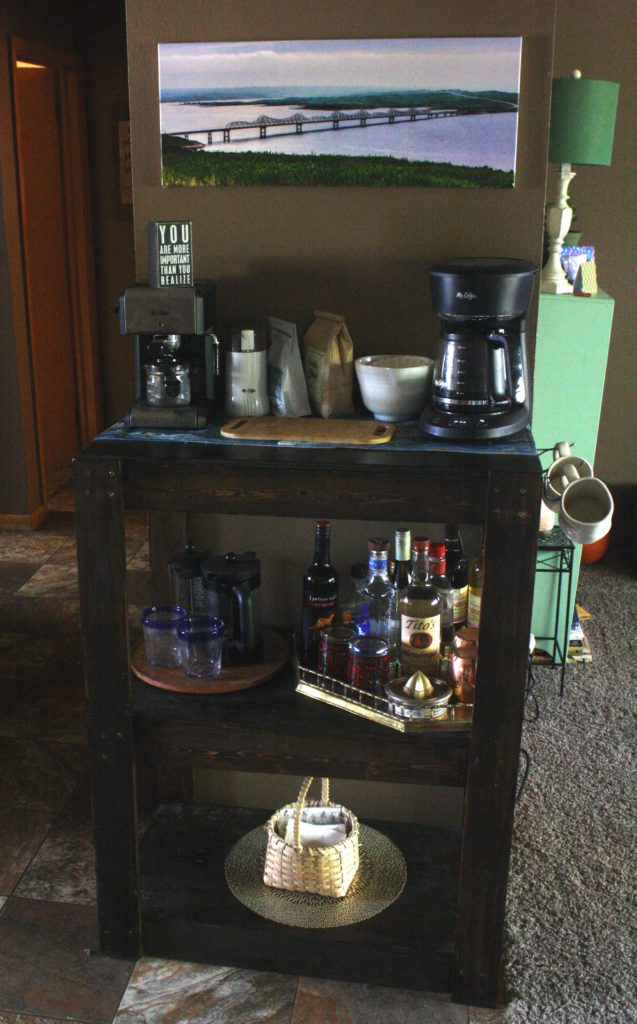 How do we use our bar cart? We love making these Strawberry Jalepeno Margaritas, this Moscato concoction and of course, we love a good classic bloody mary!