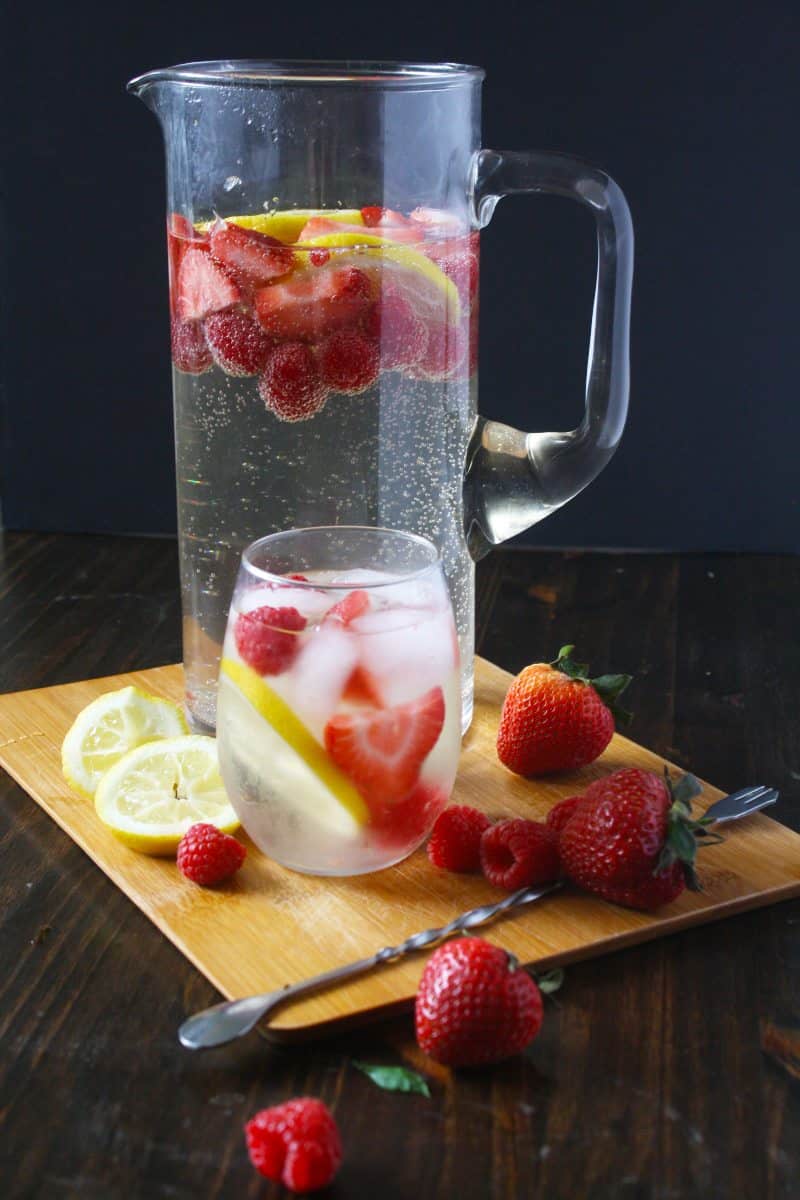 If you're entertaining a crowd and looking for an easy cocktail to serve, this summer sangria recipe will be perfect. Light and refreshing, this sangria is sure to be a hit with your guests.
The house we are renting has an amazing covered patio that we love to enjoy during the summer. We've really created a welcoming and fun space, and we love sharing that space with others.
When we have people over, I love to pull out this summer sangria recipe. I can make it in the morning, let the flavors meld and it's perfect after a few hours.
---
This page contains affiliate links to products I recommend. If you purchase something from this page, I may receive a small percentage of the sale at no extra cost to you. For more info, click here.
---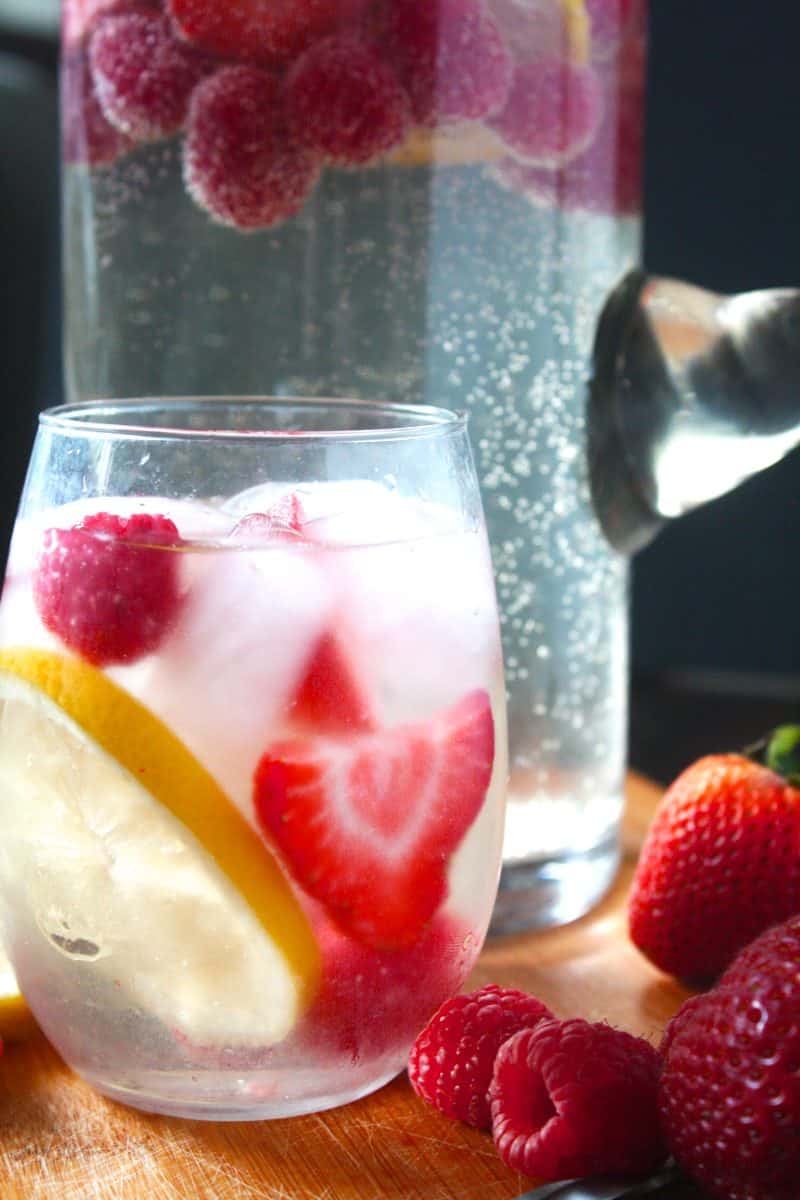 What do I need to make Summer Sangria?
The great thing about sangria is you can't really mess it up. However, I am providing the basics of my go-to summer sangria.
Pitcher
Self-explanatory? Possibly! But! You do need a pitcher for your sangria. Here is our pitcher, but this pitcher and this pitcher would also work just as well! If you're serving more than just a few people, and doubling your sangria recipe, I recommend a drink dispenser. This mason jar shaped drink dispenser holds two gallons of liquid and is perfect for sangria at a party. I recommend having extra fruit on the side for guests to place in their glasses.
White Wine
For this summer sangria, I really like to use a white wine instead of red. If you're looking for a red wine sangria, check out my Super Bowl Sangria post!
There are many different types of white wine, and for this recipe, I recommend a crisp white wine like Pinot Grigio, Sauvignon Blanc or Chardonnay.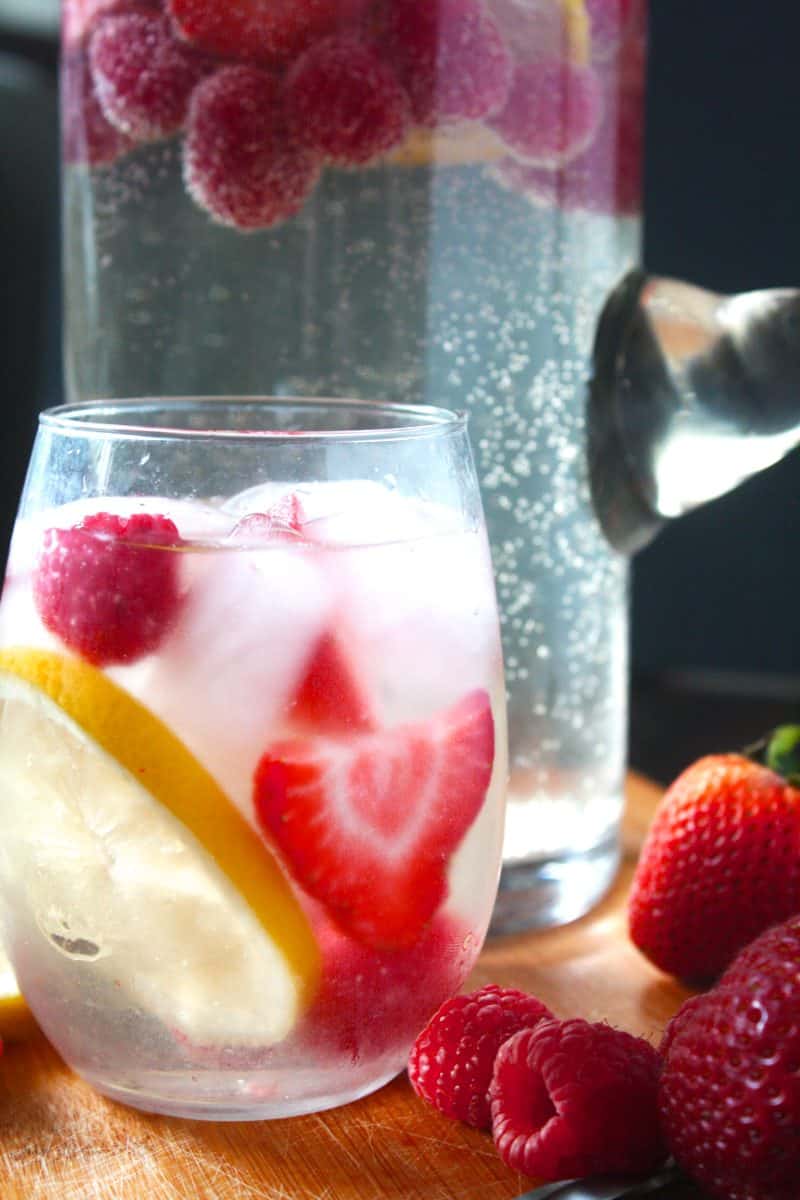 Where to Get Wine
Last year, I subscribed to Bright Cellars wine subscription, and I'm so glad I did! Each month, I get four bottles of wine that are tailored to my taste. When you review your selections on Bright Cellar's site, they tweak your next month's picks based on your taste.
If you want to try Bright Cellars for yourself, use this link for a discount on your first box. You can cancel or push back your delivery date at anytime.
The wine for this sangria came from Bright Cellars, and it's a smooth, bright Chardonnay that balances well with the fruit I've added to the mix. I've done this with a pinot grigio and a chenin blanc, and both worked very well!
Triple Sec
If you want to tone down the strength of your summer sangria, you can definitely skip the triple sec, but since I also add flavored carbonated water to my sangria, I like to balance it out with a little more of an alcoholic kick. In this recipe, I added ⅔ a cup, but adjust to your taste and discretion.
Fruit
The last key to a great sangria recipe is fruit! One great thing about summer is all the fresh produce—the sky's the limit for fruit options in this recipe.
I added strawberries, raspberries, and lemons today, but you could add other fruits as well such as mangoes or oranges or limes or other berries. Make sure you add your fruit right away to the sangria so it can soak up all the flavors while resting in the fridge. I like to have extra fruit on hand to have to serve with the sangria as well.
Let me know what you think when you try this recipe.
If you're looking for more cocktail recipes, check out these posts:
Berry Kombucha Moscow Mule that's Perfect for Summer
Simple & Fresh Margarita Recipe
📖 Recipe
Easy & Refreshing Summer Sangria
A an easy sangria recipe that comes together quickly, can serve a crowd and is bright and refreshing.
Ingredients
1

bottle

white wine

⅔

C

triple sec

2

C

flavored sparkling water

1

C

strawberries

2

sliced lemons

1

C

raspberries
Instructions
Combine all ingredients in pitcher, and allow to rest in refrigerator at least four hours before serving.