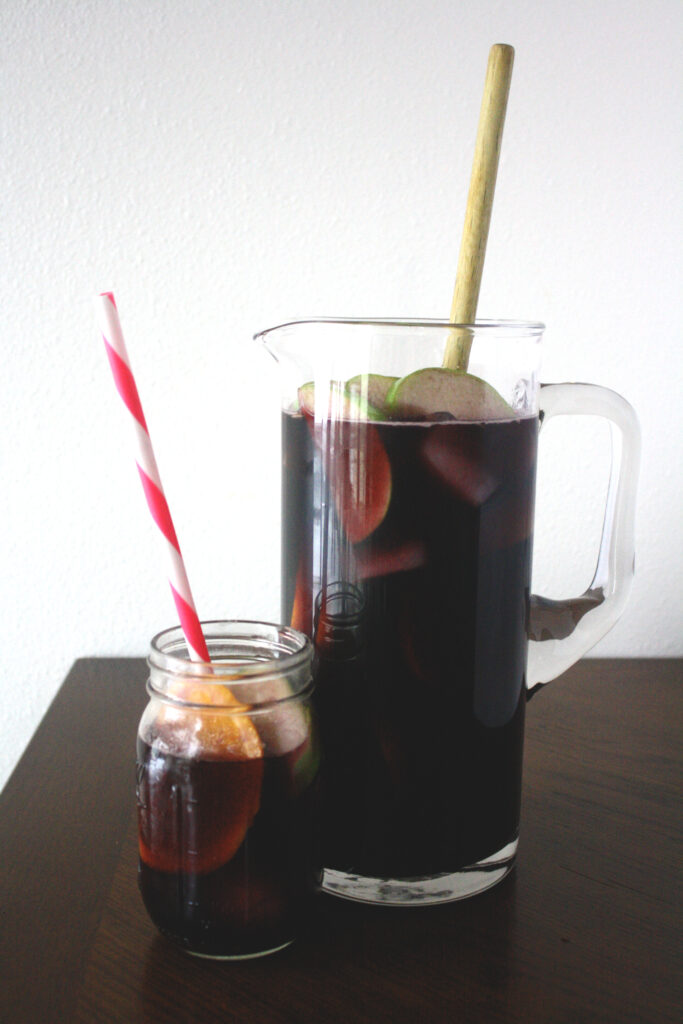 A simple super bowl sangria is perfect for your small group get-together to watch the big game, or for any time of the year. 
Which fan are you?
Are you the fan who gets way into who is playing in the Super Bowl? You pick a team, learn all the players, place bets, get all around hype!?
Or are you the fan who is a fan of snacks, cocktails and commercials?
You're into snacks and cocktails and commercials too? I knew I liked you.
Like everything this year, our Super Bowl party looks different. We won't be with a gaggle of people; we have a small group of friends that we've spent most of 2020 with and we will be watching together.
Even advertisers are changing things up. Kudos to Budweiser for dedicating their ad spend to covid vaccine awareness and education.
While our group is smaller, and there won't be fans at the stadium and I'm really wondering how the half time show is going to work, there will still be two things that are the same: snacks and cocktails.
This year I was trying to come up with an original drink and the writer in me loves alliteration, so Super Bowl Sangria was born. Which, to be honest, is no different than the traditional sangria I make, just with a themed-name. Please humor me.
---
*This page contains affiliate links to products I recommend. If you purchase something from this page, I may receive a small percentage of the sale at no extra cost to you. For more info, click here.
---
What is Sangria?
Sangria is a mix of wine, fruit, and liquor that is all mixed together and served. Usually made in large batches, I think of it like jungle juice for those who are no longer in college. However, Sangria has actually been around way longer than frat parties.
It's believed to have originated during the Middle Ages when drinking water was not safe so wine was mixed with fruit and spices.
As we know it today, Sangria is a Spanish cocktail, and if you travel to Spain (maybe next year) you will see that no two sangrias are the same. The basic combination is fruit like oranges and apples, red wine, a sweetener like sugar or honey, liquor like rum or brandy, and juicy. Fruity and boozy—what a great combo.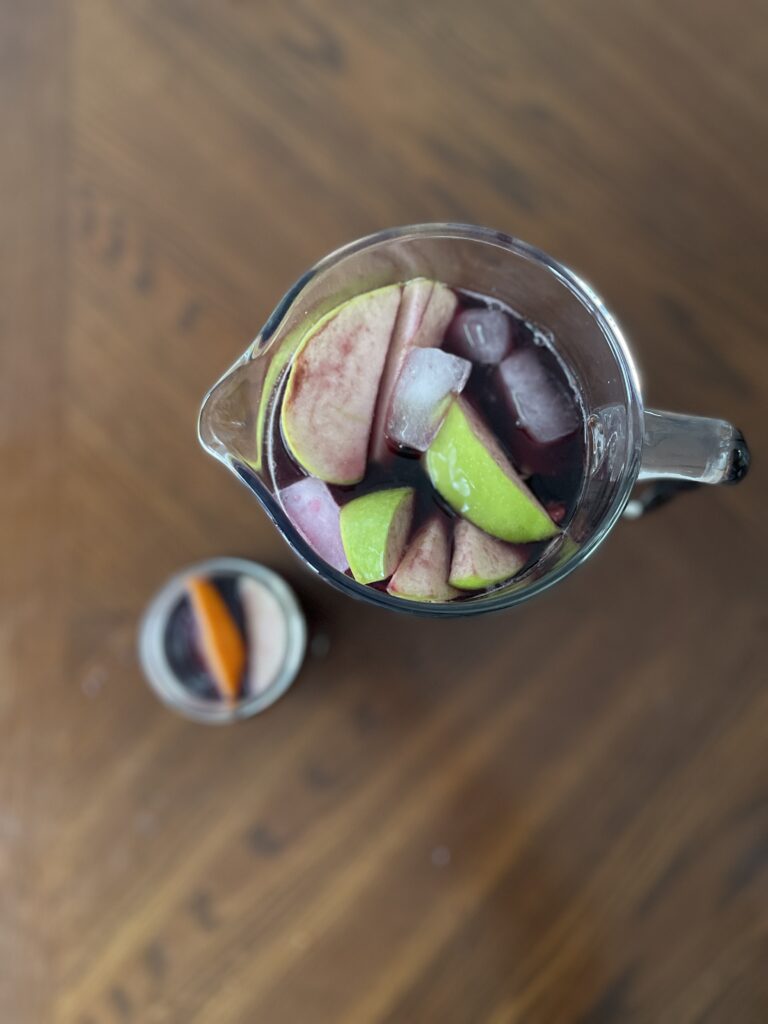 How to Make Your Sangria
Today, Sangria can contain any mix you want. Red whine, white whine, rose' or a red blend or somewhere in between will work. You can use any liquor as well, and any juice you'd like.
For this recipe, I stay fairly traditional; I use a red blend wine, E & J brandy, and instead of juice, I use carbonated flavored water which I think still works really well and limits the amount of extra sugar I'm adding to the mix!
I also slice a couple apples and oranges, and throw those in a pitcher (similar to this one), and store in the fridge for a couple hours to let all the flavors mix together. So simple, but great to have on hand when hosting people or watching the big game. 
How do you like to make your sangria? How will you be watching the Super Bowl this year?
Looking for more cocktail recipes? Try these:
📖 Recipe
Super Bowl Sangria
Ingredients
1

Bottle

Red wine (I used a red blend)

⅓

C

Brandy

2

C

carbonated flavored water

2

apples, sliced

2

oranges, sliced, skins on
Instructions
Add bottle of wine, brandy and carbonated water to pitcher. Stir.

Add sliced fruit to mix, stir.

Serve, or store in refrigerator until ready to serve.