A barbeque pulled pork quesadilla with caramelized onion is a great way to use up your leftover pulled pork and create a quick, budget-friendly, and delicious weeknight dinner.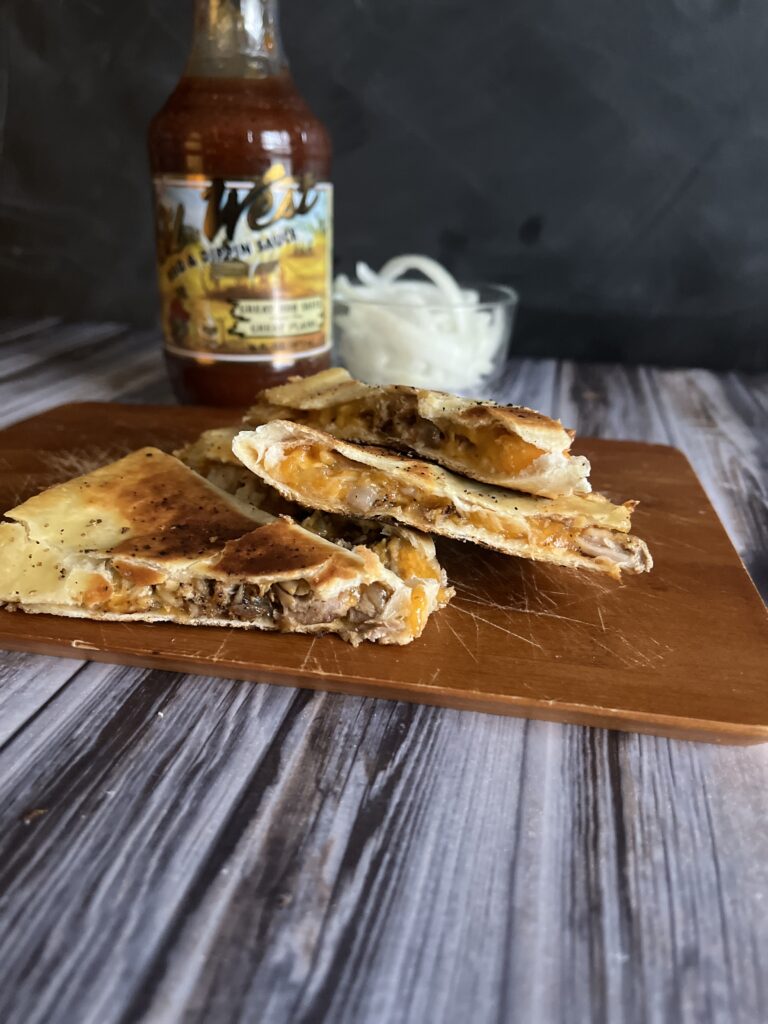 Do you choose to meal plan because you and your family have a crazy schedule? If you live a busy life like us, but are making a conscious effort to plan your meals and save money, then you need to add this barbeque pulled pork with caramelized onion quesadilla to your recipe inventory.
---
This page contains affiliate links to products I recommend. If you purchase something from this page, I may receive a small percentage of the sale at no extra cost to you. For more info, click here.
---
Why We Love BBQ Pulled Pork and Caramelized Onions Quesadillas
This recipe is great for a number of reasons:
It is perfect for meal planning and prepping! We like this recipe because when I meal prep on Sunday, I already have the main ingredient cooked. During the week I just pull the meat out of the fridge and I have cut my meal prep time in half!
This recipe is delicious! This pork shoulder recipe is so savory and delicious. It's my twist on a pork carnitas recipe, and it is the perfect base for dishes like this pulled pork quesadilla. This recipe is also super versatile. You can use it in many different dishes and recipes.
Pulled Pork Quesadillas are affordable to make! Pork shoulder or pork butt recipes are some of my favorite budget-friendly recipes to make because I can usually buy either cut on sale at the grocery store. Even as grocery prices have gone up, I am still able to buy pork butt or shoulder on sale–typically for less than $2 a pound. These cuts of meat are great options to add to your grocery list when trying to stretch your budget.
What Do I Need to Make BBQ Pulled Pork Quesadillas?
Another great thing about this barbeque pulled pork and onion quesadilla is how few dishes and tools you need to put them together! This dish is not only perfect for meal prepping, it's also a great one-pot dish.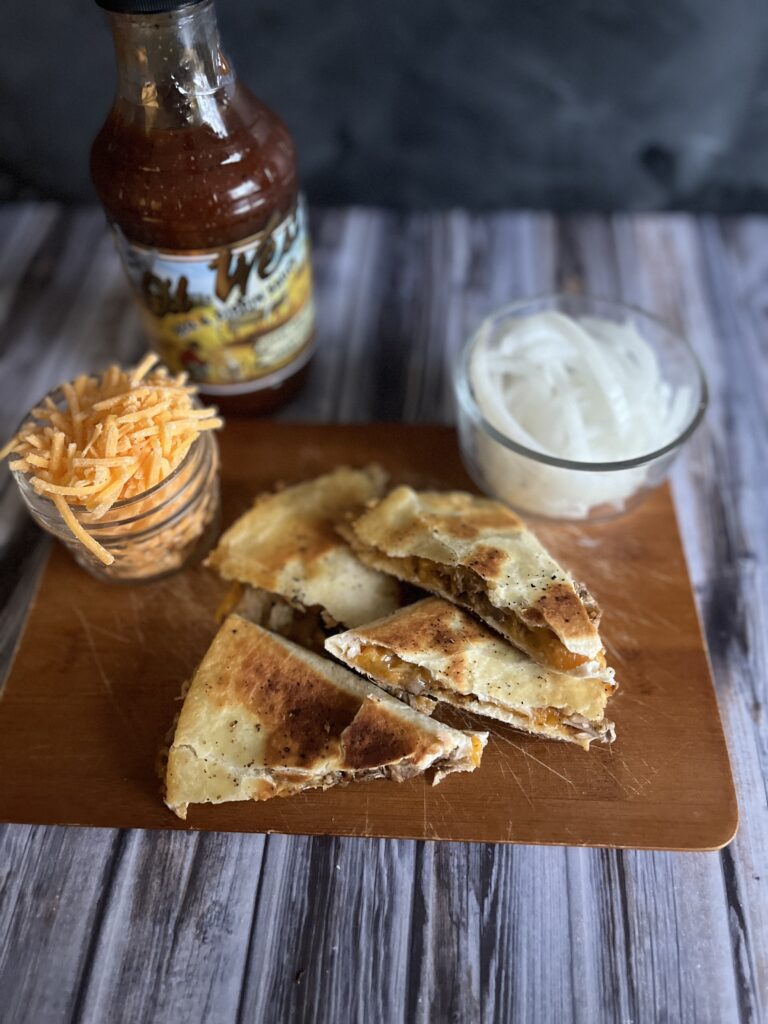 Ingredients in BBQ Pulled Pork Quesadilla with Caramelized Onions
Along with only needing a skillet, this pulled pork quesadilla also has very few ingredients. This makes this recipe a great option for all your meal-prepping and meal planning needs. You can make this pulled pork recipe on Sunday, and then assemble these quesadillas any night of the week.
Tortillas: If you're making this recipe for one or two people like we do, you'll only need about four, 8-inch tortillas. I like to make this recipe gluten-free by using Siete gluten-free tortillas, but standard flour tortillas will definitely do.
Pulled Pork: You can use my Crock Pot Pulled Pork Recipe or my Dutch Oven Pulled Pork Recipe to make the pork for these bbq quesadillas. If you meal-prep and make the pork ahead of time, you have a very easy weeknight dinner. I used about three ounces, or ⅓ cup of shredded pulled pork per tortilla.
Shredded Cheese: For these pulled pork quesadillas, I like to use colby-jack blend shredded cheese.
Caramelized Onions: Caramelized onions make these quesadillas taste out of this world! These are crucial to adding flavor. I use the same skillet to caramelize my onions as I do to melt the cheese in the quesadilla and put these together.
Butter: This makes the onions taste magical
Barbeque Sauce: You can put the barbeque sauce in your quesadilla or just serve it on the side and dip your quesadillas in it. In our area, we have a local barbeque sauce, Big John's Old West Sauce, and it is AMAZING! It's savory and sweet–we use it on everything. You can find it in Hy-Vee, or you can find it here on Amazon. I recommend trying it!
Oil for pan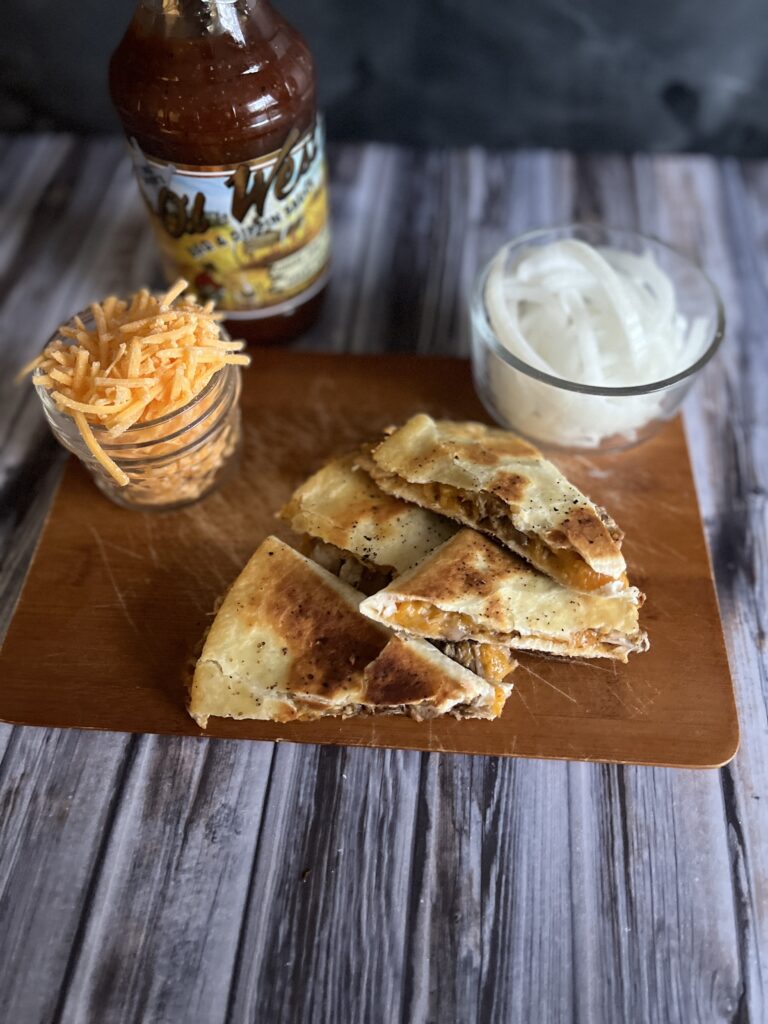 What I really like about this barbeque pulled pork with caramelized onion recipe is that it's flexible to fit your needs. Like I said before, these are perfect for meal prep because you can make as many or as few quesadillas as you need.

Let me know if you try these pulled pork quesadillas! I'd love to know what you think!
If you're looking for more easy weeknight meal recipes, check these out!
Pulled Pork Carnitas Taco Bowls
Smothered Chicken and Potatoes Recipe
📖 Recipe
Barbeque Pulled Pork Quesadilla with Caramelized Onions
Ingredients
4

8-inch flour tortillas

1 and ⅓

C

pulled pork, cooked

¼

onion, sliced

2

tablespoon

butter

1

C

shredded cheese, divided

barbeque sauce

oil for skillet
Instructions
Heat a large skillet over medium-high heat. Add onion and saute until golden brown. Remove onions from skillet.

Turn heat down to medium.

Begin assembling quesadillas. Cover one side of tortilla with bbq sauce. On one half of tortilla, layer cheese, pulled pork, onion, and another later of cheese. Fold in half.

Repeat assembly for all four quesadillas.

Using same skillet, add oil of choice. Add two quesadillas and allow bottom side to toast until golden brown, or desired doneness. Flip quesadillas to heat other side. Remove from skillet.

Repeat with other assembled quesadillas.

Slice each quesadilla into triangles, serve with side of sour cream and barbeque sauce.