This blended basil martini recipe is a refreshing cocktail that's a little bit sweet and a little bit tangy. Not your average martini recipe, this recipe substitutes vermouth and olives for lime and basil. If you've got an abundance of basil from your garden harvest, then this blended basil martini is for you.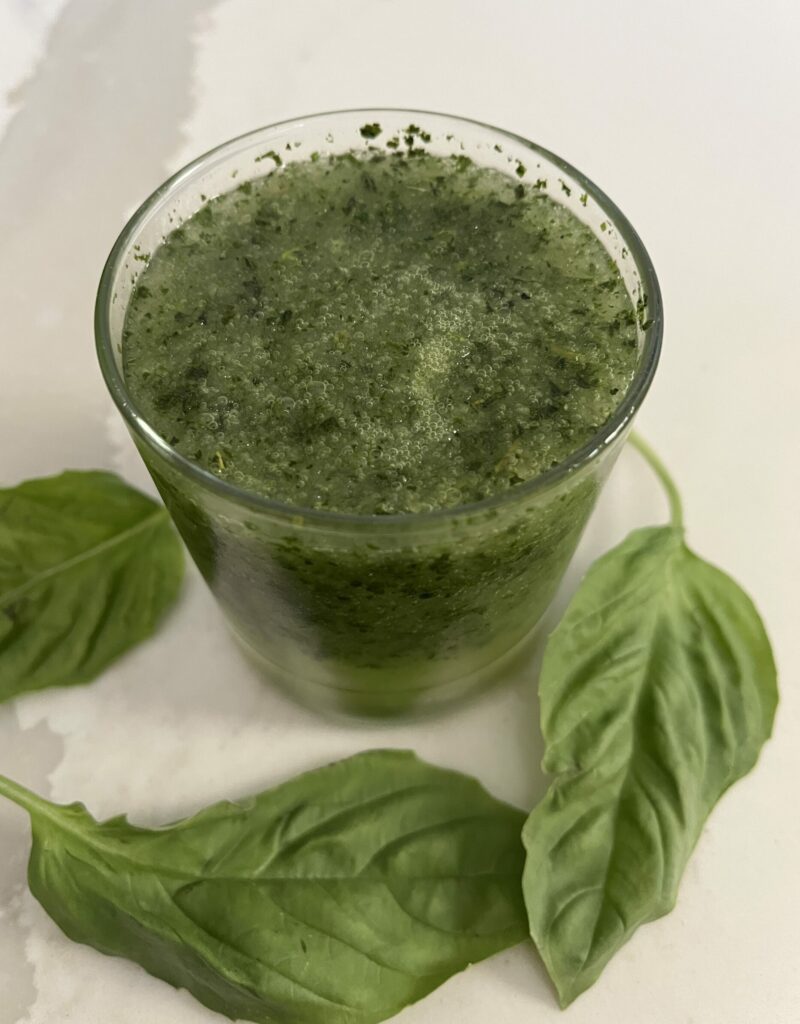 ---
*This page contains affiliate links to products I recommend. If you purchase something from this page, I may receive a small percentage of the sale at no extra cost to you. For more info, click here.
---
Basil blended martinis may sound like they wouldn't be appealing, and I will admit, I was skeptical when I was first offered one last summer. However, I will assure you that this martini recipe is amazing!
I'm lucky to have friends who have shared the basil from their gardens with me and I have returned the favor by offering these martinis. It's a win-win!
What do I Need to Make a Blended Basil Martini?
This blended basil martini takes very little work, but the payoff is phenomenal! Here's what you need to make this blended basil cocktail.
Basil
What's the first ingredient you need in this blended basil martini? Basil of course! If you're making this blended cocktail in the summer, then basil is probably very easy to find in your garden or a friend's garden. If basil is out of season, don't fret, many grocery stores carry fresh basil leaves in the produce section.
Pro tip: if you buy basil from the grocery store in a plastic package, add a paper towel to the package to soak up any excess moisture and extend the shelf life of your leaves.
For this blended basil martini, you will need five basil leaves per cocktail.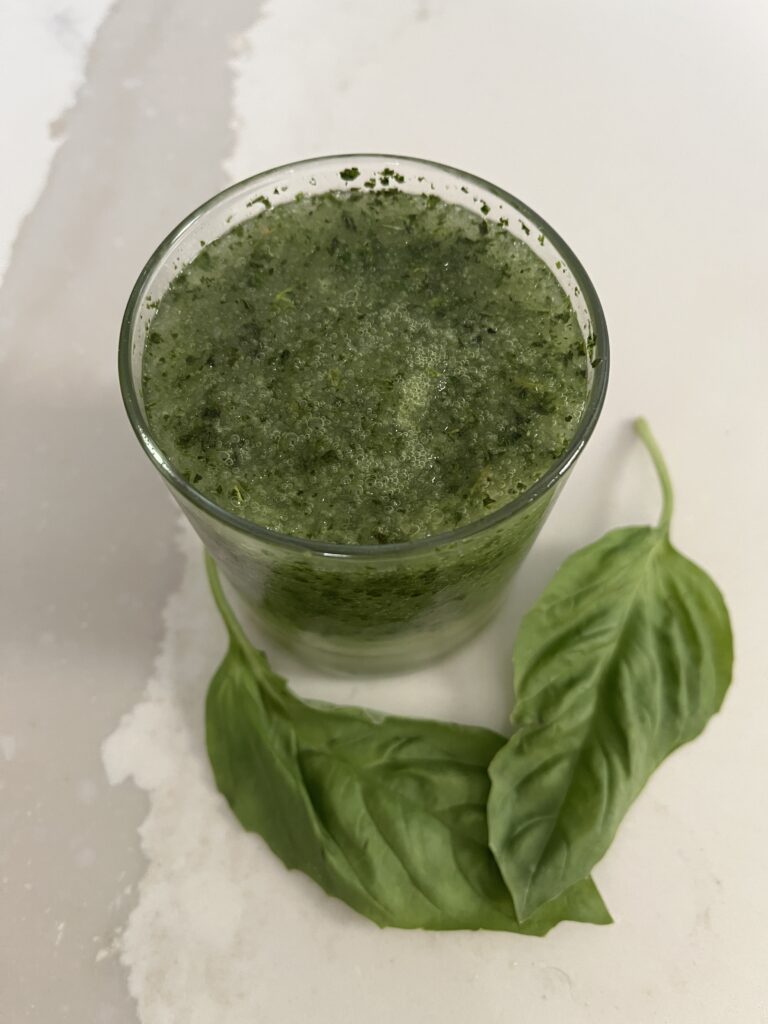 Lime Juice
Just like basil leaves, fresh is always best for this basil blended martini recipe, but if your grocery store doesn't have good looking limes, or your lime tree isn't currently producing, using store-bought lime juice works perfectly as well. This recipe calls for one ounce of lime juice.
Simple Syrup
Use simple syrup in this blended basil martini recipe to add just a little bit of sweetness. You can buy premade simple syrup at the grocery store, but simple syrup is really so easy and so cheap to make at home.
Check out this post, How to Make Simple Syrup, to add to your basil blended martini cocktail.
Vodka
The liquor in this blended basil martini is vodka, but I'm sure you could try other clear liquors like gin or tequila as well. Also, any type of vodka will do–I am a fan of Tito's Vodka or Ketel One. My recommendation is to make sure it's just not bottom shelf vodka, and you'll be fine!
Triple Sec
What is triple sec and why is it in this blended basil martini? Triple sec is a clear, orange flavored liqueur, and adding an ounce of it to this basil martini adds just a bit of depth. If you'd like, you can use Cointreau for your triple sec, otherwise, any brand will do.
Blender
After we made these blended basil cocktails at my mother-in-law's home last summer, I knew I wanted the exact same blender she had. She had this Ninja blender that also has the parts to be a food processor as well.
I love a gadget that has multiple functions, and this Ninja blender does that! And it's under $40, so it's an exceptional price. We use it typically every week for smoothies, cocktails, sauces and dips.
And that's it! This blended basil martini is simple, crisp and refreshing, and I can't wait to hear your thoughts after you make it!
If you're looking for other great cocktail recipes, check these out!
📖 Recipe