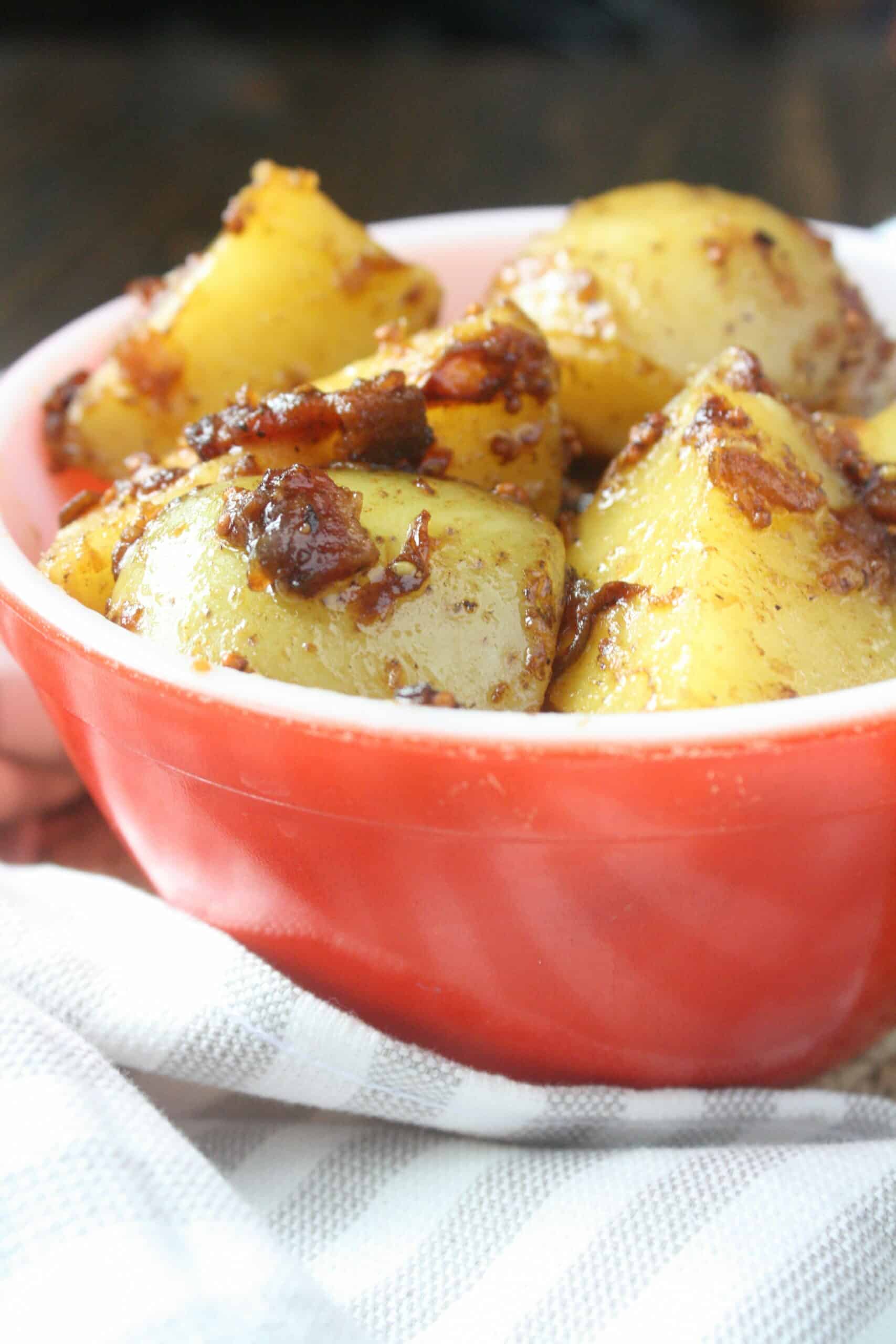 If you're looking for a side dish that combines potatoes, bacon and mustard, then German potato salad is the dish for you. The ultimate comfort food, this potato salad is perfect and quick for any night of the week.
There are a few things I could eat for the rest of my life and never tire of them: potatoes, bacon and mustard. Yes, mustard.
And not just any mustard, but Boetje's mustard.
I'll admit, I do love all mustards--yellow, honey, dijon, brown, but I really really love Boetje's mustard.
---
This page contains affiliate links to products I recommend. If you purchase something from this page, I may receive a small percentage of the sale at no extra cost to you. For more info, click here.
---
I grew up in the Quad Cities (which are Davenport and Bettendorf in Iowa and Moline and Rock Island in Illinois), and my dad introduced me to Boetje's as a child. Local to the Quad Cities, Boetje's is a dutch mustard that was first made in 1889, in Rock Island, Ill., and is made from all-natural ingredients including mustard seeds imported from Canada. While the Boetje company has changed hands over the last 100-plus years, the company still makes an amazing product that I happen to love to incorporate into many dishes.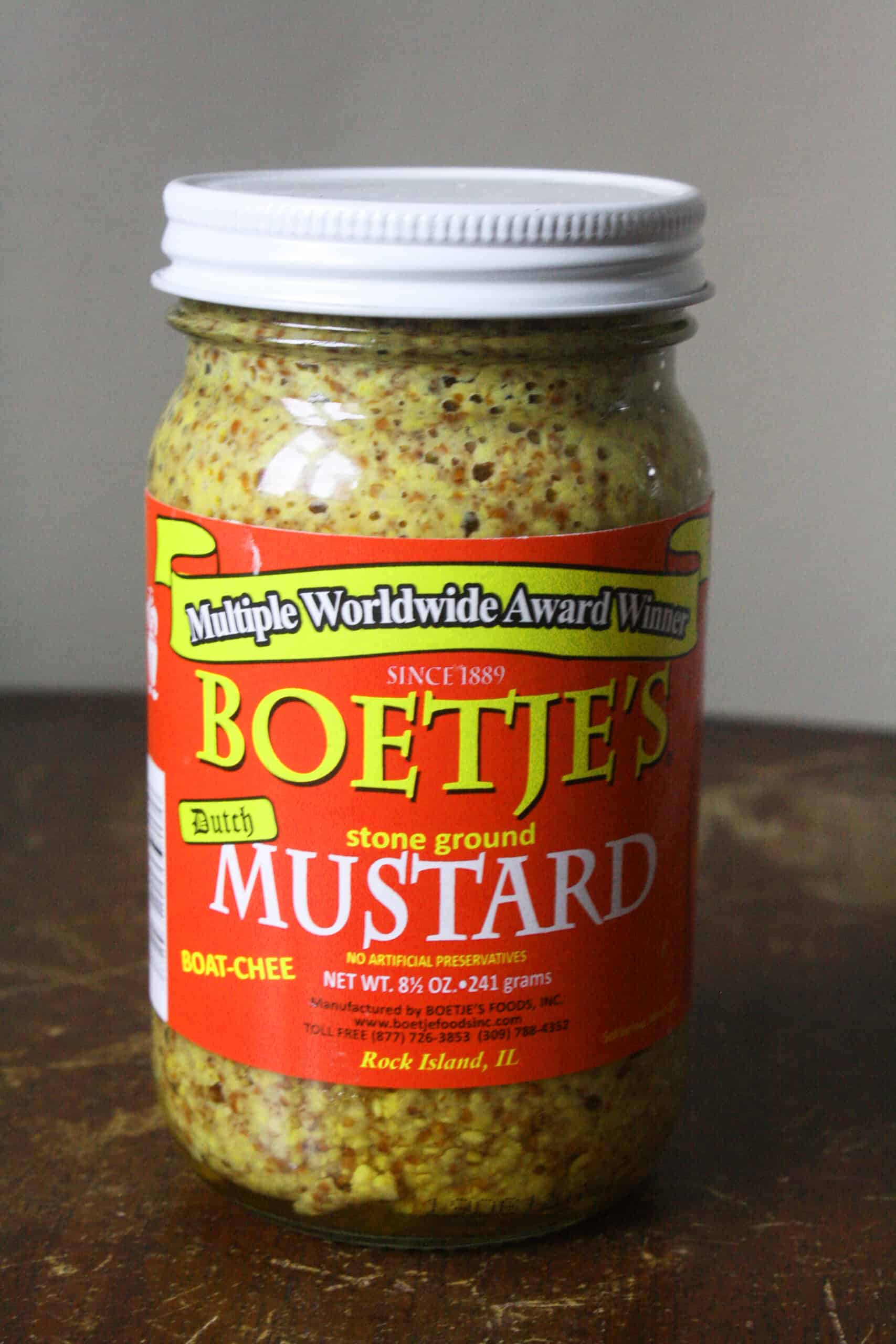 Boetje's mustard has the traditional tang of mustard, but there is an additional level of spice that I have not been able to find in other grainy mustards. It's definitely worth a try and goes well with so many dishes.
I love to use Boetje's on spiral ham, in a bloody mary (add it to my classic bloody mary recipe for a kick), and I've added it to grown up macaroni and cheese before as well. All three uses are so great!
Now that I live in South Dakota, I will actually drive 100 miles to Watertown so I can get Boetje's at Hy-Vee--it's so worth the drive! If you are in the Quad Cities, you can find Boetje's at almost every grocery store, but Boetje's is also sold on their website.
When I discovered German potato salad a few years ago, I knew I had to put my spin on it. I've tried a few different recipes, but what I love about this recipe is how the mustard spice combines with the saltiness of bacon and the sweetness of the sugar to create an amazing flavor profile.
What makes German potato salad different from regular potato salad? Well for one thing, it's served warm. We eat this side dish right from cooking it on the stove, and it's actually less like a salad and more like a side dish. Also, this German potato salad doesn't have any eggs or mayo.
Another thing I love about this recipe is that it's all cooked in one pot. I used my dutch oven (also known as the MVP of my kitchen) to boil my potatoes for about ten minutes, drain them and remove from the pot. Throw in diced bacon and cook for a couple minutes until the fat renders down, then add your diced onions and cook until transparent.
Here's where the magic happens: mix in your Boetje's mustard, salt, apple cider vinegar, minced garlic, and sugar and whisk together. Add the potatoes back into the pot and coat. That's it.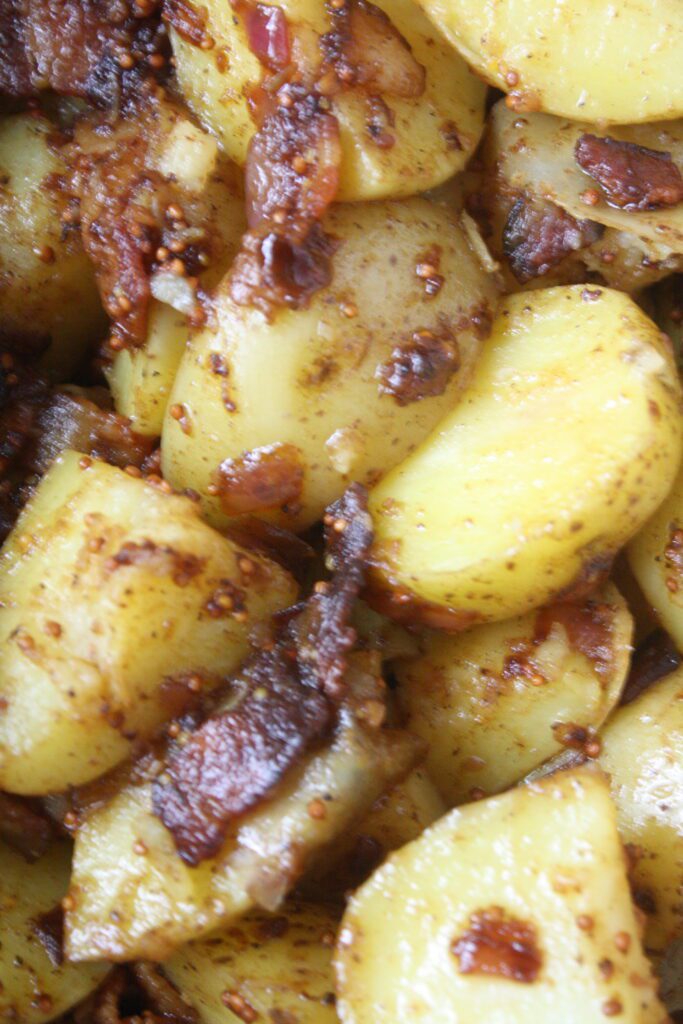 The flavor profile of this dish is unbeatable. The combination of everything--bacon, mustard, apple cider vinegar and potatoes is amazing. From start to finish, this dish takes about 30 minutes and is great for really any occasion. You can't go wrong!
Looking for other recipes? Try these!
CHICKEN, PEA, AND PESTO PASTA RECIPE, AN EASY WEEKNIGHT DINNER
CREAM CORN CASSEROLE THAT'S PERFECT FOR HOLIDAYS OR ANY DAY OF THE WEEK!
GLUTEN-FREE, DAIRY-FREE PUMPKIN MUFFINS TO SATISFY YOUR PUMPKIN FIX!
📖 Recipe
German Potato Salad
Equipment
Cast iron enamled dutch oven
Ingredients
2

lbs

potatoes diced

5

strips

bacon, diced

1

red onion, finely diced

½

cup

apple cider vinegar

½

tablespoon

minced garlic

2

tablespoon

Boetje's or other grainy mustard

2

tablespoon

granulated sugar

salt and pepper to taste
Instructions
In dutch oven, boil diced potatoes for about 10 minutes, so soft, but do not fall apart when stuck with a fork. Drain and remove from dutch oven.

Add bacon and cook down for about five minutes. Add onion, cook until translucent.

Add apple cider vinegar, minced garlic, mustard, and sugar and whisk together.

Add potatoes to dutch oven and stir to coat. Add salt and pepper to taste. Serve warm.