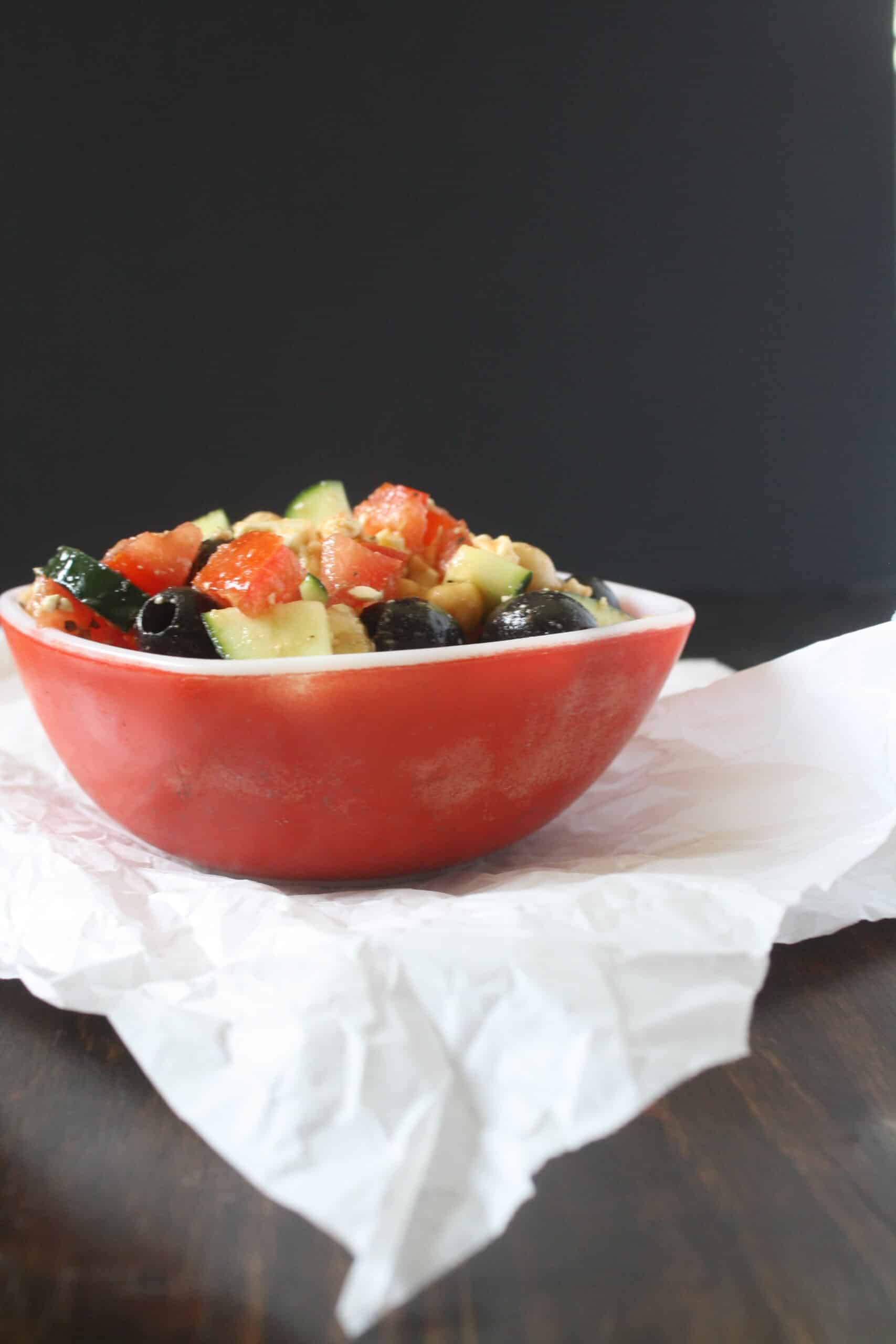 This cucumber, tomato, and chickpea salad is bursting with amazing flavor, takes minutes to put together and requires no cooking! It's the perfect side for a potluck, picnic, or weekly meal prep!
This twist on Greek salad really is the bomb. There are so many great elements mixed together that create something really delicious. And it hardly takes any time. And you don't have to turn on the oven, or the stove, or the crock pot.
Just chop, pour, stir, refrigerate. That's it. When it comes to easy recipes—this one takes the cake.
---
This page contains affiliate links to products I recommend. If you purchase something from this page, I may receive a small percentage of the sale at no extra cost to you. For more info, click here.
---
Sunday meal prep is a big deal in our house. Like a really big deal. It's an all day event.
We wake up, drink coffee and check the grocery store ads.
We write out our weekly schedules.
We write out all our dinners based on what's on sale, what we have on hand, and what our schedule looks like.
We buy groceries.
We come home and cook for the week.
It works really well for us.
This cucumber, tomato and chickpea Greek salad fits really nicely in our weekly meal prepping. We don't have to cook, but we have a side dish that is chock-full of superfoods that gets better and better as the flavors soak together.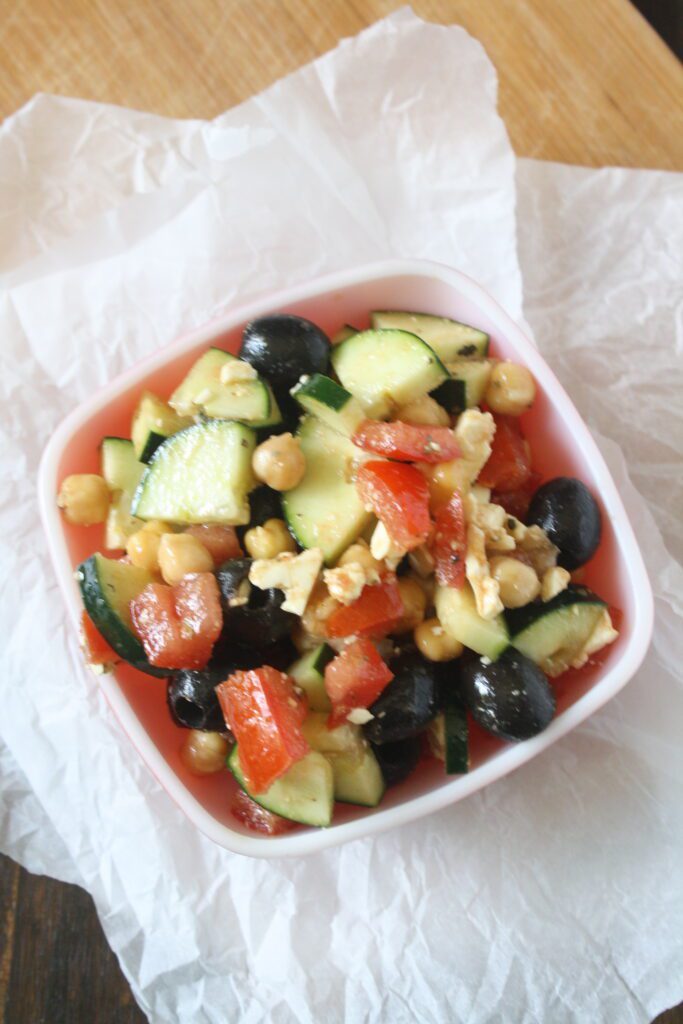 Ingredients in Greek Salad
Tomatoes depending on what's on sale that week, we've used different types of tomatoes. Sometimes we'll use Roma tomatoes and dice them, other times we'll buy grape or cherry tomatoes and cut them in half. There isn't a wrong way with these—just whatever is your personal preference.
Tomatoes are naturally a little sweet, but if you want to kick the sweetness up a notch, choose grape or cherry tomatoes.
Cucumbers If you are growing a garden, this recipe offers a great way to use some of the cucumbers you may be growing. Similar to tomatoes, anything you have on hand or that is on sale will work! You can skin your cucumbers before you dice them or leave the skins on. There isn't a wrong way with these!
Chickpeas are a great addition to this recipe. I typically buy them in a can, drain them, rinse them, and add them to the chopped tomatoes and cucumbers.
Chickpeas are full of vitamins and minerals, and fiber. If you are vegan or vegetarian, chickpeas are a great source of protein. protein as well. I add them to my salads often just for a boost of fiber and protein. They have a subtle nutty flavor that just adds a bit of flavor profile.
Olives Again, any olives work in this recipe--black, green with pimentos, or kalamata olives. We typically just buy cans of black olives, drain and add them to the salad. The additional saltiness of green olives and kalamata olives work in this salad just as well. Feel free to switch it up!
Feta The combination of olives and feta cheese will always be one of my favorite combos. The sour flavor with the salt of the olives offer great depth of flavor.
Oil, Vinegar and Seasonings Adding to the greatness and easiness of this greek salad, is oil, vinegar and seasonings. When I make this tomato and cucumber greek salad, I use three tablespoons of extra virgin olive oil, three tablespoons of balsamic vinegar, and salt, pepper, and garlic powder. That's really it. There are so many flavors in this salad that you don't need to add many seasonings.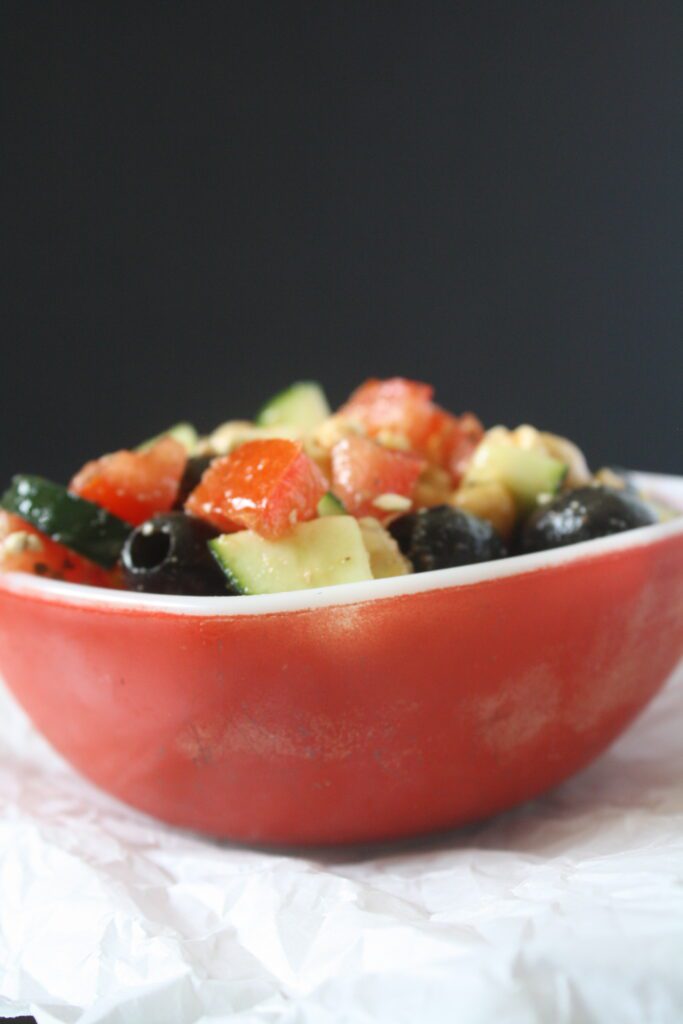 How Long Does Greek Salad Last in the Fridge
I would love to say that this salad can last a week in the fridge--and it will--unless you are like us and we eat it within a few days of making it. It's an addicting dish. The flavors are so light and refreshing, it's hard to stop eating!
When I do make this salad and store it in the fridge, I keep it (and all my other meal prepped foods) in these pyrex containers.I prefer keeping my food in glass for a number of reasons including the cost effectiveness--instead of buying plastic containers that break down (and the lids go missing) I invest in glass containers that last for years. My set of pyrex containers is actually nearly ten years old.
Storing food in glass instead of plastic also helps to reduce our carbon footprint--go green with me!
Are you looking for more recipes for meal prep and ways to prepare for the week? Check out these recipes:
Dutch Oven Pulled Pork Recipe that's great in Everything.
Homemade Peanut Butter Granola
Gluten-Free Dairy-Free Pumpkin Muffins
Cucumber Tomato Greek Salad
No cooking required! An easy and refreshing salad.
Ingredients
2

cucumbers, cubed

3

roma tomatoes, diced

1

8 oz

package feta cheese

1

can

garbanzo beans

3

tablespoon

balsamic vinegar

2

tablespoon

extra virgin olive oil

2

teaspoon

minced garlic

salt & pepper to taste
Instructions
Combine all ingredients in a bowl. Mix thoroughly.

Refrigerate at least one hour before serving.