If you're sick of eating flavorless, dry shredded chicken in your weekly prepped meals, then this Crockpot Mississippi Chicken will simplify your meal prep and bring an abundance of flavor to your meals!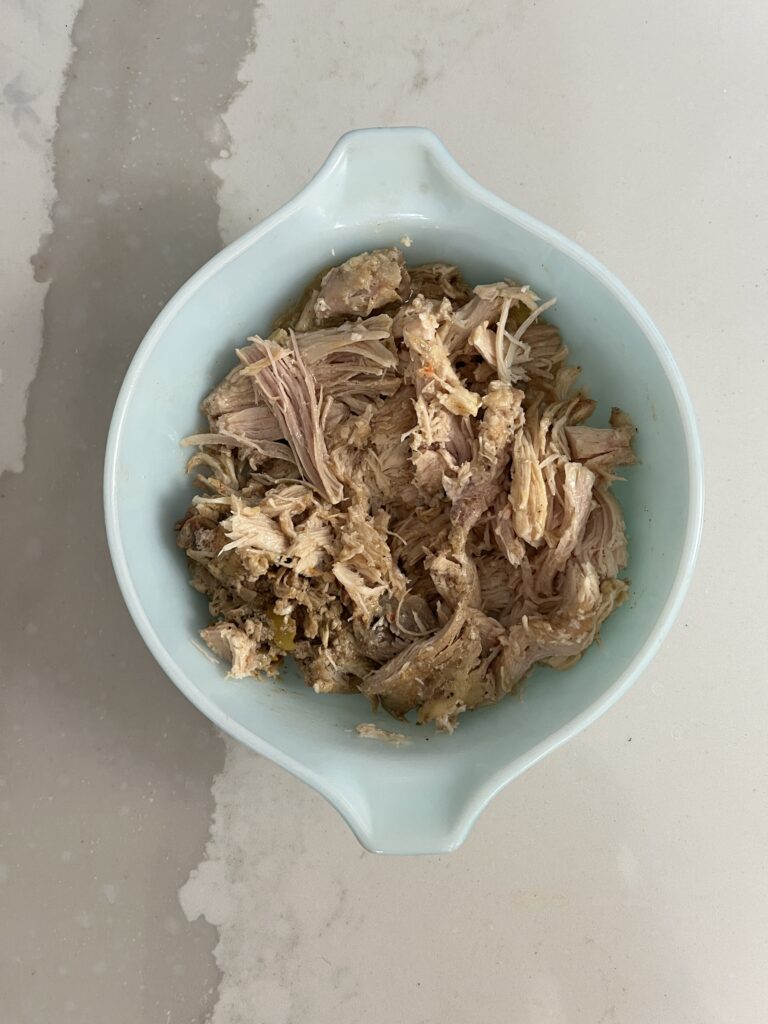 Are you sick of tossing frozen chicken breasts in your crockpot and finishing with boring chicken for your dinner? You're not alone! I too, dislike boring chicken breasts, but I love the nutritional value of chicken! 
So if you're in the same boat and looking for a new take on chicken this Crockpot Mississippi Chicken recipe will be perfect for you.
Why We Love Mississippi Chicken
You've probably heard of the Mississippi Pot Roast recipe--I've seen it all over Pinterest, and have actually made it a time or two. This Mississippi chicken is so similar to that pot roast recipe, except with a different meat. Using chicken instead of beef changes the nutrients as well as the flavor.
I have found that I really like the taste of Mississippi chicken, and now use it as a base for many of my chicken recipes and often in my meal planning and prepping each week.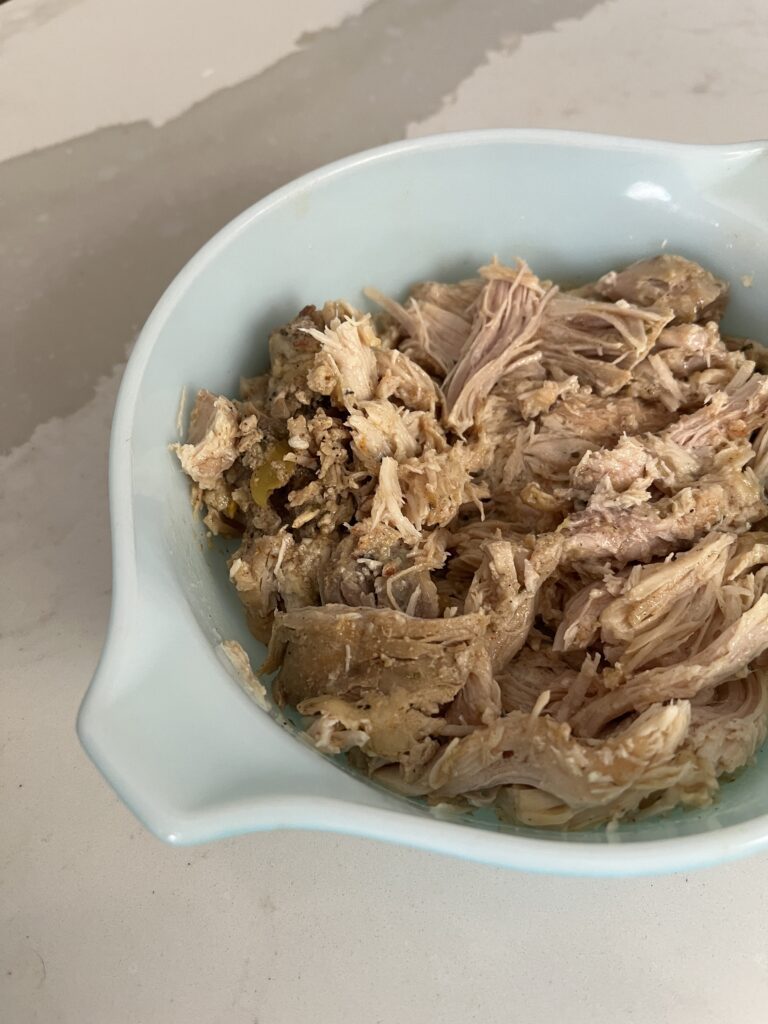 Ingredients in Crockpot Mississippi Chicken
If you need a quick recipe that doesn't take much time, or many ingredients, then Crockpot Mississippi Chicken will be perfect for you. You cannot mess it up! Here are the ingredients you'll need to make this delicious chicken recipe!
Chicken Thighs
I know many people prefer to eat chicken breast, but I want to encourage you to try chicken thighs in your next meals. You can buy boneless skinless chicken thighs easily at the grocery store, and they have so much more flavor than chicken breast.
Their macro content is just a little lower in protein and higher in fat, but the additional flavor is worth it!
Seasonings
For this crockpot Mississippi chicken recipe, you won't need a ton of seasonings, but the ones you do use will add plenty of flavor. Here's what you'll need:
Ranch seasoning packet
Garlic Powder
Onion Powder
Paprika
Salt & pepper to taste
Pepperocinis or Banana Peppers
What really adds flavor to Mississippi chicken? Pickled peppers! I've made this recipe with pepperocinis and banana peppers, and I like the flavor of both.
The key however, is to add the pepper juice or brine, to the crockpot as well. This brine is made with vinegar and adds an acidity to the recipe. 
Chicken Stock or Broth
I really like to up the flavor of my dishes by adding chicken broth or stock to my recipes, and this Mississippi Chicken recipe is no exception. I like to make my own chicken stock because it is so cheap and so easy!
Should I use a Crockpot or Slow Cooker?
Tomato, tomato. A slow cooker and a crockpot are the same thing. The beauty of this Mississippi chicken recipe is you can dump all ingredients in, turn on, and go about your day. It's so easy!
Can you make this in a dutch oven? Absolutely! I typically do it in my slow cooker though so that I can work on other things and not worry about food in my oven. If you're using your dutch oven, I would put all ingredients in the oven at 350 degrees for at least 90 minutes to cook the chicken all the way through.
Here is the Slow Cooker we use, and if you'd like to get into using a dutch oven, this is the Lodge Dutch oven we use!
How to Make Slow Cooker Mississippi Chicken
Here is the step-by-step guide to making this easy Mississippi Chicken recipe!
Place all ingredients into your crockpot or slowcooker.
Allow ingredients to cook on low for eight hours or high for four hours.
Remove chicken and ingredients from crockpot to shred. Serve as you'd like or allow to cool and store in the refrigerator for up to a week for your meal prepping and planning.
Recipe Notes:
If I use frozen chicken, I use half the amount of chicken stock or broth because it makes the meat more soupy.
If there are other flavors or seasonings you like--use them! Make this recipe completely yours and add or subtract what you like!
What Recipes Should I use this Crockpot Mississippi Chicken in?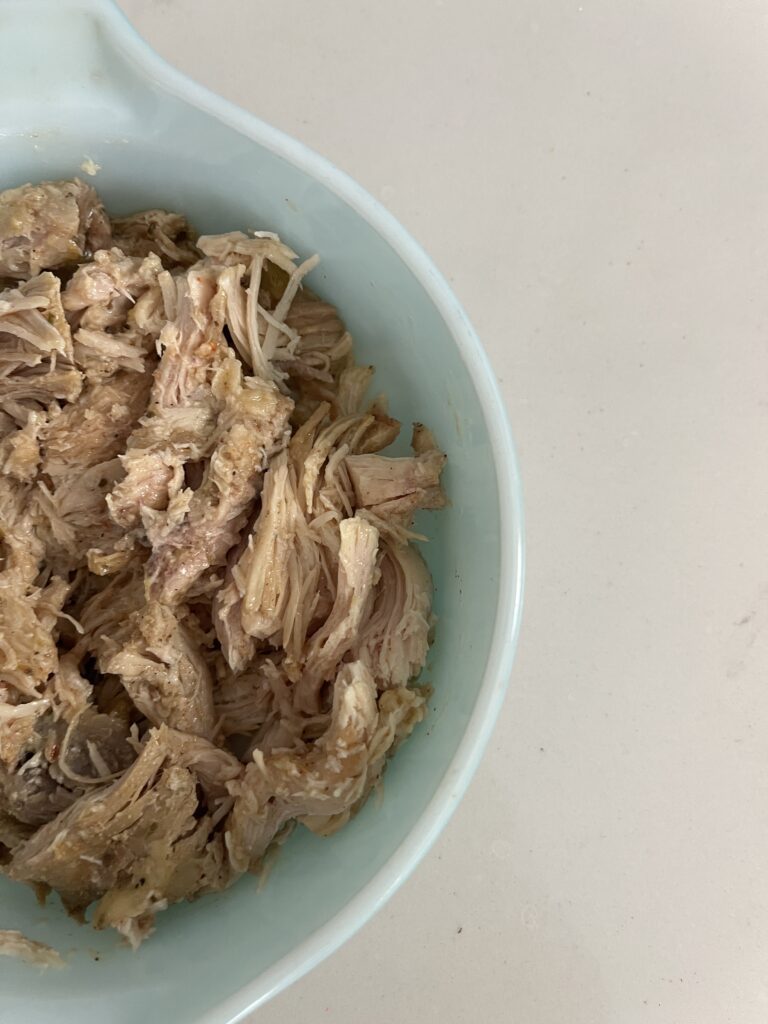 This crockpot Mississippi chicken recipe is so versatile and can be used in so many recipes which is why it is one of our favorites to use for meal planning and prep.
Here are some ways you can use this chicken in your next meals:
Add it to a bagged salad kit to turn a salad into a meal.
Pair it with rice or quinoa, hummus, feta and this cucumber salad recipe for a Greek protein bowl
Use this chicken in a wrap with your favorite veggies and condiments
Serve it on a bun and feed a crowd!
Cut down your cooking time by adding it to any dinner that calls for chicken, like our favorite, chicken, pea and pesto pasta.
The sky really is the limit with this versatile crockpot Mississippi chicken recipe!
Here are some other great recipes and posts!
Easy and Versatile Crockpot Pulled Pork
Dutch Oven Smothered Chicken and Potatoes
Dutch Oven Mexican Shredded Chicken
📖 Recipe
Crockpot Mississippi Chicken
Ingredients
3

lbs

chicken thighs

1

ranch seasoning packet

1

C

chicken stock or broth

8

ounces

banana peppers or pepperocinis and juice

2

tablespoon

garlic powder

2

tablespoon

onion powder

2

tablespoon

paprika

salt & pepper to taste
Instructions
Place all ingredients to a crock pot. Cook on high for four hours or low for eight.

Remove chicken from crockpot, and shred with two forks. Serve as you'd like.